When looking to cut costs, always consider your venue. Here's how to manage expenses wherever you wed.
By: Elena Donovan Mauer
They say location is everything — and when you're trying to save money on your wedding, it helps to compare your choices. At the same time, remember that your venue will set the tone for your celebration. This guide can help you decide what type of location is best for you in terms of both budget and style.
Ballroom Bash

Photo Credit: Javier Gomez Studios
Weddings in hotels are popular because out-of-towners won't have far to go to rest their heads — and because the hotel staff is well versed in receptions. It's usually a cost-effective choice, but there are some important things to keep in mind.
Make sure everything is included in the fee. "At a hotel, everything should be included — tables, chairs, linens and so on," says Christine Paul of Christine Paul Events in New York City. "The only items you should pay for are food and beverage."
Beware of extras, says Jo Ann Woodward of Schwartz & Woodward in Houston, TX. Chair covers and upgraded linens are pretty, but can add up fast — so be sure to prioritize what's important.
Go seasonal. "Ask the hotel staff what's considered high season and what's low," says Paul. "It will differ depending on the hotel and its location, but if you book at low season, it could save you thousands of dollars."
Negotiate — before signing a contract. Many hotels offer package deals with set prices, but if you negotiate, you might get even more for your money. Ask for a complimentary wedding-night suite or a free package upgrade. "We often get the couple an extra hour of bar, a champagne toast, suites for both parents or an upgraded menu," says Laura Weatherly of Engaging Affairs, Inc. in Alexandria, VA.
Seek out any hidden charges. "I've seen hotels charge a $6 per person cake-cutting fee," says Amy Nichols of Amy Nichols Special Events in San Francisco. "The fee may even apply to serving cupcakes!" Politely ask to have these charges waived.
Remember: Taxes and gratuities aren't usually factored into your original quote either.
Budget Tips for a Beach Wedding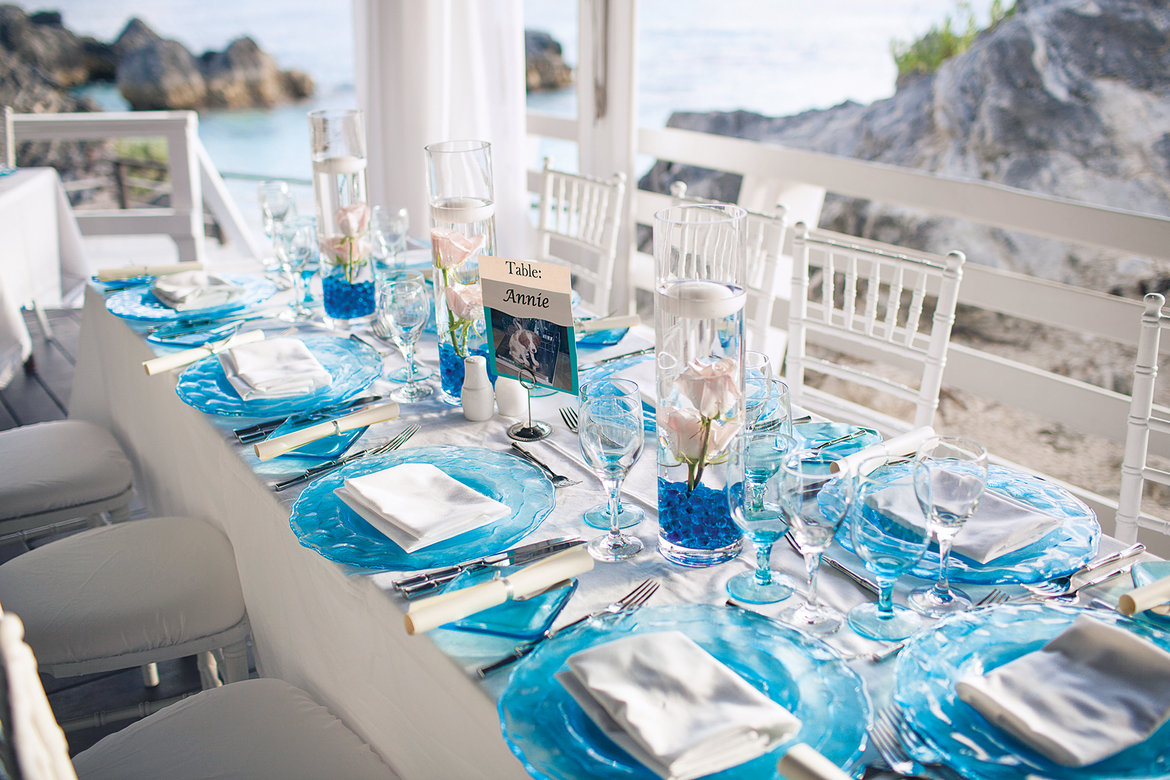 Photo Credit: Sasha Blackburne Photography
Many brides dream about marrying on the beach — what could be more romantic than exchanging vows with the wind in your hair and the sea in the background? It's a breeze to keep costs down.
Check to see if you need a permit and rental fee. Avoid extra costs — and headaches — by booking a hotel that's right on the water. "A smaller hotel might throw in the cost of renting the beach when you book your rooms," says Robinson. "And many times, a wedding-night suite — or an entire honeymoon — is part of the wedding package at a beachfront hotel."
Keep things casual. "Skip the formality," says Weatherly. Instead of wearing an expensive beaded dress or ballgown, opt for a simple, sleek sheath and go without a veil.
"If you keep your ceremony short and sweet, you can have guests stand — and cut the cost of chair rentals." Weatherly also suggests creating a pretty ceremony space by placing an arch in front of the water. But instead of decorating it with pricey flowers, use fabric, ribbon or keep it plain wood. "A more modern, low-key arch won't take away from the beauty of the beach," she says. Instead of petals, your flower girl can sprinkle seashells she gathers herself.
"Consider doing a cocktail reception instead of a seated meal, so guests can mingle the entire event," says Weatherly.
Serve a few signature tropical drinks instead of offering a fully stocked bar.
Keep the wedding cake small, says Robinson. "Have a fire pit set up in the sand and roast marshmallows for s'mores."
Budget Tips for a Vineyard Wedding
A vineyard setting, with fine food, stunning scenery and, of course, delicious wines, creates a rich, sensory experience. The problem? A potentially high price tag.

Photo Credit: Choco Studio
"Keep your guest list as small as possible to ensure an intimate affair," says Paul. The fewer guests, the easier it is to keep costs low.
Nix the standard full, open bar and stick to wine (and nonalcoholic drinks). "After all, you are at a vineyard," she says. "You can pair a different wine with each course. It will wow your guests, and actually save you money over a full bar."
Save on flowers. Because a vineyard is already full of lush trees, you won't need to go crazy with high-priced floral arrangements. "Enhance the natural beauty; don't compete with it," says Nichols. "Keep the floral arrangements low — tall centerpieces start at about $200 each."
Consider a family-style meal. Set long wooden tables with bowls of food, suggests Arin Robinson of Zinke Design in Tulsa, OK. "As long as you're serving dishes with fresh vegetables and bright colors, you'll eliminate the need for centerpieces."
Recycle. "Wine bottles can double as table numbers and corks as escort cards. Make it a DIY project," says Robinson.
Money-Saving Ideas for a Restaurant Wedding
Foodie couples may want to get hitched at their favorite restaurant. But if you're going to "buy out" the place for a night, it will likely cost you big. What to do?

Photo Credit: Allan Zepeda for Mel & Co, courtesy of Brooklyn Winery
Choose the right day. "If the restaurant is always closed on Sundays, they may be willing to waive a buy-out fee and give you use of the whole restaurant if you guarantee a certain dollar amount," says Paul. "Just as with a hotel, be sure to ask when the busy times are and avoid them."
Decorate with small, reasonably priced items. "Opt for smaller bud vases as a centerpiece," says Robinson. "And use the restaurant's votive candles."
Have the restaurant create a special wedding menu. "The menu you put together can offer a few options," says Robinson. "This way you can control your price point for each guest and eliminate surprise add-ons."
Forgo live entertainment. "Restaurants usually have sound systems that you can use with your iPod," Nichols says.
Budget Tips for a Backyard Wedding

Photo Credit: Susan Dean Photography
Think an at-home wedding will be cheap? Think again. Your home (or your parents') has huge sentimental value, but remember it isn't equipped with most things you'll need.
Paul recommends saving on something you may not have even considered yet: the water. "Make sure the caterer doesn't charge you an obscene amount for bottled water," she says. "Use a water filter and fill pitchers with ice and lemon or lime slices. You'll save hundreds of dollars on water!"
Robinson suggests giving guests an affordable favor that reminds them of home: "Pick one of Grandma's favorite recipes and write it on note cards to pass out to guests," she says. And keep the entertainment simple. "Have a single musician play. By cutting out the other five band members, you cut your cost."
Decorate with string lights and Mason jars hung with ribbon from tree branches in the yard. Paul recommends: "Mix up different-size lanterns. As day turns to dusk, they'll create a warm ambience for very little money."
Budget Tips for a Loft Wedding
City brides love the blank canvas of an urban loft — there's no ugly carpeting to cover up or gaudy chandeliers to ignore. The problem is, there's not much else there, either.

Photo Credit: Blueberry Creative on Inspired by This via Lover.ly
Go for a modern look. "If you want anything besides a chic, simple wedding, a loft is not the financially savvy choice," says Paul. "But if you want a contemporary vibe, it's fantastic."
Keep the space clutter-free and embellish with pops of bright, monochromatic flowers.
Decorate with non-floral objects, like DIY paper pinwheels, flowers and origami shapes, says Robinson. Nichols recommends hanging pompoms or lanterns, and filling cylindrical vases with water and floating candles or branches. Use the city as your backdrop: In the daytime, pull the curtains open; at night, let the stars — or the skyline — be on display.
Be selective about vendors. Ask your loft manager for a list of preferred vendors who've worked at the site before. "It's unusual for a loft to have an existing kitchen, so the caterer will have to create one," says Paul. "Using a caterer who's experienced with the space will keep your rental fees down, since they'll know exactly what they need to cater there."
Ask if you can purchase your own spirits for the reception. Save dough by going through a wholesaler.