Don't get caught off-guard by these extra costs! Wedding industry pros share the most important budget factors couples often forget.
By: Kristen Klein

Photo: KMC Weddings and Events
Rentals for an outdoor wedding. A backyard wedding sounds like a budget-friendly idea, but keep in mind that you're essentially starting with a blank slate. "If you're planning an outdoor wedding, especially at home, rentals can add up quickly! Consider the things you'll need to be prepared for: will you need a working kitchen? What about garbage remove and recyclables? Overtime pick-up for rentals? Servers and bartenders? And, the fun one: bathrooms – are you going to add in a 'luxury' portable bathroom? Who's setting up and breaking down your event? Don't forget electricity – extension cords running from the garage to power lights, entertainment, and sound won't cut it! Generators are your answer and can get costly. And don't leave out parking, sound ordinances, and town permits. It's worth a phone call to the township to learn about any fees and the process of obtaining the appropriate permits. Start with these questions, and always end with, 'is there anything I've left out?' No one likes surprises!" —Michelle's Catering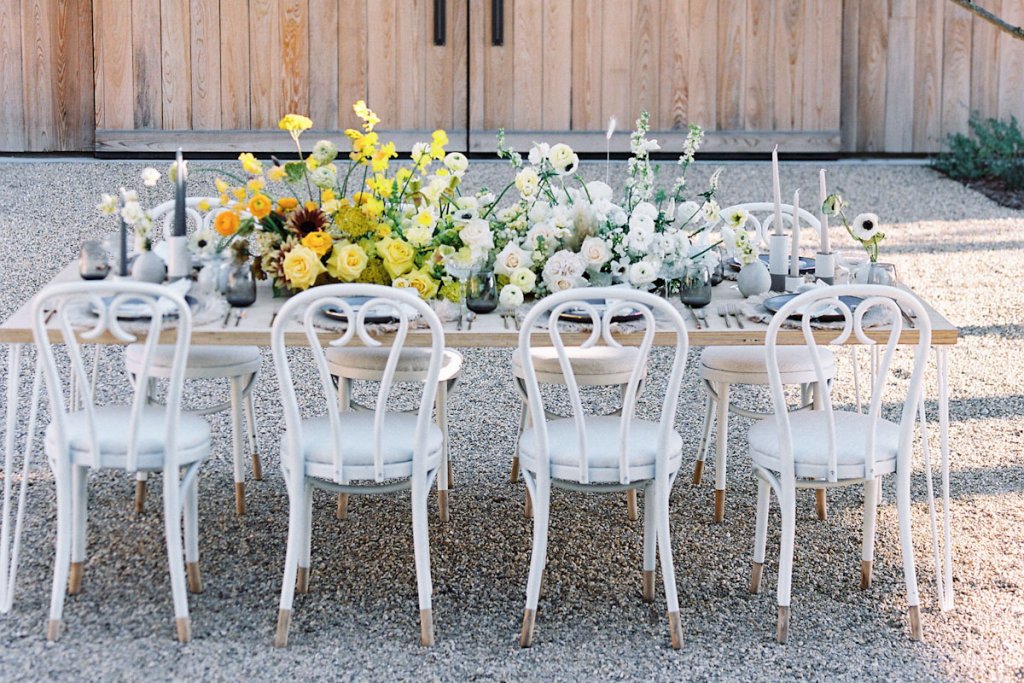 Photo: Orange Blossom Special Events
Gratuities for vendors. "At the very beginning of budgeting, make sure you account for any gratuities for your vendors on wedding day. Gratuities can add up, and if you didn't plan for them, they can definitely feel like a huge surprise to your budget." —Karen Collins, CEO of KMC Weddings and Events
Bridal gown alterations. "Bridal gown alterations can offer an surprise to both your timeline and budget! Booking an alterations appointment well in advance, providing accurate measurements, and opting for a custom-created gown can help you avoid these last minute expenses and stressors." —Shawna Ziegenbein, Designer/Owner of Sansarc Culture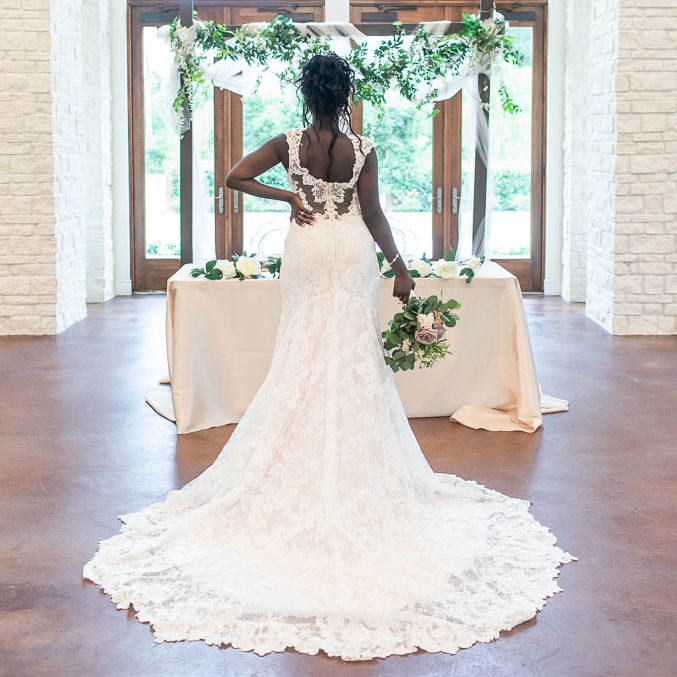 Photo: Experiences by Taylor Brione
The "hidden" fees. "Some line item budget pieces to think ahead on and to make sure you factor in can be your wedding insurance, a marriage license, favors, or buying gifts for your wedding party. One of the largest ticket items that I see couples forgetting to factor into the budget is tipping vendors; this can add up, especially if you have a large catering bill. Other things you should consider are additional fees with the venue such as: audio/sound fees, trash removal, adding more time to have earlier access to the venue or additional fees for rentals that you may not know existed. Laying out a well thought out budget before you begin planning helps to alleviate any budget bombs at the end." —Kari Dirksen, CEO + Lead Planner of Feathered Arrow
Rain plan contingencies. "There is no bigger budget bomb than an unforeseen rain plan! Definitely plan ahead and plan early for rain, heat, or other elements that could affect your outdoor wedding plans. Tents are not cheap; pretty tents are next-level. If the grass is soggy, subflooring may come into play. It adds up very quickly and can definitely throw things off. Consider all this when creating your budget — it's always better to come in under budget than over!" —Nora Sheils, Founder of Bridal Bliss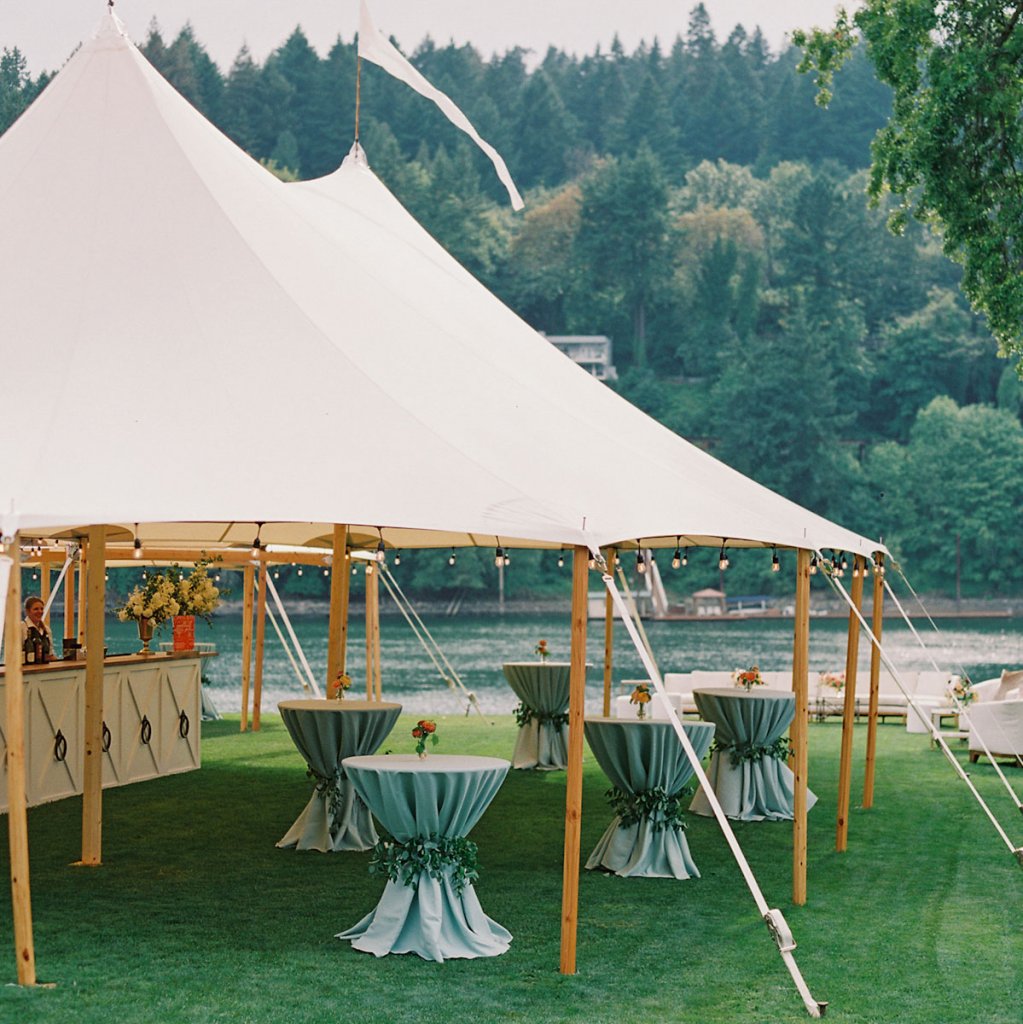 Photo: Bridal Bliss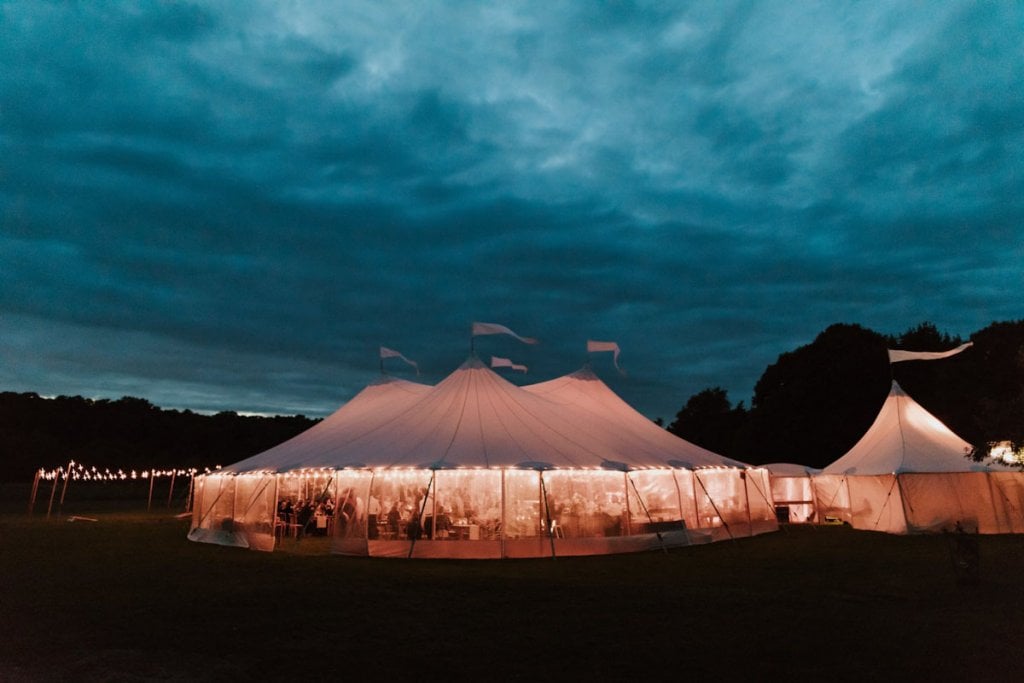 Photo: Cape Cod Celebrations
Contract room blocks. "Beware of contract room blocks! If you have a lot of wedding guests in need of hotel rooms, it's easy to be tempted with a discounted rate by booking a contract room block; however, I highly recommend looking for and booking complimentary room blocks instead. Too many times I've seen clients lose a lot of money last-minute because their contract room blocks didn't fill up. If you book a contract room block, it means that you're financially guaranteeing you will book a certain number of hotel rooms. If your guests don't book them, you're obligated to pay for them yourselves, which can be a huge last-minute cost. With Airbnb and VRBO being such popular options for lodging these days, it's hard to predict just how many of your guests will be staying at the hotel you've chosen. Your safest bet is a complimentary room block that doesn't bind you financially to booking a certain number of rooms." —Brooke Avishay of Orange Blossom Special Events
Photo and video coverage. Many photographers and videographers will specify a set number of hours in their contracts; think hard about your wedding-day timeline before signing on that dotted line to make sure you have the coverage you desire. "The biggest last-minute expense I've seen occur is couples needing to extend the time their photographer or videographer is onsite to accommodate getting ready as well as ample dance floor coverage. If you've always wanted photos of you getting into your dress, or you and your SO shakin' it on the dance floor, be sure to communicate that up front so your planner knows where to allocate their time to best meet your needs. If you're hoping for both, that's okay, too — communication is key so that we're not having to come back to you at a time you're least expecting to shell out additional funds." —Ashley Lachney, Owner of Alston Mayger Events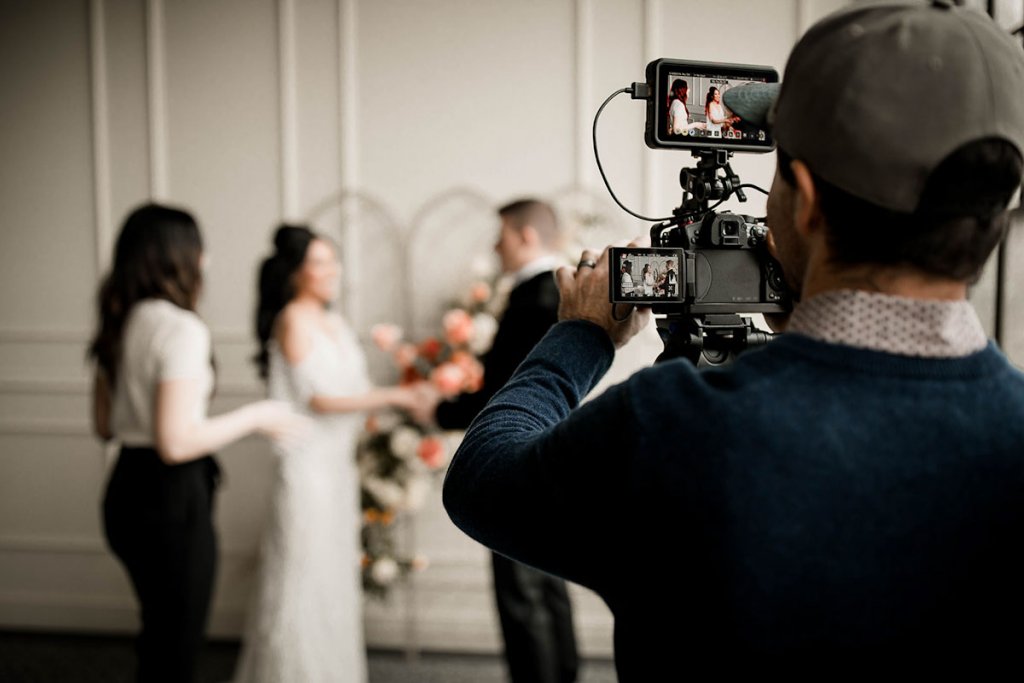 Photo: Alston Mayger Events
Postage costs. "When determining your wedding stationery budget, don't forget to factor in postage for mailing your invites! You will need to purchase stamps for your save-the-dates, wedding invitations, and RSVP cards. Extras like additional enclosure cards, ribbon, and wax seals will increase the weight of your invitation and increase your mailing costs. Be sure to allocate 10-15% of your stationery budget to postage." —Kori Trotter, Lily & Roe Co.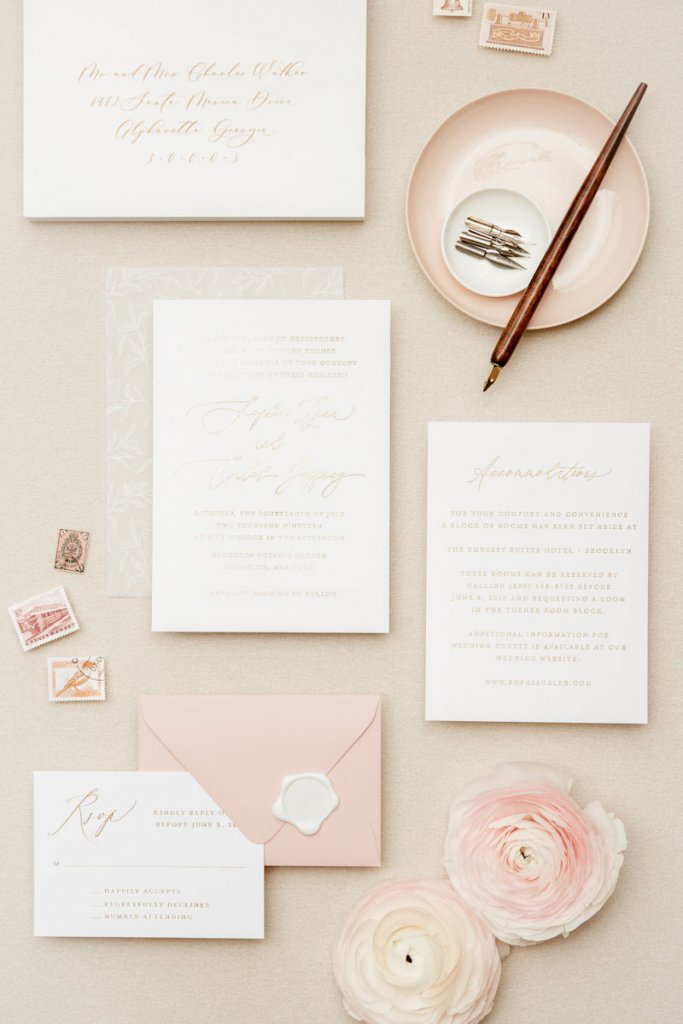 Photo: Lily & Roe Co.
Family florals. "Boutonnieres and corsages for family members can add up quickly! Prepare for this expense ahead of time by asking family members on both sides what their feelings are about wearing a boutonniere or a corsage at your wedding. You may think that your future mother-in-law won't want a corsage, but if you don't ask, you may be surprised to learn the week of the wedding or even on the wedding day that she is asking for one that hasn't been ordered!" —Erin Ostreicher, Owner of Nectar & Root, LLC

Photo: Lindsay Hackney via Nectar & Root, LLC
Lighting and production costs. Transforming your reception space with lighting takes more tha a few bulbs. "You probably didn't realize that you needed more than 30 uplights, a few wash lights, maybe some pattern lights on the dance floor, a monogram over the sweetheart table, pinspot lights, etc. This can add up very quickly, but without the lighting, it will look very flat." —Lizzy Liz Chan of Lizzy Liz Events

Photo: Lizzy Liz Events
Transportation. "Transportation logistics can easily be forgotten. If you have a big wedding party, it's best that you keep the group together, especially if you are traveling multiple locations — from getting ready, to first-look location, to ceremony, and then reception. You don't want anyone getting lost or unable to find parking, because it can delay your timeline by a lot. Invest in a party bus or limo to keep everyone together." —Lizzy Liz Chan of Lizzy Liz Events
Shipping costs. "Allow some extra time for custom and personalized items to be made and shipped so you do not get stuck paying those Express Shipping fees!" —Colleen Corcoran of The Handkerchief Shop

Photo: The Handkerchief Shop

Extra invitations. "One of the many things that can creep up and cost you additional money is having to order additional invitations after you realize that you did not get enough. Ordering the exact amount of invitations as guests, then realizing you may need additional pieces, is something you want to avoid. Most invitation companies have a minimum of 25, and as you can imagine, it is a lot less expensive to order 150 from the start than only 25 sets. You will pay a significant price increase for a smaller quantity. This is why we recommend our clients order 10-15 additional pieces from the start. Make sure you account for invitations getting lost (yes it's unfortunate, but it happens), some being returned to you, and adding additional guests. You want to make sure you have extra sets to send out in case these scenarios do happen. Of course, don't forget to keep an additional few pieces for yourself as memories. Ordering extra from the start will avoid a budget blowout and save you money in the long run." —Lilia Shatnaya, Owner of Plume and Stone Invitation Studio

Photo: Plume and Stone Invitation Studio

Payment schedules. "One of the biggest budget bombs I have found with couples is not following a payment schedule. Weddings can sometimes have anywhere from 10 to 15 vendors for each event — all of those vendors have varying payment due dates associated with them. If you're working with a wedding planner, they will assist you with managing your timelines for payments, but if you're doing a 'day of/ month-of' package or just a DIY, it is easy for all of the payments to sneak up on you in the last month or so before your wedding. Although, you may have always planned to spend the money, it is much more difficult and stressful for some couples to make several large lump sum payments at one time. Set a payment schedule and stick to it." —Taylor Brione Ballard, CWP of Experiences By Taylor Brione
Wedding day food. "We always add 'lunch' on our timelines so that our couples remember to figure out a plan to eat that day before the ceremony. It is always good to plan ahead and put someone in charge of pick-up so that you are not ordering expensive hotel room service or dealing with a hangry bridal party! We recommend small grab-and-go items so that your wedding party does not have to sit down with a plate of food." -Jamie & Stephanie, Cape Cod Celebrations

Photo: Cape Cod Celebrations