From Hong Kong to Hawaii, savor the cultural and culinary flavors of the world's most delicious cuisines.
By: Sherri Eisenberg
Simply turn on the television and you'll find that there's no hotter trend than food. The same is true in travel. Culinary tours delight visitors with authentic experiences in gorgeous settings accompanied by—what else—fabulous meals. From cosmopolitan Hong Kong and New York to more laid-back Oaxaca and Napa Valley, these five worldwide gourmet destinations offer everything a pair of culinistas could want. Read on for our favorite restaurant (and hotel) picks around the globe. Bon voyage and bon appétit!
Hong Kong

The former British colony is a melting pot of cuisines.
(Photo Credit: Shanrgi-La Hotels and Resorts)
Why Here: This Asian city is a fabulous foodie stop for honeymooners transferring on to beachy honeymoons in, say, Bali, Thailand, or Vietnam. The landscape itself is chock-a-block with modern skyscrapers and shopping malls, but the food is truly spectacular, making it well worth the visit. Give yourselves enough time to eat your way around town (and adjust to jet lag) before hopping on another plane. You can find stellar examples of many of China's regional cuisines—from Cantonese to Szechuan to fiery Hot Pot and plenty of street food—all in a clean, modern, English-speaking city.
Where to Eat: With glittering decor, elaborate chandeliers and fancy menus, Cantonese Fook Lam Moon is elegant, romantic and honeymoon-worthy. Come at dinner for upscale classics like shark's fin soup, braised abalone and suckling pig. Or, arrive during the day for carefully prepared dim sum such as rich pork dumplings topped with crab roe, delicate steamed rice rolls filled with fresh shrimp, and glutinous rice wrapped in steaming lotus leaves.

The metropolis's iconic harbor and skyline.
(Photo Credit: Hong Kong Tourism Board)
What to Do: Ask any American foodie what she liked best about Hong Kong, and the answer will come back the same time and time again: dim sum. All around the city, you can have this Chinese brunch (served from steaming silver carts) at a level of quality not available in the States. Locals while away entire mornings sipping tea, reading the paper, catching up with friends and family, and thoughtfully selecting nibbles from the passing trays. Look for tender steamed shrimp shu mai and flavorful chicken har gow dumplings, as well as white buns called bao that come filled with rich, red barbecued pork stuffing called char sui. Finish your meal with steamed custard bao (buttery egg tartlets). Note: Whatever you order, follow local customs and don't ask for sugar for your tea—or a fork.
Where to Stay: The best hotels on the island primarily cater to corporate guests, so don't be surprised by the fleets of briefcase-toting suits you see wherever you go, or the gleaming marble lobbies that have a business-meeting vibe. However, once upstairs, the Kowloon Shangri-La has suites that feel more like chic apartments than guest rooms. Ask for one that overlooks Victoria Harbor and the city's impressive skyline; the knowledgeable concierges will help with directions to nearby tailors (a craft the city is well-known for), museums and dim sum parlors (room rates start at about $370 a night and include breakfast; shangri-la.com).
Discover More Delicious Destinations:
►Napa Valley, California
►Oahu, Hawaii
►Oaxaca, Mexico
►New York City
Napa Valley, California
 
Why Here: If the Caribbean is the first honeymoon answer for many sun-worshipping couples, then gorgeous Napa Valley is at the tip of the lips of food-loving folks. The region celebrated sustainable cuisine before it reached the masses, and Thomas Keller's temple of the table, The French Laundry, beckons to those who follow all things foodie. Fortunately, there's enough beautiful scenery (hello, photo ops) and spectacular wine to draw even fledgling culinary-art admirers.
Outside the famous California eatery, The French Laundry.
Where to Eat: The French Laundry is the ultimate special occasion dinner, so be sure to book your table when you arrange your hotel stay. This is an epic meal in every way: Jackets are required, and they don't allow jeans, shorts, or tennis shoes—not that you would dress that way for a threehour meal that's worthy of Best Dinner Ever Facebook postings. When browsing the menu, keep one eye open for their most famous dish—Oysters and Pearls, a rich and creamy sabayon of tapioca topped with local oysters and caviar. Best of all, it's not even an upcharge from their chef's tasting menu price of (gulp) $270 per person. Fortunately for your wallet, there are plenty of other wonderful places to eat while you're in town. There's Morimoto Napa, the local outpost from Iron Chef Japan himself. Belly up to the sushi bar that faces an open kitchen, and order the justifiably famous rock shrimp tempura, creamy spicy king crab, or a plate of the signature pork belly with congee. Or, indulge in what must be the chef's richest and most playful creation: Duck, Duck, Duck, a celebration that includes a soft poached duck egg, foie gras and duck-fried rice. This dish is quite simply the stuff that foodie dreams are made of.
One of 18 courses Chef Thomas Keller creates daily at The French Laundry.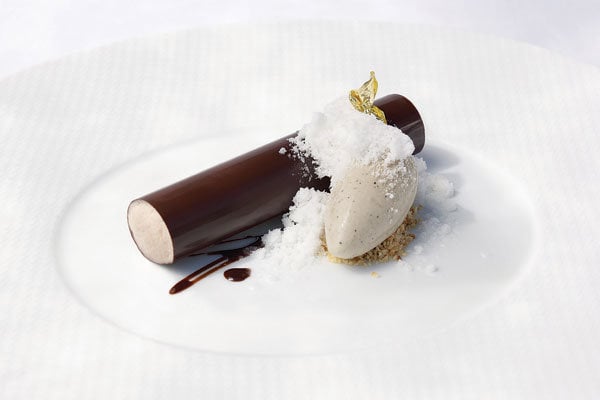 Did someone say dessert? A decadent treat.
(All photos courtesy of The Thomas Keller Restaurant Group)
What to Do: Taste the area wine, of course. And think of touring the picturesque wine country as the ultimate opportunity to start building your home wine cellar together from day one of your marriage. The shopping expedition—which, if done properly, includes plenty of time in a tasting room and the hiring of a chauffeur so that you can both partake—is as exciting as the score itself. Just be sure to check out the interstate shipping laws for cases of wine before you stock up. Cheers!
Where to Stay: The spectacular Auberge du Soleil in Rutherford, just a 15-minute drive up the St. Helena highway from The French Laundry, seems built just for couples. Set on a hillside in the middle of an olive grove, the resort's spa uses lemons and herbs from the gardens, and the hotel's infinity edge pool overlooks the valley's fields of grape vines. What more could a pair of oenophiles ask for after a day spent tasting the local merlots and cabernet sauvignons? A spa treatment that involves a grapeseed exfoliation and a rubdown with local grapeseed oil, of course (room rates start at $525 a night and include breakfast; aubergedusoleil.com).
Discover More Delicious Destinations:
►Hong Kong
►Oahu, Hawaii
►Oaxaca, Mexico
►New York City
Oahu, Hawaii
 
Why Here: This is the primo choice for foodies who want some gorgeous white-sand beaches served alongside their complex cuisine. And the capital Hawaiian island of Oahu, home to pan-Pacific cuisine, offers the best of both. 
Spend your day snorkeling with a rainbow of sea life, then shower, dress, and treat yourselves to a similarly spectacular display of delectable sashimi. The seafood is fresh, the flavors are from varying cultures, and the fabulous dishes—such as spam musubi, macademia nut-crusted fish, haupia (coconut pudding) and foie gras nigiri—simply couldn't come from anywhere else.
Where to Eat: Make a reservation at Alan Wong's, and let the James Beard Foundation Award winner delight you with his creative Hawaiian takes on classic dishes. All around the islands you'll find ahi poke, a predecessor to the now omnipresent tuna tartare. Yet Wong offers a creative twist on the original, serving the ahi in crispy wonton balls with avocado and a wasabi-infused sauce. Finish your meal with a coffee from his extensive menu of locally grown beans from smallbatch plantations across the islands of Aloha.
One of Alan Wong's savory—and artful—dishes served at the eponymous restaurant on Oahu.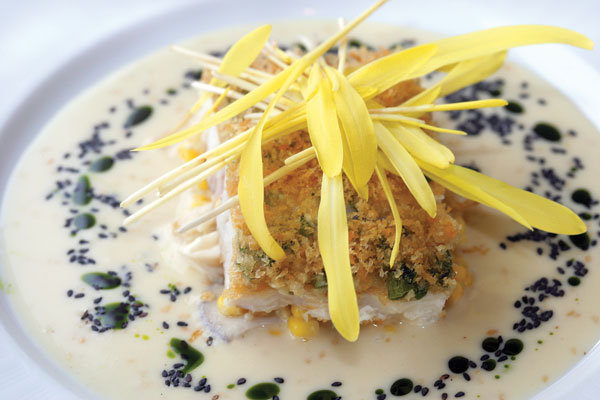 Another delicious dish by Alan Wong.
What to Do: Don't miss out on our personal favorite foodie find for a sunny Hawaiian afternoon: Puka Dogs, a casual lunchtime spot that serves house-made garlic sausage on custom-made buns topped with lilikoi mustard and tropical fruit relish in flavors like pineapple and coconut. And while there are plenty of food finds in cosmopolitan Waikiki, you'll also want to rent a car for a day trip to the North Shore, which is a must-see for surfers, as well as a must-eat for those who love shave ice and fresh shrimp served out of gourmet food trucks that predate those on the mainland by years.
The possibilities for relaxation are endless on Waikiki Beach.
(Photo Credit: Morgans Hotel Group)
Where to Stay: Some clichés turn out to be true—Halekulani is an oldie, but a goodie in the honeymoon world. This Asian-influenced resort is right on the sand, and home to both orchid-filled, chic public spaces and the Vera Wang designed suite with balconies overlooking the surf. The
decor is—as you might expect—sleek and sophisticated, with plenty of silver and lavender accents. After you've admired the water from your private vantage point, join the international crowd around the pool for Japanese popsicles (room rates start at $435 a night; halekulani.com).
The classic hotel—Halekulani—offers fantastic views of Oahu's iconic Diamond Head Peak.
Discover More Delicious Destinations:
►Hong Kong
►Napa Valley, California
►Oaxaca, Mexico
►New York City
Oaxaca, Mexico
 
Why Here: The land of the seven moles (the chocolate based sauce) is also the rugged home of spectacular food markets and a regional cuisine that's stunningly unforgettable. Sure, it's not home to big, easy resorts nor is it on the beach but, for honeymooners, it offers unpretentious and delightful eats in a romantic colonial setting.
Where to Eat: Located on the colorful zocalo (main town square), El Asador Vasco sits in a beautiful colonial home with a large, elevated terrace. Admittedly, the menu is pricey for the area, but this meal is as much about the setting as what is on the plate. Start with tortilla soup, a creamy blend of corn and poblano pepper, or a cheese dip called queso fundido, followed by beef in yellow mole sauce or a spicy mix of beef and pork chichilo, the darkest of the seven moles.
What to Do: Sign up for classes at ex-pat Susana Trilling's Seasons of My Heart Cooking School, and she'll spoon-feed you the best that Oaxaca has to offer. The day starts with steaming cups of cinnamon-laced Oaxacan hot chocolate at the local market, where vendors offer samples of regional string cheese, fried pork rind called chicharron, and even chapulines. (These crispy fried, um, grasshoppers won't knock your socks off, but they'll give you some true foodie street cred.) You can buy dried chilies and glazed earthenware to take home as well as molcajetes (mortar and pestles) and molinillo, the adorable wooden contraptions used to whip hot cocoa until frothy. Then, return to the cooking school and spend the day making a traditional six-course Mexican meal that includes all seven moles of Oaxaca, the cooking of which is a long drawn-out process that will both wow you with the tasty results, and give you resolve to leave all that work to the experts.
The table is set at the homey Seasons of my Heart Cooking School in Oaxaca, Mexico.
Where to Stay: The intimate boutique hotel, Casa Oaxaca, has long been the best choice in town. Housed in a candy-colored row house on a main strip just a short walk from the central plaza, Casa Oaxaca was an art hotel before anyone even coined the term. Regional arts and crafts—carved wooden animals, black clay pottery and hand-dyed rugs—fill spacious guest rooms that are situated around a lovely courtyard with a pool. In the morning, the stone terrace is set with tables so you can start the day with eggs and cactus or yummy huevos rancheros, fried eggs served with corn tortillas, tomato-chili sauce, beans and avocado, and a cup of dark-roasted coffee (room rates start at $187 a night and include contintental breakfast; casaoaxaca.com.mx).
Discover More Delicious Destinations:
►Hong Kong
►Napa Valley, California
►Oahu, Hawaii
►New York City
New York City
 
Why Here: For city lovers—and foodies—there may be no more interesting urban exploration in all of North America. You can literally eat your way around the world in the Big Apple and, in the red-hot borough of Brooklyn, you can do it without ever wandering too far
from a subway stop.
Where to Eat: Couples looking to explore Brooklyn's hipster element should head to Williamsburg, the trendiest neighborhood in the borough, where flocks of 20- and 30-somethings shop, eat and drink well into the night. One of the nicest things about dining here is that in all but the most formal restaurants you can eat shockingly well without ever donning anything fancier than skinny jeans and an ironic tee. This neighborhood is prime stomping ground for the next generation of food fanatics, who can be seen here in their natural habitat taking digital pictures of each course, tweeting their impressions of dishes, and discreetly tucking menus into their purses as souvenirs. So, after tossing back some cocktails with the cool kids at The Commodore—a modern dive bar with arcade games and super-tasty blender drinks—stay for the impressive comfort food (fried chicken) or move on to the recently reopened The Brooklyn Star, featuring unexpected twists on American classics such as cornbread, meatloaf and apple and cheddar crumble. At the neighboring Fette Sau, patrons literally line up for the pay-by-the pound, house-smoked barbecued meats.
What to Do: Plan to get some of the traditionally romantic photo ops—a boat trip to the Statue of Liberty, a ride to the top of the Empire State Building—out of the way in the first couple of days while you're acclimating to the city's fast pace. Later, you can live like a local, shopping casually through the residential neighborhoods, seeking out great international food and picnicking in Brooklyn's Prospect Park, without getting stuck eating overpriced meals in touristy areas.
Where to Stay: Pick your perfect city hotel based on a combination of three factors: First, the sheer sexiness of the guest rooms; second, the cool factor—which, in our opinion, means eschewing corporate midtown for downtown's more residential vibe; and, third, the location (the hotel's proximity to subways, great shops, talked-about restaurants and fantastic sightseeing). One to consider: The tony new Mondrian Soho, on cobblestoned Crosby Street, where Top Chef hottie Sam Talbot just opened the trendy sea-totable, sustainable seafood restaurant, Imperial No. Nine. Don't miss the delectable shrimp and blue corn grits topped with a soft poached egg (he had us at runny yolk), and the ricotta-laden cauliflower fritters with capers. After a late-night meal in the chandelier-filled, greenhouse-style dining room, make your way up to your own room, where the floor-to-ceiling windows offer seriously cool views of the city that never sleeps (room rates start at $349 a night; mondriansoho.com).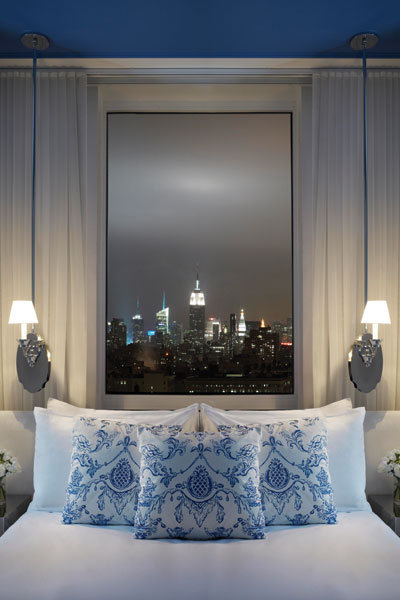 A room with a view at NYC's hip, new Mondrian Soho.
Discover More Delicious Destinations:
►Hong Kong
►Napa Valley, California
►Oahu, Hawaii
►Oaxaca, Mexico