From Hong Kong to Hawaii, savor the cultural and culinary flavors of the world's most delicious cuisines.
By: Sherri Eisenberg
New York City
 
Why Here: For city lovers—and foodies—there may be no more interesting urban exploration in all of North America. You can literally eat your way around the world in the Big Apple and, in the red-hot borough of Brooklyn, you can do it without ever wandering too far
from a subway stop.
Where to Eat: Couples looking to explore Brooklyn's hipster element should head to Williamsburg, the trendiest neighborhood in the borough, where flocks of 20- and 30-somethings shop, eat and drink well into the night. One of the nicest things about dining here is that in all but the most formal restaurants you can eat shockingly well without ever donning anything fancier than skinny jeans and an ironic tee. This neighborhood is prime stomping ground for the next generation of food fanatics, who can be seen here in their natural habitat taking digital pictures of each course, tweeting their impressions of dishes, and discreetly tucking menus into their purses as souvenirs. So, after tossing back some cocktails with the cool kids at The Commodore—a modern dive bar with arcade games and super-tasty blender drinks—stay for the impressive comfort food (fried chicken) or move on to the recently reopened The Brooklyn Star, featuring unexpected twists on American classics such as cornbread, meatloaf and apple and cheddar crumble. At the neighboring Fette Sau, patrons literally line up for the pay-by-the pound, house-smoked barbecued meats.
What to Do: Plan to get some of the traditionally romantic photo ops—a boat trip to the Statue of Liberty, a ride to the top of the Empire State Building—out of the way in the first couple of days while you're acclimating to the city's fast pace. Later, you can live like a local, shopping casually through the residential neighborhoods, seeking out great international food and picnicking in Brooklyn's Prospect Park, without getting stuck eating overpriced meals in touristy areas.
Where to Stay: Pick your perfect city hotel based on a combination of three factors: First, the sheer sexiness of the guest rooms; second, the cool factor—which, in our opinion, means eschewing corporate midtown for downtown's more residential vibe; and, third, the location (the hotel's proximity to subways, great shops, talked-about restaurants and fantastic sightseeing). One to consider: The tony new Mondrian Soho, on cobblestoned Crosby Street, where Top Chef hottie Sam Talbot just opened the trendy sea-totable, sustainable seafood restaurant, Imperial No. Nine. Don't miss the delectable shrimp and blue corn grits topped with a soft poached egg (he had us at runny yolk), and the ricotta-laden cauliflower fritters with capers. After a late-night meal in the chandelier-filled, greenhouse-style dining room, make your way up to your own room, where the floor-to-ceiling windows offer seriously cool views of the city that never sleeps (room rates start at $349 a night; mondriansoho.com).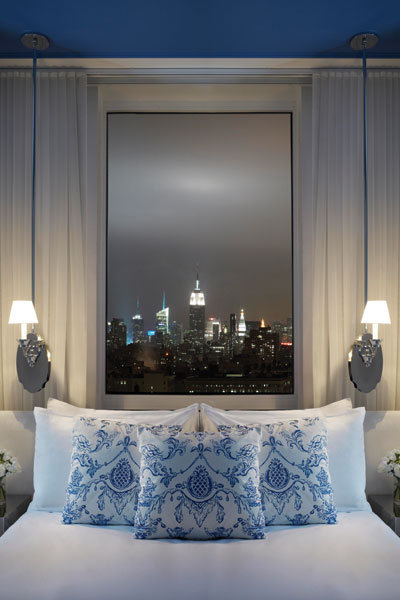 A room with a view at NYC's hip, new Mondrian Soho.
Discover More Delicious Destinations:
►Hong Kong
►Napa Valley, California
►Oahu, Hawaii
►Oaxaca, Mexico
Pages