From Hong Kong to Hawaii, savor the cultural and culinary flavors of the world's most delicious cuisines.
By: Sherri Eisenberg
Oahu, Hawaii
 
Why Here: This is the primo choice for foodies who want some gorgeous white-sand beaches served alongside their complex cuisine. And the capital Hawaiian island of Oahu, home to pan-Pacific cuisine, offers the best of both. 
Spend your day snorkeling with a rainbow of sea life, then shower, dress, and treat yourselves to a similarly spectacular display of delectable sashimi. The seafood is fresh, the flavors are from varying cultures, and the fabulous dishes—such as spam musubi, macademia nut-crusted fish, haupia (coconut pudding) and foie gras nigiri—simply couldn't come from anywhere else.
Where to Eat: Make a reservation at Alan Wong's, and let the James Beard Foundation Award winner delight you with his creative Hawaiian takes on classic dishes. All around the islands you'll find ahi poke, a predecessor to the now omnipresent tuna tartare. Yet Wong offers a creative twist on the original, serving the ahi in crispy wonton balls with avocado and a wasabi-infused sauce. Finish your meal with a coffee from his extensive menu of locally grown beans from smallbatch plantations across the islands of Aloha.
One of Alan Wong's savory—and artful—dishes served at the eponymous restaurant on Oahu.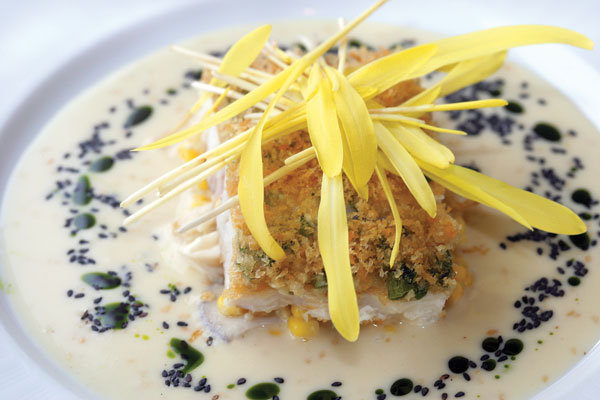 Another delicious dish by Alan Wong.
What to Do: Don't miss out on our personal favorite foodie find for a sunny Hawaiian afternoon: Puka Dogs, a casual lunchtime spot that serves house-made garlic sausage on custom-made buns topped with lilikoi mustard and tropical fruit relish in flavors like pineapple and coconut. And while there are plenty of food finds in cosmopolitan Waikiki, you'll also want to rent a car for a day trip to the North Shore, which is a must-see for surfers, as well as a must-eat for those who love shave ice and fresh shrimp served out of gourmet food trucks that predate those on the mainland by years.
The possibilities for relaxation are endless on Waikiki Beach.
(Photo Credit: Morgans Hotel Group)
Where to Stay: Some clichés turn out to be true—Halekulani is an oldie, but a goodie in the honeymoon world. This Asian-influenced resort is right on the sand, and home to both orchid-filled, chic public spaces and the Vera Wang designed suite with balconies overlooking the surf. The
decor is—as you might expect—sleek and sophisticated, with plenty of silver and lavender accents. After you've admired the water from your private vantage point, join the international crowd around the pool for Japanese popsicles (room rates start at $435 a night; halekulani.com).
The classic hotel—Halekulani—offers fantastic views of Oahu's iconic Diamond Head Peak.
Discover More Delicious Destinations:
►Hong Kong
►Napa Valley, California
►Oaxaca, Mexico
►New York City
Pages