From Hong Kong to Hawaii, savor the cultural and culinary flavors of the world's most delicious cuisines.
By: Sherri Eisenberg
Napa Valley, California
 
Why Here: If the Caribbean is the first honeymoon answer for many sun-worshipping couples, then gorgeous Napa Valley is at the tip of the lips of food-loving folks. The region celebrated sustainable cuisine before it reached the masses, and Thomas Keller's temple of the table, The French Laundry, beckons to those who follow all things foodie. Fortunately, there's enough beautiful scenery (hello, photo ops) and spectacular wine to draw even fledgling culinary-art admirers.
Outside the famous California eatery, The French Laundry.
Where to Eat: The French Laundry is the ultimate special occasion dinner, so be sure to book your table when you arrange your hotel stay. This is an epic meal in every way: Jackets are required, and they don't allow jeans, shorts, or tennis shoes—not that you would dress that way for a threehour meal that's worthy of Best Dinner Ever Facebook postings. When browsing the menu, keep one eye open for their most famous dish—Oysters and Pearls, a rich and creamy sabayon of tapioca topped with local oysters and caviar. Best of all, it's not even an upcharge from their chef's tasting menu price of (gulp) $270 per person. Fortunately for your wallet, there are plenty of other wonderful places to eat while you're in town. There's Morimoto Napa, the local outpost from Iron Chef Japan himself. Belly up to the sushi bar that faces an open kitchen, and order the justifiably famous rock shrimp tempura, creamy spicy king crab, or a plate of the signature pork belly with congee. Or, indulge in what must be the chef's richest and most playful creation: Duck, Duck, Duck, a celebration that includes a soft poached duck egg, foie gras and duck-fried rice. This dish is quite simply the stuff that foodie dreams are made of.
One of 18 courses Chef Thomas Keller creates daily at The French Laundry.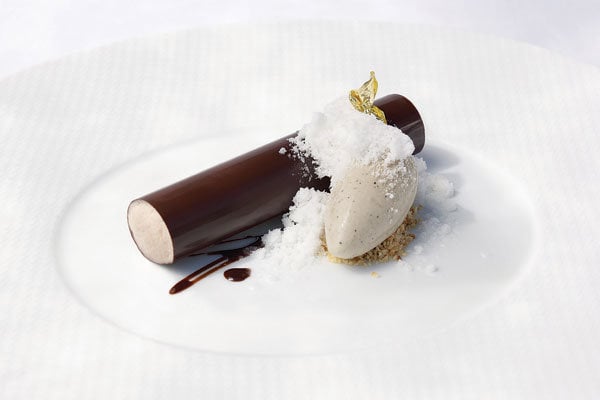 Did someone say dessert? A decadent treat.
(All photos courtesy of The Thomas Keller Restaurant Group)
What to Do: Taste the area wine, of course. And think of touring the picturesque wine country as the ultimate opportunity to start building your home wine cellar together from day one of your marriage. The shopping expedition—which, if done properly, includes plenty of time in a tasting room and the hiring of a chauffeur so that you can both partake—is as exciting as the score itself. Just be sure to check out the interstate shipping laws for cases of wine before you stock up. Cheers!
Where to Stay: The spectacular Auberge du Soleil in Rutherford, just a 15-minute drive up the St. Helena highway from The French Laundry, seems built just for couples. Set on a hillside in the middle of an olive grove, the resort's spa uses lemons and herbs from the gardens, and the hotel's infinity edge pool overlooks the valley's fields of grape vines. What more could a pair of oenophiles ask for after a day spent tasting the local merlots and cabernet sauvignons? A spa treatment that involves a grapeseed exfoliation and a rubdown with local grapeseed oil, of course (room rates start at $525 a night and include breakfast; aubergedusoleil.com).
Discover More Delicious Destinations:
Pages