There's a ring on your finger. Now what? Read on: Perfect planning starts here.
By: Denise Schipani
Hiring Your Vendors
Here's how to hire the best.
Photo Credit: Sarah Kathleen
Photographer and videographer: The best ones usually book weddings many months in advance, so get on this one early. Get recommendations from friends, then research what kinds of shots you'd like to see — formal portraits and dancing shots or a candid, journalistic format. Always ask to see other wedding albums the pro has done.
Quick tip: Not sure what kind of album you want? Look for photographers with a looser style and many package choices on offer. You don't have to make up your mind right away. After the wedding, you may even want to get creative and make your own album.
Musicians: Arrange to hear musicians perform before you sign them on. Make sure they agree to stick to the playlist you give them. Find out how they will dress and how many breaks they will take. Hiring a deejay is usually less expensive than a live band, but not always. 
Flowers and décor: Once you have your reception site booked, you can decide on table arrangements and other decorations. A hotel ballroom might be a relatively blank slate, whereas a museum may need little more than simple centerpieces. If you can buy fresh stems at a local farm, ask a talented friend to help put together bouquets and centerpieces. Or ask your florist to incorporate tons of greenery to make fewer flowers look like a lot more.
Caterer: You want to know how dishes will taste and look and how flexible the caterer is with menus and prices. Don't be afraid to bargain; you can cut costs by limiting the number and kinds of hors d'oeuvres served at cocktail hour.
Choosing Your Bridesmaids

Photo Credit: Michelle Valentine Photography
When naming your attendants, follow these tips:
Explain to prospective bridesmaids what the role requires, like planning the shower and paying for their attire.
Tell each 'maid that she'll need to commit a certain amount of time and energy — and if she can't, it's fine for her to decline.
Choose as many or as few bridesmaids as you want.
Give your closest friend or relative the maid of honor position.
Include a female relative of your groom in your bevy of bridesmaids; it's a diplomatic move that can only strengthen family relations.
Erase the emotion. If you were the girl who pinned towels in her hair to play bride, you may need extra help with this step. Pulling the emotion out of the event and remaining level-headed as you shop for your dress will help you stay within the bounds of both budget and practicality. If it helps, bring your mom and a down-to-earth pal along with you.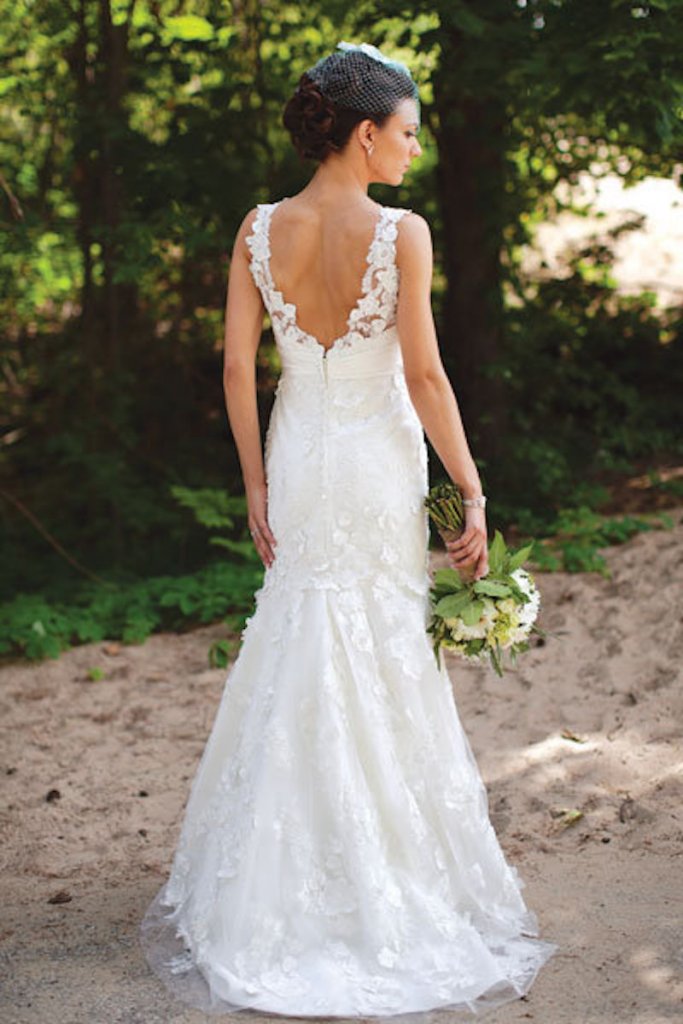 Know what kind of shopper you are. Some brides relish the hunt for the ideal dress, and happily book a number of appointments at bridal salons. They like having a salesperson who offers ideas and selects gown styles for them. Others would really love to just slip into a store (a department store, a specialty boutique, a secondhand shop) and find their dress hanging there on the rack. Both ways are possible. Decide which kind of shopper you are, and work accordingly.
Don't second-guess yourself. Think you've found The One? Then you probably have. Look no further — and relax. 
Tip: It's not strictly necessary to know wedding place and time details before you shop. Whereas fashion guidelines were more rigid in the past (not wearing a glittery sheath for a daytime wedding, for example), the rules are looser now. But check with your house of worship; some require covered shoulders or heads. Start shopping whenever you feel pumped — and don't forget to have your guy rent formalwear for himself and his groomsmen.
Next: Managing your budget, taming your guest list, and sending your invitations ►
Pages