We asked top wedding-industry pros to spill their best cost-cutting secrets. Here's how to save on everything from cocktails to cake, flowers and more.
By: Sharon Naylor
"Ask yourself: what are my top three dream elements? Is the food most important? The band? The dress? Craft your budget around what you know you want, to splurge there and cut back on some things that aren't as important," says Christopher Confero, of Christopher Confero Design in Atlanta, GA
Site Fees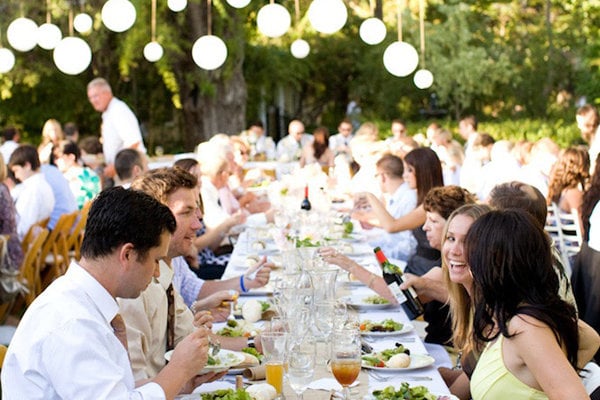 Photo Credit: Love Bird on Bridal Musings via Lover.ly
"Booking on a Friday night or Sunday afternoon or evening can be a big savings over heftier Saturday night costs. Also consider a Thursday night wedding, which can shave approximately 10% to 20% off your budget, and you and your guests get to enjoy a three-day weekend (just make sure to send out save- the-dates first!)," says Jenny Orsini, of Jenny Orsini Events in Berkeley Heights, NJ.
"Sunday mornings are also becoming more popular, since you have the option for a terrific brunch with a large spread, at a cost of 30% less than a dinner," says Andrea Correale, president of Elegant Affairs Off-Premise Catering and Event Design, in Glen Cove, NY.
"Prices are lower during the months of December through March, and can add up to $40 to $50 less per guest," Orsini says. (Adds Confero: "Renting a venue in January can save you around 25%."
"When looking for a venue, you should always ask about the special events planned for the space both before and after yours. many times, you can see what equipment (lighting, staging, draping, etc.) they are using and potentially 'share' the cost of the equipment if both events have similar needs," says Dallas event designer aka "America's Sassiest Lifestyle Guru" Steve Kemble.
Flowers & Decor

Photo Credit: Laura Murray Photography on Bridal Musings via Lover.ly
"Put your money where guests spend time and are going to appreciate it. If you aren't having a sit-down dinner, don't use your flower budget on expensive table centerpieces. If you're having a cocktail reception and everyone will be lined up at the bar, have your designer create a 'wow' floral piece in that area so guests enjoy it all night! If you concentrate the decor in one area instead of spreading it out around the room, this could easily save you 20% on your decor budget," says Confero.
"Roses are affordable all year long, and it's no more expensive to include big Ecuadorian or Colombian roses than it is to use California roses," says Michael Gaffney, director and owner, American Schools of Flower Design, in eight cities nationwide.
"Carnations are one of the most cost-effective flowers available. When they're used in dense monochromatic designs, they have a lot of impact. Although they aren't as lush as roses or peonies, these hardy little flowers can be used to create a similar look for half the cost," says Pennylyn Kaine, owner and floral designer, Blossom and Bee, Oak Ridge, NJ.
Ask your floral designer to make blooms look pricier. "For instance, avoid 'antique hydrangeas' that have wine-tinted blossoms, since they cost about $24 apiece retail. Your floral designer can use specialty floral spray to make regular hydrangeas look like the pricier kind, saving you $20 apiece," says Gaffney.
Let your floral pro suggest fabulous fillers. "Bear grass gives a striking architectural look to centerpieces and costs 60 to 70% less than some other fillers and greenery. As for baby's breath, a bunch may cost a mere $6, but for an impressive look, you'll need a lot...which could add up to $80," says Gaffney.
"Tall centerpieces on average start at approximately $150. You can easily save 50 to 60% by eliminating height, and adding an intimate feel with more candlelight than florals," Orsini says.
Pages