We asked top wedding-industry pros to spill their best cost-cutting secrets. Here's how to save on everything from cocktails to cake, flowers and more.
By: Sharon Naylor
Food

Photo Credit: Dominique Bader on Snippet and Ink via Lover.ly
"Instead of a formal sit-down dinner, chef-attended watch-while-they-cook 'action stations' can add an interactive element to the evening," says Confero. "Everyone gets fed without the hassle and the wait of table service, and cutting down on the wait staff should easily shave 15% off of your catering bill."
"Buffet style can usually be more cost-effective than formal, sit-down service, saving approximately 20 to 30%," says Orsini.
"Brunches offer a large spread of food, with many light and healthy dishes that are far less expensive per menu item than the heavier and more indulgent foods found at cocktail party stations and in sit-down dinners," Correale says.
"The days of gluttony are over," Correale continues. "It's now in good taste to tantalize guests during the cocktail hour with just one or two stations as opposed to four or five, and offer hand-passed hors d'oeuvres, choosing healthier, lighter foods, which cost a lot less than heavier hot-station foods."
Drinks

Photo Credit: Abby Jiu on Munaluchi Bridal via Lover.ly
"House liquors can save you 15% over the cost of top-shelf liquors," says Orsini.
"You don't need to do a full open bar," Orsini continues. "Just provide a few signature drinks, and house wines and beers. Hard liquor is not a necessity at a wedding and can often drive up the cost."
"Plan a cocktail hour where you pass champagne or offer one signature cocktail, but then switch to just beer and wine at your reception. That will easily save a good 30% or more on your bar tab," Confero says.
"We all love champagne, but limiting the reception toast to just the bride and groom can save a chunk of cash. With an average guest list of 140, you would save approximately $420 by not having a reception- wide toast," says Chris Easter, groom-centric wedding and etiquette expert, co-founder of TheManRegistry.com.
Cake & Desserts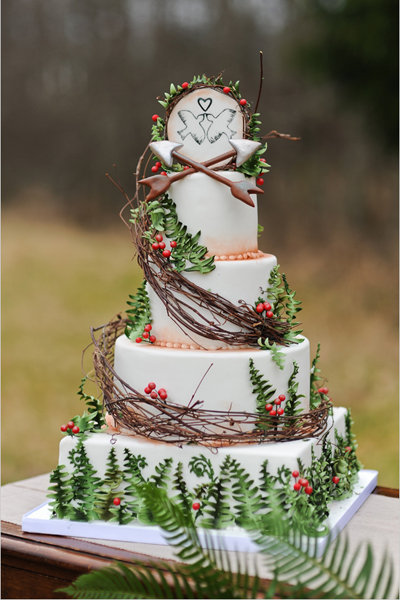 Photo Credit: Courtney Clarke Photography: on Wedding Chicks via Lover.ly
"My rule of thumb is to only plan on having cake for 75% of your guests," says Confero. "And do you absolutely need a groom's cake? Absolutely not."
"Design a cake that has some faux layers for making a big visual impression while cutting it, and also have a sheet cake in the kitchen for serving, which can save 15 to 20%," says Orsini.
Go with standard icing flavors like vanilla and lemon, and opt for buttercream over fondant, which can save around $1 per slice," says Anne Heap, owner and cake designer at Pink Cake Box in Denville, NJ.
"Choose crowd-pleasing classic flavors. "For cakes, vanilla, chocolate, lemon and key lime cost a bit less than red velvet and carrot cake," Heap tells us.
Bring in your own candy buffet instead of having a big, expensive Viennese dessert hour. Or, have a plated dessert with two to three desserts of your choice, to serve along with the cake," suggests Orsini.
"Instead of a Viennese dessert hour, it's now an elegant trend to have waiters hand-pass little dessert options. Since the caterer can control the portions, it often saves $8 per person," says Correale.
Pages