Who's invited to the wedding? Who isn't? Here are common-sense ways to get your guest list under control.
By: Jennifer Lazarus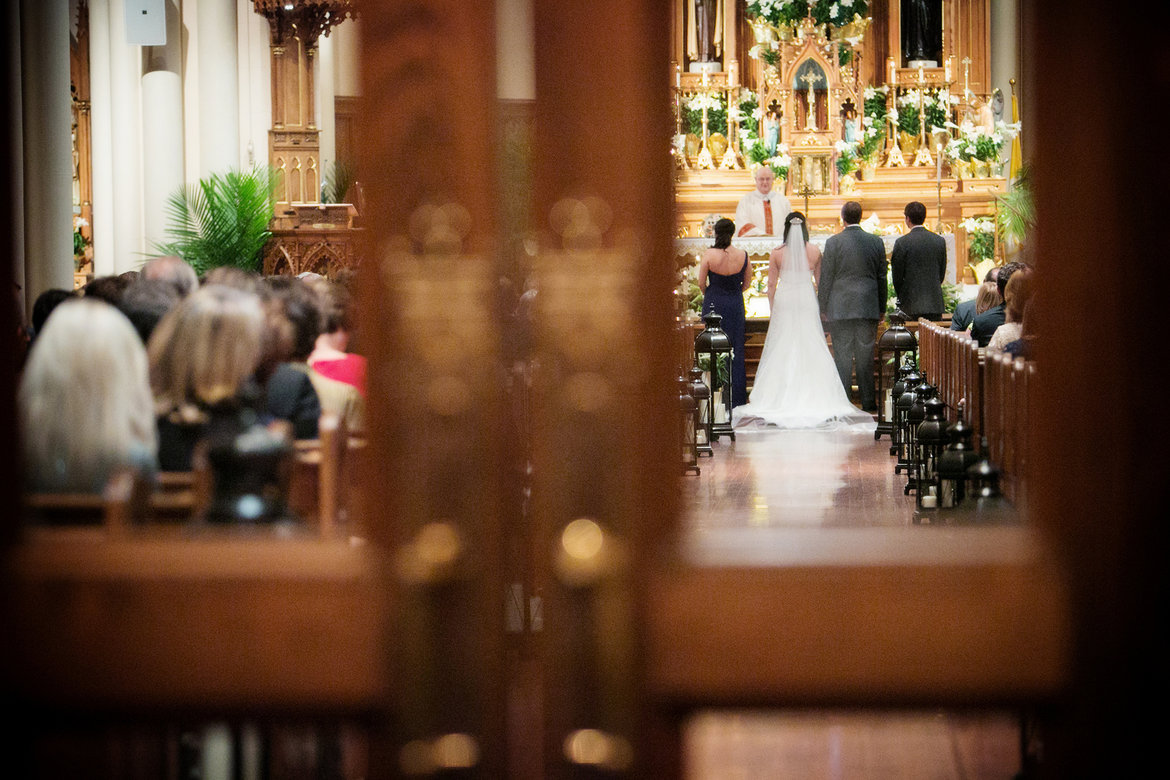 Photo Credit: Arte de Vie
You just got engaged, and over takeout and a bottle of wine, you and your fiancé decide to take a stab at your guest list. You agree to create ironclad "rules": First, no one is invited with a guest unless they are engaged or living together; second, no kids, except for those included in your bridal party. You're off to a good start—until your future mother-in-law calls to tell you how much she'd appreciate it if you'd include your fiancé's three second cousins, all under the age of 12. What to do? Here, answers to some of the trickiest guest-list questions.
First Things First
Before you start jotting down names on paper, you and your fiancé need to come up with a number: an estimate of how many guests to invite. This, of course, will largely depend on your budget and on the size of your reception site.
Sharon Naylor, author of The Essential Guide to Wedding Etiquette (Sourcebooks Casablanca), suggests that you then create four lists and label them "A" through "D." Your "A" list should include those people, beyond close family members, whom you can't imagine getting married without, such as your college roommate and the friends you hang out with every weekend.
Aunts, uncles, cousins and high school friends you've stayed in touch with should make up your "B" list, while your "C" list should include coworkers, your parents' friends and neighbors you've known forever. Finally, your "D" list can tally up distant cousins, friends you've lost contact with and your parents' bridge partners. As your list grows and you need to eliminate people, start with your "D" list and work your way backward. "It sounds awful, because you don't really want to rank the people in your life, but it does work well," Naylor says.
The Parent Trap
Sometimes Mom and Dad have a guest-list agenda of their own. Lori and Louis Quevillon from Toronto, Canada had dreamed of having an intimate wedding. But their dream faded fast as their parents' lists of invitees ballooned. The couple decided to take charge. "We told our parents they couldn't invite anyone that my fiancé and I hadn't seen in the last six months," says Lori. To keep the peace, Lori and Louis suggested that their parents keep a back-up list of people they could invite if others declined.
Make things clear to both your families early on. Traditionally, each family invites half the guests. However, if you and your fiancé are paying for the wedding, you may choose to divide your list in thirds: one-third for the bride's family; one-third for the groom's; and one-third for the couple. This is a neat formula, but real life may not be so simple. Sometimes one family takes on most of the expenses. "If this is the case, you have to find an equitable way to divide the guest list based on this," says Leah Ingram, author of The Everything Etiquette Book: A Modern-Day Guide to Good Manners (Adams Media Corporation). Once you do, give each set of parents a pre-determined number of invites, Ingram advises—and stick to it!
The "and Guest" Debate
Typically, couples marrying in their 20s and 30s have lots of single friends, which quickly raises the question of whether to invite them to bring a date to the wedding. It's generally accepted that any potential guest who is in a long-term relationship should be invited with his or her significant other. Beyond that, forget about adding "and guest" indiscriminately to single friends' invitations.
For some, Naylor points out, going alone may actually be a golden opportunity to meet potential dates. Your single pals may prefer that possibility to scrounging around for an escort. "We've all had the experience of asking someone to accompany us to a wedding, and the guy ends up being a stick-in-the-mud," she says. "You may just have a lot more fun on your own."
And what if someone sends back a response card that includes the name of a guest you didn't invite? (It does happen!) Simply explain to your invitee that you have, for reasons of budget or size of venue, kept your guest list to a minimum and, unfortunately, you cannot extend your invitation to her guest. That should settle the matter.
Next: Inviting exes, kids, coworkers, and other tough calls ►
Pages