One of the first decisions you need to make after getting engaged is when to actually tie the knot. Each wedding comes with its own set of pros and cons; here's what you need to know before sending out those save-the-dates.
By: Brianna Bailey
Winter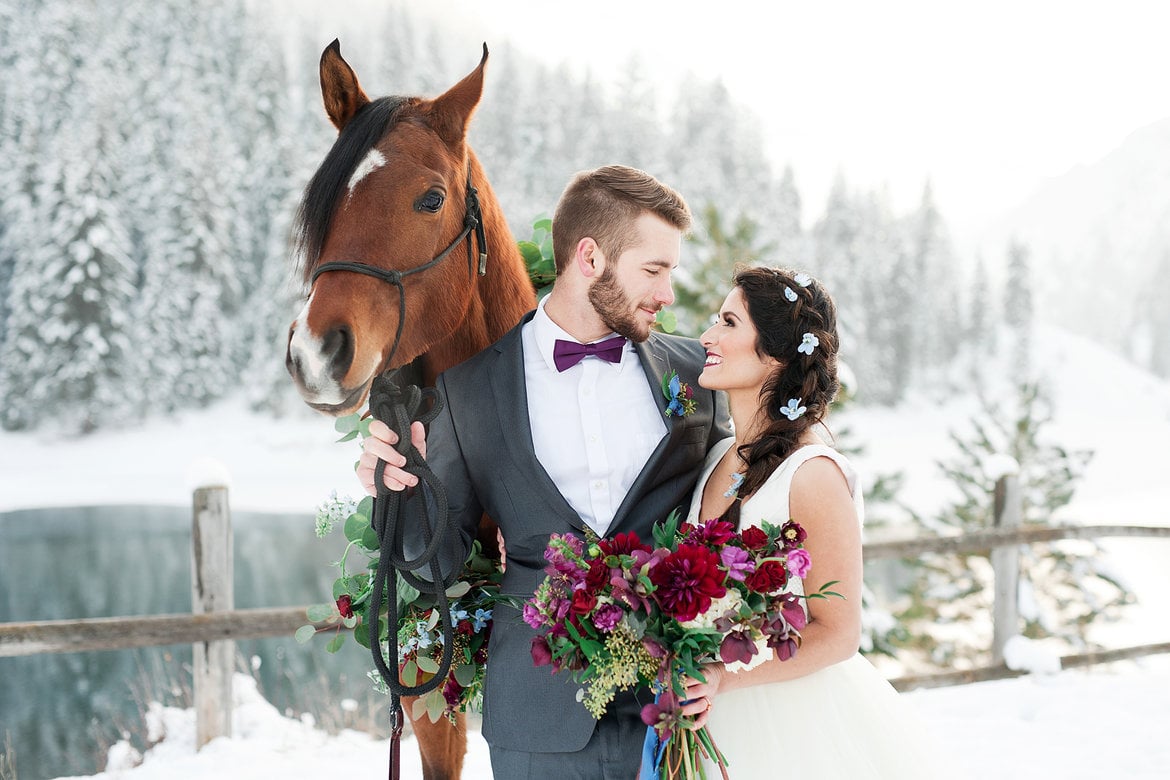 Photo Credit: Kristina Curtis
Pros:
1. Nothing says dreamy like a fresh snowfall to amplify your already-perfect day. "When we're lucky enough that it has snowed and everything is white, we love that any color palette just pops because the world has been neutralized. This goes for not just colors but for lighting too, you're just turning it up a notch," says Michelle Leo Cousins, Owner of Michelle Leo Events.
2. Options, isn't that one of the most important factors for a successful wedding? We sure think so. Winter allows for endlessly rich dessert tables, hot cocoa bars, and copious amounts of comfort food. Your guests will not be leaving hungry or unsatisfied. 
3. It's also all in the details, because they make all the difference. Some might think that cool temperatures are limiting, but it really allows for additional creativity. If you want an outdoor winter ceremony, you can have one — you just need clear tents, portable heaters, and maybe some champagne right after you say, "I do!"
4. If fireplaces, candles, and dimmed lights are all you've dreamed about since you first got that ring on your finger, you can have all of them — and more. A winter wedding is the perfect place and time for calm, cozy, and casual details that you and your guests will enjoy together. 
5. Depending upon the specifics, it's safe to say that you can save extra money when booking all your vendors for a winter wedding. It's typically a slower time of the year, and what's better than having leftover wedding budget money to start your marriage? 

Photo Credit: Kristina Curtis
Cons:
1. If having a large attendance at your ceremony is a deal breaker for you, think about the holidays you are competing with. A Christmastime wedding can be absolutely gorgeous, but keep in mind that many of your guests could be traveling back home — in the opposite direction of your event — leaving you with a present in the mail rather than their physical presence. 
2. "A challenge with winter weddings is booking them with enough notice so you can get invitations out a bit earlier than normal," says Leo. If you want to have the best possible attendance in this season, getting your invites out before your friends book flights and commit to holiday parties is crucial.
3. Snow-focused venues are highly sought after and can be everything they're dreamed to be, but they come with complications. "I absolutely adore winter weddings, I have one scheduled on Jan. 9 in Park City but am holding my breath that we don't have a terrible storm," Leo says, "It's awful for vendors trying to get places and transportation for guests; adding snow can be a total game changer." 
4. While there are many twists and touches winter weddings allow, there are only so many hours of daylight to utilize them all. Depending on the month and location of the ceremony, the sun sets fairly early, and the day needs to start — and end — much sooner. This can increase stress during planning and execution stages of the wedding as you're trying to fit everything into a tight schedule. And if you're looking to party into the wee hours of the morning, you'll definitely want to look into hosting an after-party. 
5. Even though wedding dresses have tons of fabric and multiple layers, you'll most likely need a second piece to add to your dress in order to stay warm. And finding the perfect jacket to go with your perfect gown can be a real headache. Not to mention, your poor bridesmaids will be freezing their tails off in your outdoor pictures — prepare them with tights and wraps to stay warm.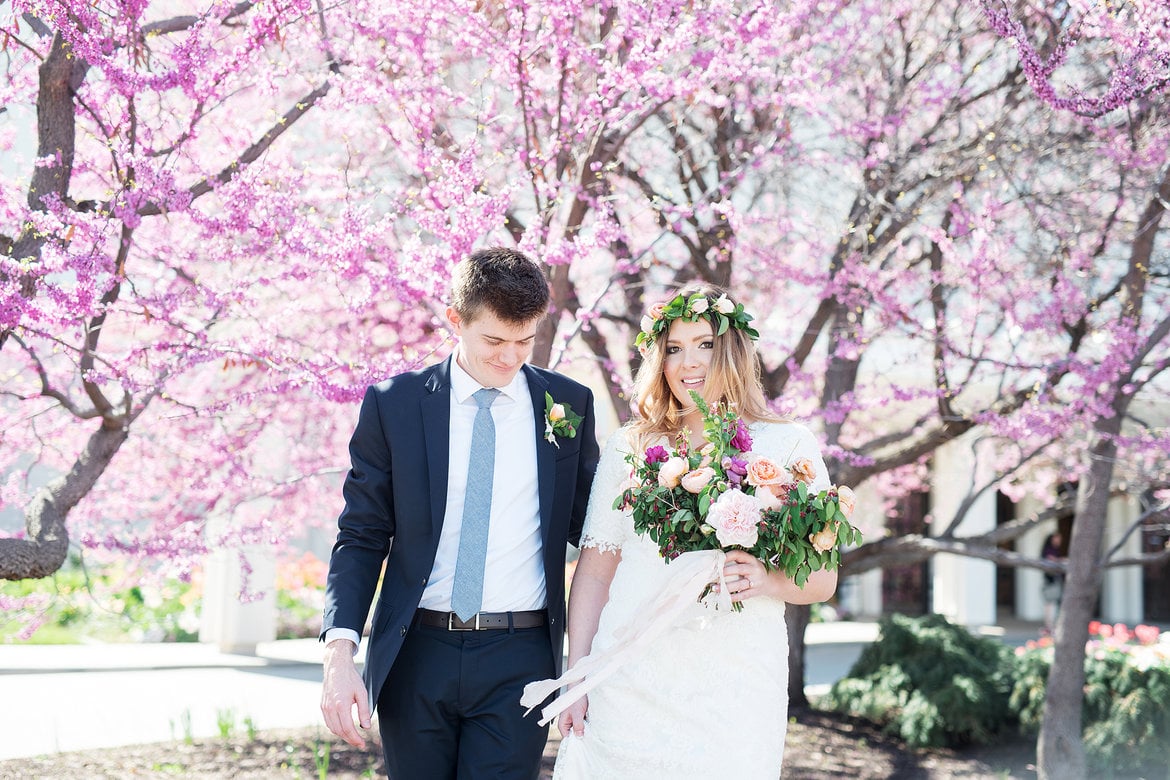 Photo Credit: Kristina Curtis
Pros:
1. The season's natural beauty is so romantic. "There's nothing prettier than a tree full of cherry blossoms, spring associated floral, pastel colors and that soft romantic pop of color that nature bursts with at this time of the year," says Leo. 
2. If you prefer a larger wedding party in all aspects, spring is a smart and safe time of the year. Friends aren't quite taking trips left or right, and you aren't competing with any major holidays. This allows for you to send out your invites a little later, if needed, and you can still expect lots of "yes" replies. 
3. You don't have any weather-related restrictions when it comes to selecting your gown. If you want to wear sleeves, you can without overheating. You've always imagined yourself going sleeveless? Do it. Whatever style you prefer can be the style to go with a spring wedding. 
4. If your dream color palette has always been soft, light, and neutral colors, then you are in for a treat. All accents of the day will be matched with blossoms and all things blooming. This creates not only a beautiful backdrop for your photos, but you can also mix light colors if you like rather than committing to just one or two wedding colors. The more colors the merrier in the spring! 
5. Lighting is everything when the biggest day of your life is being photographed. Spring showers may bring May flowers, but also brings cloud coverage, which is ideal for flawless photos.

Photo Credit: Kristina Curtis
Cons:
1. Location makes a difference, but as of late, it seems that every area of the country is just as unpredictable in the spring as the rest. If you want a controlled and dependable environment in terms of the forecast, you're choosing to go with the gamble season. You may have been dreaming of your cherry blossomed-day radiating in the sunlight ever since you sent out your save the date, only to be soaked in raindrops or shivering in snow.
2. You might be able to withstand some spring chills by running inside to warm up as needed, but will your nose, eyes and ears be able to tolerate allergy season? This can drastically impact you and your groom for photos if your eyes are at all irritated or if you have that runny nose you just can't stop. It's also important to consider this for your bridal party members and even guests if any part of the day is planned to be outside. 
3. Depending upon your venue preference, an indoor ceremony and reception is a safer bet with the unknown weather woes that could come. If an outdoor floral backdrop is what you have your heart set on, wait those extra couple of months, and you will be golden to have the day you've envisioned. 
4. You won't be the only couple holding out through the winter and planning for a spring wedding — allowing vendors to up their prices (supply and demand!). If you're working with a tighter budget and want to make every penny count, winter could be looking like your perfect wedding wonderland. 
5. You may not be able to book your favorite vendors. In addition to price surges for every detail you need to book for the day, if you don't have a long engagement to book your vendors far out, the photographer and florist you're set on could already be booked for your day and you'll be left scrambling to find your second preference. Save yourself the stress if you have a shorter engagement! 

Photo Credit: Kristina Curtis
Pros:
1. Variety makes all the difference in the quality of a wedding, not only for yourself but your guests as well.  "With summer weddings, the menu and catering becomes all sorts of fun," Leo says. "There are so many different options; a lot of menus utilize local cheeses, fruits are ripe and harvested, and meats are fresh." 
2. Summer days are hard to beat, and summer nights are even harder. Daylight lasts till sometimes 9 p.m. depending on the month and area, which allows for great flexibility in scheduling a ceremony time. There's no rush on time or pressure to get all your photos taken in a short time frame, and the weather stays comfortable in the evening for everyone. 
3. Comfortable weather after the sun goes down allows for some creative spins. You can light a fire and have s'mores at your reception under the stars, as well as hang streamed lights to keep the party lingering longer. With the right flash and equipment, your photographer will have no problem properly capturing these moments. 
4. Summer is ideal for night owls, since you'll want to avoid the hottest hours of the day anyway. Leo says, "In hot heat, you need to be mindful of your guests and not plan a ceremony at the hottest time of day. Try a ceremony at 6 or 6:30 p.m. and serve dinner after."
5. Floral availability is in perfect timing. Whatever you've been pinning on your Pinterest board is available — and more. There's a flower for every color scheme and it's in perfect bloom, which means your arrangements will be to die for. Keep thinking about that bouquet you'll be walking down the aisle with, because it's as perfect as you're imaging it will be.  

Photo Credit: Kristina Curtis
Cons:
1. High temperature it always something to be aware of when deciding on a summer wedding. Leo says, "There is nothing worse than seeing a bride sweat off her hair and makeup in the heat, especially in 100 plus degree weather." We definitely don't know any bride who wants to look oily or shiny in her forever-to-remember pictures. 
2. Besides the bride losing her full-face coverage, heat is distracting and can be difficult to deal with when it comes down to guests. "It's so hard to keep people focused and comfortable depending on the severity of the temperature," says Leo.
3. Attendance is always a toss up when it comes down to those friends who are avid summer vacationers. Guests you want to invite may have already spent significant amounts of money on their family vacation or abroad escapades and won't be able to watch you walk down the aisle. Carefully consider who is most important to you and your groom to be there — and get your save-the-dates out there early.
4. Shorter engagements can work in many scenarios, but a summer wedding requires a longer lead time. If you get engaged right at the end of spring or beginning of summer, you will likely not have enough time to plan a wedding that same summer. Top vendors will be booked months beforehand, and you'll have to settle for whatever is left. Give yourself plenty of time to make proper arrangements for a summer wedding, and have a yearlong engagement if needed to execute your dream wedding.
5. Summer means sunshine, and that means harsh lighting for your photos. It will be more challenging to be photographed in spots you may have envisioned during your ceremony, reception, or for your bridals, and not all photos can be corrected. Carefully consider this, as your photos are what you'll have to remember your day by. 

Photo Credit: Kristina Curtis
Pros:
1. The leaves are falling, the temperature is cooling, but if you can schedule for late September, the options are still endless. Your dreams of an outdoor wedding can still be fulfilled with proper planning around your date, and your natural backdrop will make mouths drop and be the talk of the town. Prefer an indoor rustic barn wedding? Done. The flexibility with a bit cooler temperature makes fall one for the books.
2. If you prefer a deeper and darker color scheme for the day, then fall is your season. Bronze, orange, deep purple, reds, and green are all great selections to go with the natural décor surrounding your venue. The nature and color scheme will accent and complement each other very well. 
3. Reliability for anything can make or break a wedding. When it comes to weather, fall is that great season that's dependable and predictable. You know exactly what to expect and can plan around it months in advance, depending on how long your engagement is. 
4. Although the days get darker a little sooner, you still have an open time range of selecting your ceremony and being able to eat a little bit later. "You don't have to have a 3:30 p.m. ceremony; you can get a way with 5 o'clock and go straight into dinner and dessert after," says Leo. 
5. Money always matters, and finding avenues to cut costs down on the budget is huge. When planning a fall wedding, whether outdoor or indoor, you can reduce your spending based on the beauty of the nature around you on its own. To get extra foliage if it's not natural around you, focus on a destination wedding to get you what you want.  

Photo Credit: Kristina Curtis
Cons:
1. Attendance can be difficult any time of year, but unexpectedly so when planning a fall wedding. If you have many guests who would need to travel to your wedding, they may have used up their travel time in the summer and are saving the rest for the holidays. Selecting a location that is accessible and easy for most friends and family could help with this, but that's often difficult to do. 
2. Stunning skin is something every bride and groom wants to achieve on his or her big day, but the changing weather can wreak havoc on skin. Skin tends to start drying out as summer ends and fall makes its way. There's nothing worse than trying a brand new skincare routine and having it fail on you. No one wants flakes or dry spots on their face, let alone on your wedding day! 
3. Fall tends to be a difficult time for most people financially — your guests may be strapped for cash following their summer vacations, they're now beginning to pay for school, or maybe they're just starting to save for the holidays. While you certainly shouldn't choose your wedding season based on the gifts you'll receive, you'll have to remind yourself not to be offended if your friend or relative gives you half as much as you spent on her wedding last summer. And out-of-towners may not be able to splurge on the airfare and travel accommodations necessary to attend your big day. 
4. If you are planning your wedding in a climate that's known to be cooler in the fall months and having an outdoor ceremony and reception is out of the question, you have less flexibility when you're restricted to an indoor facility. You will have limitations in this controlled environment that you are renting out and need to make sure you wouldn't be missing anything extremely important to you.  
5. As fall weddings tend to be indoors more than outdoors overall, booking indoor venues can be tricky and if not planned far in advance. You may have severe trouble getting the space and spot you would like. If you are recently engaged, you'll need more time to plan the details to be immaculate.