Selecting a wedding venue is one of the first (and biggest) decisions you'll make as an engaged couple — it will influence your vendors, budget, décor, and even attire. Here, pro planners break down everything you need to know when weighing different options.
By: Stefania Sainato
Before You Start Touring Venues

Photo Credit: Lovely Valentine Photography
1. Estimate how many people you'd like to invite to your big day, since not all places can accommodate a wide variety of wedding sizes. Nearly every venue will have a guest count minimum: "Be sure to aim low in your numbers — it's easier to add guests than to deduct," says Diane Kolanović-Šolaja from Dee Kay Events. If your final attendance number winds up being smaller than you had anticipated and you have to pay for extra plates, she recommends asking the venue if they can throw in a couple more appetizers during cocktail hour or add extra time to the reception festivities.
2. Sit down with your fiancé and figure out how much you are willing to spend. Do your homework and find out what the going rates are in your desired wedding location. Online venue directories, such as The Venue Report, allow you to search by location, price, and venue type, among other criteria. Determining how much you can afford will help you avoid the heartache of falling in love with a place that's well out of your price range — you don't want to spend more than 50% of your total wedding budget on your venue. "Frequently, couples hire us after they find the venue, and we wish they would book us first before doing anything. Couples get so excited and want to lock in the date and place that they don't think about all of the other expenses that they have to cover," says Danielle Rothweiler from Rothweiler Event Design. Rushing into contracts before you have all of the figures in front of you may leave you "house poor," and you'll have to figure out what to cut out to compensate for overspending. See the typical budget breakdown in your area ►
3. "Check out wedding planners' and photographers' blogs to see real wedding photos of venues you're interested in visiting. Since they aren't staged, you'll get a much better idea of what things can (and really do) look like," says Kristin Crawford, W Austin's Director of Catering and Events. It can be especially helpful if you are unable to visit the venue during the season you'll be getting married.
4. Choose your wedding date. "Wedding dates can be significant for a variety of reasons; some couples choose to wed on the day they met, their parents' or grandparents' anniversary date, or for auspicious reasons that numbers have in their culture or religion. Others may pick a specific time of year and season but not a specific day," says Margo Fischer from Bright Occasions. If you can be flexible with your date and choose an off-season month, you'll often be able to secure the venue of your dreams at a lower rate. For example, you'd likely pay less for a Friday wedding in February than you would for a Saturday in June. Time of year, day of the week, and your engagement length will all impact your negotiating leverage with vendors.

Photo Credit: JDHowell Photography
5. Since dates can book up quickly at popular venues, call around to check on date availability before going to see places in person. (If you're not getting married on-site, a good rule of thumb is to check in with your place of worship first before booking the reception venue.)
Next: Determine Your Wedding Style ►
Determine Your Wedding Style
6. The venue will play a huge role in shaping the ambiance for your wedding, so it's important to have a vision of what you want to portray for your big day. "Your venue becomes the third character in the narrative of your wedding story. The best advice we can give you is to choose a place that feels like coming home. For example, if you had family parties in your backyard your whole life, look for a venue with a large outdoor space that may look a little nicer and accommodate a few more of your friends than a backyard would," say the pros at The Venue Report.
7. Pick your colors or theme after choosing your venue. "Often, we have brides tell us their colors are purple and silver, and the venue they've chosen has ivory walls and gold chairs. Think about how the colors and theme complement your venue space for a cohesive look," advise the pros at Olympia Catering & Events, a family-owned catering company based in Tampa, Florida.
8. Barns, farms, and ranches appeal to rustic-loving brides and grooms. According to The Venue Report, many now include elegant touches such as chandeliers, polished floors, outdoor fire pits, and twinkle lights strung between trees.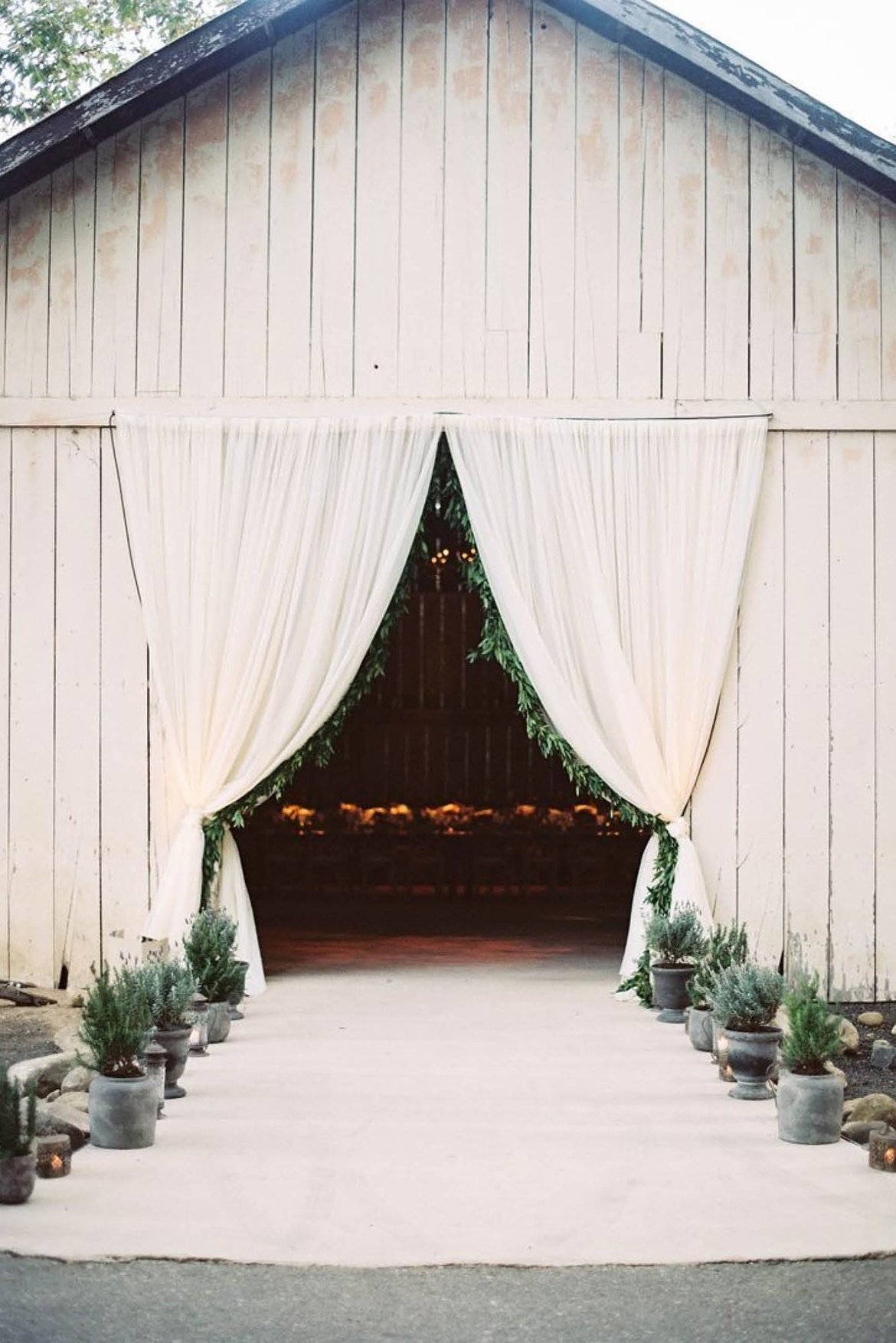 Photo courtesy of Braedon Flynn Photography
9. An all-inclusive ballroom or hotel is the perfect backdrop for a classic fairy tale wedding. If you're a traditionalist looking for something a little different, consider a castle or a historic home or estate, which have the ornate details you crave with a little more character.
10. A venue with an abundance of natural landscape, such as a vineyard or beachfront resort, provides a stunning backdrop while reducing how much you'll need to spend on décor details. "Nothing can beat Mother Nature!" says Marlene Smith, the weddings and events coordinator at Emerson Resort & Spa in the Catskills, New York.

Photo Credit: Kate Fine Art / Event Planning: Bright Occasions
11. More couples are embracing non-traditional and eclectic venues, such as zoos, planetariums, and mountaintops. "The bride and groom can save on flowers and décor while still having a unique event space," says Yasmin Albina, an events manager from 21 Museum Hotels Cincinnati.
12. For a small, intimate affair, consider renting a vacation home. "They may charge a week's worth in rent, but it can still be equal to or less than renting a traditional reception venue," says Maryrose Griffith of Maryrose Griffith Event Design and Coordination.
13. Couples with a modern sensibility gravitate towards industrial warehouses, city lofts, and art galleries. Clean lines and bright whites offer a blank canvas with the ultimate flexibility in designing a unique wedding vision. Just keep in mind that rentals (tables, chairs, china, linens, etc.) often aren't included in the package, so you'll have to factor in the cost of those elements to get a more accurate sense of the overall price. 

Photo courtesy of Gina and Ryan Photography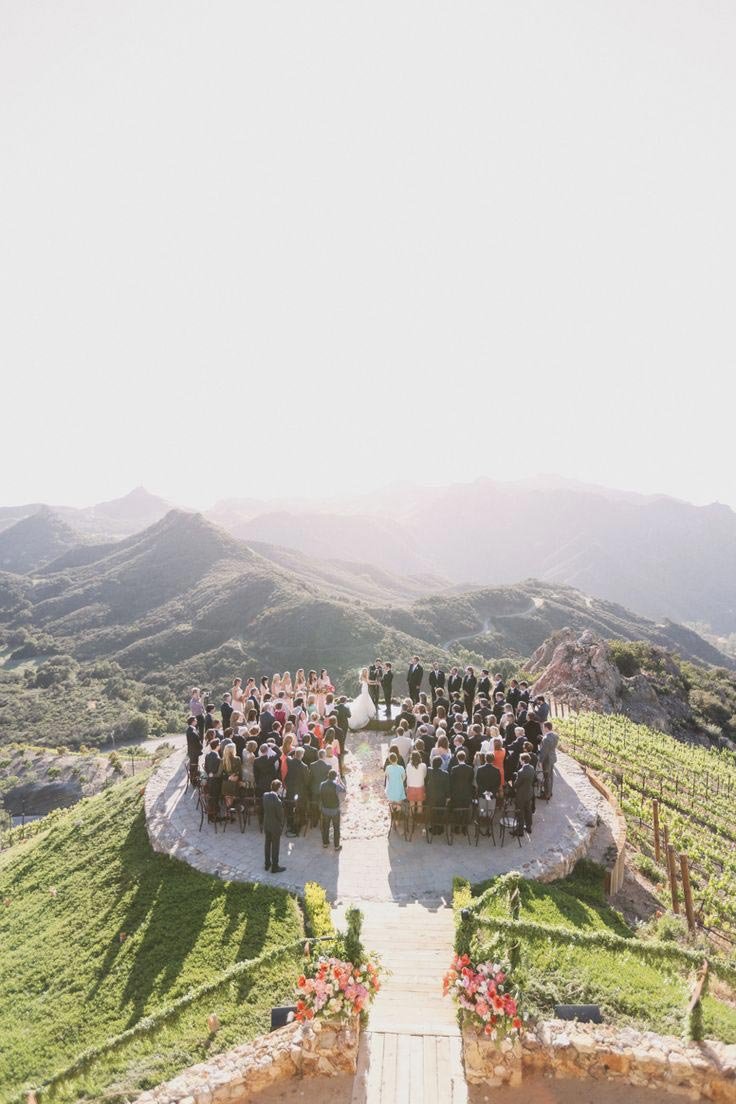 Photo courtesy of Max Wanger
14. Use your venue to tell your love story. Kolanović-Šolaja's couples are choosing venues that are sentimental to them, such as the museum where they first met or a private estate dating back hundreds of years because it was where the groom proposed. "This trend makes me really happy because it's a concentration on the couple, not the wedding world. A celebration of two people is all it's about!"
15. There's also a shift towards weekend celebrations as opposed to a singular day. Couples are choosing to take over more remote locales, where their loved ones can stay and celebrate for an entire weekend. For example, Moab Under Canvas is a collection of "glamping" tents in the desert in Utah — talk about an unforgettable experience!
Next: Touring Wedding Venues ► 
Touring Wedding Venues
16. Email or call prospective venues to schedule official walk-throughs with representatives who can answer all of your questions (come prepared with a pen and paper to take notes). If possible, try to make arrangements to visit the site when it's set up for a wedding. This way, you'll be able to assess the size of your reception area once all of the tables, DJ or band equipment, sweetheart table, and any other necessary components are set up. The event-planning team at Gramercy Mansion recommends, "Don't bring your entire family for an initial site visit. While it's great to have feedback from parents and your maid of honor, limit the first appointment to just you and your fiancé (and a planner, if you have one). Venue selection is a very personal choice, and it sets the tone for your entire event."
17. "Don't book the first venue you see. You may want to get it over with, but trust me. Select at least three places that may be a good fit for your budget and style; then write down the pros and cons of each one. I promise it will make the process easier and more fun!" Kolanović-Šolaja says. Plus, getting quotes from multiple venues will ensure that you're getting a good value.
18. Factor in all of the various spaces you will need (ceremony, cocktails, dinner, and dancing). Think about how to use the rooms and grounds for different purposes — there should be a seamless flow from one portion to the next. If you're getting married on-site, you'll save yourselves multiple site fees, as well as transportation from one location to the other.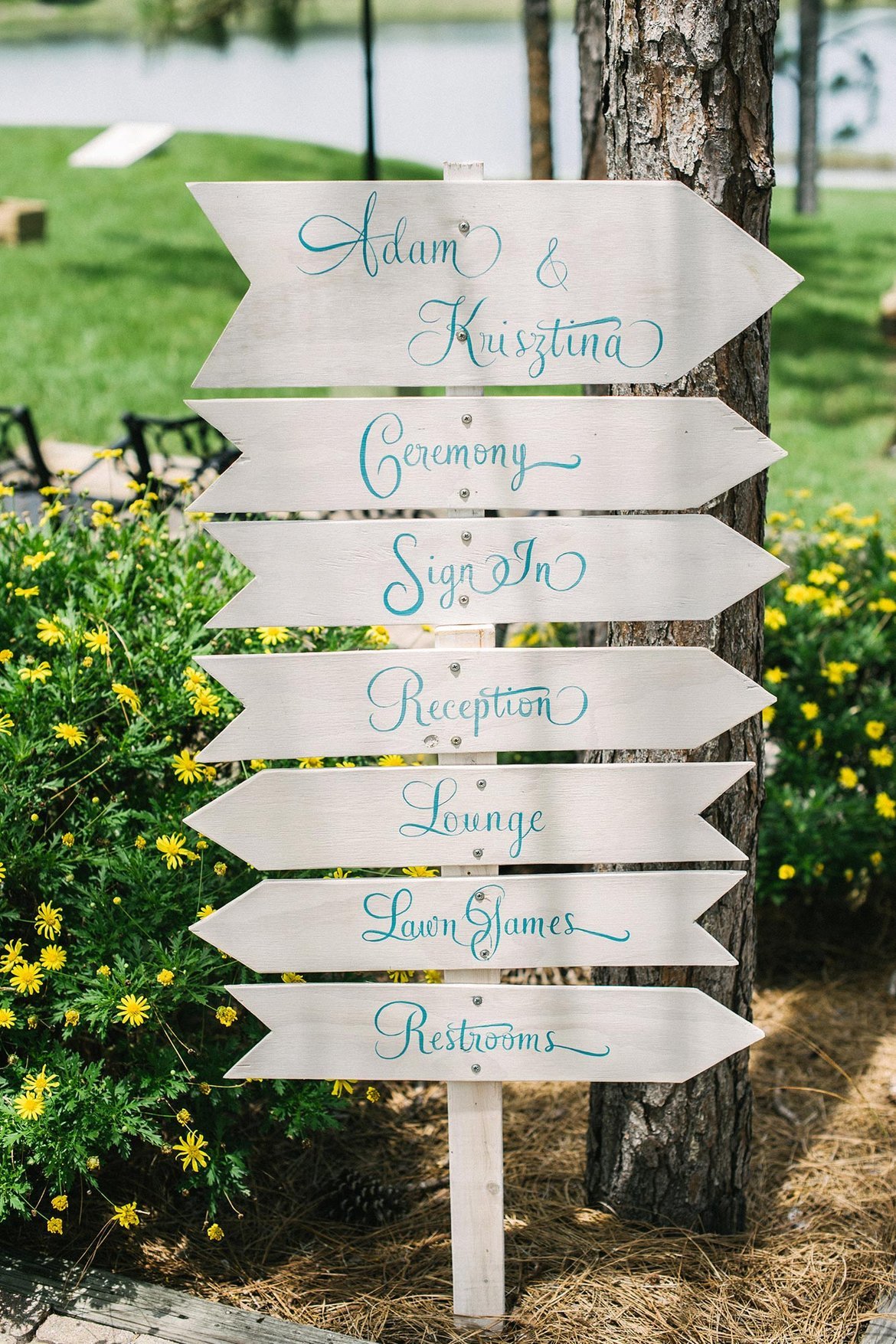 Photo Credit: Claire Pacelli Photography
19. Take photos and videos on your cell phone of the elements you liked and disliked at each venue. (If you're visiting multiple locations over the course of a few days, it helps to take a photo of the sign/exterior of each venue so that you don't accidentally get them jumbled up.)
20. Visit each venue with an open mind. Couples often end up booking a venue that looked so-so online because the photos didn't do the grounds justice, or they fall in love with something they didn't expect initially.
21. Ask for referrals. Many venues have great relationships with past clients who would be more than happy to let you know about their experiences. Ask about the service — was anyone difficult to work with? Or did they go above and beyond to ensure the event was a smashing success? How was the food? Was there anything they wish they would have done differently?
22. Pay special attention to the lighting. If a venue is too dark, it can make it tricky for your photographer to capture all of the details that you worked so hard to plan. You'll also need to find out whether the venue you're considering offers additional lighting services, such as uplighting, intelligent lighting, or projected gobos in-house, or if you'll need to hire an outside vendor.

Photo Credit: Smith Studios Photography
23. Send a thank-you e-mail to the venue representative with a recap of what you discussed each time. This way, everything is in writing, and you won't forget.
Map Out the Logistics
24. Consider how guests will get from Point A to Point B. "Transportation and parking vary depending on whether you're getting married in a city or out in the country, whether the ceremony and reception will take place at the same venue, and whether guests are local or it's a destination wedding," Fischer says. If the venue you're considering doesn't offer overnight accommodations, research nearby hotels or inns, including how much they cost and whether they have enough rooms available. Is there on-site parking for guests at the venue, and if so, is it free or will you cover any fees? Is there nearby off-site parking, such as street parking or garages? If parking isn't readily available, are there valet options that you can provide for local guests (some venues charge extra for this) or will you need shuttle buses and/or limos for the bridal party?
25. Since weather can be unpredictable, it's crucial to have a contingency plan for an outdoor wedding. Before booking, ask what the plan is and walk through it with them. Make sure that you like the backup spaces in the event of inclement weather; if you don't, then you may want to consider another venue or hiring a planner to help out along the way.
26. Some venues offer an on-site coordinator to assist you once you get to the property. Usually, they will help set up your wedding and solve any issues that may arise. Since they don't offer the full range of services that an outside wedding planner would provide, it's important to determine what they're responsible for and whether you need to hire additional outside help.
27. Determine if there are any vendor restrictions. "Preferred" vendors are usually businesses vetted by the venue who work there often and know all the ins and outs of the spaces. "Some venues have strict policies on vendors and you may not be allowed to use the planner you wanted to work with or the photographer you already booked. Other establishments may use this list to suggest businesses they like to work with but ultimately allow couples to bring in other vendors," Fischer says. (More than likely, all the venue will need is proof of liability insurance from the vendor.) Have an open dialogue with your venue and go a step further to find out why they are "preferred." Is it because the vendor has experience working at the venue, or did they pay to be on the list strictly as marketing? "If it's the latter, you may want to search other vendors," Kolanović-Šolaja says.
28. If the venue offers catering in-house, find out if you can do a tasting before the wedding. Consider bringing your parents along to get their opinions, and keep your guests' tastes in mind in addition to your personal favorites. You'll also need to make the venue aware of any special dietary restrictions. Drink preferences may come into play as well: Are you and your guests connoisseurs of the vine, or are craft beers more up your alley? There's no need to break the bank on a premium bar if you won't be pouring fancy cognacs and vodkas.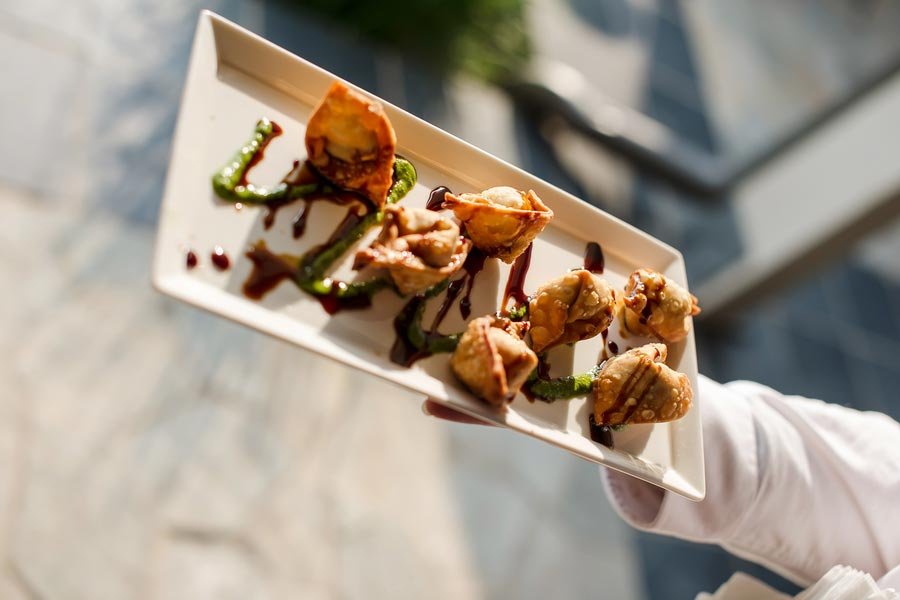 Photo Credit: Dominique Attaway Photography
29. Ask if you'll have exclusive use of the venue. It's important to know how many functions they'll have going on at once and how much interaction there will be between your guests and theirs (if any). The privacy factor differs for every space; some venues may offer separate restrooms and parking areas for guests from different events, while others have the rooms set close together, so you might hear someone else's music pumping from down the hall. If you're getting married outdoors in a public space, such as a park or beach, be aware that strangers may stop to give you their good wishes or find their way into the background of your wedding photos. 
30. Venue packages vary greatly, including the amount of time you'll have for your party and any overtime fees. If the wedding has to end at 9 p.m. sharp because of noise restrictions but you want to dance until dawn, then you may want to keep the festivities going with an after-party elsewhere. 

Photo Credit: Elmer Escobar Photography
Decoding the Contract
31. Your date isn't officially reserved until you sign your contract and, in most cases, make a deposit.
32. "Make sure when you are looking for potential venues that you clearly understand what's included and what isn't," says Lindsey Norton from L. Brook Events. For example, if you're getting married at a beautiful historic estate, but they don't have any upgraded electrical systems, you will need to factor the cost of renting generators into your budget. Read the fine print and triple-check that everything you and your site coordinator discussed is included in the contract. How to avoid the most common hidden fees ►
33. When negotiating, it's easier to work with a substitution than to deduct from the bottom line. For example, if you don't want an ice sculpture that's part of the venue package, perhaps you can ask the venue to remove it and add something else instead. "Most importantly, remember to be kind and thoughtful when you ask to negotiate anything. A grateful heart will give back to you in many ways," Kolanović-Šolaja says. Read more wedding negotiation pointers ►
34. Don't get pressured into signing right away. If a venue has your desired date open, but you aren't ready to book, ask if they can place a soft hold or give you a courtesy call if someone else is interested in your date. (Some places may charge a small deposit fee to hold your wedding date if you haven't signed a contract yet, which is usually taken off the final bill.) Take a few days to talk it over with your fiancé and make sure that your financials are doable in the time frame that you have.
35. You will usually give the first deposit at the signing. Some venues will accept the first payment on a credit card, but after that, it will be cashier's check or cash, so be prepared when those payments are due.