Selecting a wedding venue is one of the first (and biggest) decisions you'll make as an engaged couple — it will influence your vendors, budget, décor, and even attire. Here, pro planners break down everything you need to know when weighing different options.
By: Stefania Sainato
Map Out the Logistics
24. Consider how guests will get from Point A to Point B. "Transportation and parking vary depending on whether you're getting married in a city or out in the country, whether the ceremony and reception will take place at the same venue, and whether guests are local or it's a destination wedding," Fischer says. If the venue you're considering doesn't offer overnight accommodations, research nearby hotels or inns, including how much they cost and whether they have enough rooms available. Is there on-site parking for guests at the venue, and if so, is it free or will you cover any fees? Is there nearby off-site parking, such as street parking or garages? If parking isn't readily available, are there valet options that you can provide for local guests (some venues charge extra for this) or will you need shuttle buses and/or limos for the bridal party?
25. Since weather can be unpredictable, it's crucial to have a contingency plan for an outdoor wedding. Before booking, ask what the plan is and walk through it with them. Make sure that you like the backup spaces in the event of inclement weather; if you don't, then you may want to consider another venue or hiring a planner to help out along the way.
26. Some venues offer an on-site coordinator to assist you once you get to the property. Usually, they will help set up your wedding and solve any issues that may arise. Since they don't offer the full range of services that an outside wedding planner would provide, it's important to determine what they're responsible for and whether you need to hire additional outside help.
27. Determine if there are any vendor restrictions. "Preferred" vendors are usually businesses vetted by the venue who work there often and know all the ins and outs of the spaces. "Some venues have strict policies on vendors and you may not be allowed to use the planner you wanted to work with or the photographer you already booked. Other establishments may use this list to suggest businesses they like to work with but ultimately allow couples to bring in other vendors," Fischer says. (More than likely, all the venue will need is proof of liability insurance from the vendor.) Have an open dialogue with your venue and go a step further to find out why they are "preferred." Is it because the vendor has experience working at the venue, or did they pay to be on the list strictly as marketing? "If it's the latter, you may want to search other vendors," Kolanović-Šolaja says.
28. If the venue offers catering in-house, find out if you can do a tasting before the wedding. Consider bringing your parents along to get their opinions, and keep your guests' tastes in mind in addition to your personal favorites. You'll also need to make the venue aware of any special dietary restrictions. Drink preferences may come into play as well: Are you and your guests connoisseurs of the vine, or are craft beers more up your alley? There's no need to break the bank on a premium bar if you won't be pouring fancy cognacs and vodkas.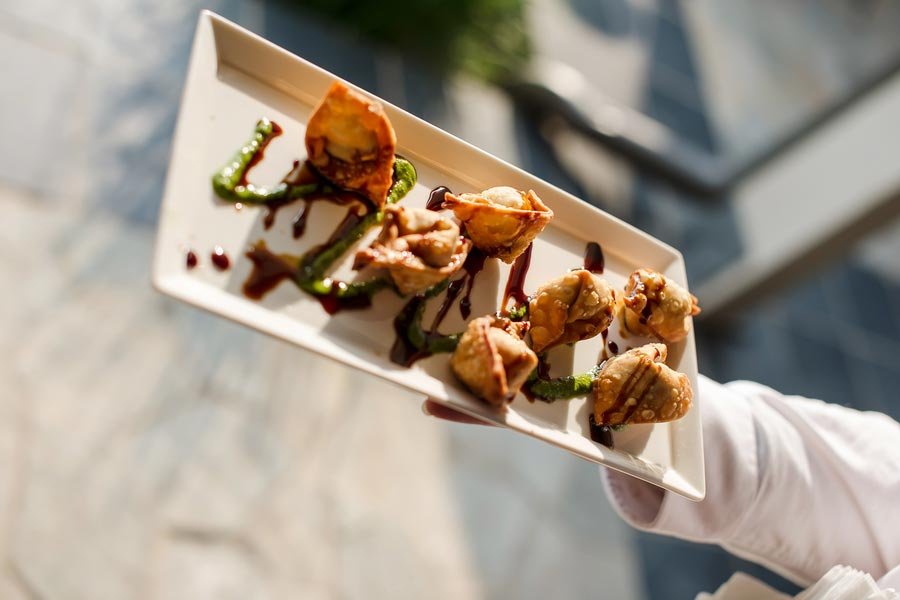 Photo Credit: Dominique Attaway Photography
29. Ask if you'll have exclusive use of the venue. It's important to know how many functions they'll have going on at once and how much interaction there will be between your guests and theirs (if any). The privacy factor differs for every space; some venues may offer separate restrooms and parking areas for guests from different events, while others have the rooms set close together, so you might hear someone else's music pumping from down the hall. If you're getting married outdoors in a public space, such as a park or beach, be aware that strangers may stop to give you their good wishes or find their way into the background of your wedding photos. 
30. Venue packages vary greatly, including the amount of time you'll have for your party and any overtime fees. If the wedding has to end at 9 p.m. sharp because of noise restrictions but you want to dance until dawn, then you may want to keep the festivities going with an after-party elsewhere. 

Photo Credit: Elmer Escobar Photography
Pages