Get expert advice on how to breathe new life into tried-and-true favorites.
By: Stefania Sainato
3. Photo Booths
There are certain wedding reception elements that we see over and over again, and the classic photo booth is definitely one of them. "Couples seem to add these to their wedding as a default now, as if they have to have it because all of their friends did," says Tracie Domino of Tracie Domino Events. "At the end of the night, we pick up tons of photo strips left behind by guests who didn't know what to do with them," she adds.
Sara Traikoff from The Addison tells us that while the idea behind the fad is sound — providing an activity for loved ones while also capturing candid memories — "there are loads of fun new ways to surprise guests without forfeiting the fun."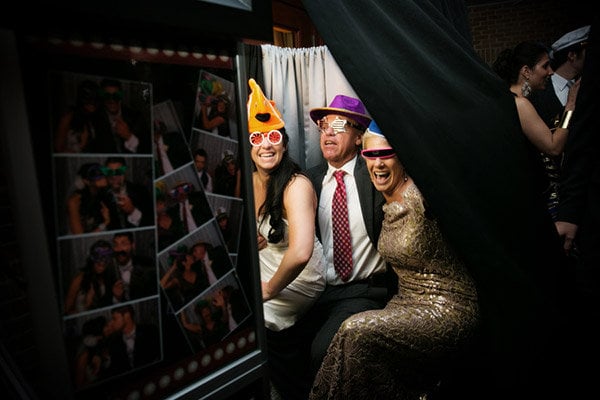 Photo Credit: Arte de Vie
For starters, Merilee Hennings of Ever After Events customizes her clients' photo booths by adding cool backdrops, specialty furniture and props that fit the theme of their wedding.
In order to maximize exposure, Carmody suggests changing the location of the photo booth. Instead of having it placed in the reception area (where most guests will be dancing), consider letting guests use it during cocktail hour, where the atmosphere is less formal. "It can be one of the first things guest see and experience as they enter and will be more likely to engage with it," she says.
One of our favorite alternatives is a video booth. "Instead of still shots, guests are captured on video where so much more can be accomplished — like an explosion of confetti or a fun stunt!" explains Whitney Wing of Wish Wonder Dream Weddings & Events. Other high-tech options include having a "media wall" where photographers can shoot guests' arrivals or having a digital caricaturist.

Photo Credit: The Bosco
Pages