Get expert advice on how to breathe new life into tried-and-true favorites.
By: Stefania Sainato
2. Burlap with Lace Accents
This irresistible fabric combination has been used on everything from Mason jars to bouquet handles to cakes. "The problem we have with this particular trend is that all of these weddings start to look alike. As a result, we aren't seeing the personalization or uniqueness of the couple shine through," explains Stephanie F. Carmody of Très Chic Events.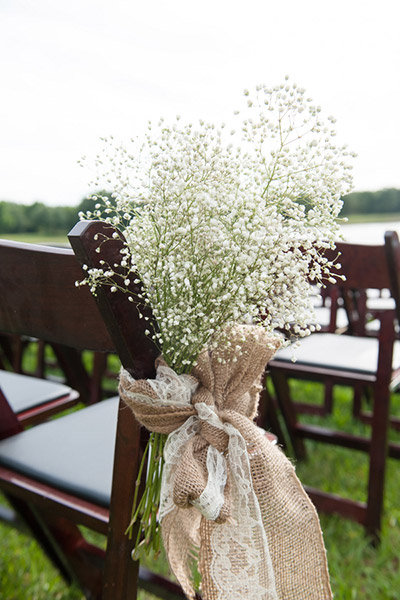 Photo Credit: Claire Pacelli Photography
Fortunately, there are many other ways to incorporate this shabby-chic décor style. Elevate the look by utilizing dyed muslin linens, which has that same great texture without the weird smell or messy shedding associated with burlap. eBay is a great resource for picking up discontinued bolts of fabric in every imaginable color and style.
For a gorgeous variation, Tiffany Siladke of A Splendid Occasion recommends replacing burlap and lace with a more feminine fabric, such as chiffon or silk. "A beautiful hand-died chiffon runner is definitely DIY-worthy and easier than you think. Just head to your nearest craft store and purchase enough fabric to fall down the center of your tables, along with some dye, and voila!" she says.

Photo Credit: Becky Hill on Inspired by This via Lover.ly
If you don't have the time, inclination or DIY prowess to tackle this look, or you're searching for something totally different, then an urban-chic wedding is the perfect alternative. "Trade your burlap and lace for a contemporary, sleek look that will leave your guests saying, 'wow, I've never seen a wedding like that before," says Jennifer Arezzo from A New Leaf Events.
Specifically, she suggests trading burlap and lace for silver sequin table linens or a geometric runner. A neon monogram, graffiti art, a meringue cake, a gray and yellow color scheme and a wine-tasting table are also fun additions. 
Pages