Create a wow-worthy wedding design that reflects you.

Photo: Kerstin Hahn Photography via Sarah Alouache Bridal
Get personal
"Weddings infused with personalizations that capture a couple's values, interests, experiences, and the things they cherish most (including furry pets) are so Instagram-worthy. You're sharing the most intimate and interesting parts of your relationship with loved ones, and these are also the things that are uniquely tailored to your wedding and will get lots of love in your social feeds." —Maya Holihan, Founder & CEO, EWedded
Create a wedding mood board
"Create a collage of everything you like and would love to put an accent on during your wedding day. For example, when designing my next piece for the Sarah Alouache bridal collection, I always start by putting together the vibe or setting I envision my design in. A mood board will set the tone and help visualize your ideas altogether." —Sarah Alouache, Creative Director, Designer and Founder of Sarah Alouache Bridal
Come up with your wedding keywords
"Before you can find your wedding style, it's important to land on some words that best describe what you and your partner want for your wedding. Think of words that describe both the style and feeling you're going for, as well as any uniquely distinguishing characteristics that represent who you are as a couple. Ask yourselves things like: Do we want the wedding to be more time-honored and traditional, or more fresh and forward-thinking? How would we describe our interior design style and/or fashion sense? Are there any hobbies, passions, or unique aspects of our personalities, culture, and/or relationship we could creatively weave throughout the design? What do we want our guests to say about our wedding once it's over? Write down a shortlist of 5–10 words to inform your wedding design and planning decisions moving forward. Some words to consider are: Joyful, welcoming, cozy, glamorous, modern, intimate, colorful, adventurous, casual." —Jenna Miller, Creative Director, Here Comes The Guide

Photo: RT Faith Photography via Alston Mayger Events
Consider the little details
"Have you ever heard that the little details make a big difference? Well, that is absolutely true! Look at an Instagram-worthy wedding photo, and you will probably notice the small details in the picture that makes a difference. Couples with Instagram-worthy weddings steer away from the more traditional look. For example, the bride will choose a wedding dress with a modern twist like detachable puffy sleeves or, again, a tiny cute bow. Those little details end up making a big difference in the pictures, and I call them the cool statement pieces. Whether it's in a wedding look or wedding décor, those minor details are the ones that make a big difference, so make sure to add a few touches here and there to spark out your beautiful personality." —Sarah Alouache
Do what feels right for YOU!
"If you notice something that all Instagram-worthy weddings have in common, it's the fact that the wedding style is absolutely different from what we usually see. The couple in question decided to go out of the usual comfort zone and walk away from the traditional path. They instead decided to wildly and firmly be themselves even if their wedding is not what we usually see. So don't focus too much on looking for the best inspiration on the internet or Pinterest. Your best inspiration is right in front of you, and it's the person in front of the mirror. Create a wedding in your image. Because let me tell you a big secret: There aren't two people on this planet earth like you and at the end of the day, and that's your superpower, so take advantage of it!" —Sarah Alouache
Create a few "wow!" factors
"Think of having a couple of wow factors and moments throughout your wedding. This might be having a statement ceremony arch, or perhaps it's curating a really neat Interactive Escort board or a surprise performance by a professional dance group." —Weddings by Susan Dunne

Photo: Rebecca Theresa Photography via Weddings by Susan Dunne
Create photo-worthy backdrops
"Create an area where your guest can have a little photoshoot with a backdrop and maybe even some fun props. It will drive more guests to take photos at your wedding." —Lisette Gatliff of Lisette OC Photography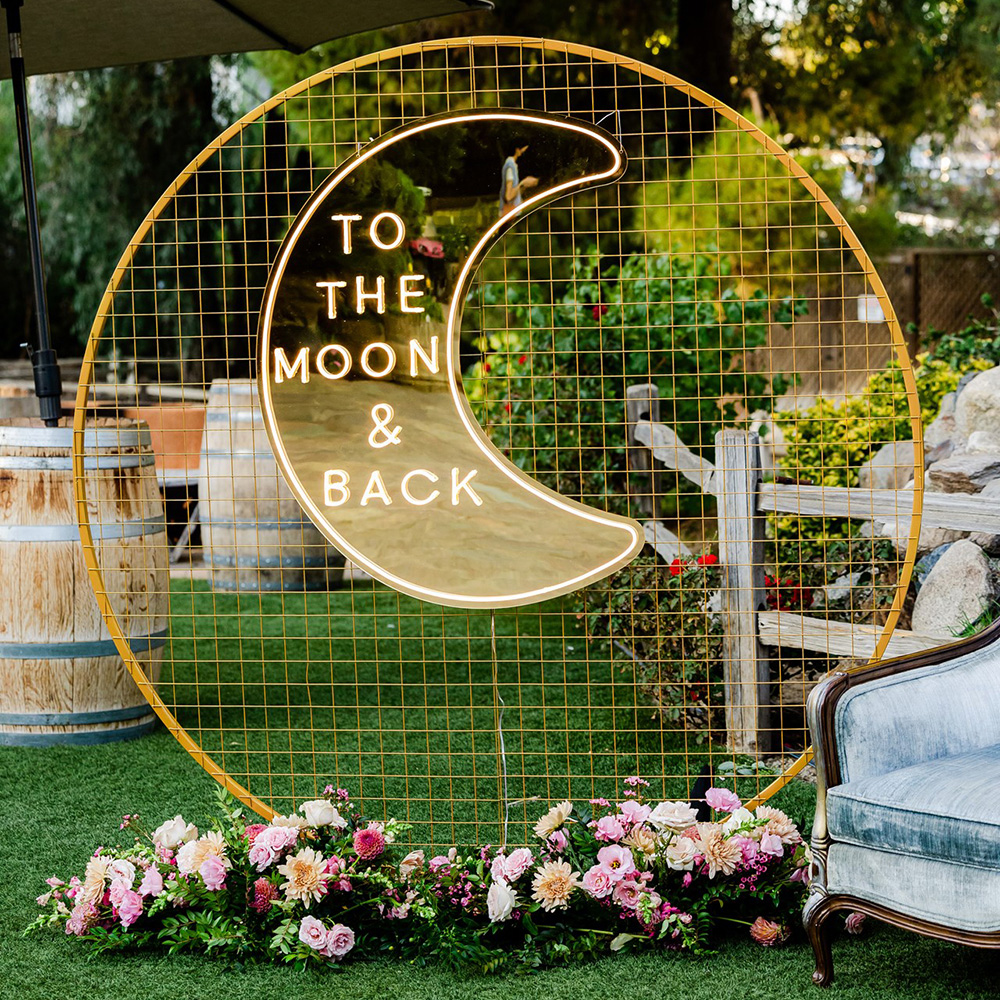 Photo: Lisette OC Photography / Sign by The Lovely Glass Door
Keep a consistent theme
"Having your invitations or wedding website introduce your wedding theme is a great way to get your guests on the same page, and then carry that theme onwards throughout your planning. Tie in your wedding colors or florals that you're featuring elsewhere, and make it a show stopper and something you and your guests will always remember! And don't forget to make sure you and your sweetie get your perfect Instagram-worthy photos in front of it, too." —Melissa Wilmot, founder & CEO, WedBrilliant
Utilize creative signage
"Sometimes focusing on having too many trendy elements of wedding day can create a hectic whirlwind of style. Try focusing in on one or two specific pieces that you love and know will set your wedding apart. Signage is a great way to add a creative piece to wedding day and can always be customized to fit your personality, style, and will leave guests in awe." —Ari Busch, Operations Manager and Lead Planner at Bridal Bliss

Photo: Yasmin K. Photography via Bridal Bliss / Sign by Hey Halle
Wow with catering
"Humans love taking photos of plating and presentation. Work with a catering and planning team that curates and selects rentals based on the colors and design presentation in your menu." —Ashley Lachney, Owner of Alston Mayger Events

Photo: RT Faith Photography via Alston Mayger Events
Wow with dress code
"There's no better reason to fill your feed with photos than when you're feeling your attire. Suggest a black tie, black tie optional, or cocktail attire dress code to ensure your guests are snapping photos all night."  —Ashley Lachney,
Plus: Make sure your fashion fits you well! "When you celebrate the biggest day of your life, you want to share, and show off, to your friends and family on social. Make sure those social posts make people stop scrolling and soak it in. And what better way than with pictures of you and your wedding party. No one is going to 'like' a poor-fitting suit or tuxedo. Get fashionable fits to look great and get their attention. Make your wedding colors pop with bright colored suits or tuxedos and accessories that match that wedding day theme. Everyone may not be able to attend the wedding, but they can appreciate how great everyone looks when you share those amazing wedding pictures on social." —Matt Ramirez, SVP of Marketing, Generation Tux
Wow with florals, decor and lighting
"Easily the most impactful way to give a guest a beautiful sensory experience is to show them something they can feast their eyes upon as they enter your venue. Lush floral, chic lounge areas, and specialty lighting (which is perhaps the most underrated way to wow guests and enhance a space) are all ways to get guests to take a photo for the 'gram (or save for their own wedding inspo!)." —Ashley Lachney

Photo: RT Faith Photography via Alston Mayger Events
Hashtag it
"Think of a clever hashtag for your nearest and dearest to use — I feel like the really clever ones almost incentivize guests to post more!" —Ashley Lachney
Specialty lighting is key
"I believe that specialty lighting can make or break a design. When your lighting is on point, your whole event becomes a design inspiration!" —Melanie Levin, owner of LuckEleven Events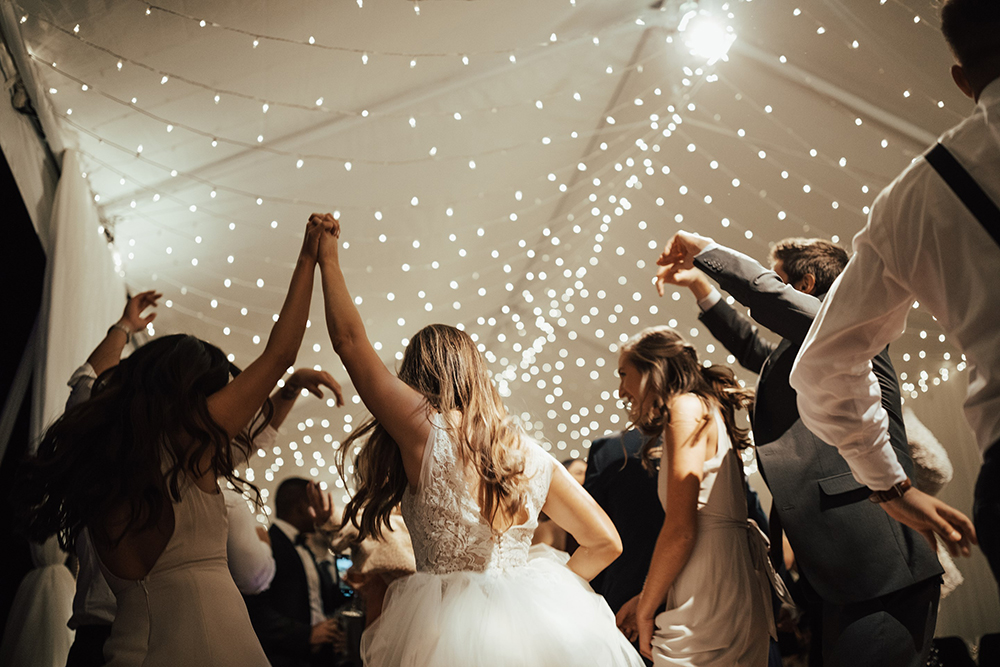 Photo: Christy Speers Photography via LuckEleven Events
Dare to be different with details
"When planning the wedding of your dreams, it can be tempting to give in and conform to the mainstream styles. However, to create an Instagram-worthy wedding that guests will talk about long after the big day, you need to think outside of the box and be different and daring with your details. Utilize a bold color palette or incorporate interactive displays to keep your guests entertained." —Anna Rodenbeck, Whitehead + Co.

Photo: Rebecca Theresa Photography via Weddings by Susan Dunne