Decisions, decisions. Should you say yes to seeing your monogram in lights or has that idea had its day? What are today's freshest floral picks? We rounded up a group of top wedding planners and let them weigh in.
By: Stella Katsipoutis
The Overall Look

Photo Credit: Photography by Paulina
Out: "I love a soft pink and grey color palette, but it's becoming played out," says Todd Fiscus of Todd Events.
In: "Unique tones like jade green and pinks, or soft butter yellow and white."
Out: Gold will always be around, but gold combined with black and white is looking dated now," says Heather Wiese-Alexander of Bell'INVITO Stationers.
In: "The key to making gold look fresh is to use it creatively, pairing it with colors like coral, robin's egg blue or dark taupe," Wiese-Alexander tells us.
Out: Bold geometric motifs like chevrons and lattice for invitations and decor.
In: "New patterns are emerging that are looser and more delicate," says Wiese-Alexander. "Think dainty trellis-type patterns and romantic toiles. Florals and watercolors are also super popular."
Out: Full-blown boho-chic Coachella-like themes that carry through to every last element of the wedding.
In: "Artisan-crafted, natural, textural elements like macramé and stoneware are still big, but are being paired with clean and modern pieces to shift away from overriding hippie-boho vibes," says Rosemary Hattenbach of Rosemary Events. "The idea is to pair modern luxury with the natural beauty and simplicity of the outdoors."
Out: Same-old, same-old monograms.
In: Go beyond the classic monogram and consider having a custom crest designed that includes not just names, but also other elements that hold meaning to you," says Marina Birch of Birch Design Studio. This could include pets, graphic symbols such as nautical motifs or something specific to the wedding location like a palm tree. "The crest can be used throughout the wedding on paper goods, at a custom bar, etc. and for years to come on stationery, cocktail napkins, towels and framed artwork," Birch says.
Décor and Lighting

Photo Credit: Justina Bilodeau Photography
Out: Flower-only floral designs.
In: "Rather than your average 'wedding-y' look, we're using more organic components like succulents, smilax, petrified wood, driftwood and moss," says David Tutera of David Tutera Celebrations. "In the past, these elements have been considered secondary, but now they are taking center stage."
Out: A single type of flower used throughout the wedding and reception.
In: "We're seeing texture, texture, texture," says Katz. "Whether brides are mixing bright colors, staying monochromatic or working with one palette and creating an ombré look, the focus is on texture."
Out: Escort cards lined up with military precision on a table. "Cards are necessary, but they don't have to be boring," says Ron Wendt of Ron Wendt Design.
In: Wildly creative card displays. "They offer another opportunity to add to the guests' overall experience and add a layer of personalization," Wendt says. "We're seeing cards of all shapes and sizes pinned to a giant oak tree, to a surfboard, even to a rocking horse! It's about thinking beyond the table."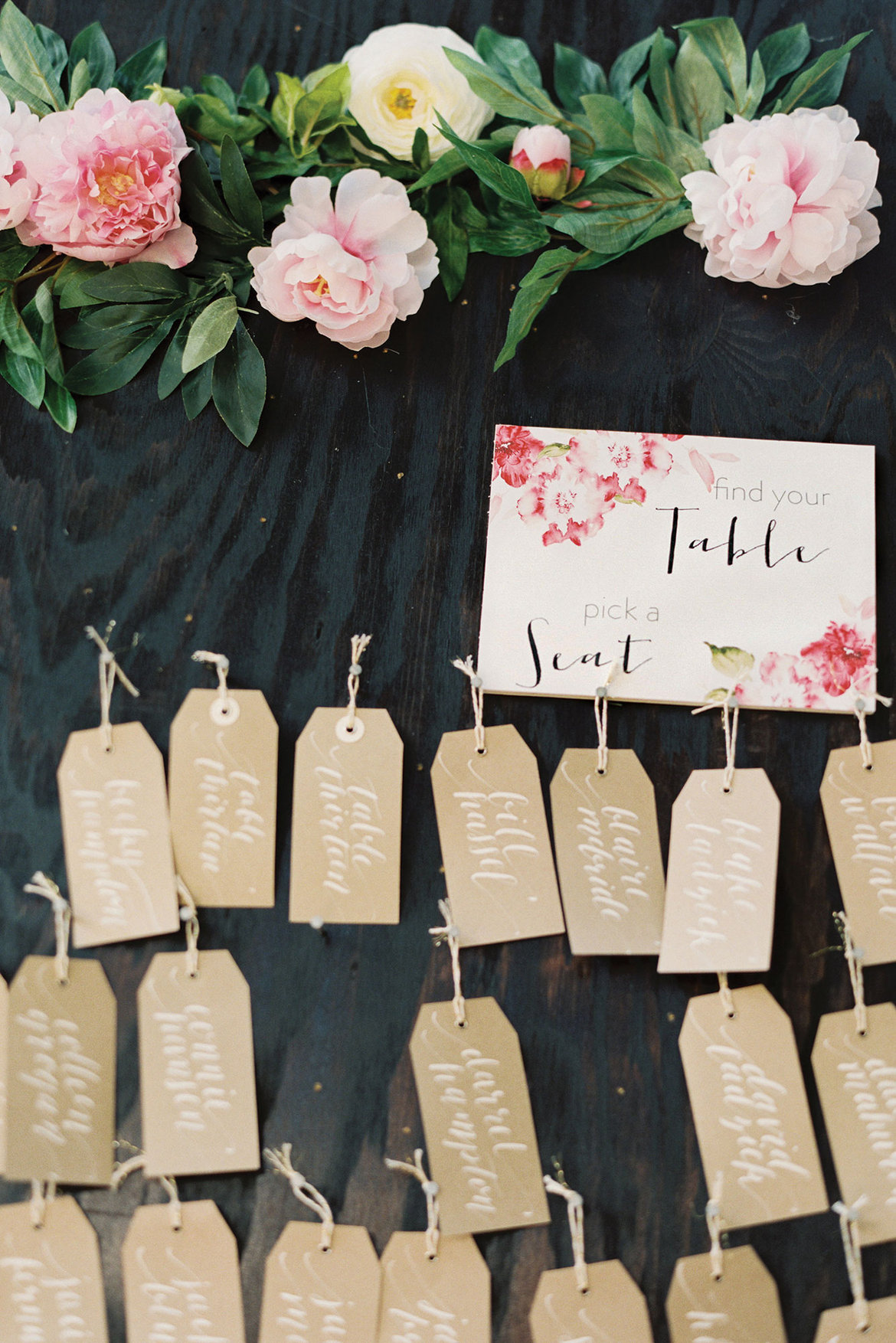 Photo Credit: Lauren F. Liddell Photography
Out: The 'chandeliers in trees' look is fading," says Rachel Eden Leuck of Rachel Events. "We're doing fewer and fewer lanterns and chandeliers hanging from branches."
In: Instead, Leuck is designing with "the soft glow of twinkle lights, patio lights or string lights to give a romantic feeling."
Out: High-drama lighting. Steer clear of "those over-lit spaces that make people feel like they are on stage," says Wendt.
In: Warm, flattering tones."A good rule of thumb is always to trust the glow of candlelight," Wendt counsels.
Out: Uplighting with primary colors. "Absolutely no one looks good in a room with blue uplighting," says Cagginello.
In: "Uplighting in a cool amber or a pale pink really transforms the space, plus it has a relaxing effect, creating the perfect ambience for guests to eat, drink and be merry," Cagginnello says.
Out: "Gobo lighting, where the couple's initials are splashed onto the dance floor or ballroom wall," says Bergmark.
In: "Instead of initials, we are working with more abstract gobo stencil designs that work to create different moods on the dance floor and enhance the party atmosphere," Bergmark says.
Out: Disco lighting on the dance floor.
In: Dialing those special effects down — way down. "Don't overdo the strobe lights at the dance portion of the evening," Wendt says. "It's your wedding — not a New Year's Eve party."
Pages