Decisions, decisions. Should you say yes to seeing your monogram in lights or has that idea had its day? What are today's freshest floral picks? We rounded up a group of top wedding planners and let them weigh in.
By: Stella Katsipoutis
The Menu and Cake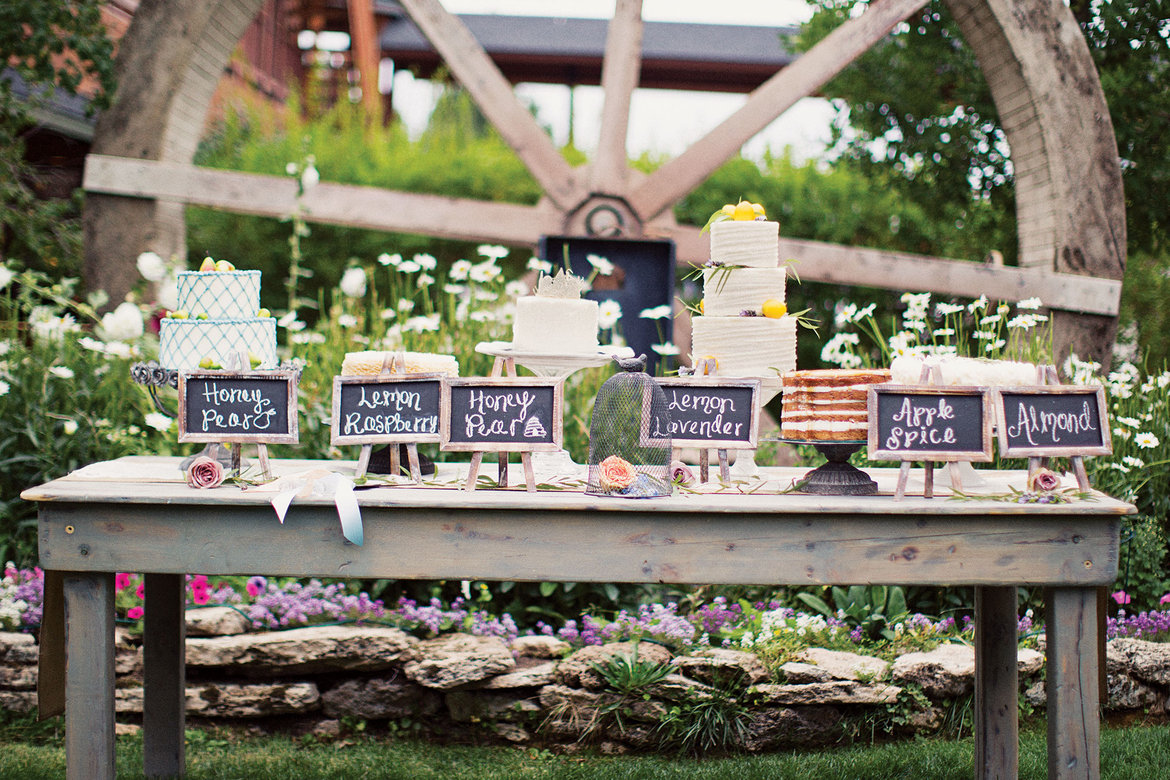 Photo Credit: Alixann Loosle Photography
Out: Traditional, plated meals served course by course.
In: Think tasting menu with tableside service, says Tutera. "For instance, serving an artisanal Tuscan flatbread pizza or shrimp and filet mignon skewers. You're not lessening the sophistication, but instead are putting a twist on the traditional sit-down dinner, making it more unique."
Out: Ye olde "beef or chicken?" approach to menu planning.
In: "Sourcing foods that are locally grown and environmentally responsible has now become the default mode for couples who value sustainable lifestyle choices," Bergmark says. "Couples are keeping it local, frequenting farmers markets to ensure top quality provisions while also contributing to the local economy."
Out: Seated dinner.
In: Cocktail-hour style receptions. "Many of our clients want a party right from the start and do not want to have their guests sitting for an hour and a half plus for dinner," says Cagginello. "To that end, we've been doing receptions where we switch from passed appetizers to more substantial stations that are open for an hour or two for guests to graze, mingle, dance and lounge at their leisure."
Out: Dessert tables in lieu of a traditional wedding cake.
In: The wedding cake and cake-cutting moment. "I think the traditional wedding cake should be a permanent fixture in every wedding," says Tutera. "The cake dates back many centuries, symbolizing happiness and a good life to the newlywed couple—and the cutting of the cake symbolizes the couple's union and commitment to each other."
Out: Super-traditional all-white wedding cakes, says Harriette Rose Katz, of Gourmet Advisory Services.
In: Colorful, unique cakes that make a statement. "Brides are integrating whimsical details such as feathers or pearls or even special creations," Katz says. "One couple was so sad their dog couldn't be at the wedding, they had his likeness done in fondant at the base of the cake!"
Out: "Candy favors," Fiscus says.
In: "Doughnut walls or beignets served with iced coffee as a grab-and-go as guests leave," says Fiscus.
Out: Signature drinks.
In: Interactive tasting stations. "Signature drinks are a cute way to incorporate the couple's favorite drinks, but guests often take a pass so the drinks are wasted," says Cagginello. "A fun substitution is having tasting stations set up during the cocktail hour, each station manned with the appropriate expert serving and educating guests on, say, whiskey, scotch, wine or craft beer."

Photo Credit: Laurie Marie Photography
Out: "Full bars," Tutera says.
In: "Instead of a full bar, opt for serving wine at dinner and opening a specialty bar to create an experience for your guests," says Tutera. "For example, a champagne or whiskey bar after or during dessert."
Out: "Cheap, undrinkable 'house wine.'"
In: "Well chosen (not necessarily pricey) and delicious varietals that go well with food, and interesting beer choices," says Marcy Blum of Marcy Blum Associates.
Pages