These crowd-pleasing ideas for wedding décor, food and fun have all the makings for a simply delightful celebration.
By: Debra Witt
-AS SEEN IN BRIDAL GUIDE MAGAZINE-

Photo Credit: KVC Photography
We talked to the wedding industry's best prosto help you come up with the right mix of on-trend decor, food and buzz-worthy guest experiences for your upcoming wedding. Take a look and find your inspiration.
The Event
Gone are the days of following tradition for tradition's sake. "Now, more than ever, couples want to do their wedding their way," says Jove Meyer, founder of Brooklyn-based Jove Meyer Events. 
Revamped Rituals
Personalizing every aspect of the day — from the first kiss to the last dance — is what's going to create a lasting memory for you and your guests. Take that walk down the aisle solo, ask your grandma to officiate, forgo a formal dinner, hire a wedding portrait artist to capture your "I Dos" rather than a photographer — the new rule is there are no rules. "Modern couples are less hung up on formality and the structure of how other people think a wedding is supposed to go, and more focused on creating something that's meaningful to them," says Meyer.
Artistic Expression
Hand-painted everything is having a real moment. Lindsey Hartsough, founder of Magnolia Event Design in Santa Barbara, California, says couples are increasingly hiring fine artists to paint one or two key parts of the ceremony as a twist on the formal wedding portrait. Artists are also going to be on hand to do on-the-spot sketches of guests in lieu of a photo booth. These are not your run-of-the-mill caricature artists, she says, but frame-worthy likenesses that guests are excited to queue up for. Whimsical, artsy designs are also showing up on watercolor invitation suites, table numbers and place cards — even cakes!
Modern Luxury
Rustic weddings with a vintage vibe have cemented their place in the wedding world, but planners from every corner of the U.S. are seeing a move to a modern aesthetic. "Couples today embrace minimalism — they love a clean look," says Sarah Chancey, founder of Chancey Charm Wedding Planning & Design, a collective of wedding designers in 13 cities. "Barns are still in style, but they've been whitewashed clean, maybe even had large display windows put in, to satisfy the demand for a higher-end look that tilts more elegant and edgy than shabby chic." Other on-trend venue choices include out-of-the-box spaces, like art galleries, music halls, breweries or downtown office buildings with gorgeous rooftops and courtyards.

Photo Credit: Pepper Nix Photography
Iconic Style
No surprise, the recent royal nuptials left a big impression on engaged couples. "The big events we're booking all want the classic timeless look that evokes the royal wedding," says Michelle Cousins, owner of Michelle Leo Events in Salt Lake City, Utah. How to get it? Think lots of lush white blooms playing against a backdrop of greenery. For the most impact, focus on your ceremony arch and flowers, plus one dramatic statement area in the reception, such as an escort card display or sweetheart table. Other royal influences to consider include a family-members-only bridal party, switching dresses for the reception, walking at least partway down the aisle solo as an expression of independence and incorporating personal touches to the program (who can forget The Kingdom Choir singing "Stand by Me?").

Photo Credit: Pepper Nix Photography
The Décor
Nothing should overshadow you on this special day, but you'll know you've landed on the right wedding décor when it becomes the perfect conversation starter for your guests.
Eclectic Color Palettes
Wedding designers from coast to coast are excited to report that color is making a comeback. "Rich jewel tones are on the rise and a fun alternative to the timeless blush and champagne," says Chancey. Burgundy, cobalt and other moody hues go well with silver and chrome accents for an edgier design, or with gold and rose gold touches for a more romantic vibe.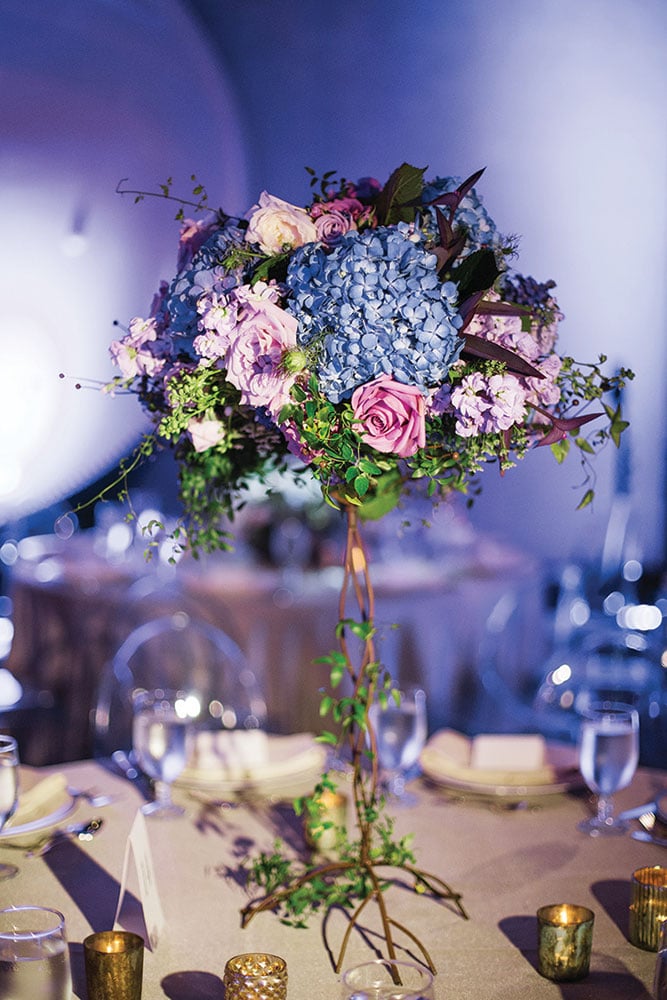 Photo Credit: Heather Nan Photography
Bright Side
If you have your heart set on a neutral-hued wedding palette, you can still get in on the color trend by adding a strategic pop of one brilliant tone, says Kindra Browne, owner of Simple Elegance in Kansas City. Some of her suggestions: Pool a sunny yellow table runner under a green garland, tuck ruby-hued candles in amongst white arrangements, set amethyst goblets at every place setting, or hang a custom neon monogram sign behind the cake table.
Floral Wonderland
Grand-scale floral ceremony arches and aisle markers are in high demand, as are veritable forests of greenery blanketing walls and drip-ping from the rafters. Euri Wong, lead designer of Bloominous, an online floral resource for DIY customers, says forward-thinking couples are asking for unique blooms and stems, like anemones, honeycomb ginger, flowering kale or the tropical protea, with its impressive pointed petals and fuzzy core that's said to symbolize transformation and courage.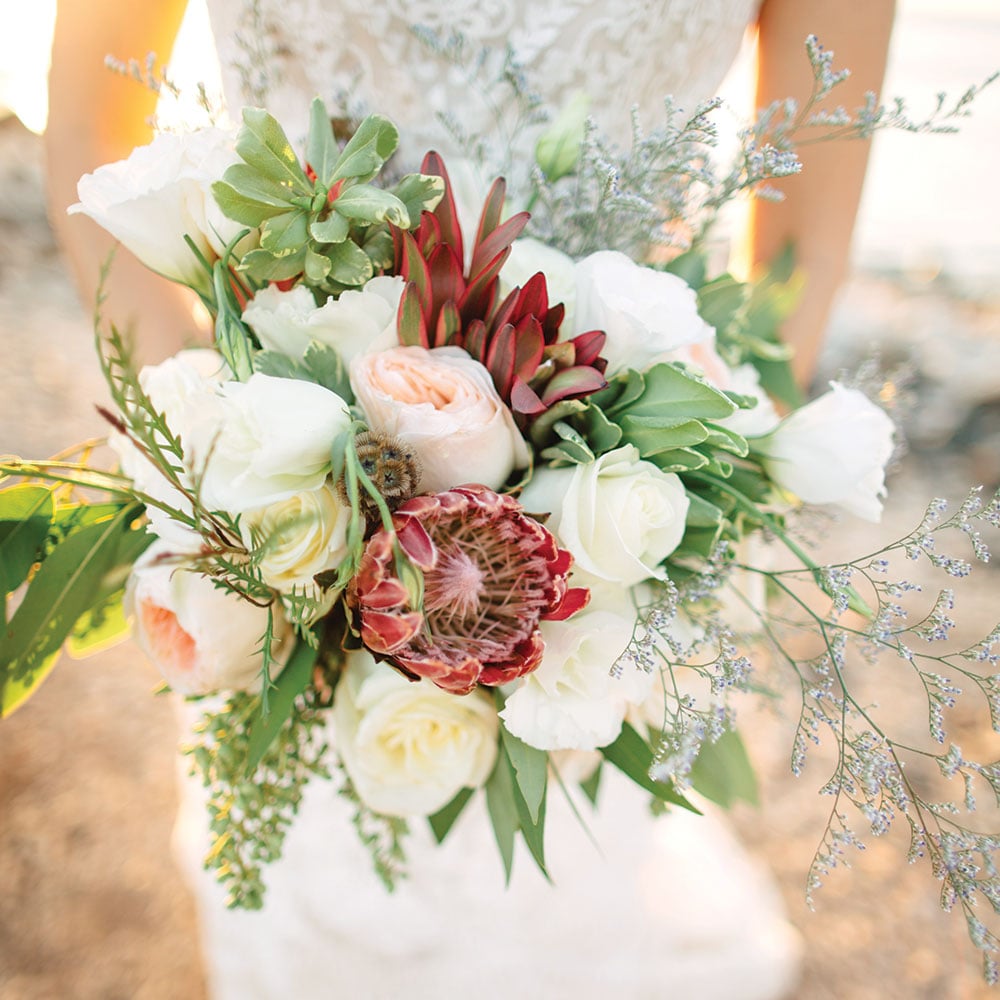 Photo Credit: Aihara Visuals
Contemporary Accents
Light-reflecting Lucite continues its popularity, but designers are also having fun with natural materials "For florals, I'm liking concrete and marble containers," says Cousins. "Large wooden pedestals are statement pieces that help define spaces for guests. And I love bringing in unexpected chargers for each place setting, like stamped metal, marble or mirrors."

Photo Credt: Crystal Hahn Photography
Planned Lighting
"Lighting is everything," says Chancey. "No one wants harsh overhead lighting." Chandeliers are increasingly popular, as are hanging votives, a mix of taper candles and bistro lights, and hiding string lights behind draping (for a soft glow).
The Eats
A jewel-toned invitation hints at the event to come. "People eat with their eyes first, and guests will be excited about cakes and food that look so good they can't wait to take a bite," says Heather Anne Leavitt, owner of Sweet Heather Anne in Ann Arbor, Michigan.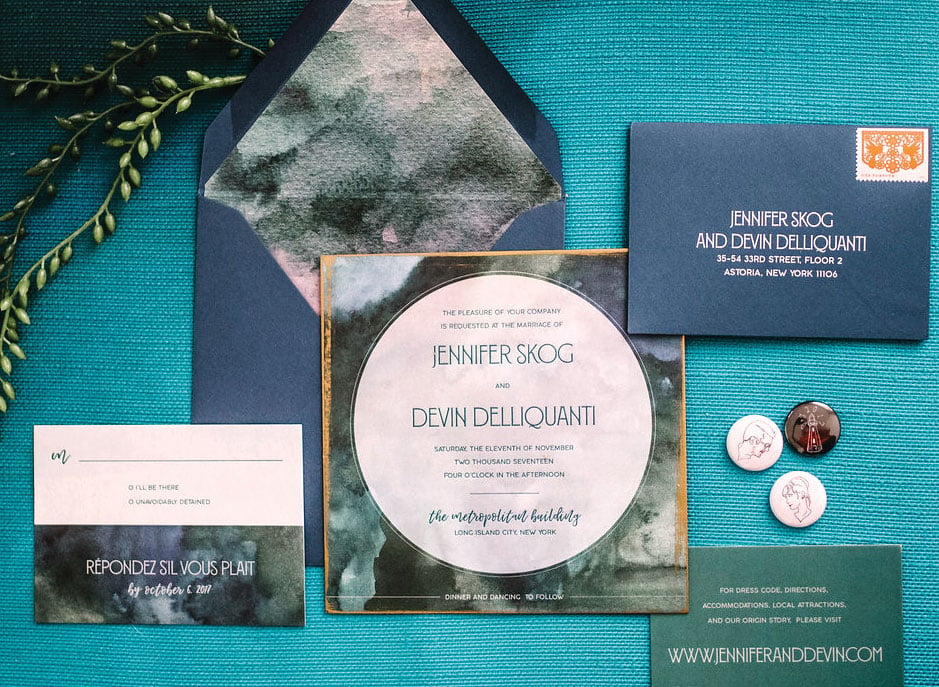 Photo Credit: AGP Collective
Cakes as Art
Hand-painted cakes are taking over Instagram — for good reason. "They're like pieces of fine art and are an integral part of the overall wedding design," says Leavitt. She's seeing more requests for hand-painted buttercream with gum-paste flowers. "Some have an abstract or impressionist look, while others are more precise, almost like an oil painting."

Photo Credit: Rachel Liu Photography
Dressed-Up Comfort Food
The hottest catering trend is best described as "approachable upscale," with chefs incorporating fancy ingredients into familiar dishes, says Jenna Miller, creative director of Here Comes the Guide, an online wedding services resource. Think lobster mac 'n' cheese or Kobe beef sliders with truffle mayo.

Photo Credit: Pepper Nix Photography
Chef Stations + Food Trucks
Both have been on the wedding scene for a few years now, but they just keep upping the wow factor, says Chancey. "The goal is to bring in something that's fun and unique for your guests," she says. The best stations and trucks feature local specialties, including fire-baked pizzas, handmade pies, dumplings and craft brews. "Plus, the food trucks are really dressing up their look, with polished Airstream trailers and pretty awnings."

Photo Credit: Finn Lively Photography
The Guest Experience
"Weddings are getting more and more action oriented," says Kindra Browne. "No one wants a long, drawn-out evening. Fun is the biggest request."
Menus as Itineraries
As more couples break with familiar wed-ding traditions, Browne says she's seeing the menu card evolve into a guide for the night. "When guests find their table, they can peek at the menu, then turn the card over and get more information on the types of food and beverage stations, learn about the GIF booth or portrait artist, find out when the DJ after party starts, and more," she says.
Unexpected Sounds
Hiring a clutch of string musicians is nothing new, but having that classic quartet play hits from the Beatles or Beyoncé — "now that's a growing trend,"  Hartsough tells us. "Guests have fun trying to put a name to the tune before the song ends." The flip side is having a modern live band play oldies — think Weezer's massively popular cover of Toto's "Africa."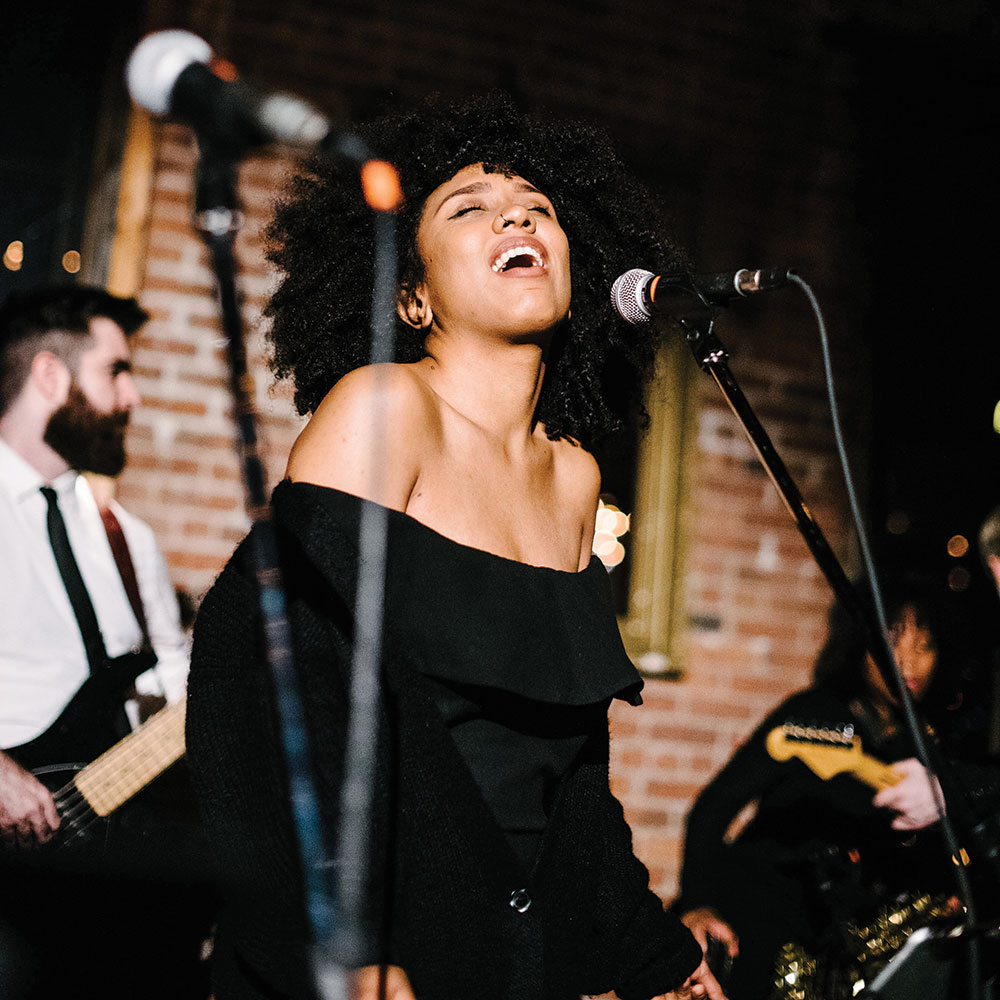 Photo Credit: AGP Collective
Craft Cocktail Stations
"The bar area has become a focal point of the reception," says Browne. "Younger couples love their craft cocktails; we now have meetings that are just about the cocktails." No surprise why, she adds, "the drinks are so beautiful they're conversation pieces." Handmade craft cocktails pair different liquors with fresh flowers and seasonal produce for a unique sipping experience.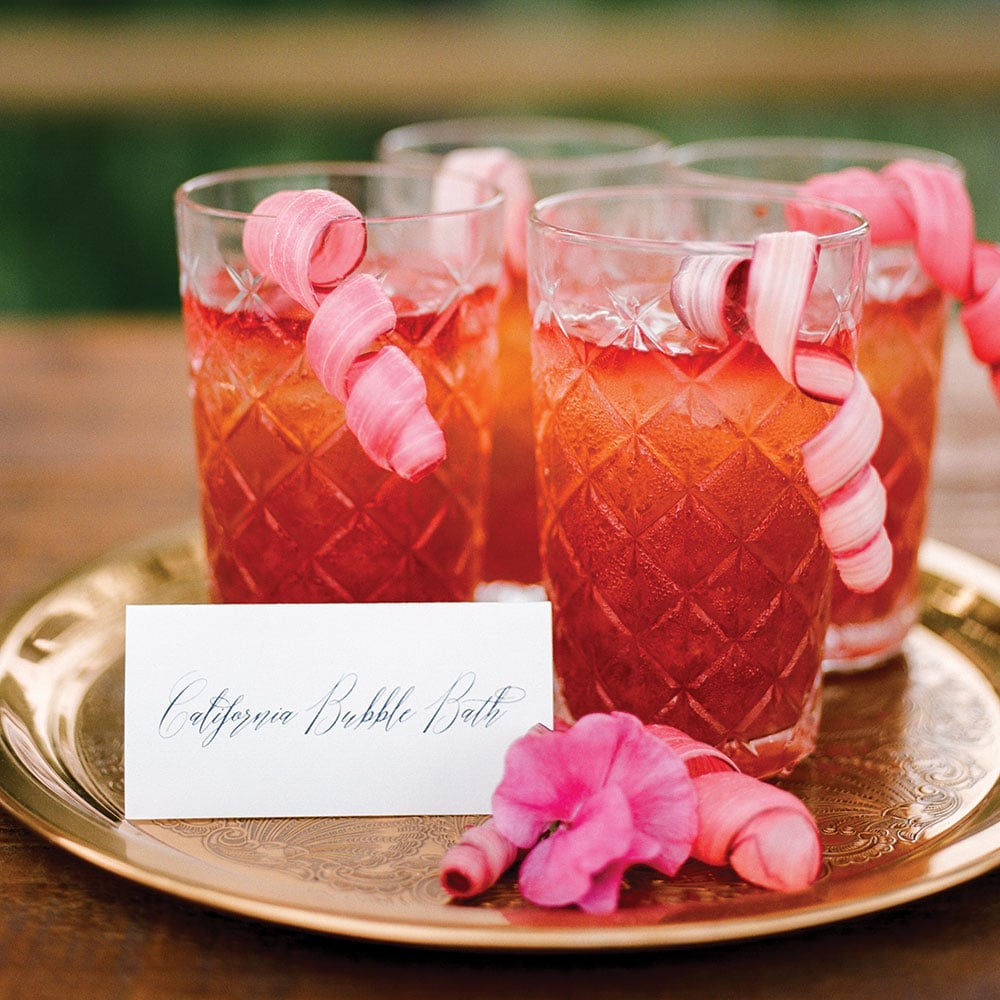 Photo Credit: Anna Delores Photography
Dark Cakes
For couples embracing a moodier color palette, black or other richly-colored cakes accented with gold or silver brush strokes deliver high drama. "They make a big statement when they're wheeled out onto the dance floor," says Leavitt.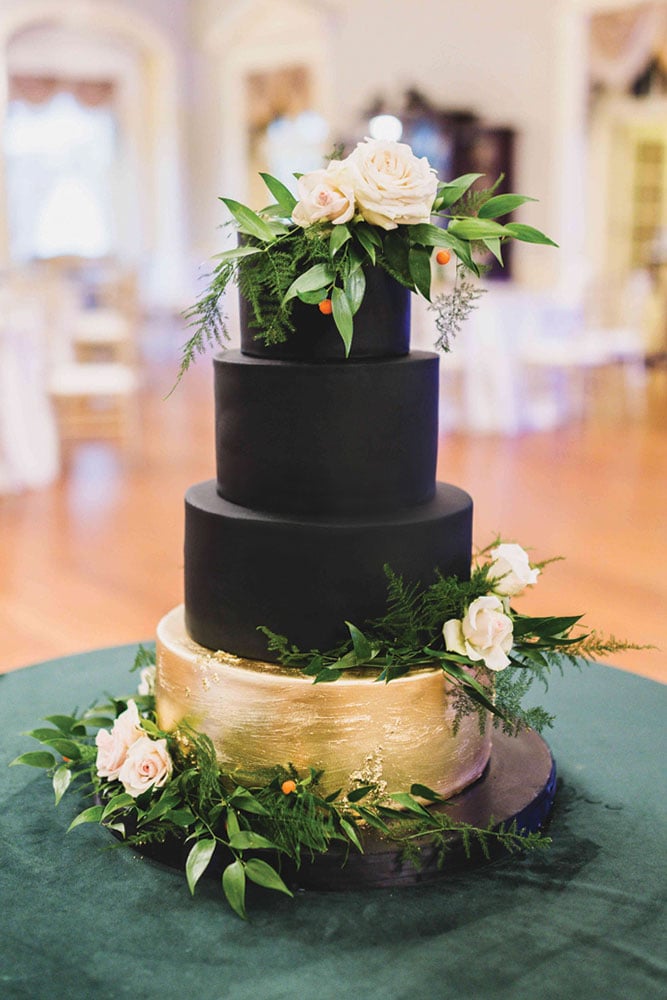 Photo Credit: Rachel Liu Photography
Multiple Mini-Desserts
Guests get excited when dessert stations open later in the evening. "It's the only thing that will get them to stop dancing," says Leavitt. The pros agree that more is more — cookies, pies, doughnuts, truffles — the key is to keep the offerings small. Chancey suggests having one or two interactive dessert stations, such as a make-your-own sundae bar or a bananas foster flambé cart, plus a table filled with assorted sweets. 
Party on Wheels
Photo booths with props might be fading, but props for the dance floor are definitely trending, says Browne. "We're seeing couples load plexiglass carts with glow sticks, flip flops and sunglasses and roll them onto the dance floor," she says. "Guests love it – it's another element that makes the dance floor the place to be."
Photo Booths 2.0
Move over mustaches, feather boas and goofy hats. Today's photo booths are much more interactive. "Guests can make their own GIF, take a 360-degree selfie video or do a slow-mo video with their friends," says Hartsough. "These launch directly to social media and have much more of an impact than a strip of still images."

Photo Credit: Anna Delores Photography
Wedding Games
Couples will be getting the fun started with an assortment of reception games. Outside affairs call for giant Jenga or Connect Four, but even indoor weddings can get in on the action, says Miller, with party starters like "wheel of fun", a photo scavenger hunt or the shoe game. "It's all about having fun and keeping it casual," she says. 
The It List
"It" Color: Purple. "I'm seeing a lot of it," says Hartsough. No wonder: Purple is a versatile hue. "All of its deep, rich tones are a welcome change from blush, and every bit as elegant, modern and fresh.
"It" Flower: Fern. Move over, succulents and peonies, these ethereal stems are taking over the spotlight, Michelle Cousins reports. "And there are so many varieties that they fit beautifully in any type of wedding." 

Photo Credit: Heather Nan Photography
"It" Reception Detail: Cocktail Style Dinners. "More couples are saying no to traditional sit-down dinners and instead opting for an endless assortment of both passed hors d'oeuvres and interactive stations," says Jove Meyer.
"It" Cocktail: Welcome Beverage.Tea, lemonade and water are a nice start, but take the idea further and offer champagne popsicles or an assortment of non-alcoholic agua frescas. For a winter wedding, offer small mugs of hot cocoa or herbal tea,  says Hartsough.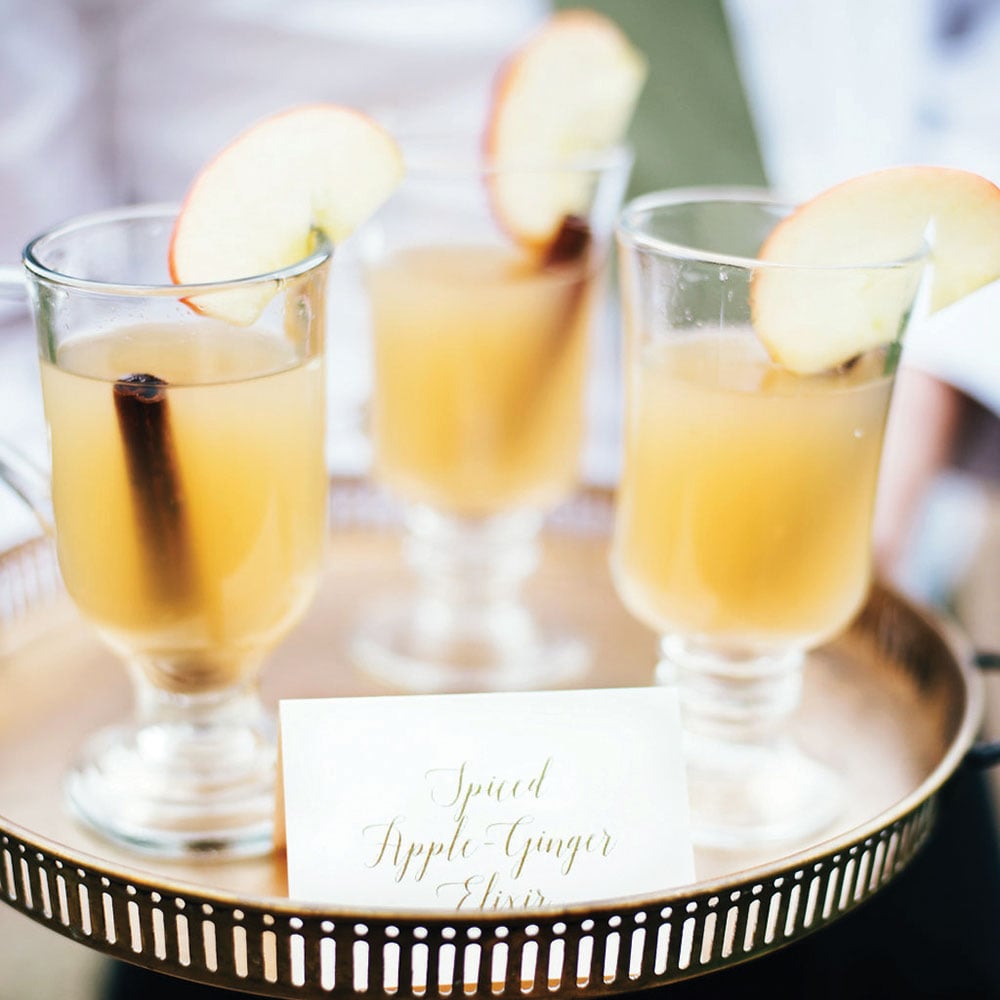 Photo Credit: Megan Sorel