Decisions, decisions. Should you say yes to seeing your monogram in lights or has that idea had its day? What are today's freshest floral picks? We rounded up a group of top wedding planners and let them weigh in.
By: Stella Katsipoutis
Paper Goods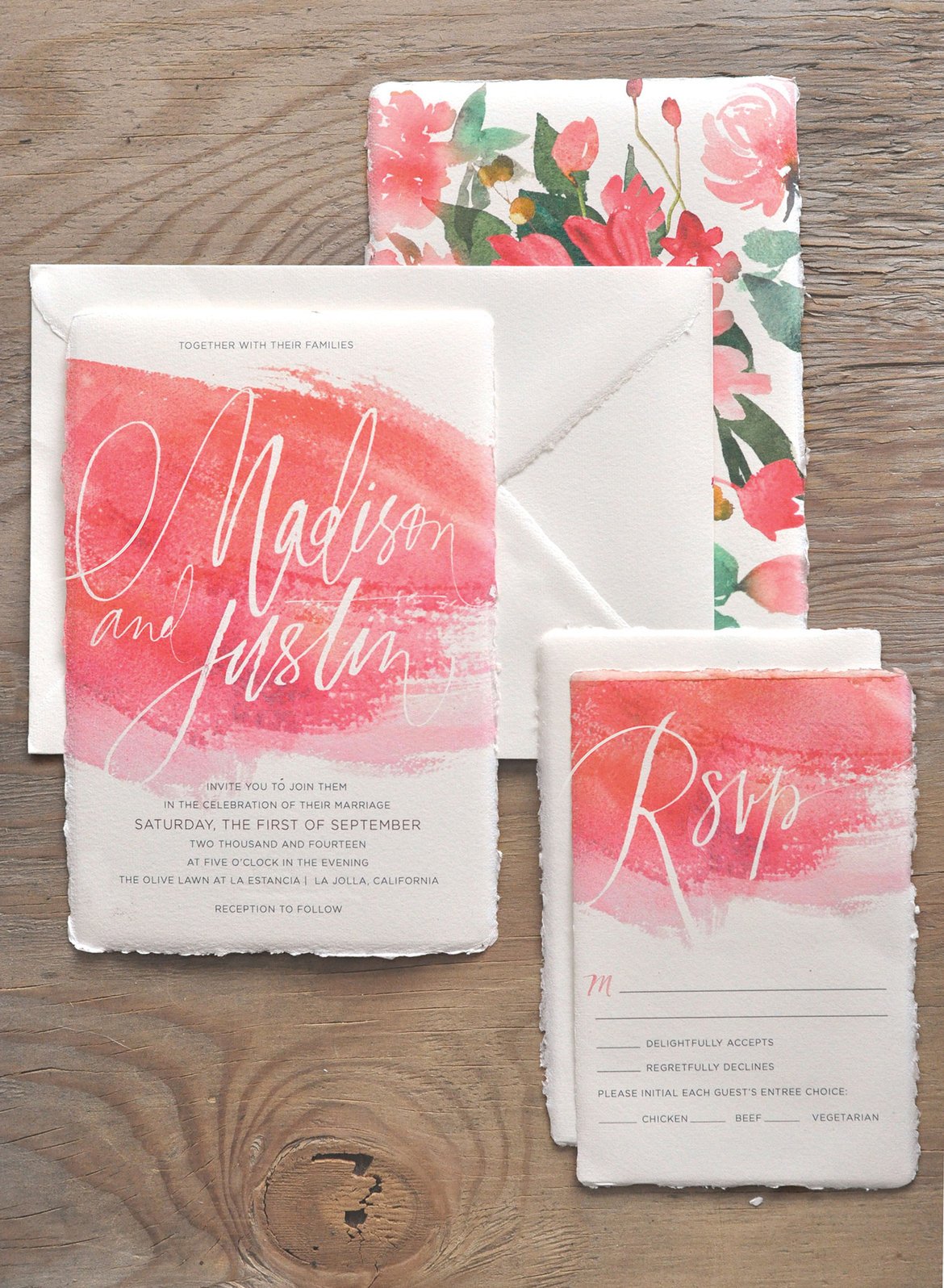 Photo Credit: Julie Song Ink
Out: Invitation suite add-ons, like sealing wax and other embellishments," Tutera says.
In: "Putting the focus on paper stock, and the different finishes and print methods," Tutera says. "For instance, an envelope can be one type of paper, while the invite and RSVP card can be another. It's totally fine to have your invitation embossed or foil-printed and go with flat digital printing for everything else."
Out: Paper save-the-dates.
In: "Couples are realizing that emailing their save-the-dates is the quickest way to get their guests the information they need," says Jen Bergmark of First Pick Planning. "And if you take a further step and provide an RSVP option on your wedding website, you can track information faster and keep guests' contact information well-organized."
Out: Direction cards included in the invitation suite.
In: "Wedding websites have come a long way and allow couples to provide more information than can be conveyed in a traditional invitation," says Amy Cagginello of Amy Champagne Events. "Template-style websites like Squarespace are visually sophisticated and beautiful, yet easy to set up and navigate."
Photos and Entertainment
Out: "Ginormous 'Kardashian'-scale floral walls," says Blum.
In: "We're setting up interesting areas for guests to pose for photos," says Blum, such as "a couch or two and a coffee table with a curtain behind it—sort of a living room feel for guests to pose in groups."
Out: Traditional bridal party portraits. "Height shouldn't dictate where people are placed in a photo, so ditch the stiff look and consider something a bit more organic for these photos," says Lisa Raffo Ashley, of the Wedding Artists Collective.
In: Dynamic group photos. "Play with different focal points, with some of your party seated and others standing or staggered," Ashley says. "This idea lends itself well for family photos, too: Try mixing and matching family with those in your bridal party for a more complete picture of your nearest and dearest."
Out: Blowing your entertainment budget on a band.
In: Variety and surprise. "Divvy up the money on different elements of entertainment and performances throughout the evening," Tutera says. "Whether it's a surprise performance by an electric violinist, a special guest performer, a 1920s-style singer or a smaller band and DJ combo.
Pages