Adapted from Rustic Chic Wedding: 55 Projects for Crafting Your Own Wedding Style.
Lucky Horseshoe Table Numbers
These unique table numbers are absolutely perfect for a farmhouse wedding! Full of country charm, they will set the design for each table and add a rustic chic touch to your wedding décor.
Supply List
• Old or rusty horseshoes
• Cedar wood (several planks, enough to back all of your horseshoes)
• Miter saw
• Rusty tin craft nails
• Wire cutters
• Rusty tin craft wire (18 or 22 gauge thickness)
• Needle nose pliers
• Hammer
• Wood burning torch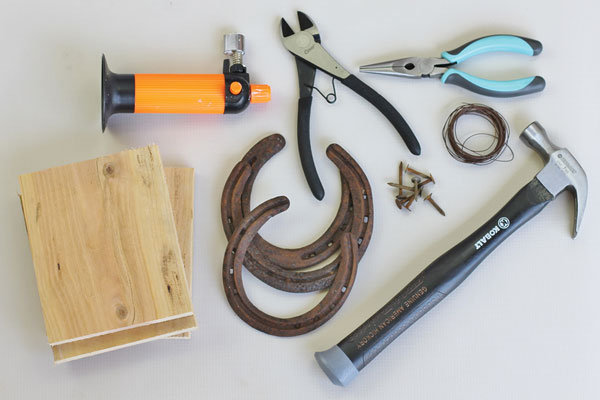 Step one: Measure each of your horseshoes. Have your local hardware store cut your wood to size, or cut the wood yourself using a miter saw.
Step two: Secure a horseshoe to each cedar wood piece using your rusty nails. Before you nail the horseshoe in place, make sure it is nice and centered.
Step three: To make each actual number, you will need to cut four 4 to 8-inch lengths of wire. Keep in mind that your wire length will vary depending on the number you are creating; an "8" will take more wire than a "1."
Step four: Wrap the four lengths of wire together to make one twisted group; use the needle nose pliers if necessary.
Step five: Bend the wire into the shape of the number you are creating.
Step six: Curl the ends of each number, as this is where your nails will go through to secure it to the wood.
Step seven: Hammer the numbers to the wood pieces, using the rusty nails. Use as many nails as needed to ensure the number is securely in place.
Step eight: Scorch the edges of your table numbers with your wood torch to give it a rustic appearance. Make certain to follow the manufacturer's safety guidelines!
Pages