Adapted from Rustic Chic Wedding: 55 Projects for Crafting Your Own Wedding Style.
 Love Notes Table Runner
With vintage sheet music and lace, you can create inexpensive table runners that will add a gorgeous touch to your reception décor. The faded paper, musical notes, and ornate lace are an eclectic mix that enhances any DIY wedding design.
Supply List:
• Vintage sheet music
• Lace with a straight border
• Glue stick
• Hot glue gun
• Scissors
Step one: Measure the table you are creating the table runner for. Calculate the number of sheet music pages and the length of lace you will need, making certain to add several extra inches so that the lace will overlap the sheet music on all four corners of the runner.
Step two: Using a glue stick, add glue to the torn edge of one of the sheet music pages and secure the other sheet so that they overlap, covering the torn edge. Smooth the glued edge. Continue by gluing new sheets to cover the torn edges. All torn edges should overlap on the inside seam of the table runner with the clean edges as the border. Repeat these steps until the table runner is as long as you'd like it to be.
Step four: Using a pair of scissors, make a clean diagonal cut into one corner of the lace. Trim the sharp edge to make a nice scalloped edge. Add a dot of glue to the two cut corners and overlap them. Repeat this process for all four corners to finish the lace edging.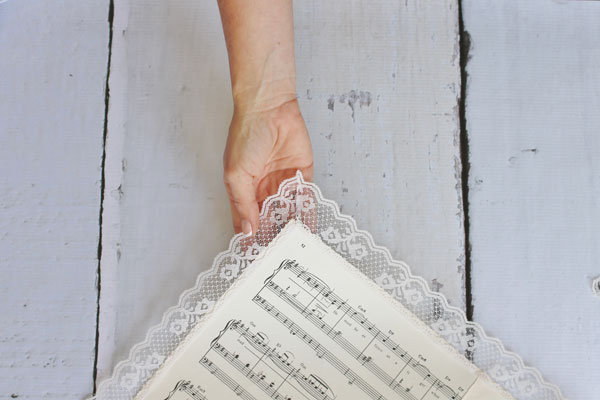 Special Note: Spread the love and gift these table runners to your bridal party to use in their own homes.
Pages