I mailed out my wedding invitations recently (hooray!) and the responses have been trickling or pouring in, depending on the day. Now that the big reveal is over with most of my guests, I'm excited to unveil the design to my fellow BG brides as well. The photo below doesn't do the invite justice — it was printed in gold glitter ink that shimmers in the light. I worked on it with Arlene Segal, the talented owner of Arlene Segal Designs in Miami, FL, and the style name is "Somewhere in Time," in case anyone is interested in using the same design for their own wedding.

"Somewhere in Time" Wedding Invitation (Style #BW-130)
As a general rule of thumb, it's recommended that brides start shopping for their invitations about five to six months before they wed. Like many other aspects of planning, this process took far longer than I had anticipated; the amount of paperie options is truly staggering and so is the cost of wedding invitations. Between selecting the printing method, font, paper stock, wording and method of addressing envelopes, it all took a great deal of thought. That didn't even include the time spent assembling them!
But when I flipped open a catalog book and saw the Victorian-esque monogram, I knew that my fiancé Jason and I had finally found a winner. I also loved that it came with an embellished lace pocket so that guests could keep the direction card and RSVP card tucked away safely (I'm always losing those smaller pieces when I get invites to other parties). I can't help feeling giddy whenever I catch a glimpse of my invite tacked up on family members' and friends' bulletin boards. "A beautiful invitation sets the mood, the feeling, how people dress, the ambiance — the opportunities are endless," says Segal. 
Start by identifying which category below appeals to you and your fiancé the most; that way, when you're ready to make the trek to the store, you'll be better able to convey your likes and dislikes, narrowing down the selection.
Vintage
Inspired by retro celebrations of the past? Lace overlays and bands lend Old World-charm to wedding invitations. Consider including an illustrated motif that you can incorporate into your escort cards, programs, table numbers and more (like the "Renaissance" arch detail pictured directly below). If you prefer an unadorned invite, let the often-ignored envelope get the spotlight with adorable hand-sewn ties and rosettes!

"Veil of Romance" Wedding Invitation (Style #BW-130)

"Silver Lace" Wedding Invitation (Style #CW-110)

Lace Envelope (Style #CW-108)
Glam
Gatsby is arguably the hottest wedding theme of 2013 — check out glam inspiration, a 1920s-inspired wedding and gorgeous gowns here — brides can't get enough of it! Invitations have followed suit with silver and gold edged gilding, more feathers than you can shake a stick at and glittery rhinestone accents. Give your invitation the spotlight treatment by framing it and placing it at the entrance of your reception.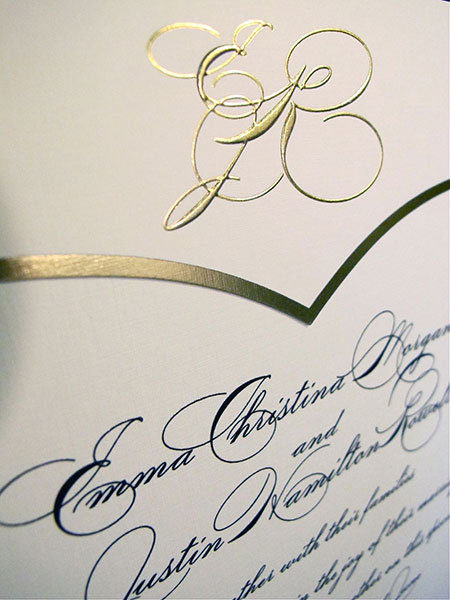 "Only the Beginning" Wedding Invitation (Style #BW-133)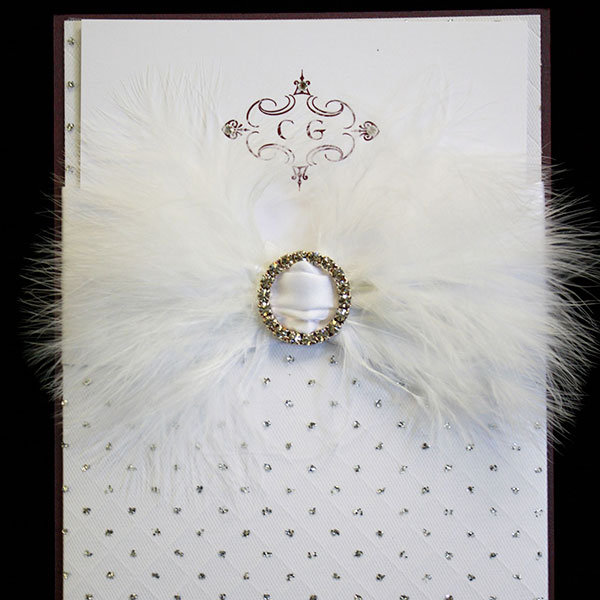 Custom-Designed "Signs of Affection" Invitation (Style #BW-126)

"Circle of Love" Wedding Invitation (Style #BW-118)
Seasonal
"There is something of the marvelous in all things of nature," Aristotle once wrote. Embrace the wedding season when you'll finally say your "I dos" with your invitation. A scroll with seaside charms gets guests excited to attend destination nuptials on a tropical island (we can taste the mojitos already); an invite featuring interlocking, die-cut embossed leaves and copy stamped on brown suede reflects the changing trees of autumn; and if you choose to marry in the springtime, graphic flourishes are a fresh take on flora and fauna.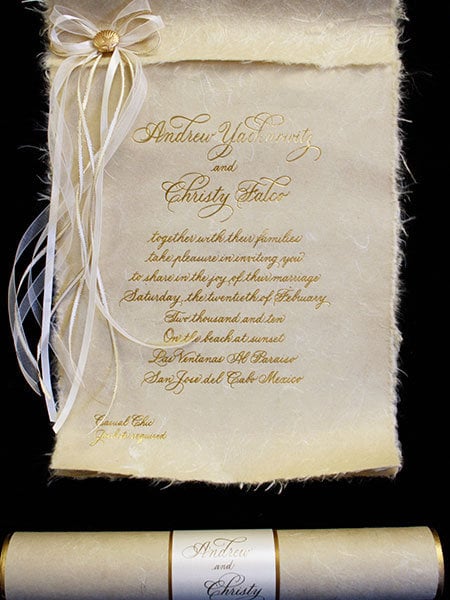 "Natural Scroll" Wedding Invitation (Style #CW-109)

"Autumn Kiss" Wedding Invitation (Style #CW-101)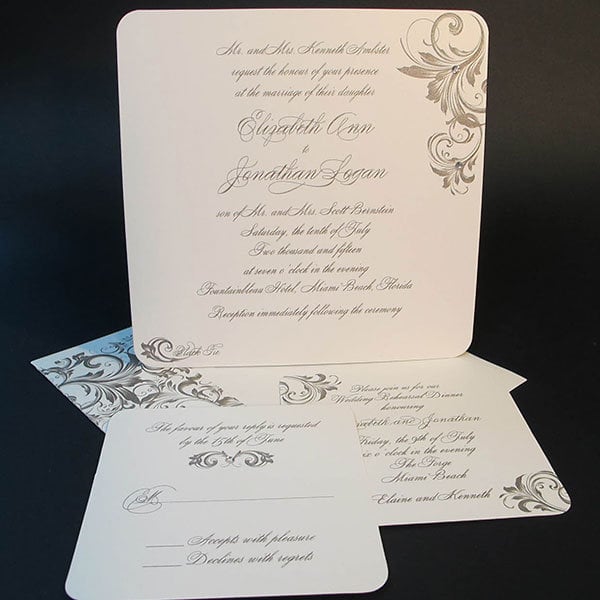 "Swirling in Romance" Wedding Invitation (Style #BW-135)
Modern
What could be more modern and chic than a black and white color palette? Think outside of the box with a scalloped edged laminated card or one with rounded corners. Add graphic texture with embossed designs and bows. Font choice is important — think clean and simple, and highlight certain words in all caps so that it's easy for guests to read.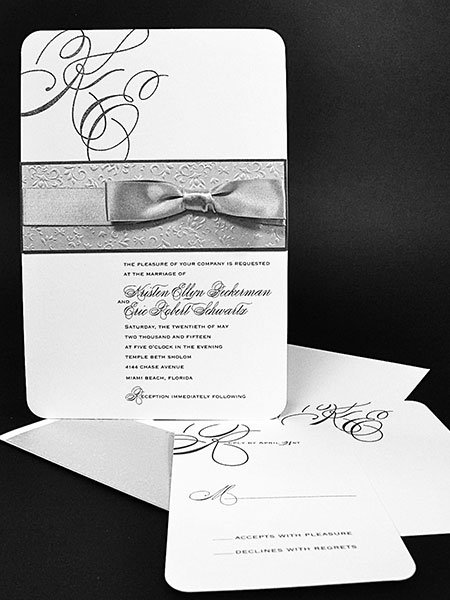 "Delicate Balance" Wedding Invitation (Style #BW-123)

"Simply Stated" Wedding Invitation (Style #BW-111)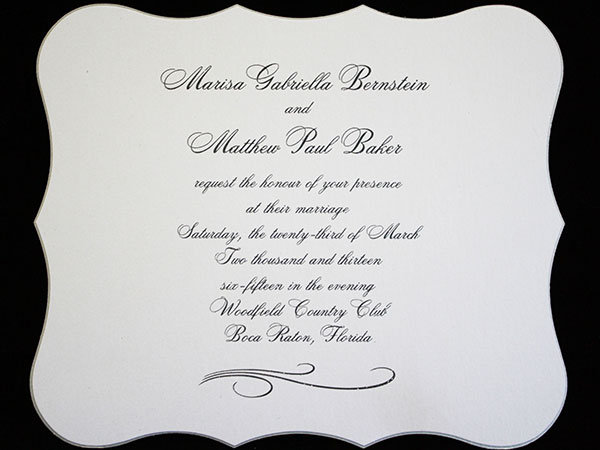 "Cascade" Wedding Invitation (Style #BW-103)
Wedding Announcement
Decided to get married in City Hall or elope in a far-flung destination like Paris? Many couples who take the quickie route choose to host a small celebration with well-wishers afterwards. We can't think of a more fun way to announce your new marital status than with a martini dressed for the occasion in a bright red bow tie (count us in!).

"Cheers!" Wedding Announcement (Style #CW-105)
Check out 10 more wedding announcements we love, here!
Still unsure which invitation to pick? "If you haven't chosen your flowers or your bridesmaids dresses yet, choose a simple and versatile ivory or white design. You can use different types of paper and textural elements to create a stylish look, rather than using color. That way, you leave the door open," said Segal. 
Also, if I could leave you with just one piece of advice, it would be this: Order at least 25 extra invitations. This is a golden wedding-planning rule and I stubbornly ignored it, figuring that we could always reign in the guest list if need be. Even with a trimmed-down guest list, though, some mishaps are inevitable: invitations get lost in the mail, your calligrapher might misspell someone's name or you find out that elderly relative who won't be able to make it to your big day still expects to receive an invite anyway (and plans to send you a gift in her absence). Whatever the case, consider it a worthy investment and you'll thank us later! 
—Stefania Sainato