Without further ado, I'm thrilled to share my save-the-dates with you all, which went out in the mail today! After receiving my engagement photos from my photographer, Josh Lynn, I had a hard time choosing just one. I thought to myself, Why not use three, four, or even five—no sweat, right? However, every printing store or website I searched said it couldn't be done because their existing save-the-date layouts were limited. Exasperated, I was ready to give up my creative aspirations, until my coworker Kristen introduced me to Pear Tree Greetings.
Not only do Pear Tree designs accomodate more than one image, but their "love letter" tri-fold style was unlike any save-the-date I've ever seen before (which speaks volumes, since we receive countless ones at Bridal Guide). As the Web Producer at BG, the theme was a fitting tribute to my occupation, but it'd be great for any couple who wants to reveal more than just their date and "formal invitation to follow." How adorable is the "he proposed" button?
Front View: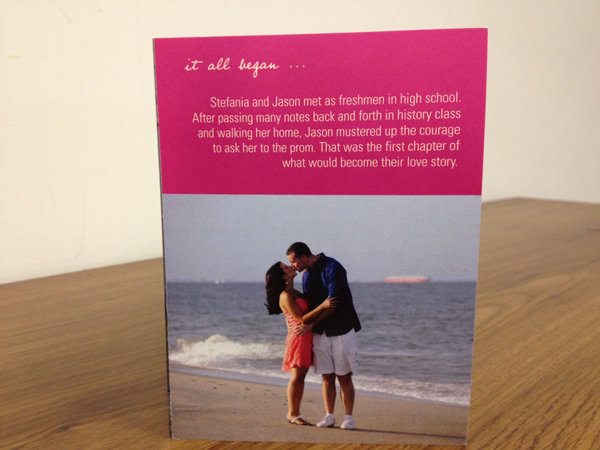 Back View: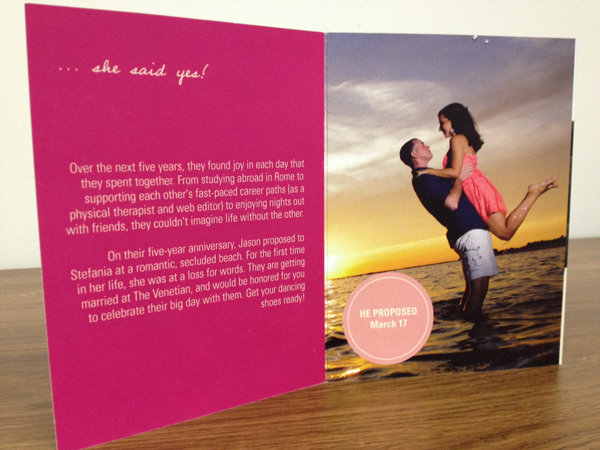 The site was very easy to use: I dragged and dropped the photos, adjusted the colors and fonts, proofed it, and a few days later, it was in my mailbox. The entire process took about two hours. They have a 24/7 tech available to answer any questions, so when I encountered a problem uploading one of the photos (due to my laptop's cookie settings), they helped me fix it ASAP.
More Fun Photos That Didn't Make the Cut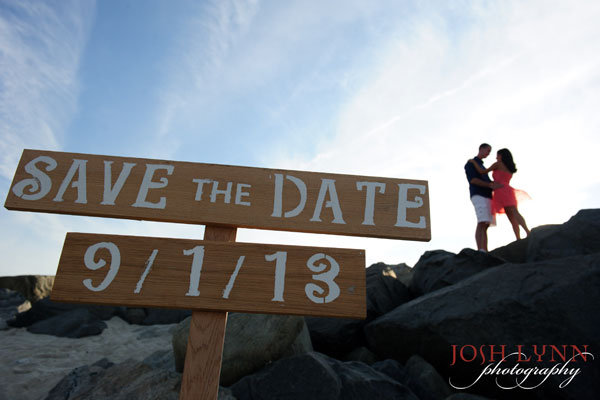 The last step was inking the back with a customized return address rubber stamp I found from Etsy seller Natalie Damask. The stamping process was much more difficult than I thought it would be—you have to apply the right amount of pressure to make the ink dark enough to read, but not so dark that it smudges. I would recommend testing this out on scrap paper first before you try it on your finished product. Also, leave all of the papers out for at least a day to dry. Overall, it was worth it: The calligraphy font dressed up my envelopes nicely, and prevented me from having to hand-write my address 100+ times on the back of the save-the-dates (which I did do for the front).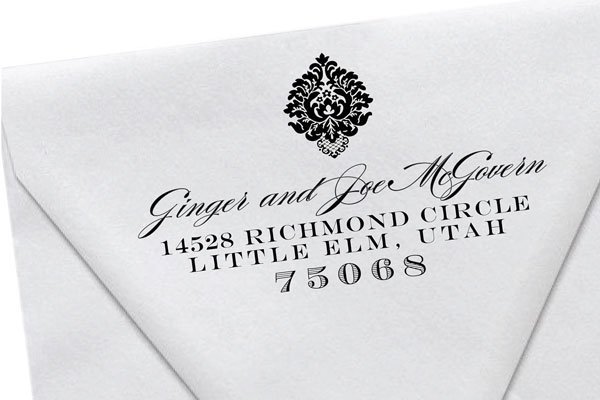 Exclusive Bridal Guide Discount:
Want to make your own love letter-inspired save-the-date? Save 15% on any item from Pear Tree Greetings' wedding collection or save-the-dates collection by using the code "BGWED15" at checkout!
Tell us: Did you send out a save-the-date? Why or why not?
—Stefania Sainato