Unlike one-sided nuptials of the past, weddings have become a celebration of both the bride and groom's tastes and preferences. In fact, a 2013 survey by David's Bridal found that 83 percent of grooms are actively involved in making decisions about the wedding. Watch out, Bridezilla! 
There are plenty of unique ways to include your groom's style without sacrificing your overall wedding vision. We've compiled some awesome suggestions from recent brides; consider one of these tips for your own big day!
1. Put him in charge of scouting your dream wedding venue.
​Odds are, your groom knows you and your tastes pretty well. Having him help with the venue search — and manage all subsequent appointments like tastings and linen selections after you've chosen one — gives you more time to worry about other details, like booking the florist or heading in for dress alterations.
"Mike wanted to get married on top of a mountain where his family camp was located. The spot was breathtaking — it didn't require much dress-up. Mason jars filled with flowers were set up along the trail of the mountain and everyone sat on hay bales. We toasted with moonshine instead of champagne," Dana Tessier says.

Above, the Tessiers stop for a kiss overlooking their scenic view.
Photo credit: Darling Photography
2. Focus on details that will make him shine.
Include a small detail that represents a major focus in your husband's life, like his career or his favorite band. Natalie Diener wanted to hint at her husband's passion without being too over-the-top.
"My husband is a theatrical fight choreographer — he teaches actors how to safely use weapons to perform violence on stage. It just seemed so obvious that we should cut the cake with a sword! We had a custom knife built with a swept hilt (like a rapier). Now it's our 'special occasion' knife for cutting birthday cakes, Thanksgiving turkeys, that sort of thing," Natalie says.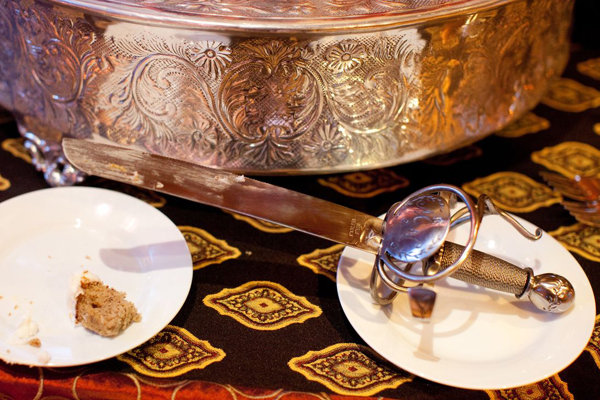 A custom-made cake knife was a treat for the groom.
Photo credit: Tennison Photography
For photographers Jodi and Kurt Baier, showcasing their mutual passion was key. "Kurt came up with the idea of having a camera lens as his boutonniere! He bought a vintage lens off of eBay and had his sister construct it into a boutonniere by fastening some burlap and sewing the boutonniere directly onto his vest," Jodi says. "Kurt's best man's boutonniere was made out of film negatives!"
3. He can be in tune with the music.
Even if your musical tastes differ, letting your groom build a selection of tunes for the ceremony is a great way to include him in the wedding plans. Terri Hart's husband selected "Lovely Day" by Billy Withers for their processional.
And letting him pick the music allows for exciting surprises throughout the evening. "During the reception, we danced to 'Here I Stand' by Usher for our first dance, but he surprised me by changing it to a soca/calypso song halfway through. It was so much fun and it really showed his fun-loving side," Terri says. 

Terri Hart was happily surprised when their first dance ballad changed to a fast-paced calypso song.
Photo credit: Breezes Resort, Bahamas
4. Work together to select the ideal wedding outfit. 
Jill Ivey wanted her husband to feel like himself on the day of their wedding.
"Ross loves, and happens to look good in, the color purple. At one point, early in the planning process, he saw a picture of Daniel Craig in a grey suit with a purple tie, and he announced that he'd found his wedding 'look.' Fortunately, purple was a perfect complement to the colors I had started envisioning (teal and orange). Even better, I managed to locate purple shoes in the exact color as Ross' custom-made wedding tie," Jill says.

Jill and Ross were all smiles over this wedding detail.
Photo credit: Peggy Woolsey Photography
Celeste Tuttle and her husband, Tyler, created a Pinterest inspiration board to help guide their outfit choices. Together, they decided that he should wear a tan suit, which perfectly matched the vintage vibe of their big day.
"Tyler's everyday style is very laid back and comfortable, and I knew he would be more in his comfort zone wearing a suit as opposed to a tux," Celeste says. Her advice for other brides: "When choosing what to have the groom wear on the day of the wedding, make sure that he is comfortable with the style you want...you don't want him to feel self-conscious."

Celeste and Tyler opted for a formal photography session that took place before their actual wedding — this compromise allowed them to switch up their outfits and get their ideal "first look."
Photo credit: Elegant Images
5. Knock his socks off with a thoughtful thank-you gift. 
A sentimental gift is a great way to make your special day about him. While her husband, Brian, was active in their wedding planning, Kylie Rahl, of Lip Gloss & Lunges, wanted to surprise him with a meaningful token during their first look.
"My groom is one of the biggest baseball fans I have ever met. Brian collects Craig Biggio memorabilia (he played for the Houston Astros), and ever since I met my husband, he's been looking for an official game-used bat to add to his collection. I eventually found the perfect bat and could not wait to give it to him! We are so happy with our decision to have a first look/gift exchange and we both agree that it was the best moment of our wedding day," Rahl says. 

Kylie spent months searching for the perfect game-used bat to surprise her new husband.
Photo credit: Lightly Photography
6. Include his favorite drinks and foods.
Signature cocktails have become a mainstay at weddings. Not only are they cost effective, but they're also a great way to showcase you and your groom's style.
Jessica Hearing and her husband, Greg, opted for signature cocktails that reflected their personal tastes. "Greg loves Mint Juleps and we thought it would be great to do that for his signature drink, but with a twist! It was made of made of Maker's Mark, muddled mint, and lemonade. It's the perfect summer drink," she says.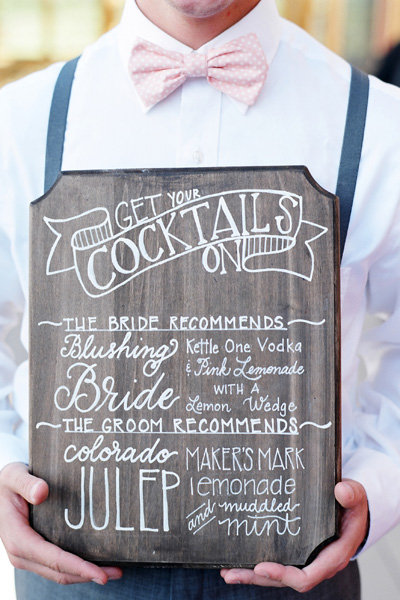 Jessica and Greg quenched guests' thirst with fun signature cocktails.
Photo credit: Laura Murray Photography
If you're looking for something a little more special than his favorite cocktail, consider the Butlers' approach. This couple favored beer over cocktails and decided to feature their favorite ice-cold drafts. "I started planning a special 'Ben's Beer Bar' to elevate our signature cocktail to a special gift for Ben," Laura says. Complete with snack mix, stuffed deer heads, and koozies, the surprise bar was a hit with the groom and their guests. 
7. Get him a creative groom's cake.
Who could forget the armadillo groom's cake in Steel Magnolias? The tradition of offering a groom's cake, once associated strictly with the South, is now prevalent at weddings across America. Brides are highlighting their husbands' interests and tastes with cakes shaped like classic video games, sports stadiums and more.
Laura Butler treated her husband, Ben, and their guests to a two-tiered groom's cake. "One tier was themed to reflect his undergraduate alma mater, University of Texas, and the other themed to reflect his graduate alma mater, University of Incarnate Word. I surprised him by getting some cake ordered in his favorite flavor, coconut creme," Laura says.  "He kept saying, 'No way!'"

Ben Butler's collegiate-inspired groom's cake.
Photo Credit: Luke Edmonson
Our tip: If a separate groom's cake will break your budget, incorporate elements that represent your groom right onto your wedding cake. Check out this half-and-half cake.
8. Sometimes, including aspects of his style just won't work.
David's Bridal found that two in five brides wouldn't trust their groom to make a decision without their input — our brides put their feet down over these groom picks:
"Ben wanted our groomsmen to wear gorilla suits — yeah, right! This really stemmed from a debate over what the groomsmen would wear. I wanted suits and he wanted tails — I told him that if they wore tails, our whole wedding would be brought up a full notch on the dressiness scale. So he just said, "OK, how about gorilla suits?'"  —Laura Butler

"Michael wanted to have camouflage as our 'color' and accent everything with camo to incorporate our love of hunting. We bumped heads about it for a month or so until we went fishing and he mentioned doing buffalo plaid instead. Thank goodness!"—Dana Tessier 

"I had to put my foot down about a clip-on bowtie. He had this whole Rat Pack idea that his bowtie would be untied by the end of the night but he wanted to buy two. He was going to sneak away and swap bowties." —Natalie Diener

"Greg really wanted a string quartet for our ceremony and cocktail hour music. But I felt that it was too formal and didn't fit with the feel of the wedding so I finally convinced him to have a Bluegrass band instead. He ended up loving it!" —Jessica Hearing
 
"If it were up to Brian, we probably would have '80s music playing all night during our reception." —Kylie Rahl
—Gabriella Rello