Let's face it, sometimes the only parts of his outfit the groom gets to choose are his socks and his skivvies. No, we're not going to show you pictures of grooms in their skivvies (sorry). We want to show you the socks! We love when a groom shows off his personality through his footwear—and sometimes lets the groomsmen in on the fun, too.
Some of our favorites:

                                                                                                                                           Photo Credit: Erica Velasco Photographers
These colorful socks complemented the couple's orange and turquoise color scheme.


                                                                                                                                               Photo Credit: Erica Ferrone Photography
The groomsmen coordinated with the groom—and one of them snuck in the Bat-Signal.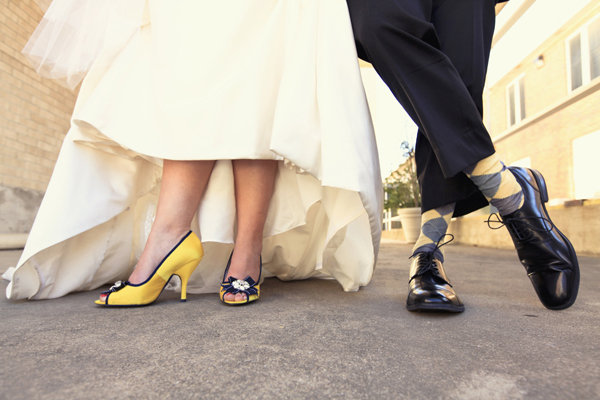 Photo Credit: Hailey Erickson Photography
This stylish couple coordinated his socks with her shoes!

                                                                                                                                                 Photo Credit: Ashley Rose Photography
This groom's socks were the perfect choice for his Beatles-themed wedding.

                                                                                                                                                Photo Credit: Ashley Rose Photography
And the groomsmen sported the fun socks as well!
Tell us: Is your groom planning on wearing crazy socks?
—Kristen O'Gorman Klein