Wedding gown shopping — oh, where to begin! For starters, as a bride, you should aim to look like the absolute best version of yourself on your wedding day. And aside from your beaming smile and bridal glow, your dress will be front and center. We all have different body types, which is why it's so important to begin the wedding dress shopping process by understanding the different gown silhouettes — and for which body types they work best. Here's a quick and easy guide to breakdown the various wedding gown silhouettes! 

Sketch credits: Ballgown: Angel Rivera, A-Line: Reem Arca on Wedding Bells Blog, Modified A-Line: Pricilla of Boston, Trumpet: Custom Couture, Mermaid: Claire Pettibone on Bridesfinds, Sheath: Orlando Magazine, Tea-Length: Wedding Dresses by Amee, Mini: Annette.
Ballgown: The "fairy tale" dress, with a fitted bodice, flairs at the waist with a full skirt. Ideal for most body types but looks great on pears, since it hides the lower body. Not good for petites; the skirt can be overwhelming on a small frame.
Check out 50+ Beautiful New Wedding Ballgowns ► 

Dress by Allure Bridals 

A-Line: Fitted bodice through the waist and flows out to the ground, resembling the outline of an uppercase "A." Ideal for all body types.
Check out 50 Ultra-Elegant A-Line Wedding Dresses ►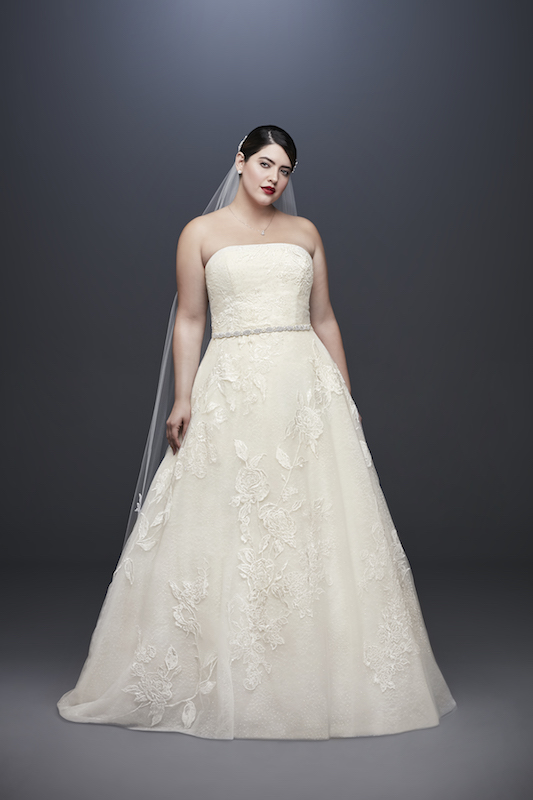 Left: Dress by Oleg Cassini for David's Bridal 

Modified A-Line: Fitted on the bodice and hips and gradually flares to the hem, forming an "A" shape. The skirt of a modified A-line dress fits closer to the body than a traditional A-line. Ideal for all body types.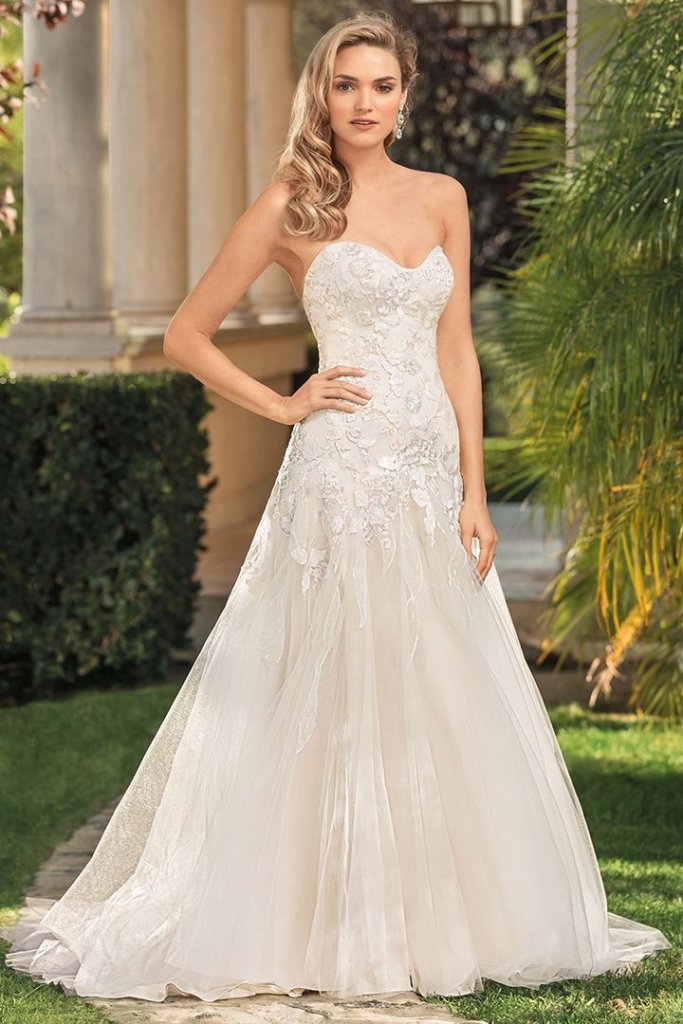 Left: Dress by Casablanca Bridal 

Trumpet: Fitted through the body and flairs mid-thigh. The cut is between a modified a-line and a mermaid cut. Ideal for frames with small waists, such as the hourglass, banana, and petites. Good for pears and apples, as it accentuates stomach and hip area. 
Dress by Maggie Sottero
Mermaid: Fitted on the body from the chest to the knee, then flares out close to the knee. Ideal for slender frames and hourglass body types who are willing to show off their curves. Not good for apples and plus size body types.
Check out 50 Mermaid Dresses That'll Make You Weak in the Knees ►
Left: Dress by Val Stefanie
Sheath: Narrow shape that flows straight down from the neckline to the hem. Ideal for lean frames, such as petites and bananas. Also good on hourglasses who are willing to show off their curves. Not good for pears; sheaths will accentuate extra inches and can be unflattering.
Check out 40 Stunning New Wedding Sheaths ►

Dress by Rosa Clara  

Tea-Length: Skirt falls in between the ankle and the knee. Ideal for all body types.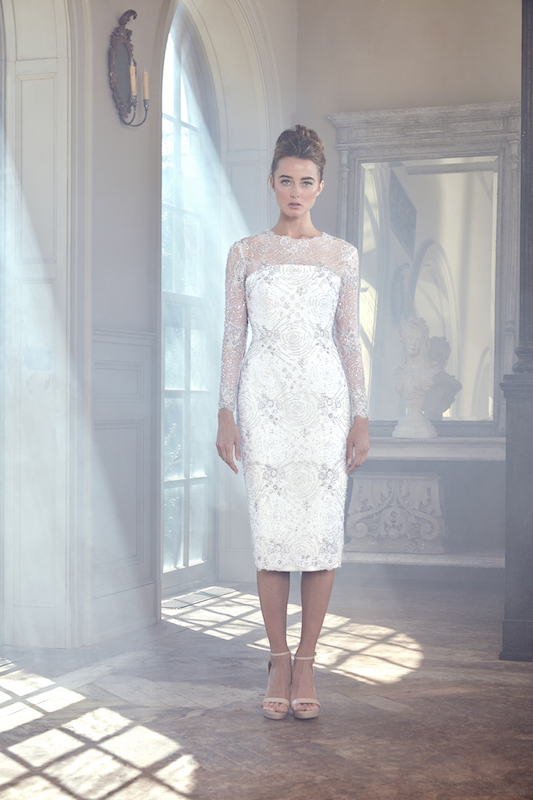 Dress by Sareh Nouri 
Mini: Skirt falls above the knee. Ideal for bananas. Not good for plus sizes.

Dress by Justin Alexander 

—Rosanna Casper
Guest blogger: Rosanna Casper, co-founder of Idojour.com, a new wedding website where brides, grooms, family and friends can purchase a stylish and affordable mix of beautifully curated pieces. Designed to make wedding planning all the more inspiring and enjoyable, Idojour offers accessories and apparel for your wedding weekend, complemented by both inspirational and practical content. Rosanna oversees content, among many other things, and makes sure that everything comes together beautifully on the site.