Whether you're a bride who wants to rock a tuxedo or a groom seeking a stylish look for the big day, there's a lot to know about suiting. We teamed up with SuitShop to have all of our menswear questions answered.
By: Rachel Capo
While shopping for her 2013 wedding, SuitShop co-founder Jeanne Foley and her husband were disappointed by the logistics, fit, and price of traditional menswear options. After the wedding, Jeanne and her best friend, Diana, set out to create a new solution for black tie attire: a sharp-looking tux that could be purchased for less than the cost of a traditional rental (under $200!). In 2016, SuitShop was born and has since dressed thousands of dapper men and lots of stylish women. 
BG: We're so excited about the women's tuxes. Please tell us more! 
SS: SuitShop's women's collection was born from repeated requests from women who wanted to wear tuxedos to their own or a friend's wedding. From the moment we started the company, women would order our men's tuxedos and 'make it work,' but that never rested well with us. As a female-founded wedding suiting and tuxedo company, we wanted to be inclusive and provide women with an alternative to a wedding dress or bridesmaid dress. In 2018, we launched our women's suiting and tuxedo line that is perfectly coordinated with our men's collection. We're proud to be the first and only brand that offers a suiting option that is gender, size and budget inclusive.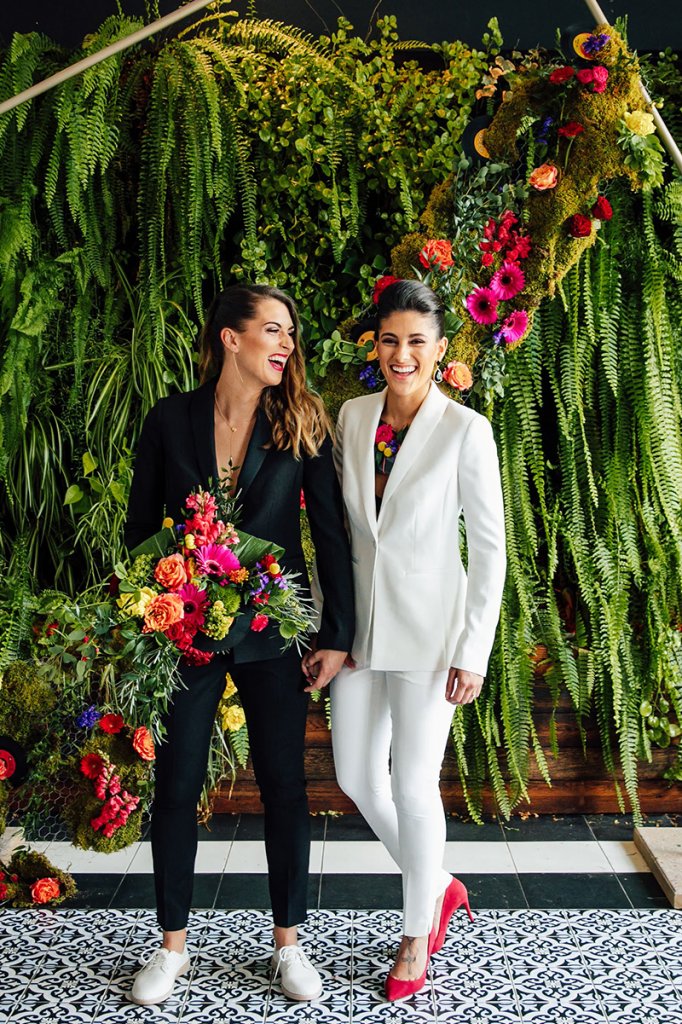 Credit: Wild Native Photography
BG: What colors/styles are popular for women?
SS: Our brilliant blue suit is definitely a customer favorite. The more vibrant blue jewel tone is an updated take on a navy suit. Its versatility makes it a great choice for any season and a wide range of events from beachside celebrations to a country club patio or an urban evening soirée.

Women's Brilliant Blue Suit
BG: How does a groom decide to wear a suit or a tux?
SS: A lot of people confuse suits and tuxedos thinking that they are interchangeable, but they are different. Tuxedos have satin accents on the jacket and pants giving them a more formal look. The choice between a suit or tuxedo is really determined by the formality of the wedding. Typically, the time of day and aesthetic of the venue determines whether the event will be black tie or cocktail attire. Suiting is a great choice for afternoon ceremonies at a more casual venue, like a vineyard. An evening celebration at a fancy hotel is the perfect setting for black tie attire. Regardless of the celebration start time and location, the groom can always opt to be a bit more formal and wear a tuxedo. After all, he's the groom and should stand out!
Men's Premium Shawl Lapel Black Tuxedo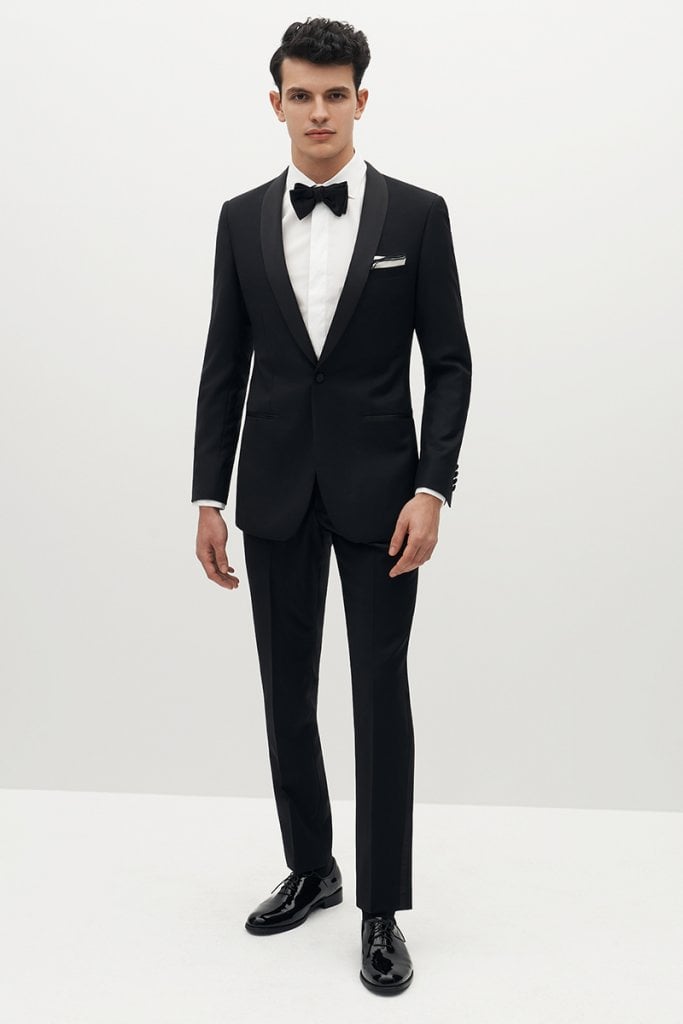 BG: Do you prefer a bow tie or a regular tie?
SS: We love both! A slim tie is timeless and can be incredibly dapper especially when it is tucked into a vest or secured with a tie bar. A bow tie is the perfect celebratory accessory, but it must be hand-tied! Pre-tied bow ties are okay when you're in a pinch, but the knot of a hand-tied bow tie will always look fuller and more authentic.



Credit: Emma Mullins Photography

BG: Do the groomsmen have to match the groom?
SS: Absolutely NOT! Grooms are definitely taking a more active role in planning their wedding style these days, and are interested in exploring ways they can differentiate themselves with a wedding look that is unique. Some grooms prefer to be more subtle, adding a vest for a dapper three-piece look, while others are bolder wearing a completely different color than the rest of their wedding party. Whatever their wedding style aspirations are, we're here for it and love working with our couples to help them coordinate a cohesive and unique wedding style.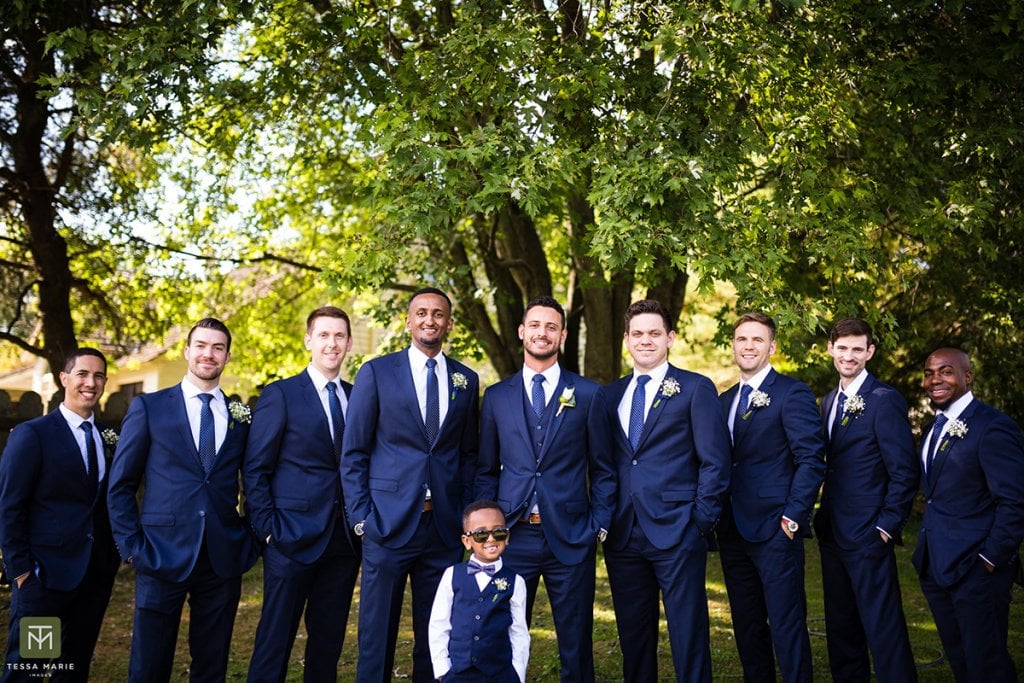 Credit: Tessa Marie Images

BG: Should the groomsmen complement the bridesmaids?
SS: Complement, yes. Play second fiddle, no. Thankfully, the idea that wedding suiting should be a good 'backdrop' to bridesmaids' dresses is becoming a dated trend. We're seeing brides and grooms approach their wedding style from their own personal preference, and take their friends' interests into consideration, as well. Some of our favorite looks have been from couples who were thoughtful in choosing unique suiting and dress styles that were complementary through accessories, like tie colors and textures, embroidered edges on pocket squares, lapel pins and other details.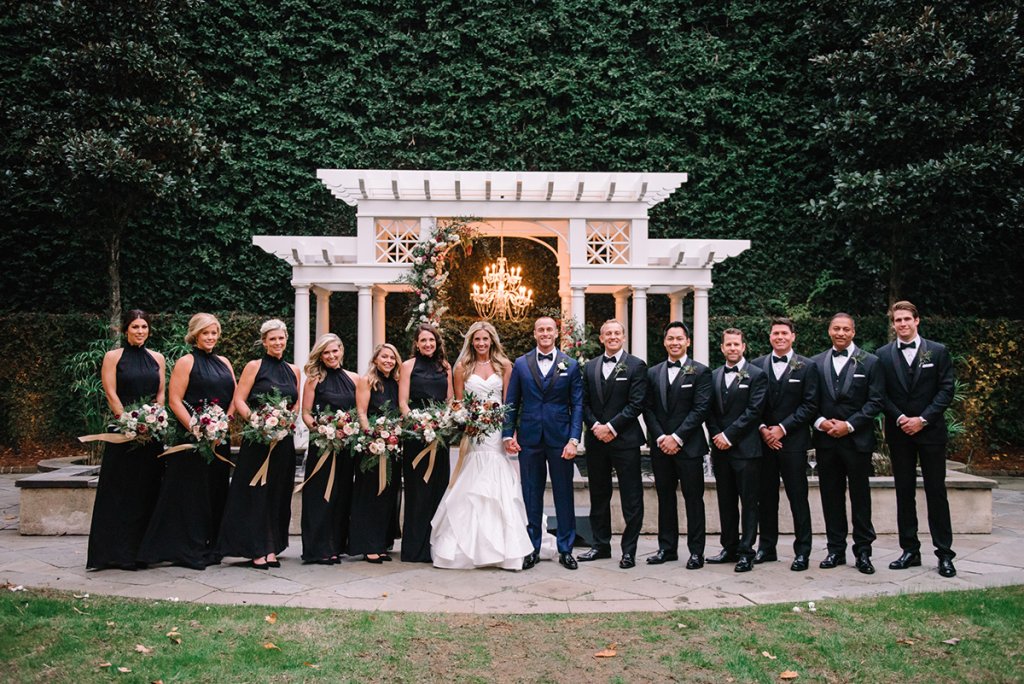 Credit: Pasha Belman Photography

BG: When should wedding attire be ordered?
SS: While we ship within 24 to 48 hours from orders being placed, we recommend that orders are placed no later than four weeks before the wedding to allow for an exchange and pant hemming.

BG: How do returns/exchanges work?
SS: Sizing and exchanges are one of our top priorities. Our goal is to get each member of the bridal party squared away well before the wedding day, and we do this with quick fulfillment and exchanges. Unlike other brands, we'll ship exchanges out to customers before they even get their original items back in the mail to us. Exchanges can be requested online or our customer service team is always happy to talk through fit issues over the phone and set up an exchange.
BG: How can they be sure they're ordering the right size/fit?
SS: At SuitShop, we believe the key to looking sharp is the fit, not the price tag and we have thousands of examples to prove it. Because friend groups come in all shapes and sizes, we offer one of the largest size ranges of any brand, and sell our jackets and pants as separates to provide a custom-like fit to a wide range of body types. To help customers find the best size, we've developed a highly accurate online fit tool that asks simple questions and does not require measurements.

BG: Is it customary for the groom to gift the groomsmen their accessories?
SS: Gifting a portion of the wedding attire is always an appreciated and thoughtful token of your friendship. Attending and being in weddings can get expensive and oftentimes we see couples gift ties, shoes, belts, etc… to help offset the cost. Because our suiting is under $200, it makes it more feasible for couples to gift the entire suit to their friends. We are huge fans of gifting accessories on the day of the wedding as they are small items that sometimes get left behind. There's nothing worse than having to overnight a tie or a set of cufflinks!
You can shop tuxes, suits, and accessories here. Have questions? Set up a virtual appointment.