From first dance to last call — budget-friendly ways to entertain your guests in high style.
By: Sharon Naylor
Budget Basics
Professional entertainment will cost less during the off-peak months of October through March, and at non-peak times such as a Sunday wedding, a Saturday afternoon wedding or on a Friday, with prices dipping 20 to 40 percent or more for these less in-demand times.
Avoid booking for too few hours. Andy Kushner of Andy Kushner Entertainment in Rockville, Maryland says, "Four hours is the standard length, and anything else will go too quickly." Overtime fees can be very expensive, often hundreds of dollars.
Booking a DJ and band to split the time can add up to less. Michael Swerdloff, AKA DJ Mystical Michael of the New York tri-state area says, "I have performed in between the band's sets and then did the last hours of the reception, which can save 25 to 75 percent over hiring a band for the whole event."
Ask your wedding planner and additional wedding vendors for recommendations. Katherine Stimson, entertainment specialist with Suman Entertainment Group in Miami says that some vendors offer package deals among "friends" in their vendor circle, saving you 10 to 20 percent.
Ask your entertainer if you can get a discount for paying your entire fee in advance. Some experts will give you 5 to 10 percent off a package price if you pay everything up front.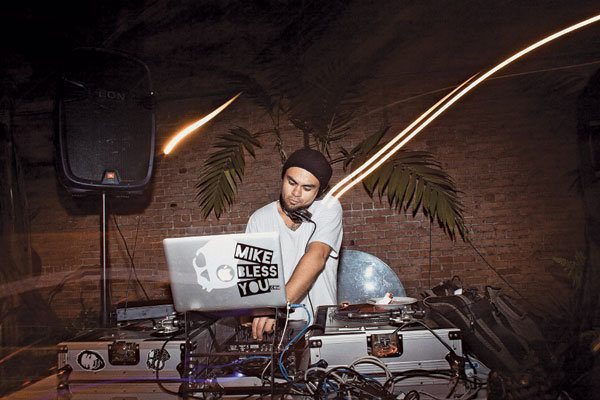 Photo Credit: Mark Brooke Photographers
Ask about specialty discounts. DJ Mystical Michael granted a 50 percent discount to a military couple, and reports that he often gives a discount for last-minute planners just to book the date.
Check entertainers' social media sites for discounts, says Gregg Hollman of Ambient DJ Service in Princeton, New Jersey. These special online offers will typically save you 10 to 15 percent.
Get more out of your dj by having him take a break during the dinner hour, says Kushner. "Then negotiate for him to play non-stop during the dancing hours."
Choose a one-man dj operation, rather than paying for a two- or three-member team. This can save you 15 to 25 percent depending on the agency, says Swerdloff.
Look for multi-tasking band members who play more than one instrument to get even more bang for your buck. See if one of your reception band's musicians will also play at your ceremony, and negotiate a percentage off what it would cost to book a separate musical act.
Don't be afraid to go big: "It's always best to negotiate with an established entertainment company rather than go to a lesser-known agency," Kushner says. Larger agencies often have a greater ability to meet your budget needs.
Pages