From first dance to last call — budget-friendly ways to entertain your guests in high style.
By: Sharon Naylor
Great entertainment can really make your wedding unforgettable. A fabulous DJ or a live band keeps your dance floor packed and the energy up. Those ultra-special moments like your first dances and your cake-cutting become even more special with a stellar introduction. And surprise live performances are sure to wow your crowd.
Entertainment can be one of the most expensive parts of the wedding budget, however, and it's not always the easiest place to cut corners. But fear not, there's definitely wiggle room when it comes to number crunching — and we're here to give you the scoop. Plus, get wedding song recommendations here!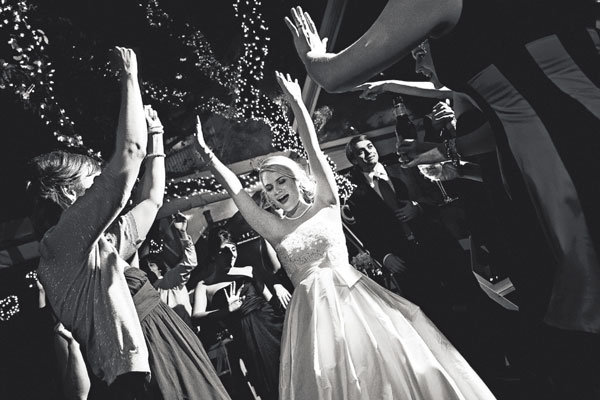 Photo Credit: Kathryn Krueger Photography
The Number-One Question: DJ vs. Band
You've always heard that DJs are less expensive than live bands. After all, there's only one person to hire and feed, so that has to be less, right? Not always. According to the American Disc Jockey Association, rates can soar to $5,000 and beyond for top-tier master-blasters. But yes, in most cases, DJs can be less expensive than bands since there are fewer people to book and feed.
And yet: "Think about the experience you want to have at your wedding," says planner Courtney Hammons of A Magical Affair in Brentwood, Tennessee. You may be aiming for the energy that fills the room when a live band plays hit songs. Or it may be that you really prefer the original artists' renditions of songs, as played by a DJ. You may want the festive look of a nine-piece orchestra, versus the tech-heavy presence of a deejay.
And of course, you might be among the many couples that choose both. They'll have a band play for the dinner hour and the start of the reception, then have a DJ step in and rev up the energy with club music. And—surprise—this can save money. Read on to see how.
Typical Costs
DJ: $525 to $1,400
Live band: $1,200 to $3,000-plus
Specialty musicians, soloists and ensembles: $400 to $1,000-plus
These are national averages. Depending on your reception entertainment choices, such as a 12-piece orchestra, you could be looking at prices double these, if not more.
*Source: industry survey site costofwedding.com.
Pages