From first dance to last call — budget-friendly ways to entertain your guests in high style.
By: Sharon Naylor
Great entertainment can really make your wedding unforgettable. A fabulous DJ or a live band keeps your dance floor packed and the energy up. Those ultra-special moments like your first dances and your cake-cutting become even more special with a stellar introduction. And surprise live performances are sure to wow your crowd.
Entertainment can be one of the most expensive parts of the wedding budget, however, and it's not always the easiest place to cut corners. But fear not, there's definitely wiggle room when it comes to number crunching — and we're here to give you the scoop. Plus, get wedding song recommendations here!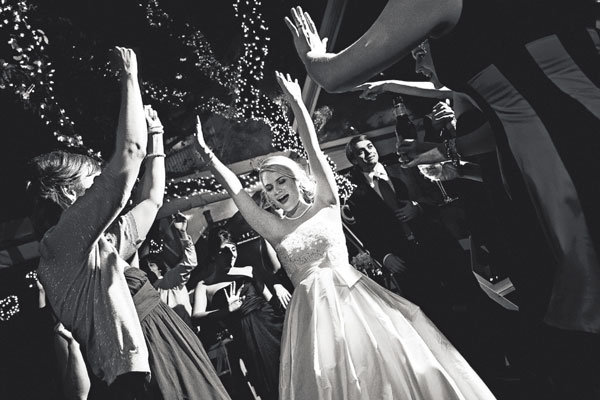 Photo Credit: Kathryn Krueger Photography
The Number-One Question: DJ vs. Band
You've always heard that DJs are less expensive than live bands. After all, there's only one person to hire and feed, so that has to be less, right? Not always. According to the American Disc Jockey Association, rates can soar to $5,000 and beyond for top-tier master-blasters. But yes, in most cases, DJs can be less expensive than bands since there are fewer people to book and feed.
And yet: "Think about the experience you want to have at your wedding," says planner Courtney Hammons of A Magical Affair in Brentwood, Tennessee. You may be aiming for the energy that fills the room when a live band plays hit songs. Or it may be that you really prefer the original artists' renditions of songs, as played by a DJ. You may want the festive look of a nine-piece orchestra, versus the tech-heavy presence of a deejay.
And of course, you might be among the many couples that choose both. They'll have a band play for the dinner hour and the start of the reception, then have a DJ step in and rev up the energy with club music. And—surprise—this can save money. Read on to see how.
Typical Costs
DJ: $525 to $1,400
Live band: $1,200 to $3,000-plus
Specialty musicians, soloists and ensembles: $400 to $1,000-plus
These are national averages. Depending on your reception entertainment choices, such as a 12-piece orchestra, you could be looking at prices double these, if not more.
*Source: industry survey site costofwedding.com.
Next: Easy ways to save on your wedding band or DJ ►
Budget Basics
Professional entertainment will cost less during the off-peak months of October through March, and at non-peak times such as a Sunday wedding, a Saturday afternoon wedding or on a Friday, with prices dipping 20 to 40 percent or more for these less in-demand times.
Avoid booking for too few hours. Andy Kushner of Andy Kushner Entertainment in Rockville, Maryland says, "Four hours is the standard length, and anything else will go too quickly." Overtime fees can be very expensive, often hundreds of dollars.
Booking a DJ and band to split the time can add up to less. Michael Swerdloff, AKA DJ Mystical Michael of the New York tri-state area says, "I have performed in between the band's sets and then did the last hours of the reception, which can save 25 to 75 percent over hiring a band for the whole event."
Ask your wedding planner and additional wedding vendors for recommendations. Katherine Stimson, entertainment specialist with Suman Entertainment Group in Miami says that some vendors offer package deals among "friends" in their vendor circle, saving you 10 to 20 percent.
Ask your entertainer if you can get a discount for paying your entire fee in advance. Some experts will give you 5 to 10 percent off a package price if you pay everything up front.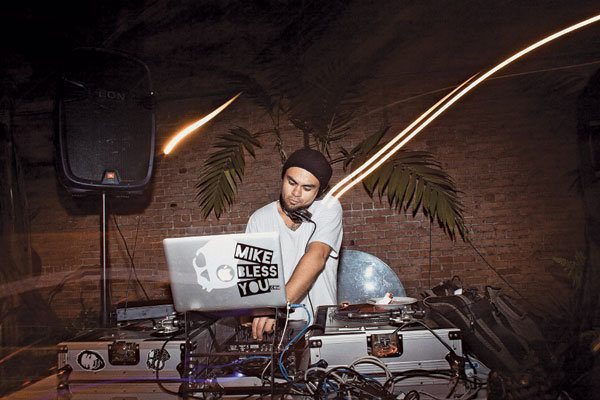 Photo Credit: Mark Brooke Photographers
Ask about specialty discounts. DJ Mystical Michael granted a 50 percent discount to a military couple, and reports that he often gives a discount for last-minute planners just to book the date.
Check entertainers' social media sites for discounts, says Gregg Hollman of Ambient DJ Service in Princeton, New Jersey. These special online offers will typically save you 10 to 15 percent.
Get more out of your dj by having him take a break during the dinner hour, says Kushner. "Then negotiate for him to play non-stop during the dancing hours."
Choose a one-man dj operation, rather than paying for a two- or three-member team. This can save you 15 to 25 percent depending on the agency, says Swerdloff.
Look for multi-tasking band members who play more than one instrument to get even more bang for your buck. See if one of your reception band's musicians will also play at your ceremony, and negotiate a percentage off what it would cost to book a separate musical act.
Don't be afraid to go big: "It's always best to negotiate with an established entertainment company rather than go to a lesser-known agency," Kushner says. Larger agencies often have a greater ability to meet your budget needs.
Next: Save by going off the beaten track ►
Save by Going Off the Beaten Track
"Check with local colleges' music departments to find student musicians who need the credits and additional live experience, and may not charge anything," says Hammons. (Do give them a nice gratuity after the show.) Some students do charge, but far less. Mark Kingsdorf, director of The Queen of Hearts Wedding Consultants in Philadelphia agrees, saying that music school student entertainment can cost one-third less than pro musicians.
Hammons also suggests checking with your church's musical director, who can suggest excellent pianists and other musicians they use during services, who you can hire for 30 to 40 percent less than the prevailing professional rates.
Professional entertainment companies keep a roster of specialty musicians and dancers, who you may be able to add onto your music package for a 10 percent discount.
Look to venues like Irish pubs or Indian restaurants for specialty entertainment options such as fiddlers, step- or belly dancers. Hammons says she has found stellar entertainers through local restaurant owners, saving her clients 40 to 60 percent.
Contact local cultural associations to book singers, musicians and dance troupes for 25 to 50 percent less than the going professional rates. This is a great way to add global flair to your reception. If you hear a great musician at a local club or coffee shop, always ask if he or she does weddings. These artists often charge a low per-hour rate that can save you hundreds of dollars. Bonus: you already know their sound, which may be perfect for your cocktail-hour music, if not your ceremony.
Hot Tip: Many DJs and bands offer specialty lighting effects as part of their package; often their basic lighting accents are gratis, with customized lighting for an added fee. Ask if you can use non-custom effects such as light projected in a snowflake pattern on your dance floor at no charge—rather than commission lighting effects with your names.