Although your DJ or band is responsible for entertaining your guests, there are some things that brides and grooms can also do to ensure that the soundtrack for their big day hits all the right notes. Here, wedding pros share the most easily avoidable wedding music blunders.
By: Stefania Sainato
20. Disorganization
"After 40-plus years of playing over 1,000 weddings, I have seen problems that stem from the band not being in sync with the wedding coordinator. In some cases, the coordinator cannot be found at key times, and the band leader or DJ, right or wrong, is forced to take charge," Novack says. For example, Mom and Dad might go missing at the start of the parent-child dances. Work with your function coordinator and DJ or band to come up with a timeline regarding the order of events.
21. Micro-Managing the Playlist
A big part of a DJ or band leader's job is to read the room and select each song based on the mood of the dance floor. Sometimes an amazing song just isn't a perfect fit for that moment in time. It's crucial to let go of total music control, so everything flows seamlessly. "Some brides and grooms are too controlling, and it hurts them in the end. They become a sort of 'puppet master' if you will," Weinstein says. "Standing behind a performer telling them what to play or do will only cause anxiety and force the party into a different direction."
Couples should trust in the professionalism and skills of their performers and feel confident with their choice. "When you talk to your DJ, they should be excited about your event. They should get a sense of your musical history and feel confident they can pick songs you would like even if they are not on your list," Kaley says.
22. Not Scheduling Breaks or Feeding Your Vendors
Not only will your musical entertainment need to use the restroom but they'll also need to eat and rest their vocal chords. If you're using a live band, this is especially important. "I always tell my customers that we play better on full stomachs," Novack says.
Discuss breaks with your DJ or band in advance so that you know what to expect and avoid any potential upsets. "I once worked with a couple who only wanted to hire the live band — they never wanted a DJ or iPod to be used. They were upset when the reception ended early because the band was exhausted. The situation could have easily been avoided and only required a tiny bit of flexibility on their end," Freeman says.
23. Assuming That a Raging Dance Floor Is the Only Way to Have a Fun Wedding
If the thought of dancing for hours makes you cringe, or you just prefer to have a long elegant dinner, instead, don't fret. "Sometimes people think that a good wedding has to have a crazy, wild hopping dance floor to be a success. Although a rocking dance party can be super fun, it's not the only way to enjoy a wedding. Think about you and your guests' personalities and priorities and choose musical partners accordingly," Kaley says.
For example, stylized entertainment such as a string quartet or Brazilian jazz group are fun choices regardless of whether you're on the dance floor or not.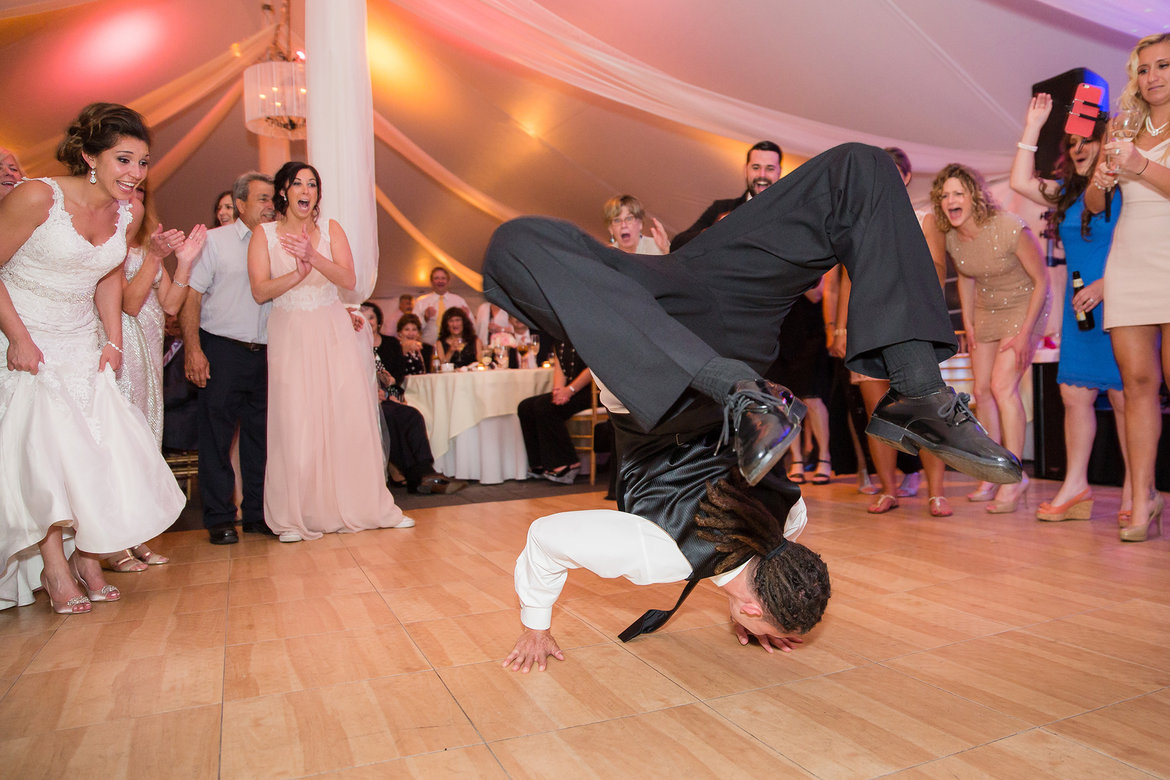 Photo Credit: Lovely Valentine Photography
Pages