Although your DJ or band is responsible for entertaining your guests, there are some things that brides and grooms can also do to ensure that the soundtrack for their big day hits all the right notes. Here, wedding pros share the most easily avoidable wedding music blunders.
By: Stefania Sainato
6. The Music is Too Loud
Ideally you want to send guests home with favors and fond memories, not a pounding migraine! Keep the sound level reasonable since not everyone will be able to appreciate a dance club atmosphere. "Ask your DJ or band leader to avoid making it too loud to the point in which guests can't converse throughout the reception. Also, be conscious of where they place the speakers so that you don't upset any guests that are too close for comfort," says Aviva Samuels from Kiss the Planner.
Research the sound ordinance laws in the town you're getting married in, and ask your venue if they have any noise level restrictions to avoid having your party shut down.
7. Hiring a DJ or Band Without Enough Experience
Determine whether they are a well-rounded, successful entertainer who can bring a level of expertise and versatility to your event. "You want to ensure that your DJ isn't a one-dimensional part-timer, but a true performer whose had varied and extensive experience performing in front of different (and tough) audiences," says DJ Kev Sakoda from Scratch Weddings. Keep in mind that "If they work at nightclubs, but they've never done a wedding, then they may not be as interactive with guests as a well-versed industry vendor," says Kate Whelan from Kate Whelan Events.
Unlike an amateur DJ or family friend, a professional wedding band or DJ risks their business reputation and livelihood with every job they do. "They receive much of their business from referrals, so they will work hard to make sure that guests have a blast and recommend them for future events," Stevenson says.
8. Not Meeting the Master of Ceremonies Before the Big Day
You should have a good connection with your MC since they'll be the one responsible for entertaining your crowd. "If they can't impress the two of you, how will they be able to entertain a large room full of people with varied tastes and personalities? That person should reflect what you hope to portray on your big day," Samuels says. Listen to their music demos or watch wedding performances to get a sense of how they will interact with your guests.
Also, make sure the members you see live will be the same ones performing at your event. "Some bands book themselves out two or three times on the same day, and have a stable of musicians to call on," says Raymond "Ray" Novack from the wedding band Horizon and the Horns.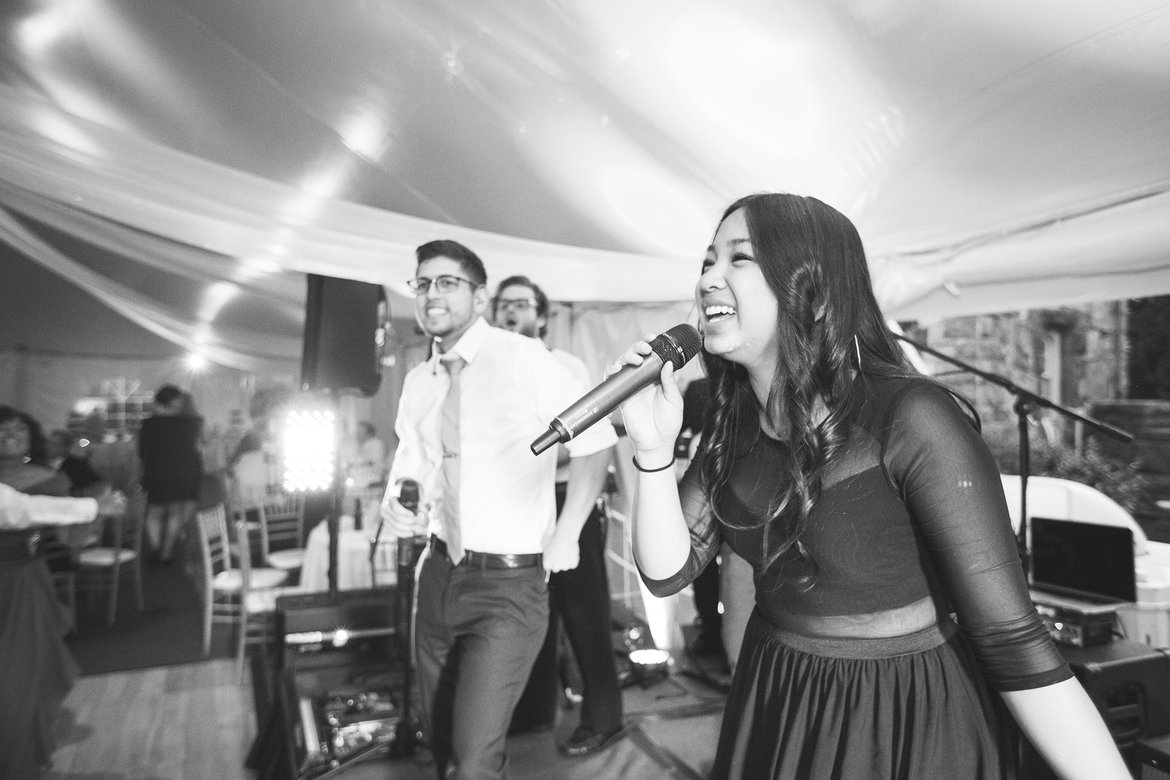 Photo Credit: Lovely Valentine Photography
9. Glossing Over Contractual Terms
Thoroughly review the contractual terms when selecting all of your entertainment. "If you miss the costs associated with the rider clause or payment terms, it could result in chaos and additional costs you didn't anticipate," Jenkins says. Check out six things you should know about wedding contracts ►
10. Ceremony Snafus
Go over any processional and recessional cues with your musicians. For example, let's say that you want them to play a particular song for your bridesmaids and another tune for your flower girls. They should know exactly how many people to see walk down the aisle before switching. (Avoid choosing a song that isn't long enough for all of your bridal party attendants to walk down the aisle, so it has to be looped multiple times.)
"I've seen musicians start playing the recessional music right when the bride and groom kiss, only to stop abruptly when the officiant announces the couple or gives brief instructions to the guests. Even worse is when there's an awkward silence after the kiss because the musicians are waiting for some cue that wasn't discussed!" says Erin Kelly, a professional cellist. Ask your officiant to check in briefly with your musicians before the ceremony so that everything goes smoothly.

Photo Credit: Zelo Photography
11. Not Providing Adequate Shade During an Outdoor Event
Even if there are plenty of trees at your ceremony or venue site, musicians should be in the shade at all times since instruments are sensitive to heat and need to be protected. "I think that often, a couple will check out a venue during the off-season and the shade provided may seem adequate at the time. However, by the time a summer wedding rolls around, it will be nonexistent," Kelly says. Work with the venue to provide a canopy or umbrella that can be adjusted as the sun moves.
12. Technical Issues
"If the venue is historic or a hotel that was built before big weddings became popular, you may not have enough power to accommodate a large (or even small) band," Samuels says. Doing your due diligence in advance will allow you to contract a generator or distribution panel to remedy the problem, or avoid paying for a band that you can't use.
Also, your DJ or band should hold a sound check to test whether their equipment works properly in your venue and pinpoint any potential issues before the reception begins.
Pages