We reached out to readers to find out how they are planning, postponing and, in some cases, holding their weddings during the COVID-19 era.
By: Diane Forden & Mary Clarke
-AS SEEN IN BRIDAL GUIDE MAGAZINE-
We Got Married Anyway!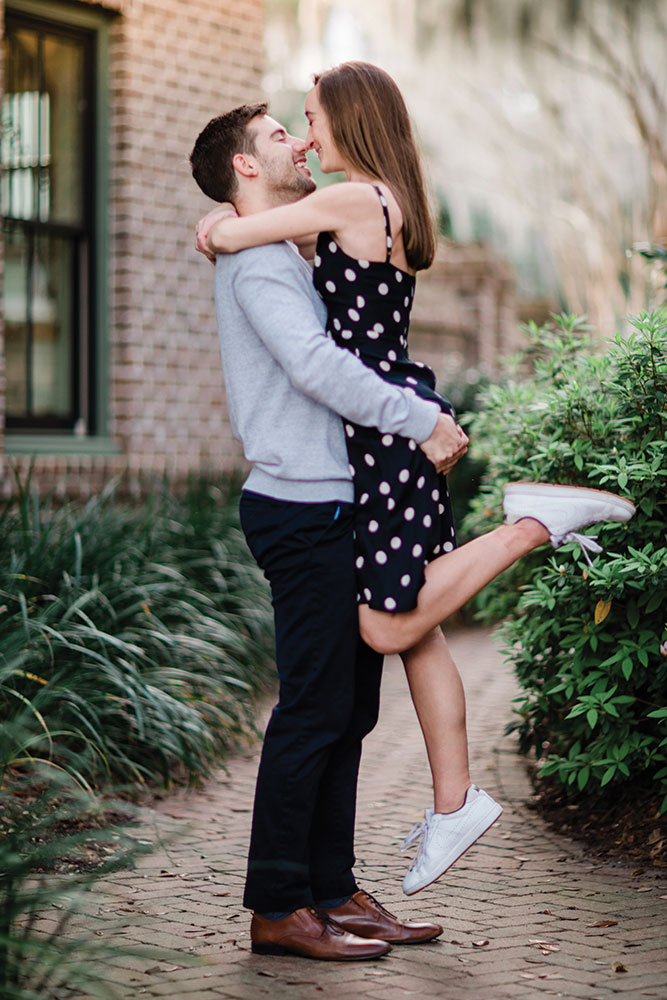 Photo: Esther Griffin Photography
Couple: Jordan Ladnier & Jordan Rosenthal, Memphis, TN
Wedding Date: May 10, 2020
Upcoming Celebration: TBD 2021
"We postponed our large wedding in Savannah but decided to keep our original wedding date: I'm currently in optometry school, so what better year to get married than 2020? We planned a small wedding in my parent's backyard in Petal, MS, followed by a garden reception with dinner and dancing for our guests — our parents, our two siblings and our officiant, all streamed on Facebook and Instagram Live... I have learned that even in a global crisis, my fiancé and I are able to communicate with each other and support each other and not let stresses get in the way of our relationship."
Couple: Kelsy McNay & Robert Bors, Houston, TX
Original Destination Wedding Date: May 16, 2020
At-Home Wedding Date: March 17, 2020
New Destination Wedding Date: November 14, 2020
"We'd always planned to be legally married before our destination wedding anyway. We had a backyard ceremony with family. We were able to move our destination wedding date ahead without losing deposits and are hoping more people can come that originally couldn't!"
Couple: Andrea Stramler & John Higginson, St. Louis, MO
Wedding Date: April 4, 2020
Upcoming Celebration: August 14, 2020
"We postponed our celebration but still got married on our original day. It's special to us, as it is five years to the day that we met. We were married in a chapel, with 10 guests including our photographer, livestreaming for friends and family, followed by a home-cooked dinner with make-your-own sundaes for dessert. We will repeat the ceremony and reception with our original venue and vendors in August. Despite it not unfolding as originally planned, we had a great time and I felt so beautiful, confident and happy that I was able to marry the man I love on our special day."

Photo: Joyia Smith
Couple: Joyia Smith & Ian Bailey, Knoxville, TN
Wedding Date: May 1, 2020
Upcoming Celebration: February 19, 2021
"We stood in our living room, and our guests and officiants joined on Zoom. Our fathers are both ministers, so they shared the ceremony duties. We had a Jamaican cake baked by my new mother-in-love and lots of champagne, and our guests had cake and drinks in our honor on camera. Next year, we'll still have our ceremony as originally planned, including a unity ceremony. Afterwards, it's party time! 
"I never thought my living room would be my wedding venue, but standing together in that moment, we would have been happy absolutely anywhere!"  
Couple: Sara Braverman & Dan Puglia, New York, NY
Wedding Date: March 20, 2020
Upcoming Celebration: July 9, 2020
"We had to postpone four days before the wedding, but ended up legally tying the knot. We had a mini ceremony at my parents' house, along with our bridal party and some of their significant others. Dan's parents FaceTimed in, and we had pizza after. Our cake was from Stop & Shop. It was low key and amazing. We'll have the big celebration even if it ends up being some time in 2021. We will call it an over-the-top vow renewal if we have to. But I plan to wear my big fancy expensive dress."

Photo: Megan Allen/Studio 22 Photography
Couple: Erica Lugo & Danny McGeady, Dayton, OH
Wedding Date:  April 4, 2020
Upcoming Celebration: December 20, 2020
"We postponed our big wedding celebration to December, but we decided to surprise our family and close friends with a Zoom wedding on our original day: 4/4 at 4:44 p.m. Our three kids were in on the surprise. I had my team from Biggest Loser (Erica is a featured trainer) on Zoom. They thought we were joining together to have a drink, and family members thought the kids were doing a virtual school performance. When everyone was on, Kristi from my Biggest Loser team married us! We had the best time. We blasted our outdoor speakers, changed into sweats, ate our wedding dinner and roasted s'mores in the fire pit. It was an amazing day!"
We Postponed and Rescheduled
Couple: Brittany Spandle & Austin Wagner, Kansas City, MO
Original Wedding Date: June 12, 2020
New Date: September 26, 2020
"If it means pushing the wedding date again so friends and family can be there, I guess that's what we'll keep doing!"

Photo: Dallin and Cienna
Couple: Kayla Henderson & David DeMarchis, Fort Wayne, IN
Original Wedding Date: June 20, 2020
New Date: July 30, 2021
"We ended up having to go with a Friday instead of Saturday — we're totally OK with that!"

Photo: Natalie Phillips
Couple: Hannah Demuth & Ryan Cormier, Tulsa, OK
Original Wedding Date: May 24, 2020
New Date: August 23, 2020
"We were able to snag our venue's last available Saturday for 2020, as well as the same vendors, so we didn't lose deposits. Moving the wedding was what we needed to do in order to keep everyone safe. Ultimately, it's not about a 'party' but about the covenant we are creating. That is what I keep reminding myself!"

Photo: Heather Nan Photography
Couple: Alexia Chauss & George Kyriazi, Salt Lake City, UT
Original Wedding Date: July 11, 2020
New Date: June 11, 2021
"The biggest challenge was finding a date that would accommodate George's schedule (he'll be starting his medical residency next summer). It's definitely been a wild roller coaster. The pandemic has become part of our love story, so experiencing our big day after everything that has happened will be that much more special."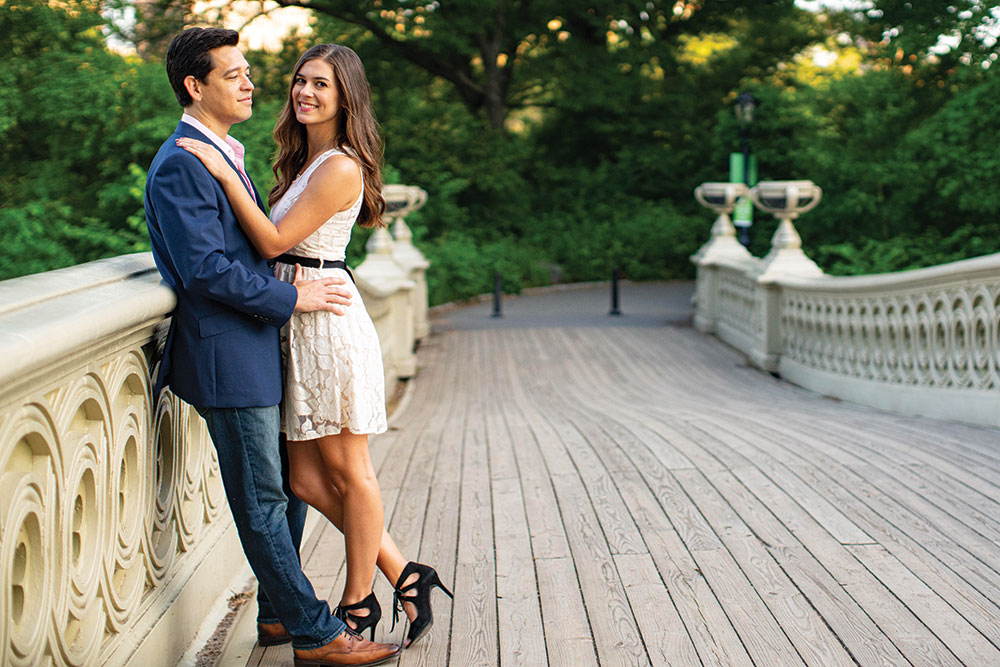 Photo: Andrew Leung 
Couple: Sydney Jacobs & JP Gonzalez, New York City, NY
Original Wedding Date: April 26, 2020
New Date: August 3, 2020 ("We hope!")
"Although we occasionally daydream about eloping, we feel strongly about having our friends and family with us on our wedding day... Our family and friends showed us an outpouring of support on our 'almost' wedding date, which meant the world to us and helped us through what could have been a difficult weekend."

Photo: Taylor Robinson Photo
Couple: Ariel Longman & Gary Goldstein, Long Island City, NY
Original Wedding Dates: March 15, 2020, June 18, 2020
New Date: 2021 TBD
"We made the decision to postpone 48 hours before what would have been our wedding day. We chose a new date in June, but soon realized that day wouldn't be happening either. Now, we're looking at dates next year!"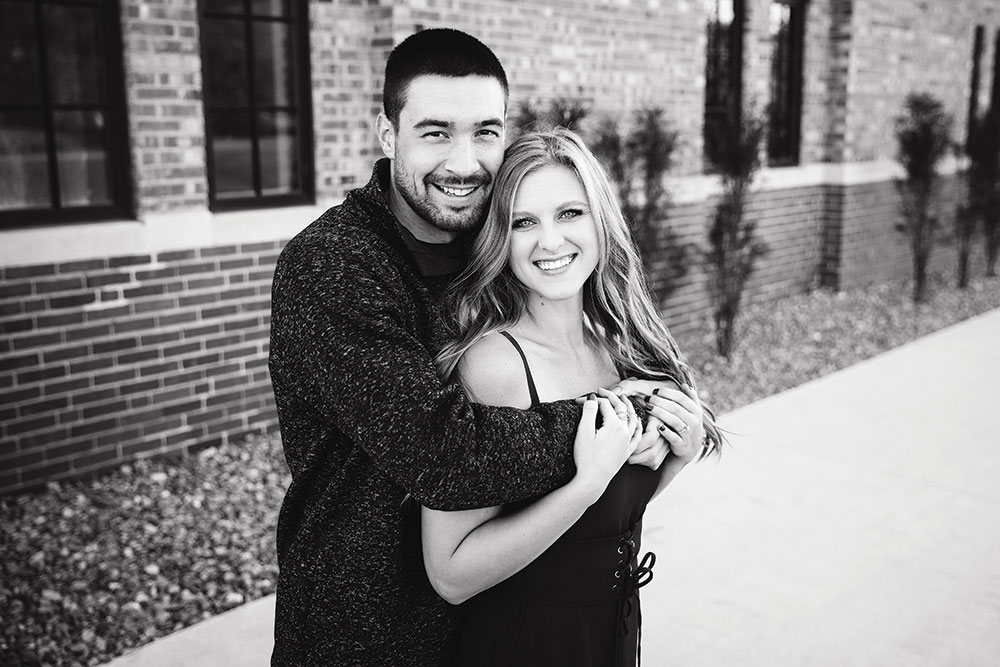 Photo: Megan Colson Photography
Couple: Arin Pfannenstiel & Clayton Basgall, Hays, KS
Original Wedding Date: May 30, 2020
New Date: October 23, 2020
"So it turns out I'm going to get the fall wedding I always wanted. It'll just be a very springy fall wedding!"
We Canceled and Planned a New Wedding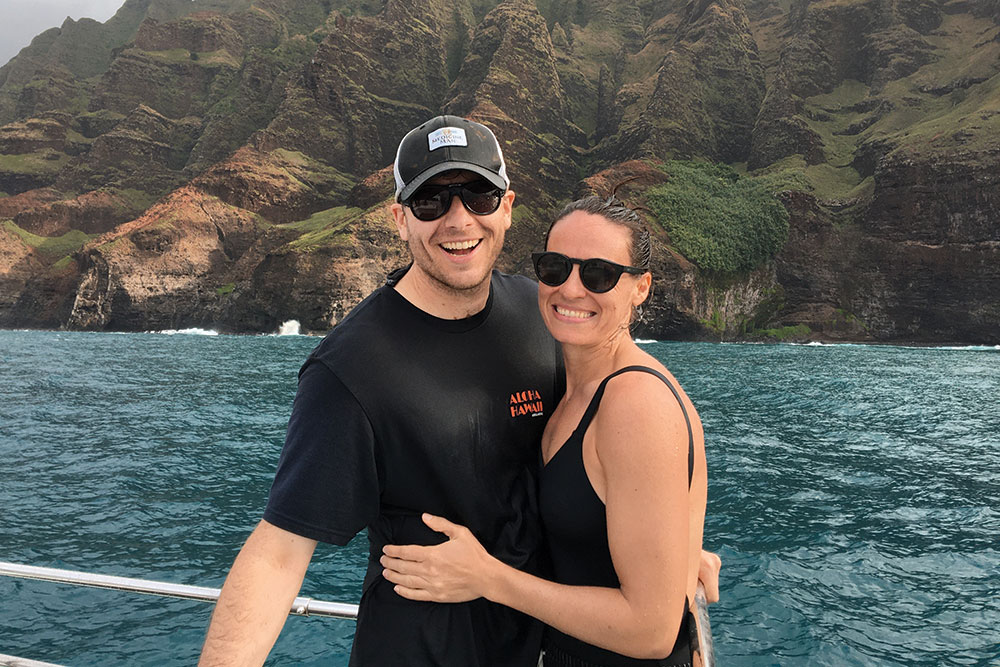 Photo: Raechel Curtis/Photography by Rae
Couple: Janet Fugarazzo & David Mangum, Denver, CO
Original Wedding Date: September 5, 2020
New Date: November 7, 2020
"We felt September was way too soon, so we ended up canceling (we hope to recover our deposit), putting things on hold, until our wedding planners came up with a plan for a smaller wedding at a different venue that affords more flexibility if we have to move the date again. We notified everyone when we canceled our first wedding and received an outpouring of support. We had to cut the guest list considerably so we can respond to any restrictions that may be in place. We're hoping everybody understands."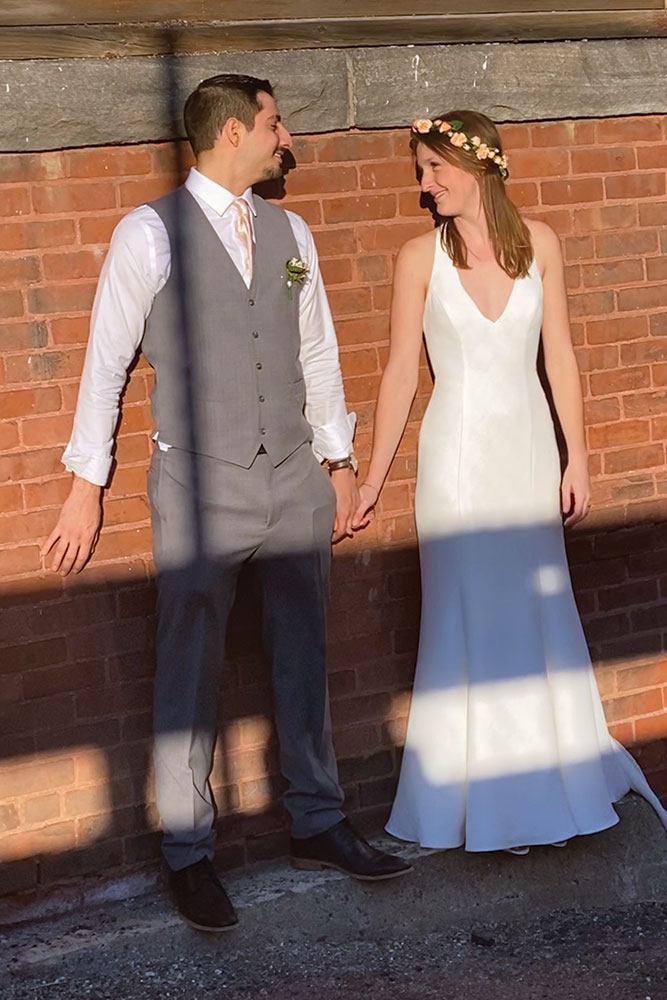 Photo: Rabib Rafiq
Couple: Nicole Keller & Adam Terry, Cambridge, MA
Wedding Date: March 27, 2020
Nicole: "We planned to be married on a California beach, but vendors canceled, guests got nervous and the beaches closed. Instead of postponing, we stayed home and got married in a 'secret' Zoom wedding at Adam's distillery, murr-ma." Adam: "The day of, we alerted pretty much everyone we knew that we were having a new wedding. Fifty-three caller IDs were on Zoom, many with family and friends. We had five times the number of people we planned to have at our original wedding — a triumph of human togetherness and happiness. The ultimate lesson was that the minutiae and details of a wedding do not matter. When you are marrying the human you love the most, it becomes a radiant aura that envelopes everyone in joy and excitement for the future."
We're in a Holding Pattern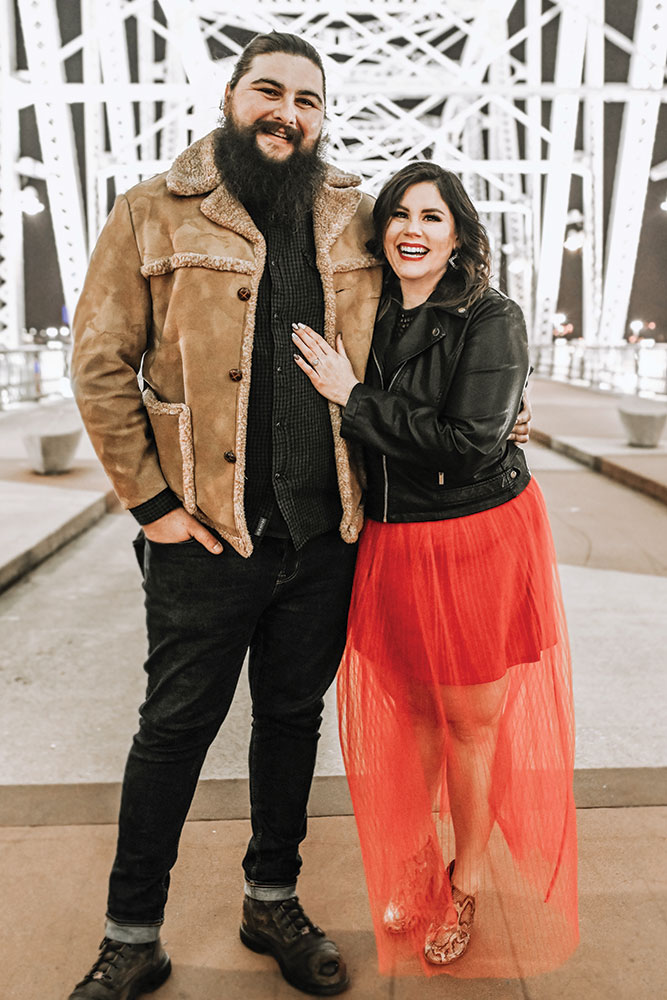 Couple: Taylor Jones & Dustin Kincebach, Orange, CA
Wedding Date: October 24, 2020
"Maybe we elope, maybe we keep it small, maybe we go to the drive-through wedding 'county office' down the street and then have a party later. But Dustin's non-negotiable is that he wants to see me in my dress walking down the aisle. He wants that moment."
Couple: Hannah Smookler & Sidney Fox, Chicago, IL
Wedding Date: August 15, 2020
"We are at a standstill until we know when and if our venue will open back up. We are trying to be realistic, but we feel sad that we have to spend the months leading up to our wedding unsure if it will happen the way we had hoped."
Couple: Taylor Robertson & CJ Kelchner, Napa, CA
Wedding Date: TBD
"We plan to wed in Charleston, SC but we live in Napa, which makes it more difficult to plan. We are hoping for spring 2021, and will be looking at venues in a very popular city, so dates are already hard to find."
Couple: Christina Carreira & Cole DeThomasis, New York City, NY
Wedding Date: TBD
"Cole proposed in Central Park in April 2020, as his sister took photos from afar. We are planning on getting married Fall 2021, but are prepared to push it to Spring 2022 or beyond. I think that's the silver lining of COVID: We won't take human contact for granted ever again. I can't wait to hug everyone!"
A Top Planner's Advice
"For those still planning events for a future date, consider obtaining wedding insurance, and make sure you have a firm understanding of all contracts," says Michelle Cousins, lead planner at Michelle Leo Events. "Pay specific attention to postponement, cancellation and force majeure clauses and ask for clarification regarding any terms you don't understand. Budget wisely: Postponements typically mean additional expenses due to unforeseen circumstances."
"We don't know what future events might look like for our couples. Will buffets and family-style dining be a thing of the past? Will every guest have to wear a face mask? Will couples have to be okay with eliminating the dance floor and practice social distancing at the altar? Will Covid come back and impact 2020 winter weddings or our 2021 summer weddings? These are questions my team and I are asked daily and unfortunately, where things stand right now, we just don't know what to expect."