With prime wedding dates booking up quickly thanks to all of the pandemic rescheduled weddings, more and more couples are considering a weekday celebration. Here, industry pros share some of the important pros and cons to consider.
By: Kristen Klein

Photo: Zac Wolf Photography via Infinite Events
Pros:
You'll save money. Saturdays are still the golden standard for weddings, so opting for any other day of the week can yield significant savings. As a bonus, not only will you save money, but your guests may save money, too. "Getting married on a weekday allows your wedding guests who are traveling from out of town to take advantage of weekday hotel dates. They can also often find better deals on airfare with midweek travel," says Orange Blossom Special Events.
You can book your special date without waiting. If you have a key date in mind – like your dating anniversary or your parents' wedding anniversary – sometimes it can mean waiting a few years for that date to fall on a weekend. But opening yourself up to a weekday wedding will allow you to have that special date right away! You can also choose a numerically-fun date, like 2/22/22, that doesn't fall on a weekend, says Lilia Shatnaya, owner and designer of Plume & Stone Invitation Studio.
You'll have greater choice in vendors. With so many weddings postponed in 2020 and early 2021, there are more couples than usual planning a wedding right now. That means booking your first choice vendors may not be as easy — but choosing a weekday wedding lowers the competition. "Couples who get married on a weekday often get the best-of-the-best, since most venues and vendors are typically available," says Orange Blossom Special Events. And if you're planning a smaller wedding, opting for a weekday may make it easier to hit minimum guest requirements. "Weekend dates are always in demand, and having a Friday wedding not only means your preferred vendors are likely available and they're more willing to be flexible with minimums and restrictions," says Tanya Bures, owner of Page Beauty.
You'll have extra days to party. Turn your wedding into an all-weekend affair, kicking off with the main event on Friday. "A Friday wedding also adds a second day to brunch with guests and continue the celebration, and allows Sunday for travel for out-of-town guests," says Bures. And if you're planning a destination wedding, your guests may have been planning on making a bigger trip out of your wedding anyway, so hosting the main event mid-week gives your guests extra time to enjoy the locale, says Nora Sheils, founder of Bridal Bliss.
You'll likely have a smaller guest count. This can be a pro or a con, depending on who you ask – but "if you are trying to cut back on your guest list, it may be a natural way to trim down the list or provide a more intimate experience," says HoneyFitz Events.

Photo: Marla Cyree, Simply Splendid Photography via Alston Mayger Events
Cons:
You may get some surprising "no" responses. If you're considering a weekday wedding, we recommend running it by your wedding VIPs before locking in the date to make sure those who you can't imagine trying the knot without can make it work. 
You may need a later start time. Keep in mind that most of your guests will be coming straight from work. "Think about having the ceremony start at sunset or a bit later in the evening, so there is time for getting ready and smooth traveling to the venue," says Sarah Kuhlberg, creative director of Colette's Catering and Events.
Guests may depart early. If you're planning a mid-week wedding, don't expect guests to want to party all night long; most will still be attending work the next day. "Make it through your most important reception details first, like the meal, the toasts, the first dances, and the cake, so your guests can experience as much as possible before having to leave for an early-morning wake-up call," says Kuhlberg.
Prepare for last-minute cancellations. Weekdays can be more unpredictable than weekends; work meetings can run late, spur-of-the-moment business trips can happen, commutes can be terrible with no notice, or their kids' events can take priority. "Expect last-minute drop-offs as things may happen last-minute to your guests," says Lizzy Liz Chan of Lizzy Liz Events.
Some vendors may not have their A-teams available. "You may find that some venues may not be set up for weekday event such as the scope of a wedding, since most of their wedding and banquet staff may only be available on the weekends," says Valarie Falvey of Kirkbrides Wedding Planning & Design. This is even more common in a seasonal destination; "local businesses and restaurants may be closed or have earlier hours during the weekdays (usually Mondays and Tuesdays)," says Jamie & Stephanie of Cape Cod Celebrations. Be sure to ask whether your venue regularly hosts events throughout the week before locking in your location.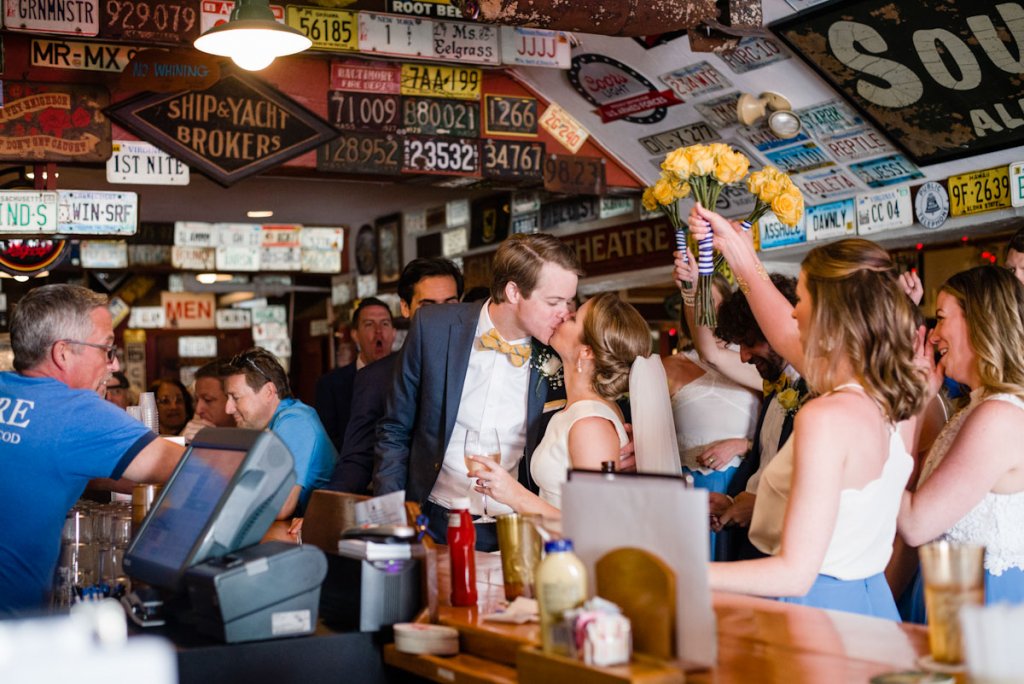 Photo: Merrisa Carolina Photography via Cape Cod Celebrations