One benefit from pandemic weddings: new technology has emerged to amplify the guest experience and help every guest feel truly valued on the big day. Here, wedding planners and industry pros share their favorite ideas they've seen and developed.
By: Kristen Klein
Transforming the Location with Lighting
For the couple who always dreamed of a destination wedding on a tropical island, but the pandemic made traveling less appealing, use creative lighting to transport your guests! "Through the magic of a projection technique, you can transform an indoor ballroom or industrial space to feel like a vineyard, top of a mountain, or anything you can imagine," says Nora Sheils, co-founder Rock Paper Coin, founder Bridal Bliss. "Had to reschedule your wedding to a winter date indoors? You can still have your dream wedding in an English garden through this specialized art of projecting imagery."

Photo: Coburn Photography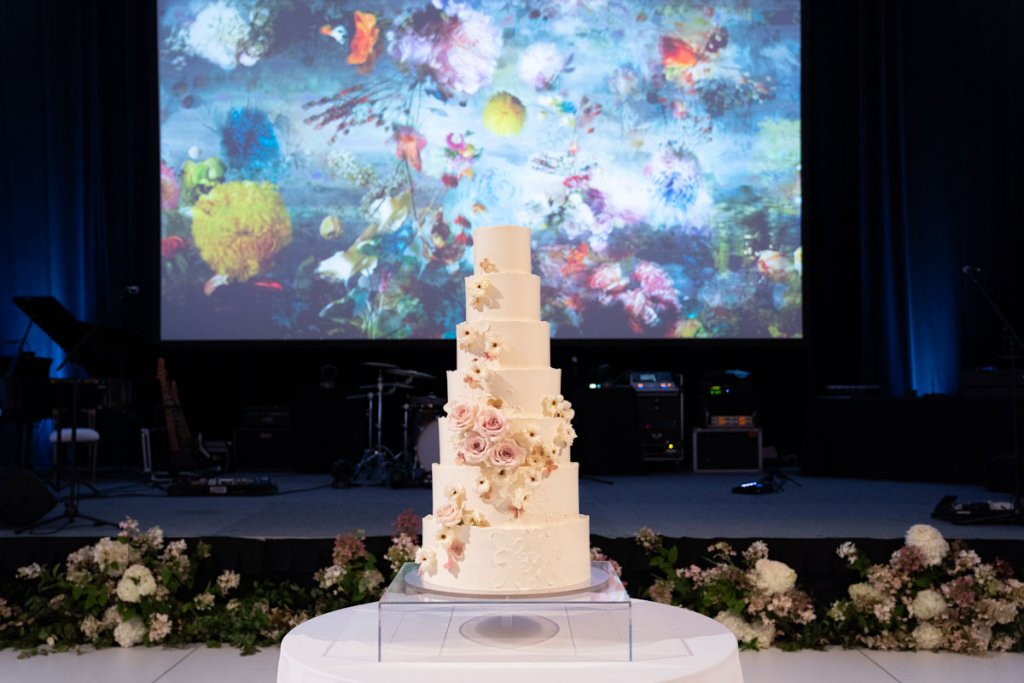 Photo: Paul Morse
Virtual Reality
Instead of the standard Zoom call, couples are taking it to the next level by setting up a virtual reality system and sending V.R. headsets to their guests, says Jill Sandy of Constant Delights. This immersive experience will help your at-home guests feel like they're really there.
"Virtual weddings are happening where guests can build their own avatars to virtually explore the wedding ballroom and chat with others at tables, they can also have their avatars dance in the space," says Lizzy Liz Chan of Lizzy Liz Events.
Digital Photo Booth
A photo booth is always a popular choice at weddings, but don't forget about your at-home guests! "An online photo booth is such a fun way to engage with guests both in-person and remotely. Photos can be shared, downloaded, or made into a tangible album," says Faith Folayan, founder and co-director of This Love Weddings. "Wedding guests have the ability to use their phones or computers to take images of themselves using the branded backdrop and share on social media using the wedding's hashtag."
"A virtual photo booth is perfect for modern weddings. It's the same fun and familiar experience of a photo booth; it just lives online at a custom URL. Guests pull it up on their own phones and get launched into a photo booth experience built specially for your wedding," says Jon Lemon of Third Rail Photo Booths. "A snap of a photo, swipe of an overlay to apply, and instant sharing along with a live gallery make it a great way to collect and spread photos from all of your guests, even the ones dialing in online!"
Live Wedding Album
"One of the coolest ways we've seen couples engaging new technology during their wedding is by transforming their dance floor into a live wedding album," says Xenia Thompson of Music for Scotland. "Some lighting companies are now offering this as a service, where they take photos taken by the guests during the wedding and project them straight onto the dance floor for the couple to enjoy during the day rather than having to wait until after the wedding to look through them."
This is also a great way to incorporate your at-home guests. Lux Lifestyle Events, LLC. creates an immersive experience by projecting everyone's Zoom screens on the floor, walls, and ceiling so that your virtual guests feel truly a part of the big day.

Photo: Lux Lifestyle Events, LLC.
Digital Guest Book
Reduce shared touch points – and include your virtual guests – by transforming your guest book into a virtual experience.
"During 2020, we knew that in order for couples to still be able to get our guest books, we would have to adapt and figure out a way for guests to be able to sign digitally, while still allowing the couple to receive a real, printed guest book alternative to hang in their homes," says Kristin Mastoras of Miss Design Berry. "We came up with our digital signature guest book services, and it has been an awesome way for couples to collect signatures (handwritten or typed) from anyone in the world. And the coolest part is that they can still display their guest book at their wedding, if they are having a smaller event, and allow some guests to sign in person along with the signatures printed on digitally."

Photo: Miss Design Berry
Same-Day Edit
Created by your videographer, a same-day edit pieces together "a glimpse of when the couple was getting ready, the moments of guest's arrivals and the special highlights from the ceremony"" says Aviva Samuels of Kiss the Planner. "With a small group, this really provides a personal touch for all those there and also becomes a great memory for years to come." The same-day edit can also be uploaded to your social media account or wedding website for your at-home guests to experience.
Instant Photos
"It's more important than ever for couples to share these moments with people who are remote or couldn't join the celebration due to health concerns. Fast turnaround is key, and thanks to changes in technology, it's never been more achievable," says Brian Carter of Pixel That! Photography. "What I've been doing for my elopement couples is sit down with them after the formalities and portraits, and show them some of my favorite images. They pick 3 to 5 images from these for immediate turnaround. I'm able to transfer those from my camera to my iPad, use a mobile version of Lightroom by Adobe to edit their images, and can then email, airdrop, or text message those to the bride and groom."
Collaborative Playlist
"Set up a collaborative playlist on a music site like Spotify and ask them to log in and upload away! With a small guest list, this works really well to make every single guest feel special," says Samuels. "This not only gets each of them to be involved in the planning stage of your wedding day, but it will also please them immensely to hear their personal favorites on the wedding day."
If you have a DJ, use a digital song request system. "We specifically provide request cards at tables and signage at the bar with a QR code that enables guests to text requests directly to the DJ," says Brian Smith of EventSmith Boston. "This enables us to provide a great soundtrack to any wedding even if there is no dancing, that still keeps the guests and couple happy and safely socially distanced."
Call-in Service
Cut the crowds around the escort card or seating chart display and instead incorporate a call-in service for table assignments. "A really cool idea is to create a few designated phone numbers — a service like Google Voice works well — and have someone operating those lines. Guests call in, provide their names, and are given their table number. I first saw this implemented at an Engage Wedding Summit pre-pandemic, but with smaller wedding guest lists, it's easier to implement now," says Artem Lomaz of NinetyThree Entertainment.
If you don't have anyone to answer the phones, "couples can instead send out a virtual place card via email, along with a floor map to ease the flow of guests," says Katie Dietrich of Amway Grand Plaza.
Enhance the At-Home Experience
If you'll be live-streaming your wedding, take extra steps to help your at-home guests feel like they're an important part of your big day. Loren Petrowski of Marry You in Hawaii describes one wedding she attended as a virtual guest: "There was a large screen at the live event so that the guests who were attending live could see all of the guests attending remotely, and vice versa. Prior to the wedding, we were all asked to use the same background to go with the theme of the wedding. While the guests on Zoom were waiting for the event to start, there were games run by a moderator such as how well do you know the couple using the features on Zoom.  Also, the chat function was used to engage the remote guests like asking if they had any requests for the DJ."
"If weddings are to continue to be streamed, it's important that the guests watching it feel a part of it and they are not just a passive audience watching everything," says Petrowsi.
Electronic Invitations
Evites were once seen as an etiquette don''t, but with the fluidity of plans right now, it makes perfect sense to take advantage of technology. "Digital save-the-dates and invitations have always been a popular go-to for couples trying to save their budget, the planet, or both, but since the start of the pandemic, we have found an increase of nearly 550% in digital invitations as couples are weary of committing anything to paper," says Ryan Marghereti of Say I Do. Instead of printing and re-printing every time you need to modify your plans, you can simply send a quick email update. 
Social Connection
"The couple should have a list of all their guests with email addresses and mobile numbers so if there are any last-minute changes, guests can be advised via email or a WhatsApp group," says Vaishali Shah of Ananya Cards. "Setting up a WhatsApp group, given the smaller guest list, can also get guests connecting before the wedding, which is always lovely. Ice breakers can be sent via WhatsApp or email in the run up to the wedding."
Flash Mob
"Who said you need to attend in person to actually dance at your best friend's wedding? In Indian weddings, the 'Sangeet' is an integral part of the wedding and is a night of fun and dancing (including several choreographed dances) before the wedding ceremony. With technology, friends and family are able to learn the dance online with a dance choreographer that teaches and practices virtually, and perform virtually with the production team live streaming and bringing participants from different locations onto one screen," says Arjiya Shrimali of The Desi Bride.
Virtual Destination Wedding
"One trend I've seen catching on is the 'Free Wedding,' meaning guests are free to join in from wherever they like. This goes beyond streaming — guests are encouraged to find a romantic place from which to watch your wedding. Better yet if the location has some relevance to you," says Dwight Zahringer of Pure Cabo LLC. "Parents camp out in their daughter's room, relatives trek out to the field where the groom used to play football, others take a vacation to Mexico that everyone else used to attend. It's bittersweet to have everyone so close yet so far, but the effort you put into finding a great, real backdrop for your Zoom appearance makes the day more special, particularly when everyone gets together on a single screen for that one-of-a-kind wedding photo."