Plan the romantic surprise of a lifetime by following these helpful engagement pointers.
By: Sharon Naylor
8. Show her a video of you asking her parents for their blessing.
If you previously talked to her parents — which is quite proper and gallant of you — let her see that moment as well. You don't need fancy editing or a soundtrack, although you could design the video that way if you wish! She'll love being privvy to such a meaningful gesture and seeing how respectful you are of her parents (not to mention seeing how excited they are that their daughter is getting married!).
Bonus: If your girlfriend has kids, show her a video of you asking them if they'd be okay with your proposing to their Mom, or what they would like to have at the wedding. Same goes for your kids. Cuteness abounds!

Photo by: The La Crosse Tribune
9. Plan an element from her favorite movie.
Remember the Keira Knightley wedding scene from Love Actually where the musicians pop up from within the guests and serenade them? If that's her favorite movie, arrange for some musicians to sit in the rows of a movie theater that you've pre-arranged for your proposal. And friends and family can be in the seats as well.
When the big screen starts playing, it opens with that scene from the movie, and then live musicians play right there, making her favorite movie come alive as part of your proposal — total wow-factor!
10. Make that first meal you cooked for her early on in your dating days.
Thinking of proposing at home? Cook a sentimental meal that she'll never forget. You can celebrate future anniversaries with your chicken cacciatore.
Bonus: Break out the wine. If you remember which vintage you shared on your first date, how awesome would it be to revisit that life-changing first clink of your wine glasses now, with your proposal to follow?

Photos by: Jaye Kogut Photography on Engaged and Inspired via Lover.ly
Lastly, one word of caution: Make sure she's up for a public proposal before you plan something elaborate or over-the-top involving a large crowd of people. Not everyone likes being the center of attention. Gauge her feelings on public proposals before you arrange for that "Will You Marry Me?" jumbotron announcement at a sports game or serenade her with a flash mob in the park. Don't be that guy who proposes in extravagant fashion, only to have his sweetheart look mortified — or, even worse — shake her head "no" and run away.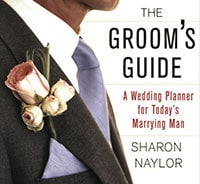 Sharon Naylor is the author of The Groom's Guide: A Wedding Planner for Today's Marrying Man and and over 35 additional wedding books. Visit sharonnaylor.net for more great wedding tips and advice.
Pages