Plan the romantic surprise of a lifetime by following these helpful engagement pointers.
By: Sharon Naylor
5. Get symbolic with the flowers.
Give her a surprise proposal bouquet and arrange floral décor at your proposal site. For a romantic touch, get symbolic with the number of flowers that you use. For example, if you've known each other for ten years, have a ten-rose bouquet made. If you've been together for three years, a three-flower bouquet isn't going to cut it, so how about including one flower for each month that you've been dating? Share the symbolism of your flower choice with her.
Bonus: You've got an instant ritual for your marriage! Each year on your proposal or wedding anniversary, you can add another flower to the bouquet, instantly transporting her back to this magical moment right here and now.

Photos by: JKoe Photography on Inspired by This via Lover.ly
6. Do it earlier in the evening.
Instead of proposing at the end of the night, after a romantic dinner, carriage ride, concert, or some other activity, start off at the place where you'll pop the question and then enjoy an evening filled with events that you've planned. That way, you won't be nervous all night.
Plus, she gets an entire night of wearing and showing off that engagement ring, right now, rather than having to wait until the next day.
7. Speak from the heart.
You could plan anything, but it's the words you say that make your proposal truly one-of-a-kind. Tell her what you love about her, yes, but also tell her when you knew she was The One. If you told your best buddy after your first date that you knew she would be an important person in your life, then add that to your proposal "speech." Then, talk about what you want to share with her in your future together.
Whatever you do, don't read word for word from a written speech. You can sound awkward, lose that connection of looking into her eyes, and she might wonder if you found any of those phrases or quotes online. Just jot down some key phrases or things you want to mention on a "cheat sheet" and you'll be fine. Don't forget to breathe! Speak slowly, and if you shed some tears, that just makes it all even more unforgettable.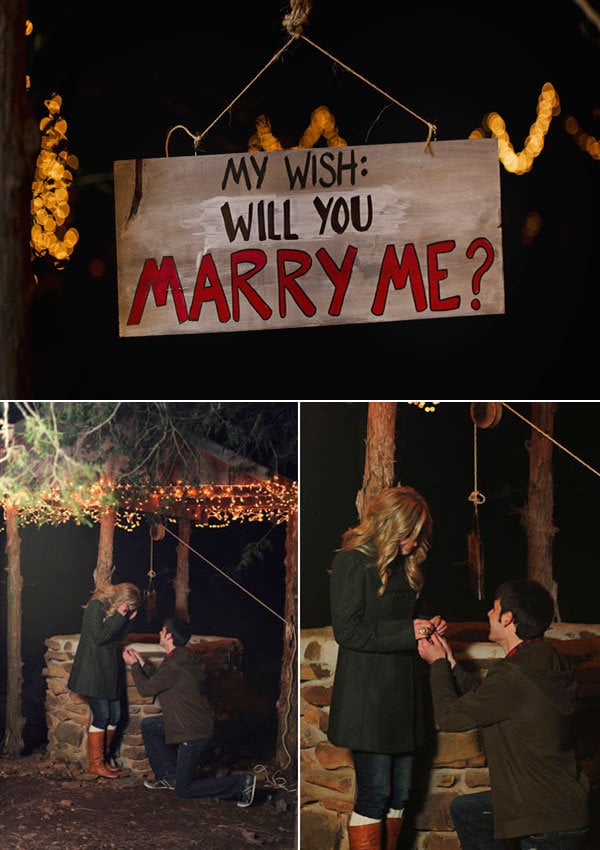 Photos by: Melissa McCrotty
Next: Show her a video, plan an element from her favorite movie and more ►
Pages