Tahiti. French Polynesia. Fiji. The mere mention of these islands conjures up images of romance, natural beauty, and a much-needed retreat.
- SPONSORED FEATURE -
It's no wonder honeymooners flock to the South Pacific when it's time to relax after the big day has come and gone. And while the region is known for its over-the-water bungalows, we have an even better way to explore the high seas: consider a luxury voyage aboard the intimate m/s Paul Gauguin and discover these enchanting isles in an overwater "bungalow" that sails.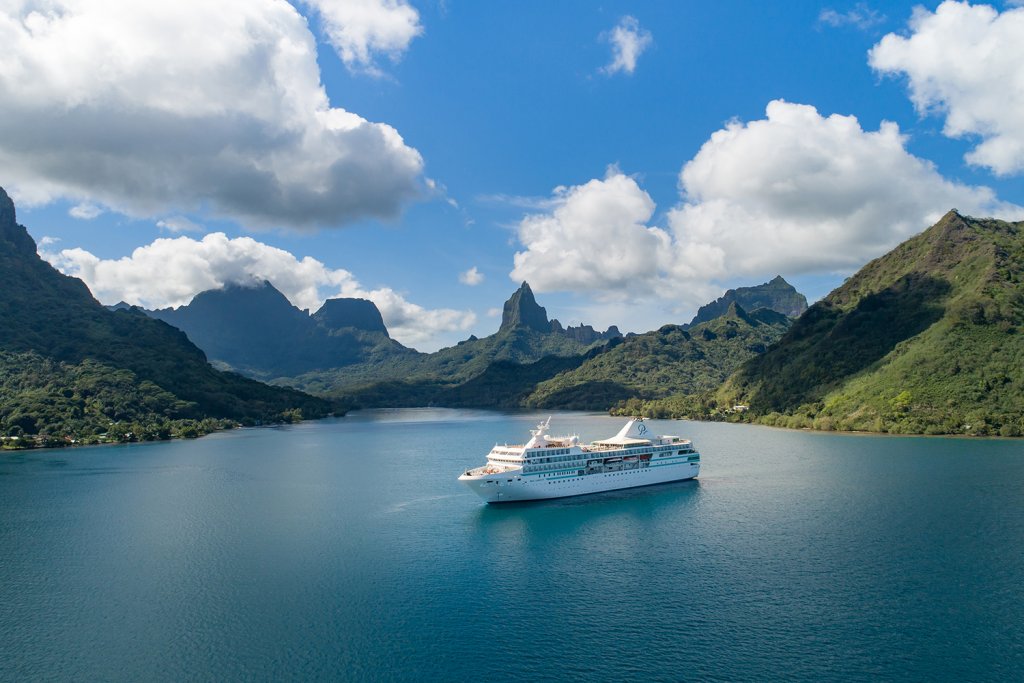 This year marks the 25th anniversary of The Gauguin Experience in French Polynesia. What makes this cruise so unique? This award-winning small-ship cruise line isn't just about luxurious accommodations – it is also artfully authentic. Its small size means it can deliver travelers to intimate ports inaccessible to larger cruise ships. Due to long-held, established relationships with communities, a journey with the m/s Paul Gauguin will immerse you in the area through original experiences ashore, as well as in concert with a troupe of local Tahitians – Les Gauguins and Les Gauguines – who live aboard the ship and serve as cruise hosts, entertainers, and storytellers.
Your honeymoon aboard The Gauguin is worry-free, thanks to all-inclusive pricing – keep your wallet in your pocket as all dining, entertainment, activities, gratuities, and even ship-wide Wi-Fi are already included. Enjoy 24-hour complimentary room service, or choose from a variety of restaurants day or night. Sip on complimentary wine, beer, spirits, soft drinks, bottled water, and hot beverages throughout your trip. You'll never have to worry about running out of drinks – your in-room fridge is replenished daily.
When the ship docks, you'll love relaxing on the line's private secluded beach in Bora Bora. And when you're ready for a little action and adventure, indulge in the included watersports like kayaking, paddleboarding, and snorkeling. All voyages (with the exception of three Boutique Crossings itineraries) also enjoy a day on their private islet, Motu Mahana, off the coast of the nearly uninhabited island of Taha'a. This exclusive experience feels like a vacation within a vacation. Go for a swim in the warm cerulean sea; snorkel with the colorful tropical fish and vibrant blooms of coral; and paddle a kayak to a floating bar in the lagoon. Back on the motu, challenge your shipmates to a game of beach volleyball, or simply watch as locals demonstrate how to open a coconut or tie a Tahitian wrap-around skirt. You can even treat yourself to an overwater couples massage. End the incredible day with a barbecue feast, and special memories to last a lifetime.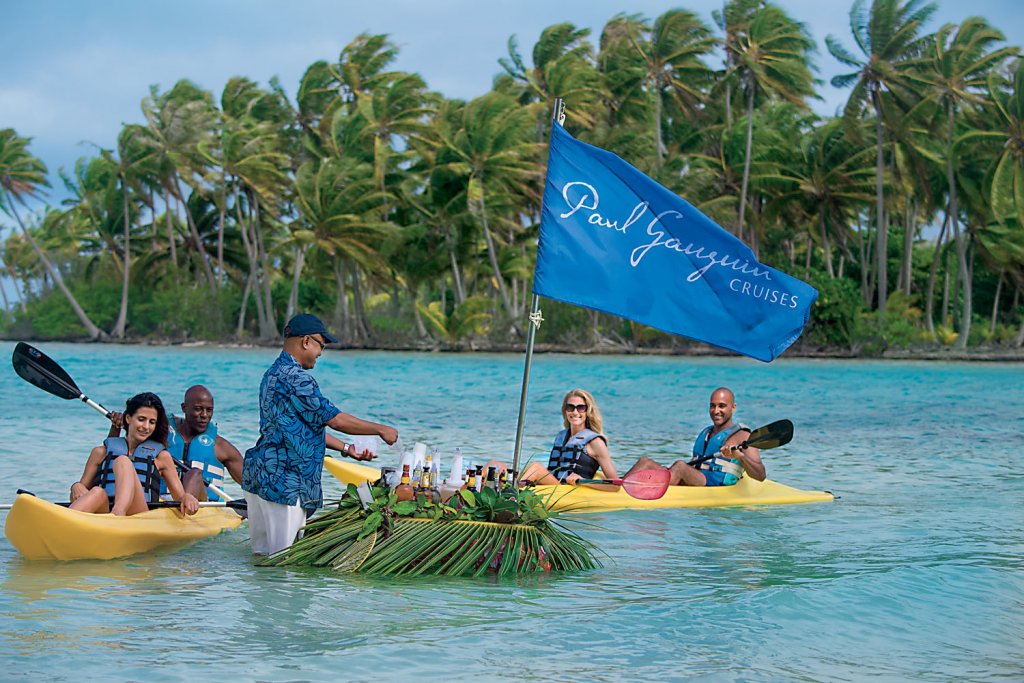 Dining aboard The Gauguin is absolutely worth writing home about. The ship's masterful cuisine is a delicious fusion of French-inspired classics and local fare. Choose from a variety of five-star culinary options with menus designed by some of the world's most talented and award-winning chefs. Whether you're in the mood for casual dining or an upscale experience, your cravings will surely be satisfied.
Retiring to your stateroom or suite at the end of a day exploring is a treat unto itself. Accommodations are spacious and beautifully appointed to evoke the serenity of French Polynesia – and over 70% offer a private balcony providing that overwater "bungalow" feel that we've all come to know and love in the South Pacific.
Ready to set sail on a honeymoon cruise you'll never forget? Book your trip at pgcruises.com.