There's a reason French Polynesia (aka The Islands of Tahiti) and the South Pacific consistently rank as top honeymoon destinations – the crystal-clear waters, beautiful beaches, and lush landscapes found here set the scene for romance.
- SPONSORED FEATURE -
With so many scenic islands to choose from, how do you narrow down your choice for your trip of a lifetime? Enter the m/s Paul Gauguin – these all-inclusive luxury cruises take the guesswork out of your travels by immersing you in the best the region has to offer.
The line's award-winning itineraries can take you to some of the world's most idyllic, unspoiled beaches. One of the most enticing spots is the heart-shaped island of Moorea – what could be better for honeymooners? Known for its brilliant turquoise lagoon and lush mountain peaks, this natural wonder also served as the inspiration for the mythical Bali Hai from James Michener's Tales of the South Pacific. The scenery is like no other – eight mountain peaks rise from the lagoon, giving it a tranquil vibe that beckons honeymooners. You and your beloved will love exploring this magical island.
Because of its small size and purpose-built design, the m/s Paul Gauguin can access ports that are unapproachable by larger ships. Every itinerary (excluding longer crossings) will even bring you to the line's private islet called Motu Mahana. Located just off the shore of Taha'a, a day at Motu Mahana is one for the memory book. Your perfect beach day begins with swimming in the warm waters, snorkeling with colorful tropical fish amidst dazzling coral. Get your heart pumping by paddling a kayak or playing a round of volleyball on the beach, or indulge in ultimate relaxation with an overwater massage. Get a taste of the local culture with demonstrations from your hosts, Les Gauguines and Les Gauguins, on how to open a coconut or tie a pareo, followed by a barbecue feast – complete with cocktails from their floating bar.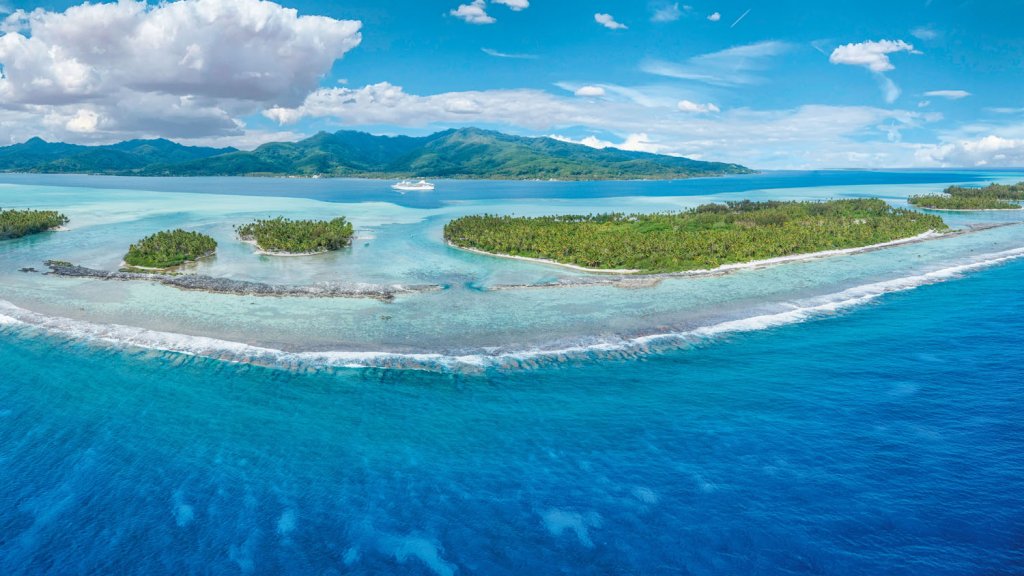 Cruisers can also enjoy access to a private beach in Bora Bora for a quintessentially romantic experience. Considered French Polynesia's leading lady, Bora Bora is a dream come true for honeymooners looking to truly escape. The outside world fades away as you daydream, nap, read, or simply marvel at the surrounding vistas. Not your style to sit on the beach all day? This exclusive beach experience also offers watersports like kayaking or paddleboarding, and you can grab a snorkel to take in the tropical fish and manta rays in the azure lagoon. End your postcard-perfect day in paradise with a dinner al fresco on deck aboard The Gauguin, with the iconic Mount Otemanu in the backdrop.
No matter the cruise route you choose, The Gauguin Experience is guaranteed to take you to some of the most beautiful and romantic spots in the South Pacific. What could be better for your honeymoon?