Plan the honeymoon of your dreams with one of these picture-perfect itineraries.
- SPONSORED FEATURE -
With a year-round presence in French Polynesia and the South Pacific, the m/s Paul Gauguin offers some of the most unique cruise itineraries with more boutique ports of call than any other line. Choose from more than 10 all-inclusive itineraries, ranging from 7 to 20 nights. 
Tahiti and the Society Islands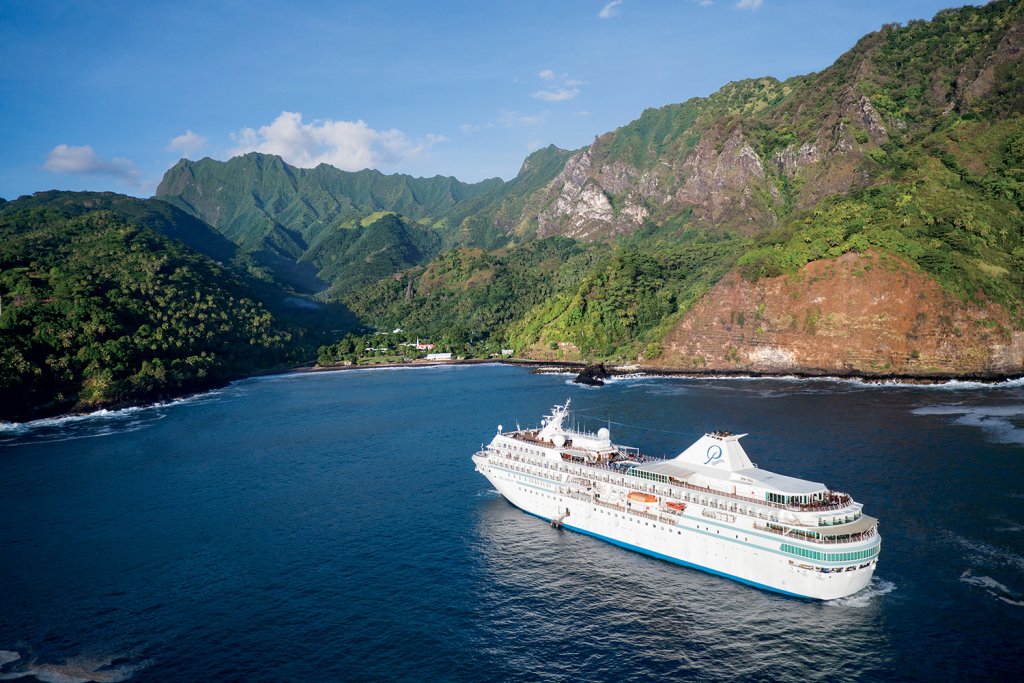 Your journey begins on the largest of the French Polynesian islands, Tahiti. From the moment you spot The Gauguin in the harbor, the festive spirit begins – a vibrant, bustling market across the street from the ship's dockage is a great way to spend some time before boarding, and in the evenings, food trucks line up in the nearby square offering tasty local fare.
The first stop on this itinerary is Huahine, a laid-back, secluded island filled with hidden treasures. Explore the lush rainforest, some of the best-preserved archaeological sites in French Polynesia, and underwater treasures in the lagoon.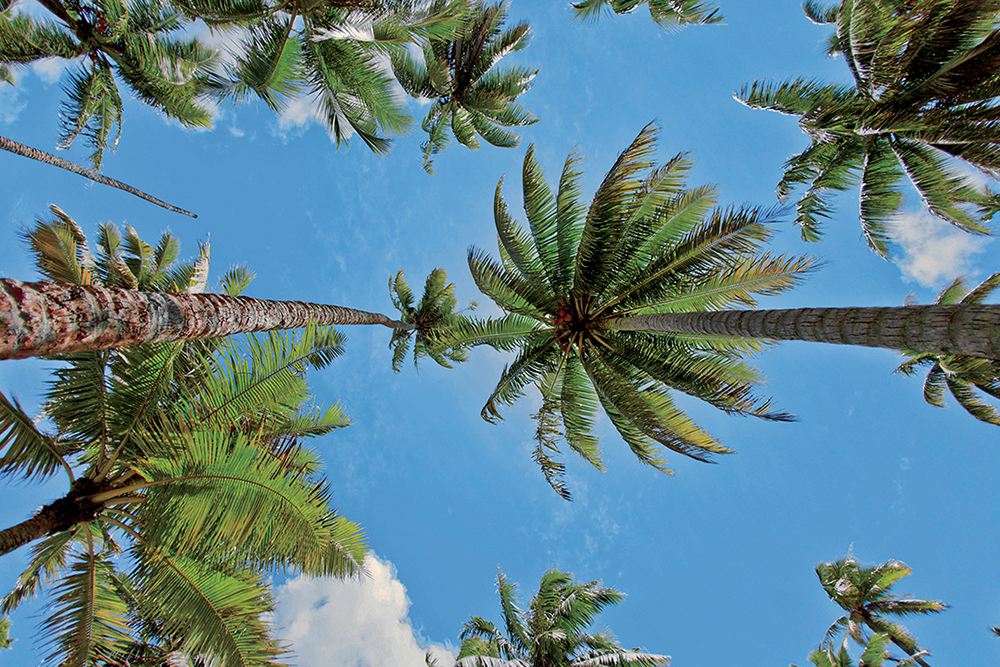 Next up is an exclusive day at Motu Mahana, The Gauguin's private islet. Swim, snorkel, kayak, or simply lounge on the beach while enjoying local musical entertainment, a traditional barbeque, and Polynesian crafts.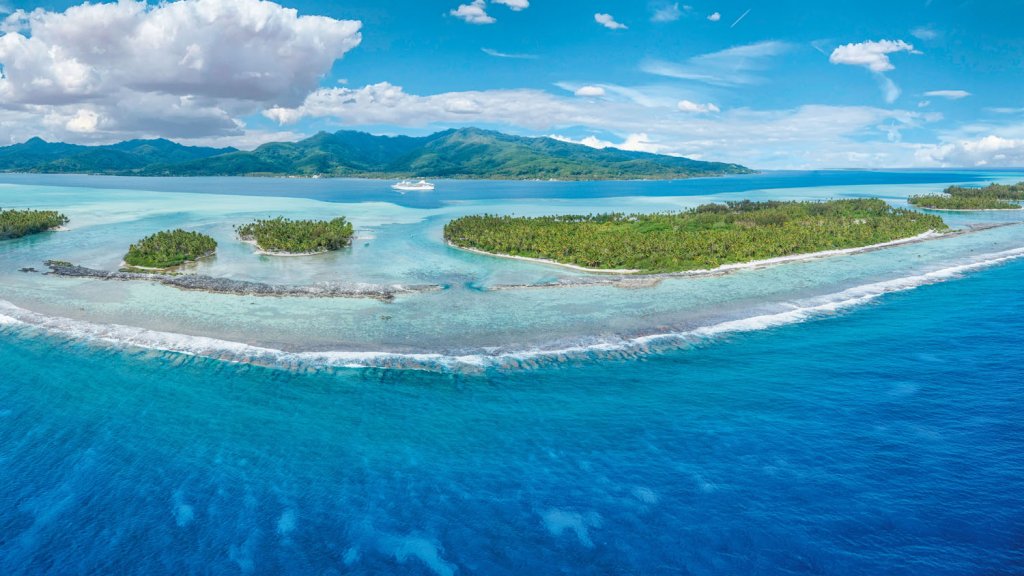 The journey continues to Bora Bora, where you'll be greeted by white-sand beaches and iconic views of Mount Otemanu. Explore the island's colorful coral reefs, take a sunset jetboat ride, or simply spend a lazy afternoon on the line's private beach here. The beauty of this island cannot be understated, and it's a must-stop on your Polynesian journey.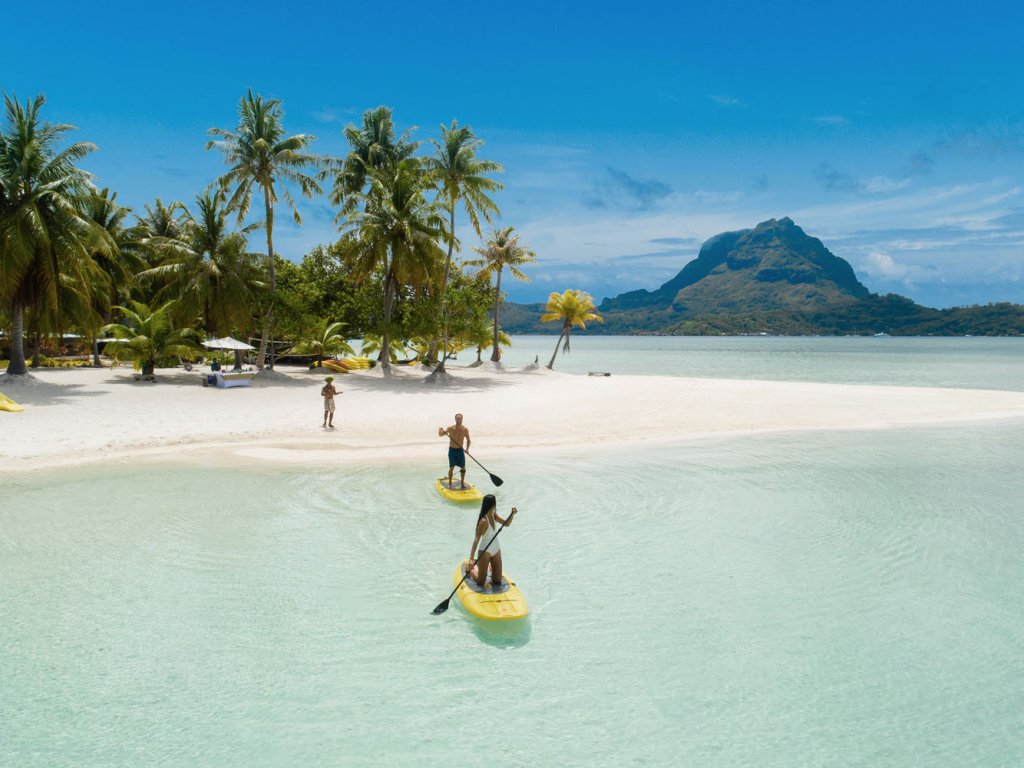 Next up is the beautiful island of Moorea, which welcomes you with azure lagoons, fresh tropical fruits, stunning mountain peaks, and palm-fringed beaches. Take a dolphin-watching excursion with an expert marine biologist, and mix and mingle with the local residents at the market while shopping their homemade crafts.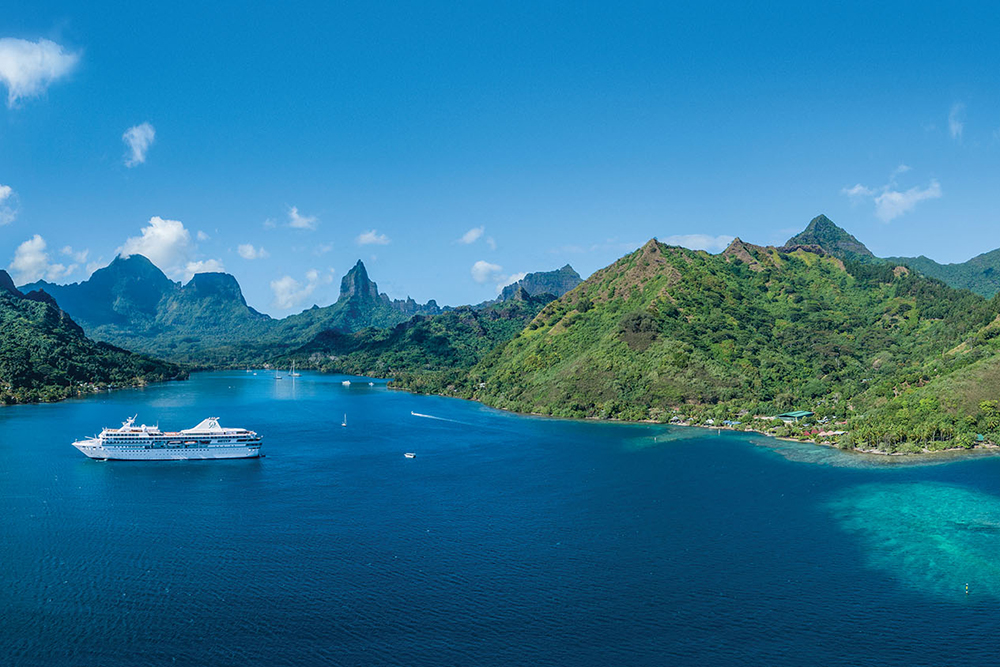 The trip ends back where it began – Tahiti.
Islands of the Marquesas & Tuamotus
This 14-night journey will take you some of the most remote islands in the world; the Marquesas are farther away from any continental landmass on the planet and filled with extraordinary scenery, cultured history, archaeological sites, tropical forests, and more.
The journey begins in Tahiti, before arriving in Fakavara, Tuamotu Islands, after less than a day at sea. This unspoiled paradise is home to a UNESCO Marine Biosphere (for excellent snorkeling and diving), as well as charming villages, ancient temples, and coral churches.
Immersive exploration of the Marquesas Islands begins next, with discovery of the wildly remote jungle on Fatu Hiva, the ancient rainforests of Atuona, and the volcanic isle of Tahuata.
You'll then visit Nuku Hiva Island, known for its black sand and towering basalt cliffs. Author Robert Louis Stevenson adored this island for its enchanting, picture-postcard setting. It's also filled with archaeological sites featuring petroglyphs of human figures, turtles, and fish.
The tiny island of Ua Pou, also in the Marquesas, is one of the least visited destinations in French Polynesia and is next on this navigation of off-the-beaten-path isles. With jagged basalt pinnacles rising from the sea and intimate bays lining its shores, this island's scenery is a sight to be seen.
The journey continues to Rangiroa in the Tuamotus, where you'll become fully immersed in the local culture. Take a tour of a black pearl farm, wander the village of Avatoru, or visit Dominique Auroy Winery, the only winery in French Polynesia.
This indulgent itinerary concludes with some classic favorites for any French Polynesian cruise – Bora Bora, Motu Mahana, and Tahiti. Enjoy relaxing beach days, plentiful watersports, and Polynesian culture with these final stops on your trip.
Crossing Oceania: Fiji to Bali
Among the most indulgent of The Gauguin's itineraries, this 20-night journey will bring you to an incredible seven islands, bookended by Fiji and Bali. Be sure to arrive in your port of departure – Lautoka, Viti Levu Island in Fiji – early to take in the sights, Koroyanitu National Heritage Park is a hiker's delight! You'll also be able to enjoy a simply stroll along the palm-lined streets and take in the traditional village ambience before boarding the ship.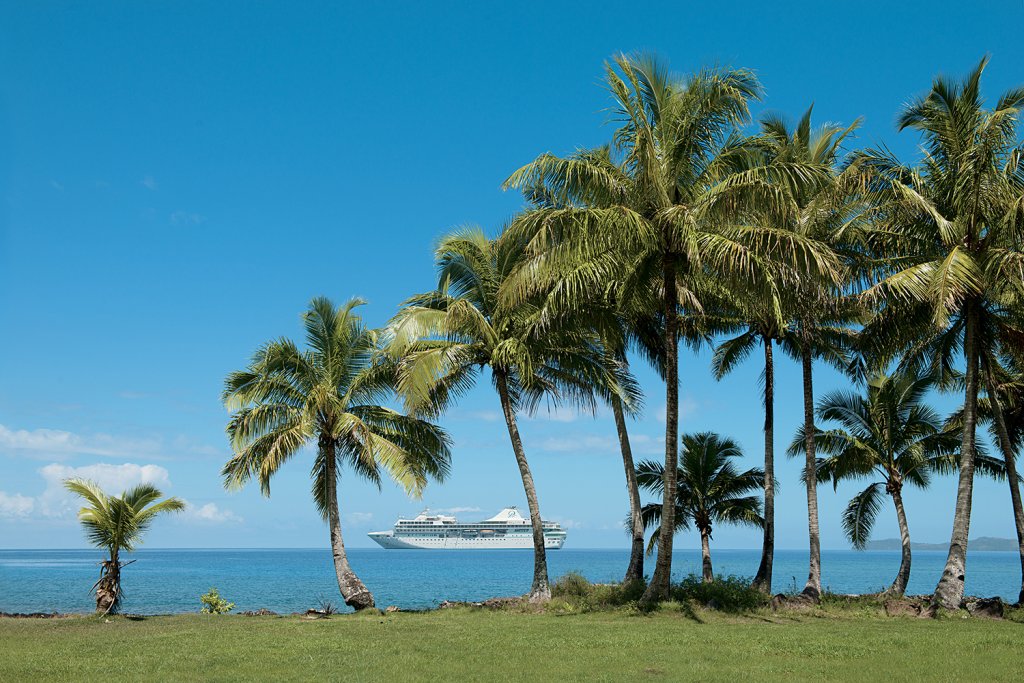 On days spent at sea, you'll feel fully immersed in Polynesian culture thanks to Les Gauguins and Les Gauguines, your local Tahitian hosts who live aboard ship. Enjoy Polynesian dance lessons, hands-on craft demonstrations, cooking lessons, guest lectures, and an array of enriching activities.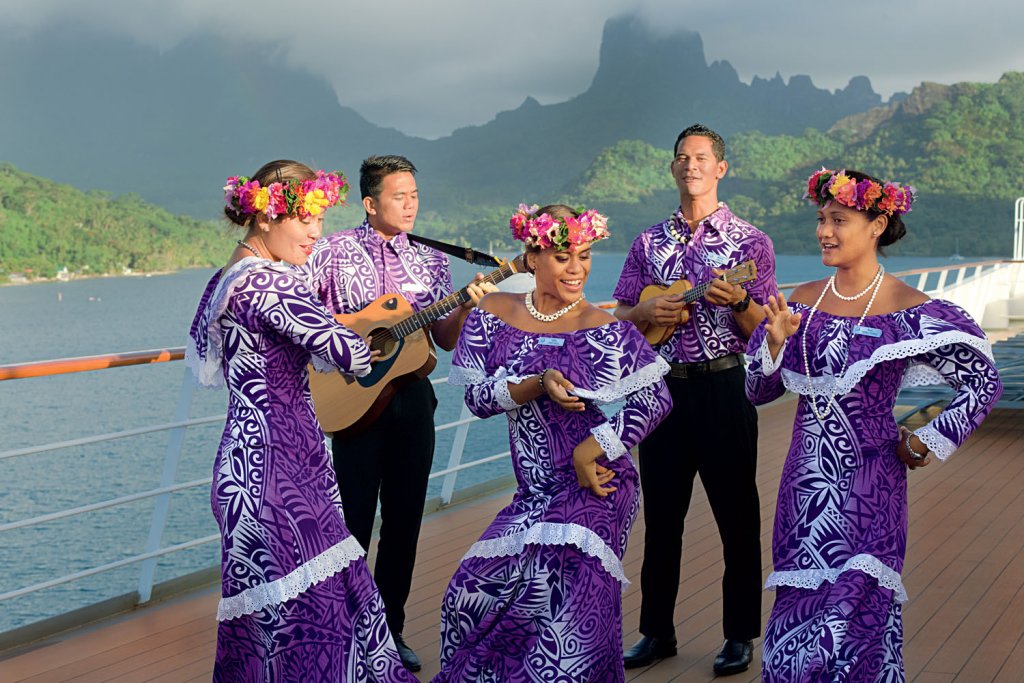 The first stop is the island of Éfaté in Vanuatu, a tropical paradise of pristine beaches, turquoise waters, and lush landscapes. Be sure to explore the incredible Mele Cascades, a series of tiered waterfalls and refreshing pools. Wander around the Erakor Rainforest, a verdant sanctuary of winding trails with wooden bridges and towering trees that house colorful parrots, geckos, kingfishers, and butterflies. Or kick back with traditional beach activities like snorkeling, sailing, and jetboating adventures. History buffs will love the stops at Vanuatu's Espiritu Santo, Guadalcanal in the Solomon Islands, and Samarai in Papua New Guinea, all islands which played important roles in World War II. Guadalcanal is best known for the six-month battle between the Allied and Japanese forces that marked a turning point in World War II. Amidst its sublime scenery, the island is filled with war relics, monuments, and memorials.
The hidden gem of Alotau in Papua New Guinea features pristine beaches, lush rainforests, and vibrant coral reefs. Journey inland to see cascading waterfalls, untouched wilderness, and crystal-clear waters filled with sea turtles. Be sure to try the local cuisine, featuring a fusion of seafood, exotic fruits, root vegetables, and coconut.
Timor-Leste may be one of the youngest countries in the world (established 2002), but the sleepy colonial town of Dili beckons a bygone era. If you're feeling adventurous, climb the 580 steps to see Cristo Rei, the world's second largest statue of Christ.
The journey continues to Komodo National Park, spread across three islands and named after the Komodo dragons that call the islands home. Admire the diversity of this park, from jagged and hilly volcanic terrain to sparkling white-sand beaches and deep blue waters.
The last stop on this trip of a lifetime is an overnight in Bali, where you can easily spend a couple of extra days after departing your ship! Visit Ubud, known for its temples, shrines, artists' workshops and galleries, and the Sacred Monkey Forest. Or get your final fill of watersports like jet-skiing, parasailing, snorkeling, and reef fishing. Or simply relax on the beautiful beaches and take in the lush landscapes before returning to reality.
Ready to book your dream honeymoon cruise? Start here »