When you're cruising around French Polynesia with your beloved, it's impossible to not feel the romantic vibes. And a voyage with the m/s Paul Gauguin provides myriad ways to delve into romance together, from sublime interludes to active adventures.
- SPONSORED FEATURE -
Book an Overwater Couples' Massage
A couples' massage is even more relaxing and romantic when you can hear the gentle waves lapping at the shore and feel the warm tropical breeze caressing your skin. Escape from reality with a treatment on Motu Mahana, the line's private islet in the Taha'a lagoon.
Take a Hike
Spectacular scenery awaits you; it feels like each island is more beautiful than the next. One of the best ways to take in the sights is a guided hike to the top of Belvedere Lookout on Moorea for incredible views overlooking Cook's and Opunohu Bays. Not into hiking? Consider an off-road adventure in Bora Bora via a Land Rover or authentic Polynesian "Le Truck" to discover the island's inland beauty with less effort.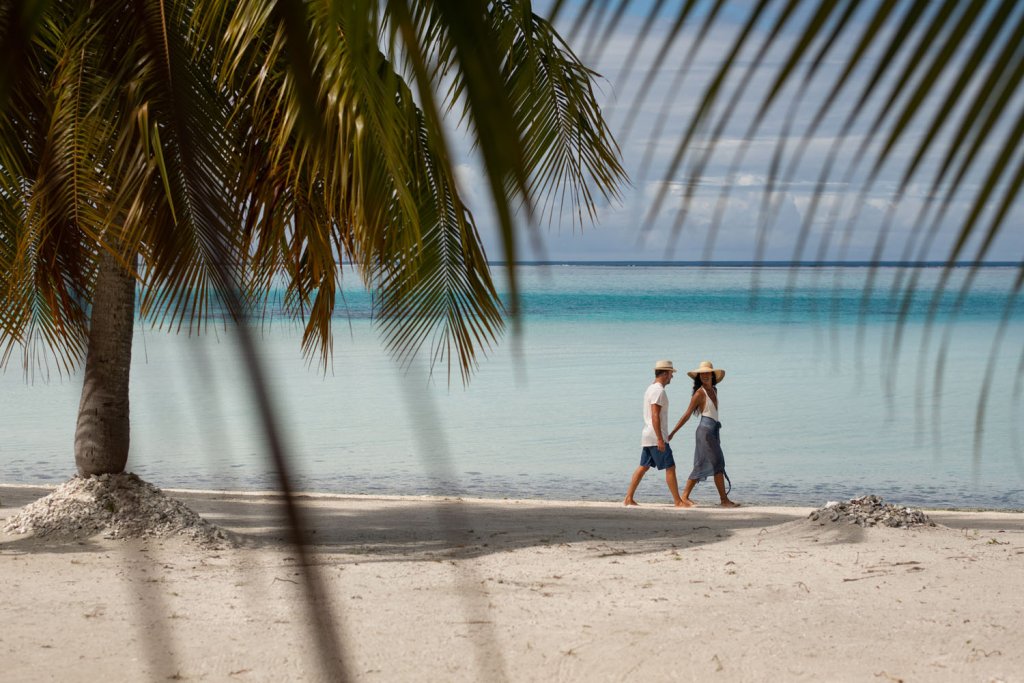 Relax on a Private Beach
A motu is a small islet formed by fragments of sand and coral, too small to be an island, and French Polynesia is home to hundreds of them. These islets are like tiny slices of heaven, surrounded by the aquamarine sea, dotted with palm trees, and drenched in sunshine. Guests aboard the m/s Paul Gauguin gain access to the line's private islet, Motu Mahana, as well as a private beach in Bora Bora.
Explore the World Underneath
French Polynesia is home to some of the world's most renowned sites for diving and snorkeling. Spend the afternoon marveling at the colorful coral gardens and marine life with your partner. One of the top diving sites in the region is the Tuamotu Archipelago, where you can explore underwater canyons, coral heads, sharks, turtles, and more. Be sure to bring an underwater camera so you can capture the memories together!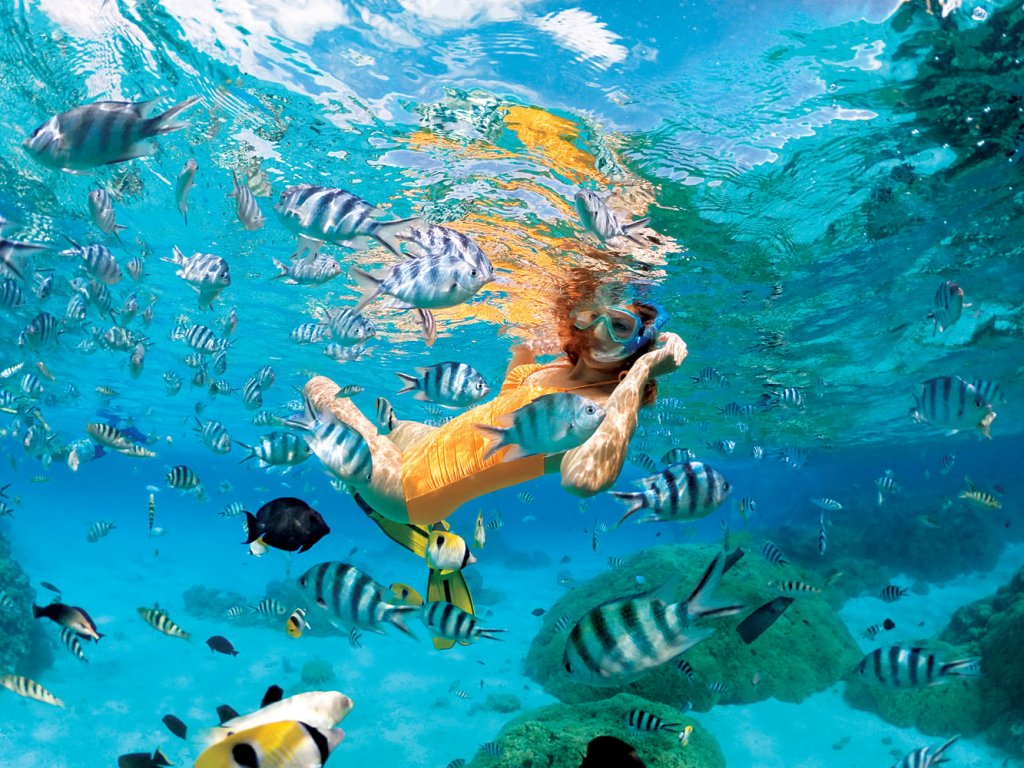 Helicopter Tour
Book a helicopter for two in Bora Bora and gain a birds'-eye view of the region, including a glimpse of the famous heart-shaped island, Tupai. Keep your eyes peeled for marine life in the lagoons, including manta rays and sharks.
Pilot Your Own Plane
Learn together how to fly a Cessna 172 plane and enjoy an amazing hour-long flight over Moorea and Tetiaroa. Not only will you have the incredible experience of flying a plane (accompanied by a processional instructor and pilot, of course), but you'll get to see some of the most beautiful scenery in the world. Keep your eyes peeled for dolphins, sharks, and stingrays as you fly over the crystal-clear waters of the lagoon.
Off-Road Adventure
Journey through Bora Bora's tropical jungle in a Land Rover, which can handle the steep terrain with ease and take you to places only accessible by off-roading. Thrill-seekers will love this exhilarating way to experience the island.
Take an E-Bike Tour
An electronic bike makes it easier to cover more ground in less time, allowing you and your beloved to stop along the tour on Huahine Iti to see archaeological sites, visit a traditional pareo painting workshop, and wrap up the experience by relaxing on a pristine beach and enjoying fresh seasonal fruits.
Try a Watersport
Complimentary kayaking and paddleboarding from the ship's Marina is offered throughout the islands as conditions allow. Grab a kayak or a pair of paddleboards and go for a relaxing ride together.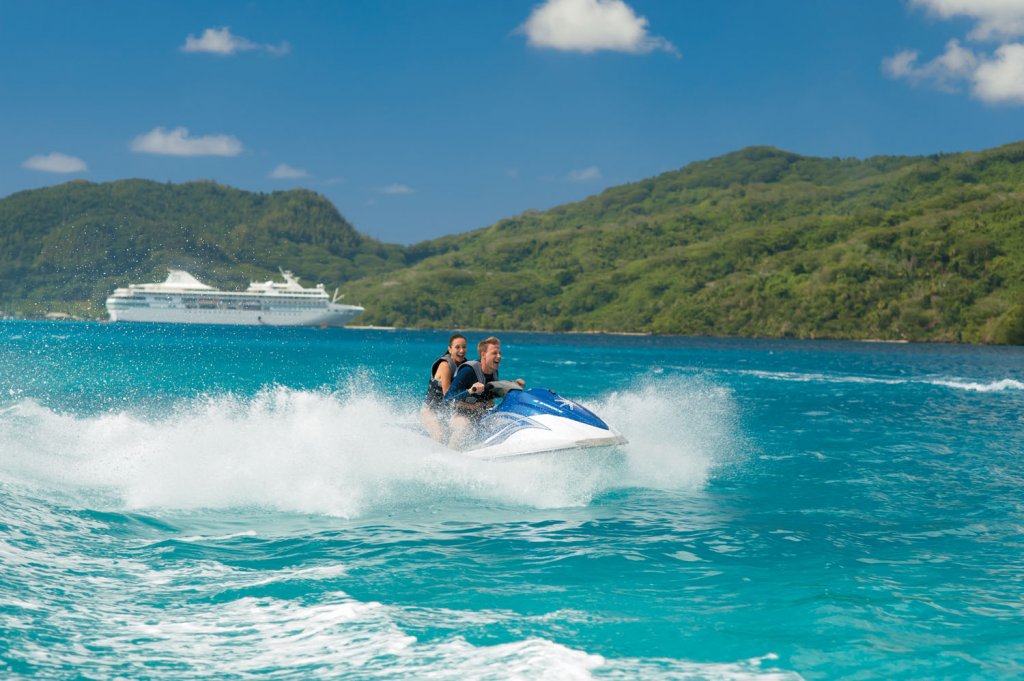 Whether you're looking to relax or looking for action and adventure, there are endless ways to bond with your partner in this tropical paradise.