The Islands of Tahiti beckon honeymooners with crystal-clear lagoons, rugged mountain peaks, palm-fringed beaches, amazing wildlife, and some of the most luxurious resorts in the world. Discover where to stay and what to do on the South Pacific trip of a lifetime.
By: Stefania Sainato
The Pearl of the Pacific
The overwater bungalow, a quintessential icon of Bora Bora, celebrates its 50th anniversary this year. Three American hotel owners referred to as "The Bali Hai Boys" came up with this concept after running out of space on land for guest accommodations at one of their resorts. They decided to expand by building traditional Polynesian grass huts with concrete stilts over the water's edge. Thus, a billion-dollar idea was born. Today, in addition to direct access to the lagoon, these ultra-luxe abodes include all the amenities of a first-class hotel room. Jason and I couldn't think of a more romantic way to celebrate our third wedding anniversary than by staying in an overwater bungalow.
To get the most bang for your buck, stay at the Bora Bora Pearl Beach Resort & Spa on Motu Tevairoa, a more secluded part of the island. This hidden gem has maintained an authentic Polynesian vibe since its opening 18 years ago, with teak furnishings, native artwork, and a laid-back feel (leave your heels at home). Owned by Leading Hotels of the World, it features three restaurants, two bars, gorgeous gardens with local flora and fauna, a mini golf course, a spa, and complimentary non-motorized water sports, such as kayaks and standup paddleboards. This intimate boutique property caters to a cosmopolitan international crowd — we encountered guests from Italy, France, and London while we were there.
We checked into Premium Bungalow #49, which offers an unbeatable view of Mt. Otemanu. The water level is more shallow than some of the other resorts, so we were able to enjoy the lagoon for longer periods of time, which averages a balmy 80 degrees Fahrenheit year-round. Jason and I lounged on the thatched-roof terrace while sipping our coffee in the morning mist, made ample use of the sliding glass floor (a.k.a. Tahitian TV) to feed fish at sunset, and relished the convenience of soaking up the sun and snorkeling right outside of our bungalow any time we wanted. (The hotel partnered with Espace Bleu, a local Polynesian company, to create a coral nursery. Its objective is to provide a healthy environment to protect and grow new coral, which is vital to the ecosystem. Thanks to this project, 75 species of fish have found a habitat among the bungalows.) Room rates for an overwater bungalow start at $780 a night.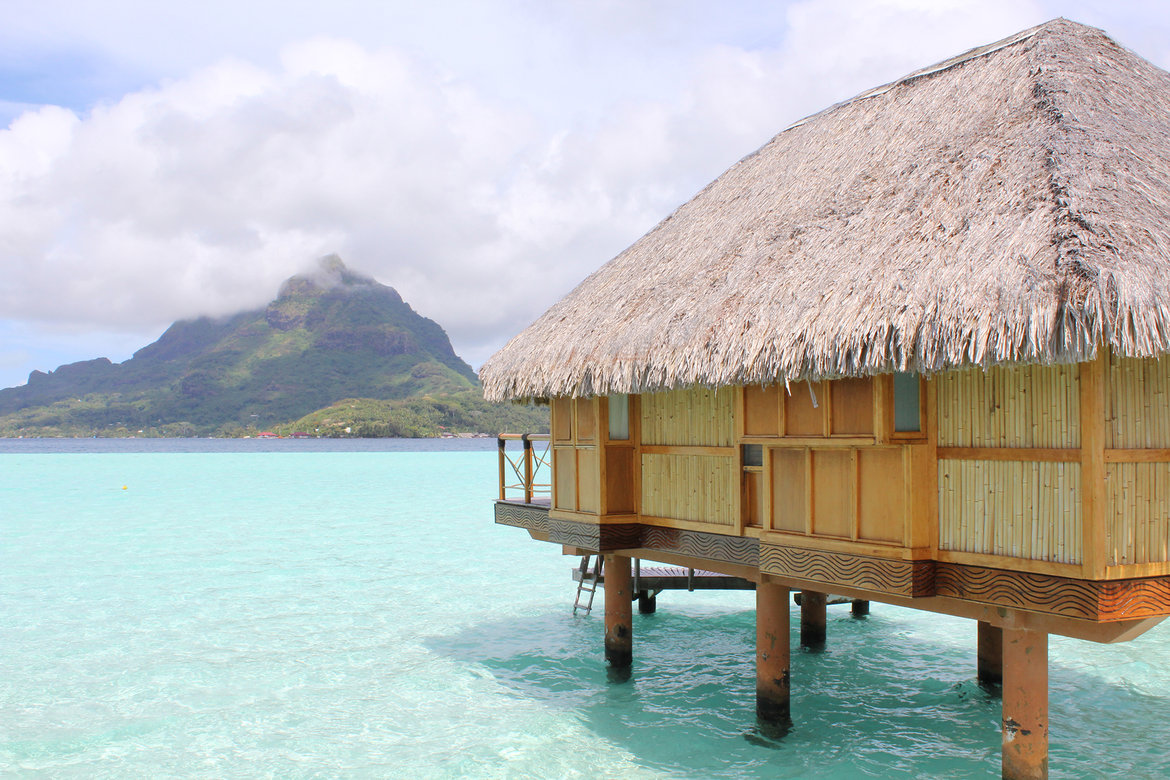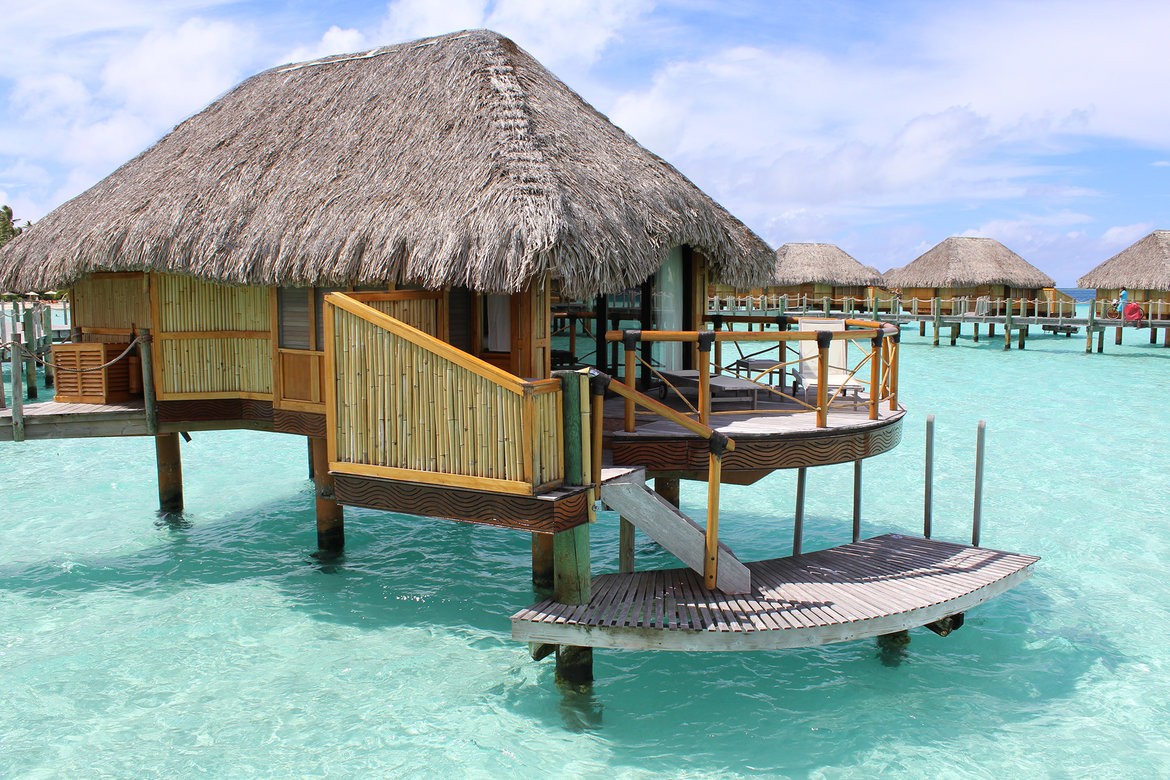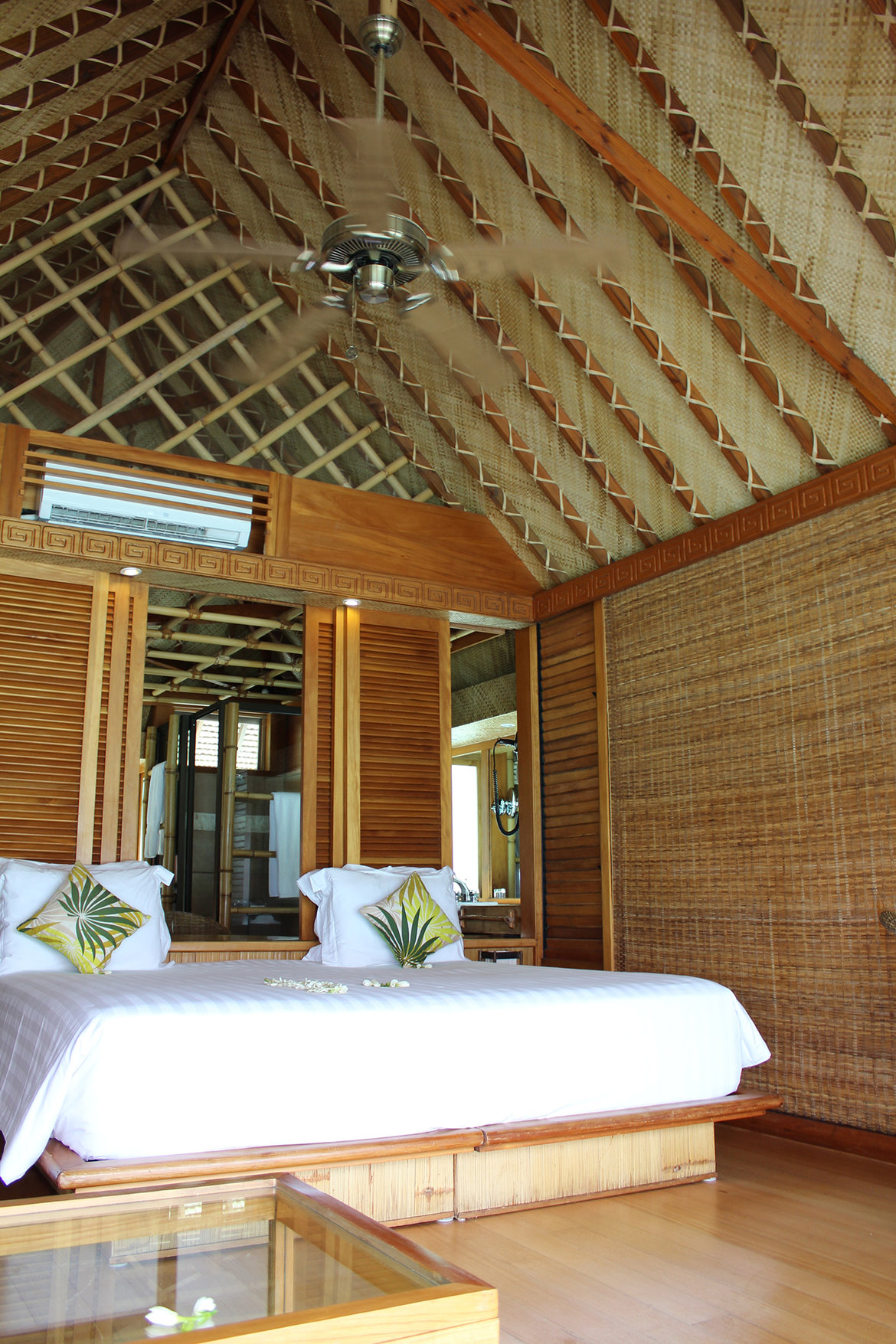 Into the Blue
A major highlight from our vacay was the half-day shark and ray feeding excursion. Of the 350 species of sharks, 19 of them can be encountered in Tahiti. They play an essential role in the regulation and balance of marine ecosystems. Our guide, Will, picked us up in a speedboat, zooming past the outskirts of the lagoon to the deep ocean waters beyond. Humming the theme song from Jaws to get everyone in the mood, we watched as he lured lemon and blacktip sharks close to the boat by tossing small chunks of fish into the water. Our hearts in our throats, Jason and I tentatively jumped overboard, our fins dangling just a few feet above them (we were instructed not to touch them). Witnessing these predators of the ocean in such close proximity was a surreal experience that we'll never forget. Will went the extra mile by borrowing my GoPro camera and expertly maneuvered around the sharks to capture unforgettable footage.
Then, we traveled to a coral garden on a more shallow part of the island, where we interacted with stingrays. Friendly and inquisitive, they beelined right towards us and swam up against our bellies and legs. Everyone in our group couldn't help but squeal as we felt the sensation of their slippery skin on ours. Our guide also scouted for eagle rays, which glide gracefully beneath the ocean floor, "flapping" their wings. During our last snorkeling stop, schools of technicolor fish — triggerfish, damsels, butterfly fish, rainbow jacks, and more — surrounded us. The excursion concluded with a private island picnic, where we snacked on the sweetest mango, pineapple, and bananas. On the way back, Will pointed out "Resort Row" — a chain of well-known hotels on the other side of the island (Four Seasons, Le Meridien, etc.).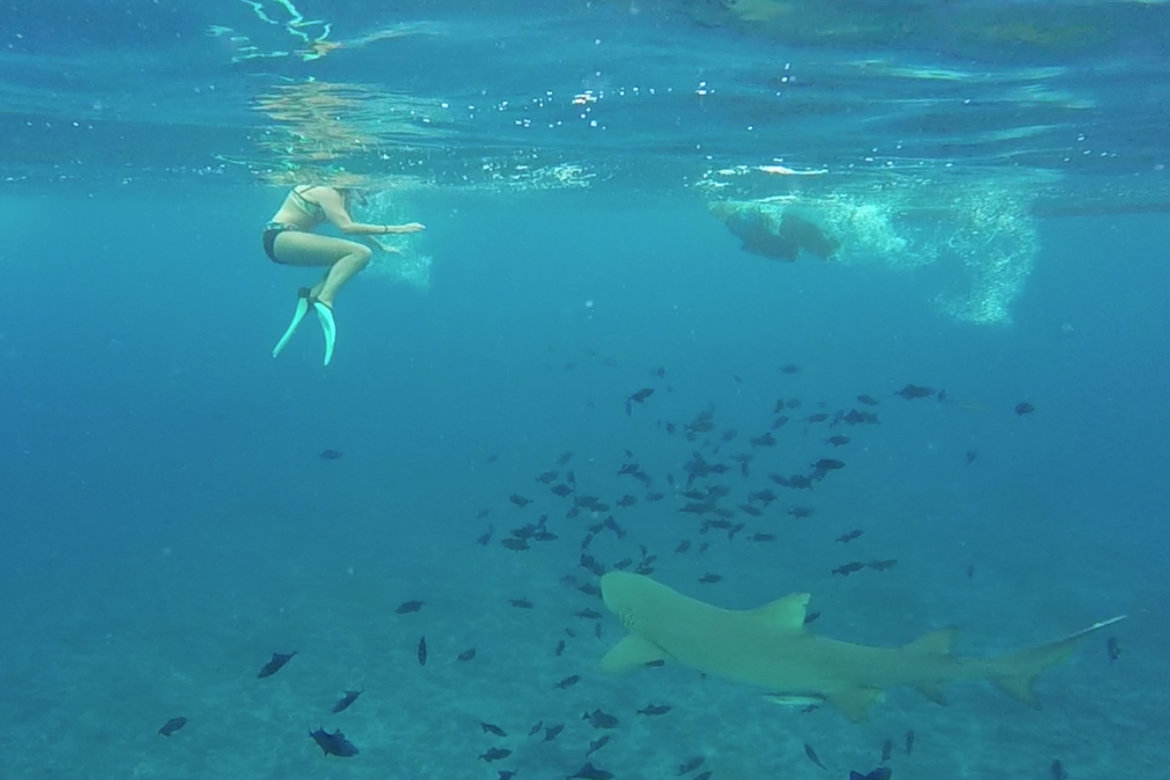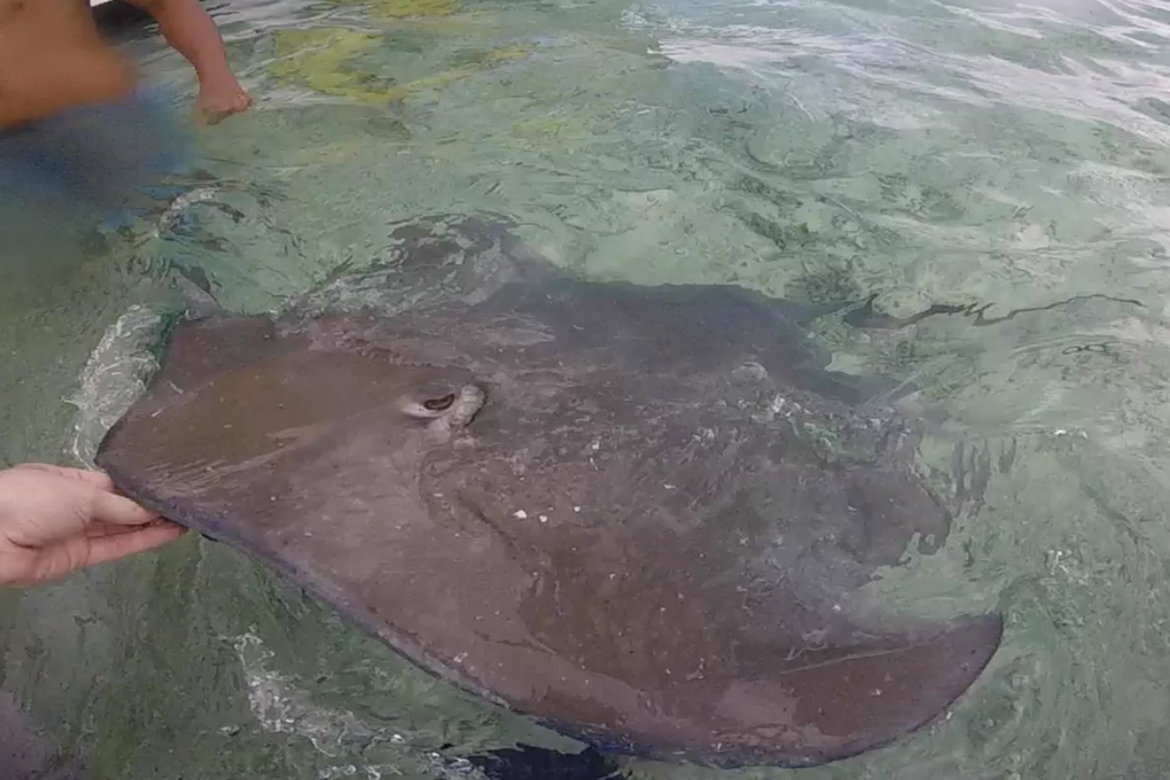 A Dinner to Remember
Of all the five-star resorts, arguably the grande dame is the St. Regis Bora Bora, which celebrates its 10th anniversary this year. The sprawling 44-acre resort boasts the largest overwater bungalows in Bora, which resemble miniature houses and are frequented by the likes of Justin Bieber and Nicole Kidman. Standout offerings include the rejuvenating Miri Miri Spa by Clarins and a jaw-dropping lagoonarium, where you can get a crash course in marine life from the on-site biologist. Should you choose to tie the knot in this heavenly locale, they have a variety of wedding packages that you can customize to your heart's desire, as well as an on-site bridal boutique where you can meet with wedding planners and even rent (or buy) a bridal dress. Room rates for an overwater villa start at $1,334 a night.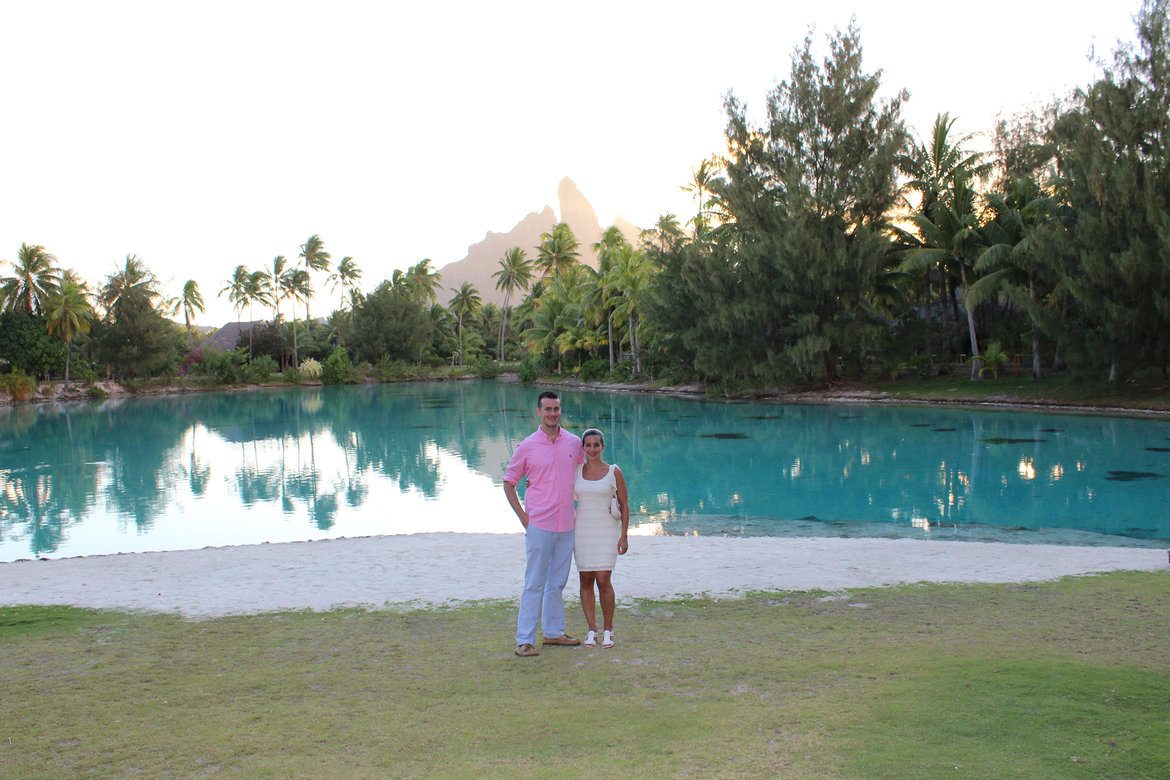 Of course, no honeymoon would be complete without an epic meal, and our vote goes to the Lagoon Restaurant by Jean Georges at the St. Regis, where esteemed chef Jean-Georges Vongerichten fuses Polynesian, French, and Asian cuisine. Jason and I chose the five-course tasting menu. Favorites included the black pepper octopus with citrus salad and beef tenderloin with truffle mashed potatoes. The Amuse-bouche of tuna tartar and lemon cream is also a must-try — it's an explosion of flavor in one bite! In addition to the outstanding cuisine, the service and romantic ambiance are unparalleled. And because we're in Bora Bora, we got to marvel at tuna, sharks, and other underwater creatures directly beneath us as we dined (thanks to the glass floors).
Pages