We uncover supreme, swoon-worthy locales in Italy's most romantic city and region.
By: Diane Forden, Editor-in-Chief
My love affair with Italy began years ago when I first visited and was captivated by this enchanting country and its history, beauty and romance. On a recent trip to Florence and Tuscany I discovered that la dolce vita still flourishes in this honeymoon-perfect destination. Hotels boasting chic suites with modern amenities are nestled within centuries-old architecture, restaurants delight with delectable dishes and the gracious Italians embrace visitors with warmth, wit and exuberant hospitality. They had me at Ciao!

Photo Credit: Marchesi Antinori
Stylish Retreats
Along the Arno River in the heart of Florence four Lungarno Collection hotels, owned by the legendary Ferragamo family, are the ultimate in luxury and relaxation and each possesses a unique sense of style. I loved the pet-friendly Portrait Firenze's 1950s and '60s-inspired glamour. Black-and-white images decorate the walls and mid-century style furniture melds seamlessly with luxe linens and cashmere fabrications. All 37 suites feature oversized beds, marble bathrooms, hidden kitchenettes and the latest technology. Terrace views of the Arno and the bustling Ponte Vecchio bridge are a plus. Just next door to Portrait Firenze are the equally chic 74-room Gallery Hotel Art that features contemporary art and special exhibits year round and the 43-room Continentale. Here, a visit to the rooftop La Terraza Bar affords stunning views of this golden Renaissance city. You can also unwind from a day of sightseeing with a soothing massage at the White Iris Beauty Spa. The 73-room Hotel Lungarno is the epitome of classic elegance. Lush antique furnishings and a blue-and-white decor conjure an "at-sea" feel as you sit on your terrace or enjoy cocktails in the lively Picteau Lounge. Bonus: Admission to the Salvatore Ferragamo Museum is free for Lungarno Collection hotel guests. My inner fashionista relished the lavish display of exquisite, custom-made shoes dating back to the 1950s. Room rates for the Lungarno Collection hotels start at $230 a night.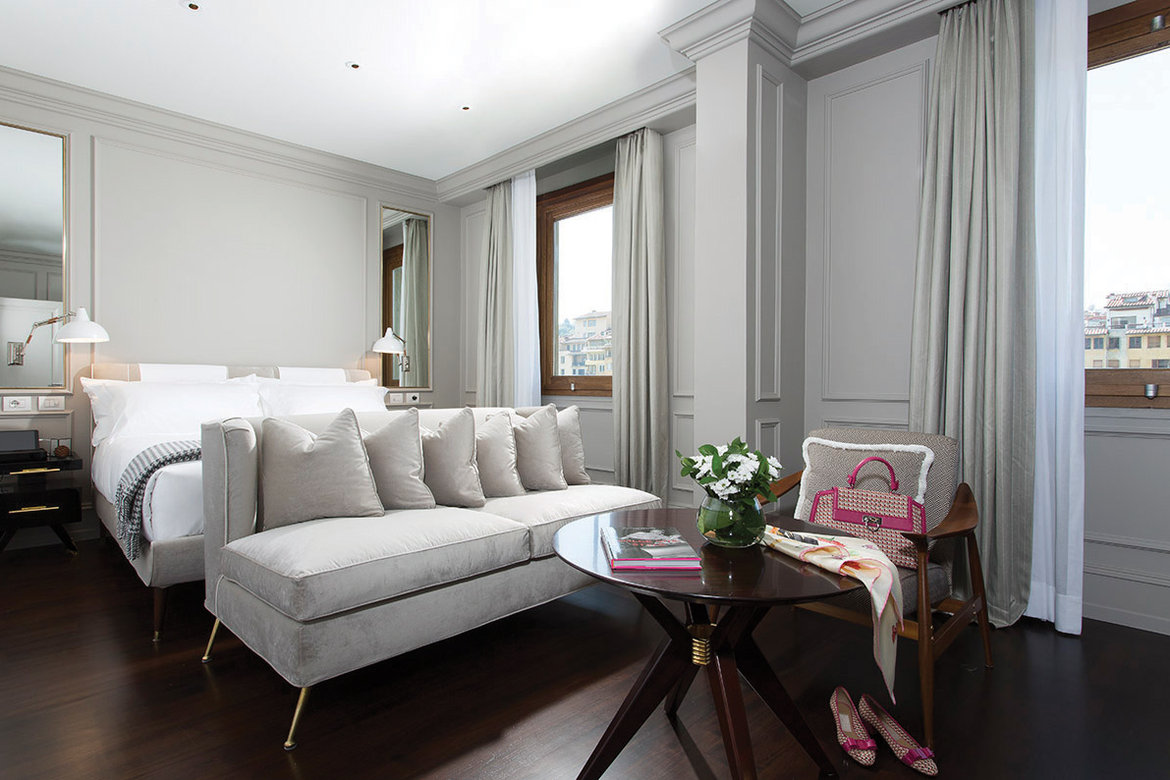 Photos courtesy of Lungarno Collection
Pages