Guidelines about the roles and responsibilities of everyone involved, from maid of honor on down.
By: Diane Forden, Editor-in-Chief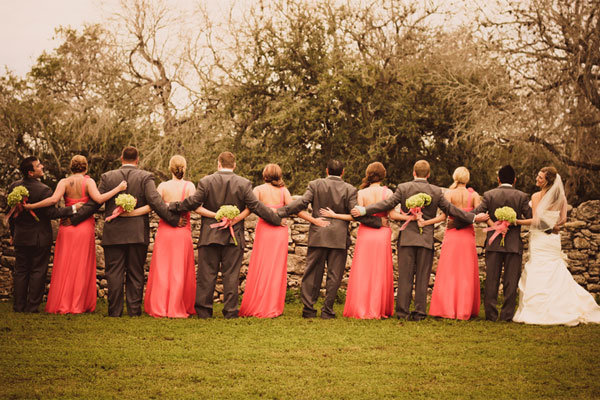 Photo Credit: Studio Eleven Photography

1. Do I have to ask my fiancé's sister to be a bridesmaid? 
2. How many is too many in terms of a bridal party? 
3. How should I choose my maid of honor? 
4. Is it appropriate to have an all-female wedding party? 

1. What's the average age range for a ring bearer or flower girl? 
2. Can I have two ring bearers? 
3. How can we include our nieces and nephews outside of the wedding party? 
4. What is the standard age for a junior bridesmaid, and what does she do? 
5. What is the difference between a maid of honor and a matron of honor? 
6. If I have a maid and matron of honor, should my fiancé have two best men? 
7. Is a divorced woman a maid of honor or a matron of honor? 
8. What are the responsibilities of the best man? 
9. What are the responsibilities of the maid of honor? 
10. What are the responsibilities of the mistress of ceremonies? 


1. How do we handle an uneven bridal party during the ceremony? 
2. How do I deal with a bridesmaidzilla? 
3. Can I ask my friend to cover her piercings and tattoos? 
4. Can I "fire" my bridesmaids? 

1. What should I do if one bridesmaid hates the dress I chose? 
2. Who pays for accessories? 
3. My fiancé is having a "best woman" instead of a "best man." What should she wear? 
4. What color should bridesmaids wear for an all-white wedding? 
5. Can a bridesmaid wear a pantsuit?
Have an etiquette question? Leave a comment below!
Q: My fiance's sister-in-law wants to be one of my bridesmaids and his mother told him it's proper etiquette to include her. Is this true? I really don't know her well and I'm not sure what to do.
A: Don't feel pressured to ask anyone you're not close to, to be in your bridal party. There are no etiquette rules stating that a future sister-in-law, cousin, etc., must be an attendant. She probably wants to be included because her husband will be a groomsmen. If there are other friends and relatives you'd rather have, then by all means ask them instead, and make sure your fiance supports your decision. You can still include your future sister-in-law by asking her to do the honor of giving a special reading at the ceremony.
Q: How many people are considered too many in a bridal party? I have two sisters and a lot of good friends, and I just cannot seem to make up my mind about whom to include! 
A: A wedding party can have as few as two attendants (a best man and a maid of honor) and as many as 24 (12 each for the bride and groom). The only real etiquette rule is that you should have at least one usher for every 50 guests. So, it's up to you as to how many you want in your wedding party.
Although it can be tempting to keep adding people to your party, keep in mind that the larger the group, the more work it will be for you. It may be especially difficult to decide on a dress style to suit the sizes, shapes and personalities of your many bridesmaids. Plus, you'll need to budget for transportation and flowers for each. Coordinating a large group may add unnecessary stress to your wedding planning. This is why many couples find it easier to keep the number of attendants small, and give honored roles to other important people. For example, someone can take charge of the guest book, or perform a song or do a reading during the ceremony.
Q: I'm not sure if I should ask my cousin to be my maid of honor. We were so close as children and all through high school and college. But over the past few years, she has grown distant and didn't even congratulate me when I got engaged. I have tried to get together with her several times but she always declines. What should I do?
A: Your maid of honor should be someone with whom you feel especially close now. During the months before your wedding, you'll want her to share in your experiences and your happiness. She should be your biggest fan and your strongest supporter. If you need someone to go dress shopping, call florists or photographers, help you with addressing wedding invitations, or keep the rest of your wedding party informed about plans, then you should be able to ask your maid of honor to pitch in without hesitation—and she should willingly offer both assistance and emotional support.
That said, I think you already know what to do. No doubt you and your cousin were close in the past and have a lot of wonderful memories. But people drift apart and after a while they may have very little in common. So don't let sentimentality influence you. Chances are your cousin will not be there for you if she doesn't respond to your overtures for friendship now. You can still ask her to be in your wedding party if you choose, but ask a very close friend—someone you know you can depend on and who really shares in your happiness—to be your maid of honor. Looking back, you'll be glad you did.
Q: Is it appropriate to have an all-female wedding party? If so, how would we handle the first dance? 
A: Traditional etiquette rules dictate that you are supposed to have an usher for every 50 guests. But no one says that ushers have to be groomsmen (they could be guys who are not in the wedding party), nor do they have to be men (your bridesmaids might help seat guests). So I do not see why you could not have an all-female wedding party.
As for the first dance, your female attendants could simply join in with their spouses or dates, or the two of you could keep the spotlight to yourselves until the end of the song. A final option: The emcee could ask all guests to join in.
Q: My fiancé would like his three-year-old nephew to be our ring bearer, but I'm worried that he's too young. What's the proper age range for a ring bearer?
A: Traditionally, the age range for both the ring bearer and the flower girl is between four and eight. However, rules are meant to be broken, and in this case you should consider having your fiancé's nephew as your ring bearer. At my brother's wedding, my two-and-a-half-year-old nephew was the ring bearer. We were all a bit concerned that he might not be able to handle the task. After all, two-year-olds can decide on a whim that they are just not in the mood - they are too tired or hungry and cannot be bothered taking a walk down the aisle. But my sister and brother-in-law conducted many "practice sessions" at home with a throw pillow, and by the time the big day came my nephew was eager to show off his newly acquired skill. The result: An adorable little boy (naturally, I am biased) walked proudly down the aisle and charmed a churchful of guests. Even if he had messed up, he still would have been cute, as I am sure your fiancé's nephew would be. So do consider having the little guy in your wedding party - it will not only thrill his parents but will also make your fiancé very proud.
Q: My fiancé and I have a three year old son who we would like to have in the wedding. I also have a niece and nephew who I would like to have as flower girl and ring bearer. Is it acceptable to have two ring bearers or is there something else that I could have either my son or my nephew do to be included in the wedding ceremony itself? 
A: You can certainly have two ring bearers in the wedding party. They can each carry a ring pillow with a fake ring attached to each. (You wouldn't want to place your real wedding bands on the pillows - let your best man hold onto them!) You might want to practice at home with them and explain what they're expected to do. I'm sure they'll be very excited and feel quite important!
Q: My fiancé and I have 14 nieces and nephews between us, ranging from 1 to 11 years old. We don't want a huge bridal party of friends because we want all of the kids to participate in some way. What are some recommendations?
A: I love your idea of including all your nieces and nephews in the wedding. I once went to a friend's wedding and she, too, had decided to have all her nieces and nephews in the wedding in lieu of a traditional bridal party. It was wonderful to see all the children walk down the aisle!
Depending on their ages, you can do the same. The little ones can be either flower girls or ring bearers (They are usually between the ages of four and eight). The older nieces/nephews can be junior bridesmaids and groomsmen. It's really up to you what they wear although I do think tuxedos would be appropriate for the boys. If your wedding is less formal, then suits will be fine. The girls don't have to wear the exact same style, especially if this poses some difficulty in finding a dress for both the little ones and the older nieces. You might suggest that they choose a dress of their liking in a particular color. That way, there will be some cohesiveness in that they will all be wearing pink or peach or lilac. The one-year-old may be a little too young to have walk down the aisle, so if you plan to light a Unity Candle, you can ask all your nieces and nephews to gather round as you do so and the one-year-old's parents can bring him/her to the altar as well. You can also ask any of the older ones to do a reading for you and include everyone's names in your wedding program.
One last thing, your nieces and nephews will be thrilled to receive a keepsake of some kind like a book on being a ring bearer or flower girl or perhaps a flower girl doll. There are plenty of companies who specialize in wedding gifts for kids which are easily accessible via the Internet. You also might consider having a special kid-friendly menu for them at the reception and some games/coloring books to keep them occupied.
Q: I have invited my 10-year-old cousin to be in my wedding party. She is too old to be a flower girl, but I am not sure if she should be considered a "junior" bridesmaid. What is the standard age for a junior bridesmaid, and are there any special responsibilities I should give her?
A: A junior bridesmaid is between the ages of 8 and 16, and her only responsibility is to attend the ceremony rehearsal and walk in the processional. She is not expected to give showers or contribute to the bride's gift from the attendants, unless her parents choose to do so for her. Also, she need not stand in the receiving line.
You can position your junior bridesmaid before the maid of honor in the processional, whereas flower girls walk just before the bride. Try including your cousin in as many pre-wedding activities as her age allows. She is just as much a part of your wedding party as your other attendants and will appreciate the special attention.
Q: I want both my maid of honor and matron of honor to feel special at my wedding. What is the difference between maid of honor and the matron of honor and what are the responsibilities for each? 
A: The only difference is that the matron of honor is a married sister, friend or relative while the maid of honor is a single woman. There are no set responsibilities for each—basically, the matron of honor and maid of honor should share in the activities usually designated for the maid of honor. These include planning the bridal shower, helping to address wedding invitations, dress shopping, organizing fittings for the other bridesmaids, and any other pre-wedding tasks where assistance is needed.
On your wedding day, both can feel special by sharing some of the rituals. Before the ceremony, they can help you dress. For the processional, consider having them walk down the aisle together. During the ceremony one can hold your bouquet while the other takes charge of the ring and both can certainly give readings. At the reception, why not ask each to give a toast following the best man's? I am sure that they will appreciate your concern and thoughtfulness and feel honored to be such an important part of your wedding.
Q: I have a matron of honor and a maid of honor. Should my fiancé have two best men or a best man and an 'honor attendant'?
A: Even though you will have a matron of honor and a maid of honor it's not necessary for your fiancé to have two best men or a best man and honor attendant. Just one best man is fine. During the recessional, you can have the best man escort both your attendants down the aisle, with one on either side of him.
Q: Would a divorced woman still be considered a matron of honor, or a maid of honor—or shouldn't she serve in that role?
A: Traditionally, the matron of honor is a married woman and the maid of honor a single woman. So, a divorced woman is really "single" and should be a maid of honor. (It's OK to have two maids of honor, by the way.) But on a personal note, I'm not really a stickler for such hard and fast rules. I think it's fine to have a divorced woman as your matron of honor if that's what you wish. After all, there are weddings today where the "maid of honor" is a guy and the "best man" a woman, so do what you feel most comfortable with and enjoy your day!
Q: What exactly is a best man supposed to do? My fiancé says his only responsibility is to organize the bachelor party.
A: While the bachelor party may be what your fiancé and his best man considers the most important task, there are indeed other duties he is expected to perform. As the maid of honor is to the bride, the best man is the groom's biggest source of support. Generally he's the groom's brother or best friend (the groom's father is another popular choice).
In addition to staging the bachelor party, the best man helps coordinate the groomsmen's formal-wear fitting, picks up the groom's attire, confirms the honeymoon travel reservations, and orchestrates the rehearsal-party toasts.
On the day of the wedding, the best man makes sure the groom gets to the ceremony site on time. He brings the bride's ring, holds the officiant's fee until after the ceremony, and signs the marriage license as the groom's witness. Afterwards, he organizes the groomsmen for formal pictures, dances with the maid of honor, and makes the initial toast during the reception. Finally, he makes sure that the getaway car is ready and the couple's luggage is inside. After the celebration, he sees that all rented formalwear is returned.
Q: My friend just asked me to be her maid of honor and I am so thrilled. What are my responsibilities?
A: The bride relies most heavily on her maid of honor (called a matron of honor if the woman is married). Before the wedding, the maid of honor's duties include coordinating the bridesmaid's activities (such as meeting for the dress fittings) and organizing the bridal shower. She should also offer to help the bride with any organizational wedding planning tasks, such as addressing wedding invitations.
On the day of the wedding, the maid of honor helps the bride dress and accompanies her to the ceremony. She precedes the bride and her father down the aisle, arranges the bride's veil and train whenever necessary, and holds her bouquet at the altar. The maid of honor also carries and passes the grooms ring to the bride during the vows, and signs the marriage license as the brides witness after the ceremony. At the reception, she dances with the best man and helps to organize the bridesmaids for formal photographs. Before the couple leaves for their honeymoon, the maid of honor should help the bride change her clothes, and then make sure her dress and bouquet are taken care of until the bride returns.
In some cases, a bride will choose to have both a maid and a matron of honor. Generally the maid of honor's role takes precedence, but some brides divide the duties equally. Either is fine, as long as it's clear who does what.
Q: I was asked by my niece to be the mistress of ceremonies. I am having a very difficult time finding any information about the responsibilities of this role. I am told that I must attend all functions, even though several of these are more than 500 to 600 miles away. I am further led to believe that after all the time and money it is going to cost me, that I am also to give a shower. I would like to do the job, but no one really knows just what my responsibility is.
A: Although it's a nice gesture on your niece's part to ask you to be her "mistress of ceremonies" I must admit that the particular responsibilites of this role are a new one on me! Of course, on the wedding day itself, there is a master or mistress of ceremonies at the reception whose responsibility includes overseeing all of the details of the day. They make sure the champagne is poured for the toast, introduce the wedding party and announce all of the special dances as well as the cake-cutting and bouquet toss. Essentially, they are there to make sure everything runs smoothly and to handle any special requests the couple may have. But, the master or mistress of ceremonies are pros. They may be affiliated with the reception site but most often, the master/mistress of ceremony is the bandleader or DJ—not a friend or relative!
Also, requesting that you attend all wedding-related functions even though some are 600 miles away is totally out of line. Not only is this outrageous request inconsiderate (think of the time and money you need to travel!) it's simply not true. No one—even if they're in the wedding party—is obligated to attend every pre-wedding affair. So, just say no. Explain that as much as you'd like to attend, the time and financial constraints are too demanding. And, as far as you being the person responsible for the shower, again, not true. The wedding party (maid of honor and bridesmaids) traditionally arrange the bridal shower. But, it can also be given by the bride's mother, other relatives or even co-workers. However, it should be a voluntary group effort and no one person should be told that they must give the shower. Again, I would question this, especially if you live so far from the bride, it will be especially difficult to organize such an event on your own.
You are in a difficult position. But you need to express that as thrilled as you are to assist in some way, you simply cannot take on all of the responsibilities they are requesting. It's unfair and, most of all, unnecessary. I'm sure there are other family members and friends who live closer to the bride who can attend all her functions and help give the bridal shower.
Q: Our wedding party consists of four bridesmaids and seven groomsmen. What's the best way to pair them up for the ceremony? Do all of the groomsmen have to walk down the aisle during the processional?
A: Wedding parties like yours, with an uneven number of bridesmaids and groomsmen, are quite common. The good news is you do have several options to consider for both the processional and recessional. For the processional, your groomsmen could enter the church first and walk down the aisle in single file, followed by your bridesmaids. Or, the groomsmen could already be in the church, either at their seats or standing in front of the congregation with the groom, before your bridesmaids start their processional. For the recessional, pair the first bridesmaid with one groomsman and the next three bridesmaids with two groomsmen each, one on either side.
Q: My sister is turning into a bridesmaidzilla. She's insisting I invite five of her friends (even though I don't know them), and that I pay for her hair and makeup. My budget is limited, but should I try to appease her to keep the peace?
A: No! Look, there is obviously something more going on here, and I have a feeling that nothing you do will be enough to make her happy. You are not obligated to invite five people you don't know to your wedding, nor should you pay for her hair and makeup if you can't afford it. She needs to be reminded that this is your wedding, not hers. She may resent all of the attention you're getting or even that you're getting married and she's not.
My best advice would be to ask her to join you for lunch, dinner or a day of shopping. Don't talk about your wedding plans initially. Ask her what's going on in her life and what she's been up to. Keep the conversation light and breezy with the focus on her. At some point, you can let her know that you've been puzzled and hurt by her behavior because you had hoped that she would be happy for you and be your biggest supporter. Remind her that her day will come, too, and when it does you'll be right there for her. But for now, she should respect the fact that this is your wedding and you and your fiancé are trying to work within a budget. Let her know that you want her and all your family and friends to share in your big day and have a wonderful time. Ask her if there is something troubling her and what you can do to help. Hopefully, if you reach out to her in a kind, loving way she will respond accordingly.
Q: One of my friends has multiple body piercings, tattoos and neon purple hair. She's furious that I didn't ask her to be in my wedding party, but I feel that her presence would be a distraction during the ceremony. I did ask if she would be willing to tone down her look a bit but she refused. Am I being unreasonable? 
A: Certainly not! It's your prerogative (as it is every bride-to-be"s) to have a wedding party composed of relatives and friends to whom you feel closest and most comfortable. I am sure that you also have a certain vision of how you want your attendants to look - and it probably does not include tattoos and neon hair. So do not feel pressured to ask someone whose appearance will only cause you aggravation and frustration on your wedding day, especially if she is unwilling to compromise. If your friend wants to have the freedom to look and dress as she pleases, then she should grant you the freedom to select a wedding party to your liking.
Unfortunately, no matter who you do and do not choose, there are bound to be a few acquaintances or family members who disagree with or feel hurt by your choices - and they will not hesitate to verbalize their unhappiness to you. You might try to explain patiently why you selected the people you did. But, ultimately, it is your decision and your wedding to plan as you and your fiancé wish, and your choices require no justification.
Q: I am so upset. My wedding is only four months away and my matron of honor and my bridesmaid are being uncooperative about scheduling dress fittings, even though I've asked them several times. They are not showing any interest in my wedding and I find myself wishing I could ask other friends to be my attendants instead. What should I do?
A: Unfortunately, your dilemma is much more common than you may realize. Brides are often faced with difficult attendants who show little or no interest in assisting with the wedding planning or, as in your case, are uncooperative with the dress selection and fittings (even after the bride has taken color, style and budget into consideration). And, just like you, many brides soon regret having asked them to be a part of the wedding party.
But this doesn't mean that you should allow your attendants to make you miserable. After all, you have asked those closest to you to share in your happiness, not to negate it. Besides, with all of the details involved in planning a wedding, you certainly do not need added stress. Perhaps these women regret having agreed to be in your wedding and are looking to get out of it.
You can ask them to step down - provided you are tactful. Simply state the following: "I am sorry that you cannot seem to find the time to attend a dress fitting. Although I will miss having you in the wedding party, I understand if you want to back out. Is that what you have I mind?"
If they are truly unhappy about being in your wedding party, then you have given them a gracious "out." (And definitely ask your other friends to take their places.) If not, they will realize that their behavior is unacceptable and shape up. Either way, you are bound to be better off and can look forward to less stress and happier attendants.
Q: One of my bridesmaids keeps complaining about the dress I had in mind for the wedding party. How should I handle her? 
A: As the bride, you have total say in what your attendants wear. As a decent human being, it's nice to try to keep their feelings in mind. However, you can only do so much and the larger the group, the more difficult of a task it will be. Once you have made all the respectful concessions (asked your bridesmaids what they would like, considered their budgets and figure types, allowed them to make a final dress selection from two or three possibilities), it's time for them to shut up and be supportive.
If you've got a bridesmaid who continues to be blatantly obnoxious, simply state the following: "I'm sorry you're not happy with the dress. Although I'll miss having you in my wedding party, I'll understand if you want to back out. Is that what you have in mind?" Nine out of 10 women will insist that they still want to be your bridesmaid - and will put a lid on it. If yours happens to be the one that backs out, it's her loss. You do not need friends like that anyway.
Q: I purchased crystal brooches, $25 each, for my bridesmaids to wear on their dresses, setting me back $75. Is it rude to ask them to reimburse me?
A: Twenty-five dollars may not seem like a great deal of money, but with all the costs bridesmaids are responsible for, every little bit adds up. Let's see, they have to pay for their dresses, contribute to both the bridal shower and bachelorette party and give you and your fiancé a wedding gift.They may even have to spend money traveling to the wedding or staying at a hotel. Plus, some of them may be attendants in other ceremonies this year, setting them back a whole lot more than $75. How about this: Why don't you give your bridesmaids the jewelry as your gift for being in your wedding? That way, they won't feel disgruntled by having to fork over any more money,they'll wear the pins on their dresses and you've taken care of what to give them. Now, isn't that easy?
Q: My fiancé's "best man" is his closest childhood friend—a woman. We'd like to know what she should wear at the wedding and any ideas for the wedding party's walk down the aisle and position at the altar. 
A: With many couples opting to have a woman as 'best man' and a guy as 'maid of honor', questions naturally arise as to the proper wedding attire and procedures. When it comes to clothing, the good news is that there are several options to choose from. Your fiancé's friend can wear the same style dress as the bridesmaids, but in a different color to distinguish her role as the groom's honor attendant. Instead of carrying a bouquet, and in lieu of wearing a boutonniere, consider giving her a wrist corsage. 
Q: We plan on having an all-white wedding (flowers, linens, candles), but I'm not sure what color the bridesmaid dresses should be: I don't want them to detract from the décor. Any suggestions? 
A: Colors in light, soft hues are sure to complement your all-white décor. Depending on the time of day and the season in which you'll marry, you have a variety of options to choose from. The spring and summer months, for example, favor pastels like lavender, pale blue, soft pink, yellow and mint. In autumn and winter, consider platinum, pale gold, champagne and taupe, shades that are always elegant and chic—especially if you plan on having a candlelit evening wedding. Just don't forget to consider your bridesmaids' hair color and skin tone when making your selection: You'll want to choose a shade that's sure to flatter every one of your friends.
Q: One of my bridesmaids has asked if she can wear a pantsuit instead of a dress. I'm OK with that, but not sure where to start looking. And can she wear a tuxedo made for a woman?
A: The fact that you are flexible and willing to let your bridesmaid wear a pantsuit is very admirable, and I commend you. Obviously, you are not a demanding "my way or no way" bridezilla! That said, you have a number of options: Check out the special occasion section in department stores, and call boutiques, specialty stores or bridal salons in your area to see if they carry dressy pantsuits (if they have a white pantsuit designed for brides, they may be able to order it in a color). You can also do some research online to see where you can purchase a tuxedo tailored for a woman. If you decide on a black tuxedo, consider pairing it with either a shirt or tie and vest in the colors of your other bridesmaids' dresses.