We interviewed brides across the country who triumphed over medical conditions, lifelong battles with the scale and grueling 6 a.m. workouts — even documenting their most challenging moments on national television! — to get fit for their wedding day.
By: Stefania Sainato
Sweating for the wedding? Finding the motivation to make healthy nutrition and exercise choices every day can be challenging — especially when you've got 100 other tasks to cross off your to-do list. Whether you want to tone up, slim down, maintain your current weight or push yourself to the next level, these inspiring stories prove that amazing things can happen when you tap into your fitness potential.
Share your fitness story with us on Facebook or Instagram (include the user name @bridalguide, along with the hashtag #bgfitstory)!

Tumi Oguntala: "Conquering obesity isn't just a math problem or else there would be no Biggest Loser. I knew how to add and subtract but I had to learn why I was emotionally holding myself back when getting healthy was clearly in my best interest."
The turning point:
"I went for a mammogram on my 41st birthday and for the first time, the doctors said that I needed a second one because I had gained so much weight that they had trouble interpreting the results. I turned out to be okay, but it created a sense of urgency that I needed to make a change."
How I did it:
"Going on The Biggest Loser was definitely the toughest, most rewarding experience of my life. Eliminating food as an emotional crutch — while I was in constant physical and emotional pain — was a challenge. After a workout with Jillian, I realized I was phoning it in at the gym before. On the ranch, I was very intimidated by the former and current athletes and what they could do physically from day one of the competition. It took me a while to get my mojo, but I was determined to prove that at 41 I had yet to see the best of me, and fitness was definitely an area where I had room to grow.
I went through a sacred journey with people who weren't just morbidly obese, but also broken, and I came through it with a new lease on life and a willingness to pay it forward. I was also the most successful at-home winner in the history of the show. Now I exercise between one to two hours per day, six days out of the week. My workout regimen consists of about 60% high intensity cardio and 30% weight training. I eat clean, consuming whole grains, unprocessed foods, lean meats without hormones or antibiotics, and low amounts of sugar and sodium."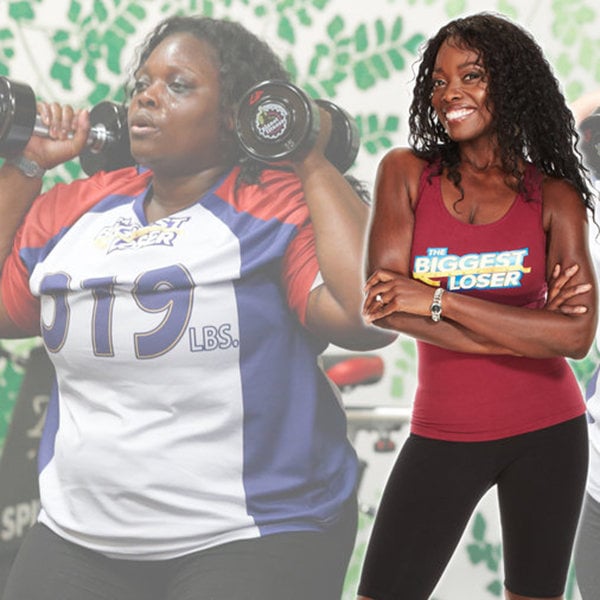 "Before" and "After" Photo Credits: NBC
Biggest challenges:
"Finding my next high intensity point with exercise. I have a lot of stamina because of my training on the Biggest Loser and while I know my workouts are tough, I'm in such good conditioning that I constantly have to keep pushing myself. When I think about how recently I was morbidly obese, it's shocking to know that I can run for over an hour and still not be working hard enough to push myself!"
Advice for other brides:
"On my talk show Talk Tumi, I discuss how making small changes each day can help you keep your commitments. A good place to start is by trying to drink at least one gallon of water per day, which will naturally suppress your appetite and help your body let go of extra water weight."
Enlist the support of your fiancé: 
"When I came home from the show, I asked my fiancé if he still loved me (the new me) and when he said yes, I asked him if he was willing to be my partner in fitness, because I couldn't go back to the lifestyle we had before. We both had to recommit to each other and we're determined to walk down the aisle as the most healthy version of ourselves possible."

"After" Photo Credit: Tumi Oguntala
Where I am now:
"I wanted to be proud during my final weigh-in and I definitely accomplished that. I lost 175 pounds and reached 15% body fat (I started with over 50%). When I had my final medical appointment, the show's doctor said that I've become an elite athlete. As a former couch potato, this made me immensely proud. I can't wait for my wedding, which will take place in the fall at a historic casino in Saratoga Springs. It will be the most romantic evening of my life, with the people I love most in the world dressed to the nines!"

Sarah Marino: "As with marriage, shaping up is about commitment, taking things slow and keeping an open mind."
The turning point:
"I had always been thin, but after being diagnosed with Graves' Disease (an autoimmune disorder caused by an overactive thyroid) and having my thyroid removed, I steadily gained weight over six months. My body went from producing too much thyroid hormone to receiving a proper dose via synthroid, a drug that thyroid surgery patients are required to take. As a result, I continuously put on the pounds after surgery despite eating healthier and getting regular exercise. I knew that I had many lifestyle changes ahead of me if I wanted to get back to a comfortable weight."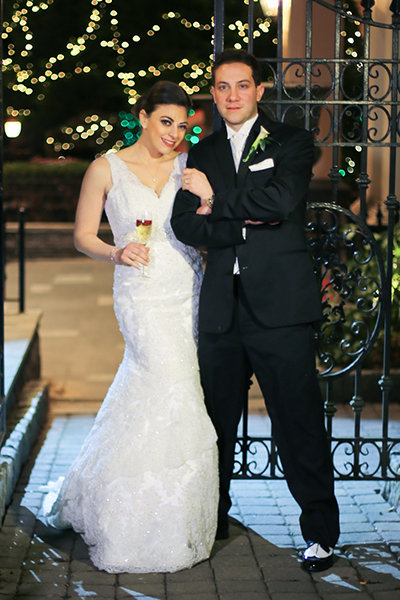 Left: "Before" photo: Courtesy of Sarah Marino
Right: "After" photo: Credit: John Agnello Photography
How I did it:
"After consulting with a nutritionist, I started by finding out my BMR (basal metabolic rate). This is the natural way that our bodies burn calories in order to maintain our current weight. The BMR formula for women is as follows: 655 + (4.35 x weight in pounds) + (4.7 x height in inches) - (4.7 x age in years). Once I calculated my BMR, I stuck to a controlled diet specific to my body's needs. The key factor: I kept a food journal to keep track of everything I consumed (and burned) each day. After a while, I was able to recall calories amounts in the different foods I was eating and I no longer needed to record everything.  
I've always loved yoga so I decided to practice bikram yoga regularly because of its detoxifying effects. In addition to increasing my flexibility and burning body fat, it also forces me to use my own weight as resistance to build muscle tone without bulking up. I also walk at least one mile a day and I use a 10-pound kettle bell about two times a week for weight training."
Favorite foods:
"For breakfast, I usually have one tablespoon of peanut butter on an English muffin, two Van's waffles, or Vita Tops (found in the freezer section). I eat at least one salad with vinaigrette dressing per day and opt for lean meat with vegetables for dinner. Since my husband and I are Italian, we both love a good pasta dish! One of my favorites is a gluten-free pasta or veggie pasta with Morningstar Farm crumblers and frozen peas tossed with red sauce. Portion control is key. My nutritionist told me to never deprive myself of any food item — it's better to have a taste or small serving that will stave off overeating." 
Advice for other brides:
"First, find your BMR, because it's different for everybody. Also, do an exercise that you truly enjoy, whether its yoga, kickboxing, pilates, or bootcamp. Don't go on a crash diet just to fit into the dress!"

Photo Credit: John Agnello Photography
Biggest challenges:
"Because my body changed so rapidly over a short period of time, I needed to constantly adjust what I was doing. It varies from person to person, but for me it was more dietary than exercise. Once I stimulated weight loss by not eating late at night and exercising portion control, I recorded what worked and stuck with it."
Where I am now:
"I lost 28 pounds and have noticed that I think more clearly and I'm more energetic now. On my wedding day, I woke up healthier and in much better shape than I had been 13 months prior."

Stephaine Clemmer: "I've always struggled with my weight — I've tried all of the crash diets, pills and 'magic' shakes."
The turning point: 
"I was at my all-time heaviest and I wasn't happy...I never wanted to have my picture taken and I always compared myself to other women, asking why I couldn't look like that. On November 26, 2012 everything changed when my amazing fiancé, Craig, asked me to be his wife! I couldn't be more excited to spend the rest of my life with such a caring person who always sees the best in me — he makes my life so much better. Of course, my first thought was that I need a dress, so I vowed to get into the best shape of my life in the new year. I already had a gym membership but never really stuck to it until after I got engaged."

Left: "Before" photo: Courtesy of Stephaine Clemmer
Right: "After" photo: Courtesy of Stephaine Clemmer
How I did it: 
"I began my weight-loss journey in 2013 by exercising five to six days each week. I started with the elliptical and getting in other forms of cardio. Then, I took gym classes such as Cardio Fusion and Les Mills Pump. I cut out fast food restaurants and tried to eat more fruit and vegetables. I also joined a team of five or six friends in different states who had a private Facebook group to help motivate each other. Another incentive for losing weight was an app that my friend found for me called EveryMove. It offers rewards — such as discounted health food, sneakers and fitness gadgets, among other things — which motivated me to record my activities."
Advice for other brides: 
"I recommend trying fitness wristband trackers like FitBit or Jawbone. I absolutely love them because they allow you to compete with friends, which makes exercising more fun. (I'm an extremely competitive person!)"
Proudest moment: 
"In May 2013, I ran my first half marathon in two hours and 46 minutes — I was so excited! At the end of that summer, I did a few 5K races and in November, I signed up for the EST 10 Miler. Completing two long-distances runs in 2013 was an achievement I never thought I would ever be able to accomplish."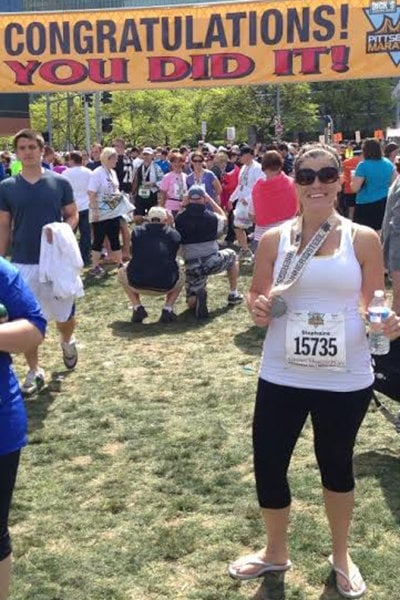 Photo courtesy of Stephaine Clemmer
Biggest challenges: 
"Sweets were my biggest downfall and meal planning requires time, which caused me to slack off sometimes. I was at a plateau for a good five months, so I told myself I would get back to working out five to six days per week. I began recording my calories better and I rewarded myself with little splurges (e.g. new running shoes or a mani/pedi) when I met smaller goals."
Where I am now:
"I am officially down 28 pounds. My goal is to lose that last five pounds and continue to add muscle definition. I am beyond determined to look amazing in my gorgeous Maggie Sottero wedding dress on May 12th, when I tie the knot in the Outer Banks of North Carolina. If I can do it, ANYONE can."

Photo courtesy of Stephaine Clemmer

Laurie Davis: "What I learned is that when you focus on health, the weight loss will come."
The turning point: 
"When I wrote my book, Love @ First Click, I felt a huge sense of professional accomplishment...but I was physically at my worst. I developed severe carpal tunnel and I gained two dress sizes. I had always been into yoga and gym classes, but I couldn't do them with my wrist braces on (putting pressure of any sort on my hands was nearly impossible). While I was rehabbing my wrists, I focused on interval runs and I began tracking calories using My Fitness Pal. I was feeling great — back down to my usual dress size — but little did I know that was only the beginning of my journey."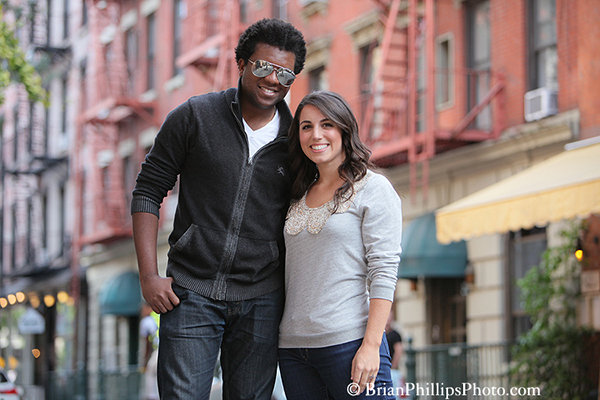 "Before" Photo Credit: Brian Phillips Photo
How I did it: 
"I learned about the practice of functional diagnostic nutrition through my friend Aaron Davis at The Perfect Health Project, who ran some labs on me. The results were eye-opening...and scary! He uncovered all kinds of internal challenges that I wasn't aware of, including dangerously low estrogen and cortisol, high testosterone, and lower-than-normal liver function. This was hard for me to hear since I wondered whether it would impact my ability to have children in the future.
To work towards remedying all of my internal issues, Aaron suggested that I do a modified form of Paleo for 90 days: no grains, no gluten, no dairy, no sugar (unless it's natural) and no alcohol (I cheated on my birthday). He also put me on a slew of supplements — licorice root extract, digestive enzymes, probiotics and more — and taught me how to sequence and titrate them."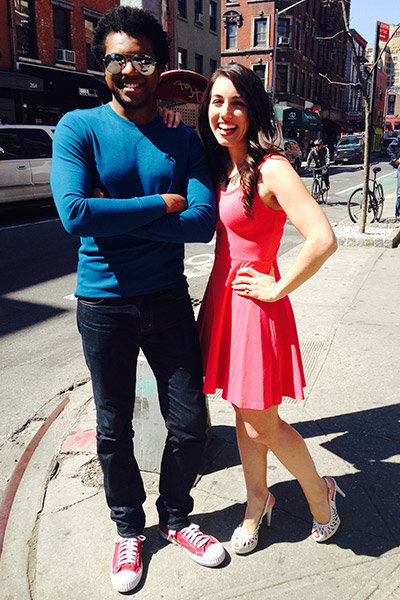 "After" photo courtesy of Laurie Davis
The biggest challenges: 
"The first week of Paleo was hell! You feel like you're in withdrawal and there's nothing you can eat because you're not conditioned to think in whole foods yet. But I think a lot of people are opting to go the Paleo route these days because when you do, you realize how reliant we are on manufactured products. I was surprised to find that I missed dairy the most — I wanted to eat a cheese platter every day. (I supplemented with a lot of guacamole since that's known to curb dairy cravings.)"
Favorite foods:
"Eating Paleo has stretched my cooking skills: my favorite dishes include spaghetti squash with garlic shrimp, bean "pasta," and I even made vegan sugar-free cookies with peanut butter and chocolate chips over the holidays. Things I never thought I'd be interested in have now become staples in my kitchen (coconut oil, anyone?). Although my 90 days are up, I've decided to continue, simply because I feel AMAZING."
Advice for other brides: 
"Everyone's body is different. There is no right or wrong way to lose weight, as long as it feels right for you."
Where I am now: 
"I didn't do this to lose weight, though as a bride-to-be that was certainly a benefit. What's more important is how I feel, not how much or how little I weigh. Knowing I've achieved my goals in a healthful way that will benefit me in the long-term is what makes me glow. Also, the energy boost that I've experienced is unreal!
I used to put a lot of pressure on myself to work out constantly, but once I started eating clean, any anxiety I had about hitting fitness milestones flew out the window. Now I am back to doing things that make me happy, like sweaty vinyasa yoga or a crazy SoulCycle class. I'm maintaining the work that I've done while still enjoying some wedding treats along the way, like savoring wine in Napa Valley for my honeymoon and eating gluten and sugar in our wedding cake. Post-wedding, I'm going to do some more hormonal tests."

Maria Delgado: "Weight Watchers offered me a plan that was structured yet still flexible enough for me to enjoy life (and all food for that matter!)"
The turning point:
"Although I tried to maintain a healthy lifestyle prior to my engagement, it wasn't until about seven months out from the wedding that I realized I would need to commit to a better diet and jump-start my exercise plan. I wanted to feel the most beautiful I've ever felt in my life on our wedding day."

Left: "Before" photo: Courtesy of Maria Delgado
Right: "After" photo: Credit: Thirteenth Moon Photography
How I did it:
"While I was on the Weight Watchers Program, I never starved myself or felt deprived, although I was careful with portions and tried to select healthy food options whenever possible. My now-husband and I are big foodies and with the weekly bonus points, I learned to plan ahead for our date nights. After following Weight Watchers for a few months with results, I wanted to push myself even more, so I joined a local boot camp that offered intense 30-minute workouts. It was perfect! I quickly began seeing results, dropping two inches in my arms alone after just a month."
Advice for other brides: 
"Weight Watchers taught me that we're human and will veer off-course at times, but the important part is to stay consistent and keep going. Don't fixate on the number on the scale. Make healthy choices, and allow yourself to live, but more importantly, enjoy the process and celebrate the small wins. If you don't like running on the treadmill, then find an alternative. Find something that you'll realistically be able to stick to (and not dread)!"
Enlist the support of your fiancé: 
"My husband was incredibly supportive throughout my journey. Even though he didn't need to lose weight, he made it a point to exercise with me so that we could spend more time together."

"After" Photo Credit: Thirteenth Moon Photography
Biggest challenges: 
"Since my work schedule varies, the only time I was guaranteed to fit a workout in was in the morning, so I woke up at 6 a.m. four to five days a week up until the wedding. It was tough sustaining the motivation to make the right choices when the wedding seemed so far away at times."
Proudest moment:
"My last dress fitting was four days before our wedding and the seamstress ended up having to take in an inch on each side of my hips. At that moment, there was no doubt that my hard work had paid off!"
Where I am now: 
"I've lost nearly 30 pounds. Like most women, I tend to focus on the negative, but although I would have liked to lose 10 more pounds, I didn't focus on that. Instead, I was proud of what I achieved. I can honestly say that although I may have been thinner throughout the years, I've never felt more beautiful than I did on our wedding day, which shined through in my photos. I'm excited by my success and proud that I achieved my weight-loss through a healthy lifestyle (and not by extremes)."
The work that lies ahead:
"Although the pressure is off for the wedding, I'm still working out (albeit not always early in the morning), and making healthy choices. I'm still on Weight Watchers and working to reach my goal weight."

Jamie Adcock: "I had the opportunity to give myself a wedding 'do-over' and feel better about myself."
The turning point:
"Last September, I planned my second wedding and had the chance to start my life all over. I was inactive the first time I got married a decade ago. Nothing stuck with me because I didn't enjoy it...that is, until I saw my friend compete in Ironman Wisconsin in 2005 and was inspired to look up a couch to 5K program the very next day. Classes didn't fit into my busy schedule as a mom, but running became a natural fit into our routine. I could run at home on the treadmill while my kids played or I could run outside before they woke up in the morning (or after they were in bed)."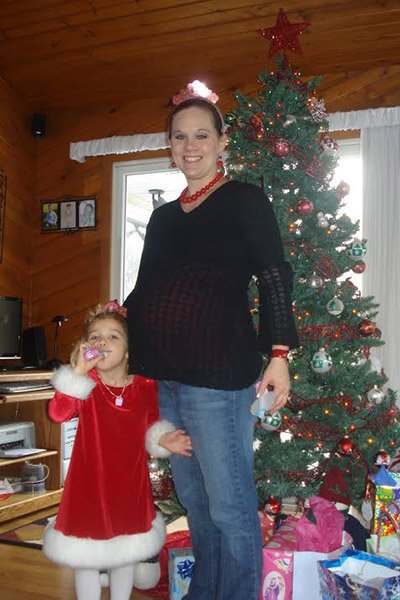 Left: "Before" photo: Courtesy of Jamie Adcock
Right: "After" photo: Credit: Errin Hiltbrand Photography
How I did it:
"Running has changed my life. It got me active and has led to so many other outlets, such as biking and hiking. It's helped me step out of my comfort zone and try ziplining and rock climbing. My family now invests in state park passes and we are very active together. When I run, I feel better about myself and it inspires me to eat better as well. I love to fuel my body with good foods — not just feed it. I even became a certified running coach so that I could share my passion with others (I've trained over 500 people so far). Follow my adventures on my blog, Running Diva Mom."
Enlist the support of your fiancé: 
"My now-husband wasn't a runner when I met him but he knew that if he wanted to see more of me, then he would have to take up the sport. He slowly introduced running into his fitness routine and eventually we began doing races and marathons together. We love catching up on our day over a long run. Now he's even faster than me!
Talk to each other about what your goals are. Research a few different programs or routines online and write out smaller steps to help you get there. Whether it be scheduling time to have 'active dates' together or working out separately while your partner tends to your family and commitments at home, it's important to support each other."

Photo Credit: Errin Hiltbrand Photography
Advice for other brides:
"I love telling my clients to 'run your race, run your pace.' It's YOUR journey. People are sometimes intimidated by the group atmosphere, and running in general, because they feel like they have to keep up with everyone else. It's my philosophy that you can reach goals in a way that works for you, whether that means walking more or running at a different time of day to fit it into your schedule. To succeed at something, you need to make it enjoyable and achievable."
Where I am now:
"I was remarried in September 2013 and we had a very running-inspired day. Our guest book included running race bibs with our wedding date and I even took some photos in my running shoes. Of course, I went for a stress-reducing morning run on the big day! Incorporating a healthy lifestyle is the only thing that has helped me maintain my weight over the past nine years. Running has made me more confident, provided me with leadership skills, served as a great social outlet for me and has strengthened the bond between my husband and myself. I now have more than 45 marathons under my belt."

Photo Credits: Errin Hiltbrand Photography

Nicole Mullin: "Crossfit is fun, challenging and competitive — I really felt a sense of accomplishment and saw great results quickly."
The turning point: 
"I am one of three girls and my wedding will be the third in three years for our family (my poor parents!). After seeing photos from my older sister's wedding, I decided I wanted to lose a few pounds."
How I did it: 
"I began losing the weight by boxing and dancing. Eventually, I joined Crossfit and started hot power yoga. I love to switch up my workout routines to fit my schedule and keep my body from plateauing. I love hot yoga because it helps with stress, balance, muscle soreness, stretching and mobility. I follow a Paleo Diet and try to eat mostly lean protein, vegetables and good fats. Sometimes I add brown rice or sweet potato, especially after a hard day of workouts."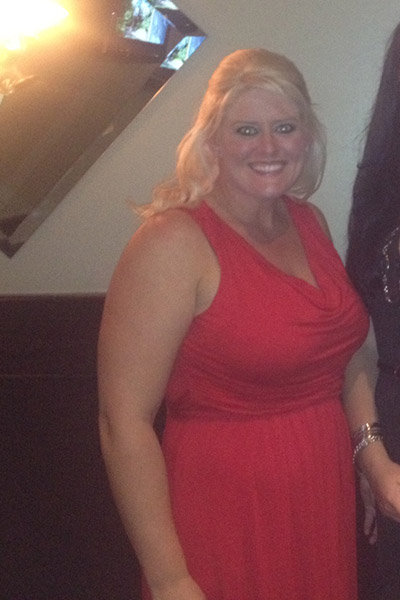 Left: "Before" photo: Courtesy of Nicole Mullin
Right: "After" photo: Courtesy of Nicole Mullin
Advice for other brides: 
"Set smaller goals. At the beginning of the year, I decided to ramp up my workouts to prepare for my little sister's wedding, which took place on March 8th. I signed up for a hot power yoga challenge (30 days of classes in a row), along with a six-week clean eating challenge at Crossfit."
Enlist the support of your fiancé: 
"My fiancé Patrick goes to the gym daily and he also plays hockey a few days each week. We love to go for walks with the dog and hikes when we can."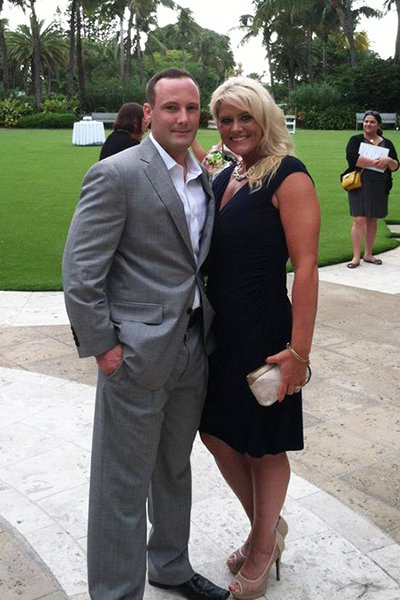 Photo courtesy of Nicole Mullin
Where I am now: 
"In addition to losing 30 pounds, exercising helps me sleep better, have clearer skin, higher energy levels and less stress. I have made great friends at my workout classes and I actually look forward to going to them now. My goal for my wedding on May 23, 2015 is to be healthy, fit and happy, while still allowing myself to indulge in occasional treats!"