These posh properties promise next-level guest care with a holistic bent.
By: Jenna Mahoney
-AS SEEN IN BRIDAL GUIDE MAGAZINE-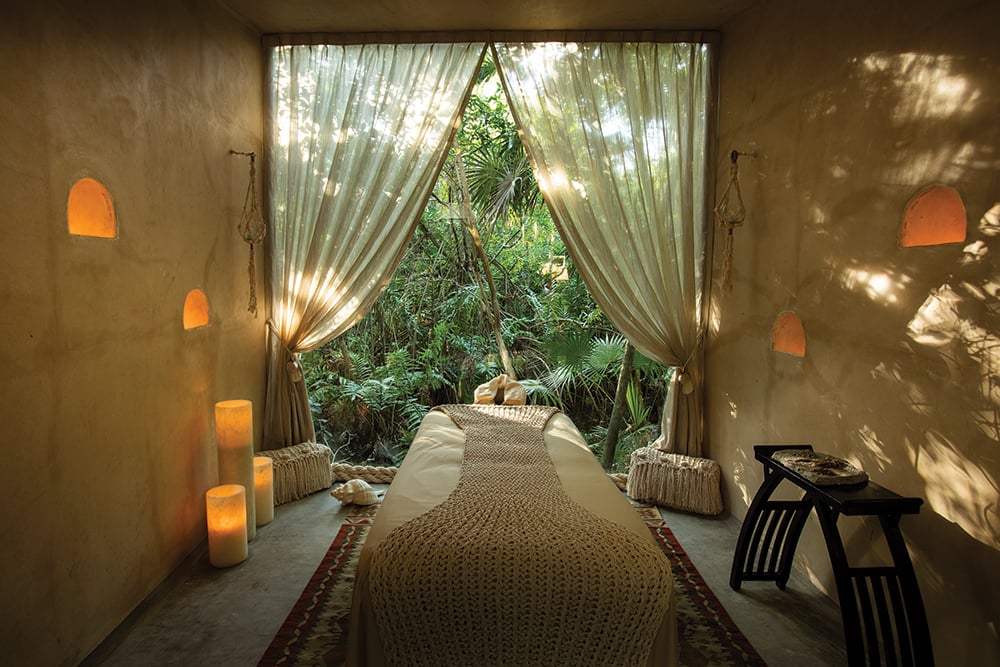 Photo: Palmaïa, The House of Aïa
Say the words "all-inclusive" and "Riviera Maya" and chances are you're imagining something other than a sustainable, organic beachfront paradise that's exclusively geared toward the balancing of mind, body and soul. Yet, that's exactly what this enclave on Mexico's Caribbean coast promises. There are sound-healing sessions and guided meditation experiences, yoga instruction and group tai chi classes, along with astrological readings and crystal healing. All accommodations are spacious suites with oversize windows showcasing gorgeous water views—the swim-out options are especially romantic (room rates start at $1,020 a night and are all inclusive).

Photo: Fredrika StJarne for Shou Sugi Ban House 
It may be only two-and-a-half hours from the city that never sleeps, yet this sanctuary of health, wellness and just 13 intimate villa accommodations feels more like two hundred thousand miles away from stress, imbalance and fast-food eateries. The vibe here is as holistic as it is whole being, with a focus on self exploration for mindfulness in body and spirit. The wooded property is serenely latticed with paths that induce private reflection and wind past fountains, reflective pools, Japanese gardens and dune-scapes. Meals are mostly plant-based (room rates start at $1,235 a night)

Photo: Origins Lodge Costa Rica
High in the mountains, spanning over 111 acres of tropical Costa Rican jungle stands this exclusive estate property with rustic luxe accommodations that promises the very best in cuisine and wellness. The only hotel in the country to have a Michelin-starred chef, the organic cuisine program is a stellar standout. Menus are French-influenced and change daily based on local produce and flowers, among other ingredients available. Activities also reflect the pura vida ethos and are heavy on the holistic, with yoga, equine programming and hiking being among the most popular (room rates start at $910 a night and include breakfast).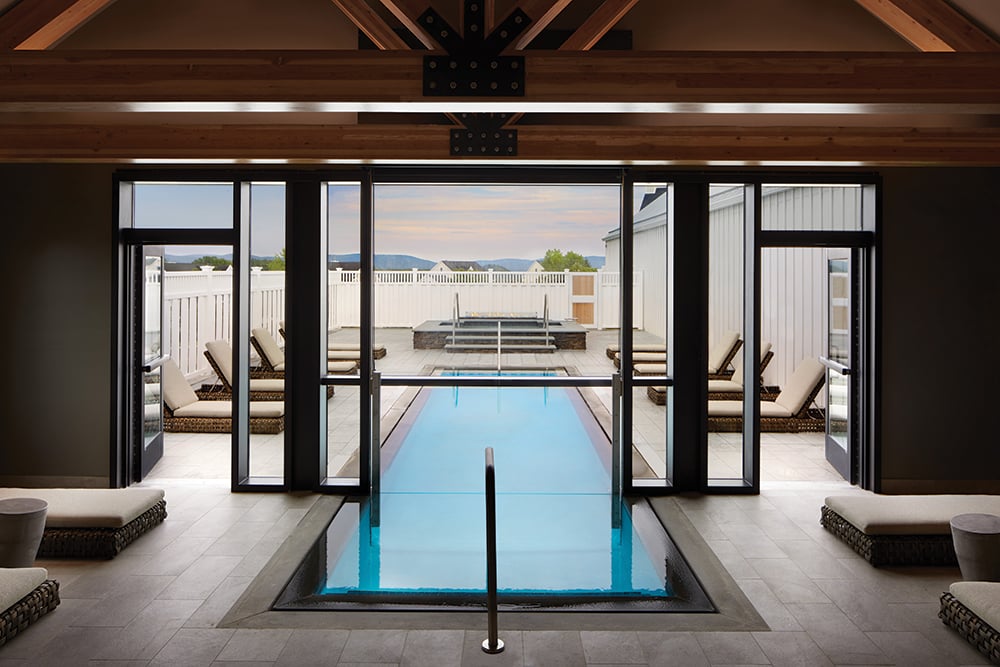 Photo" Miraval Berkshires
With the tagline "Life in Balance," it's no surprise that this all-inclusive spa resort set in the pastoral New England hilly country that's practically synonymous with the concept of wellness retreats is robust with offerings. There's yoga and massage, of course, as well as meals sourced from the on-site farm that are as flavorful as they are healthy. The extensive activity menu also includes lectures and interactive classes on sustainability, meditation and "creative expression" (think: photography; journaling). And there's a seemingly endless array of equine experiences and fitness classes — we love the cardio drumming (room rates start at $629 a night and are all inclusive).

Photo: Four Seasons Resorts and Hotels
Long a grande dame hotel in a neighborhood where healthy eating and active schedules have been the province of ladies who lunch, this elegant retreat recently unveiled an exclusive wellness floor dedicated to all things whole living. There are just 10 guest rooms, which each feature guided meditations by Deepak Chopra, sulfate-free bath amenities and yoga props, as well as exclusive access to fitness gear such as Peloton bikes, Alo Yoga programming and rowing machines (room rates start at $588 a night).

Photo: Six Senses Ibiza
There's something in the air here—just the act of checking into this beach-facing property tucked into the northern part of the idyllic island of Ibiza promises the ultimate sensation of complete and utter relaxation. Of course, the unparalleled wellness offerings enhance even what one may call the unimprovable — chic, yet comfortable sustainable design, superlative organic cuisine and jaw-dropping natural beauty. Personalized programming is the marquee attraction (sleep, detox, rejuvenation, among others). Spa amenities also include the standards—massages, facials, manicures — albeit with a stunning attention to rejuvenation, as well as an expansive facility with hot and cold pools, numerous couple rooms and a traditional hammam. Our favorite spot, however, may be the sea-facing outdoor yoga platform that feels kissed by temperate Mediterranean breezes (room rates start at $460 a night).