Guest blogger: Dana LaRue, creator of thebrokeassbride.com.
Dana LaRue is the creator of The Broke-Ass Bride, helping brides use creativity as currency to rock bad-ass weddings without breaking the bank. Her sassy, savvy approach to weddings and money delivers entertaining and informative outside-the-box planning inspiration. Because it's not about how much you spend, its how you spend it!
Don't know where to start when it comes to packing for your honeymoon? Before you spend hard-earned cash on a brand-new vacation wardrobe, here is a list of things you'll actually use vs. what you only think you'll need (ahem, six different négligées).
Bathing Suits
What you don't need: A bikini that will make you look two sizes slimmer and magically transform you into a bronze beach goddess. Try not to fixate on aspirational wardrobe items during what is destined to be one of the most stressful times in your life — wedding planning. Don't put pressure on yourself to drop 30 lbs. before the honeymoon in order to squeeze into a string bikini.
What you do need: Find a swimsuit that makes you feel comfortable with the body you have — be it a bikini, tankini, or one piece. There are plenty of sexy options out there for every size. Do get something that's a little adjustable, so it won't fall off if you do actually drop a few pounds.

Photo Credit: Ever After Honeymoons
Versatile Clothing That's Easy to Layer
What you do need: Whether you're cruising around the Caribbean or backpacking in the Himalayas, you'll need pieces that you can easily shed or add on as temperatures rise or drop. Pack a variety of different tops — tanks, short-sleeved shirts, and long sleeved-shirts, as well as a nice pullover or two. Find a swimsuit cover-up that you wouldn't be embarrassed to wear to a restaurant or, if you're honeymooning in colder climes, a jacket that will look good with day and evening wear. Research what weather conditions will be like at your destination during that time of year, and check the forecast before you plan to leave!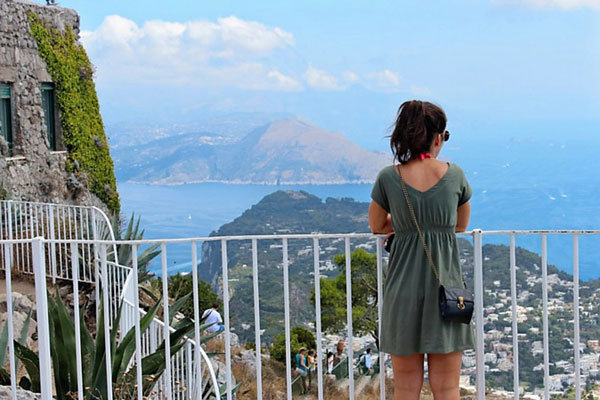 Photo Credit: Ever After Honeymoons
Lingerie
What you don't need: A full week's supply of sexy (but overly complicated) lingerie. Remember, you're about to embark on your honeymoon, not a burlesque tour. Sure, lingerie doesn't take up a lot of space, but there may be a few nights when the two of you really just want to, you know, sleep. Plus, you're not going to feel like strapping and buckling yourself into some sexy get-up every night.
What you do need: A few pretty, breezy lingerie pieces, and all your sexiest pairs of underwear. And, okay, at least one "yowza!" ensemble. You'd be wise to pack a few salacious nighties and chemises that will easily translate from sexy time to sleep time. Likewise, pack bra and panty pairings that are saucy enough for a little night-time exhibitionism, yet comfy enough for day-long wear. And something to ponder whilst packing, especially if you're only taking carry-on luggage — how many times will it be subject to search and seizure?

Photo Credit: Katherine Henry Boudoir
Bags
What you don't need: A fab designer bag! This isn't a great time to splurge on pricey Italian designer goods — save that money for souvenirs and duty-free goodies. Plus, you won't want to drag an Alexander Wang bag to every travel excursion. A fancy designer carryall can attract the wrong kind of attention from less-than-virtuous locals. And we all know leather isn't especially weatherproof. If you need something fancy for evening outfits, just bring a cute clutch purse or two.
What you do need: A weatherproof purse and travel tote with lots of practical pockets and zipped compartments. If you feel like treating yourself, invest in a nice vinyl or nylon bag or tote that will hold up to a myriad of weather conditions! You'll definitely want something that's just as practical as a fanny pack — but way more stylish.
Shoes
What you don't need: New sandals! New espadrilles! New pumps! You never want to break in a new pair of shoes while traveling. This is probably bad honeymoon travel idea numero uno. Resist the urge — you'll be mad at yourself if you don't. Trust me.
What you do need: Pre-broken in shoes for every occasion. Pack your favorite pair of shoes that you already own. Or, if shoes are your weakness, buy some a few months before the big trip and wear them on the regular until they're not causing you any more discomfort.
► Plus, check out more travel tips in our all-new section!
What are your tried-and-true travel necessities?
— Dana LaRue