From tequileros to romance butlers, how to utilize the specialized concierge services at your honeymoon resort.
By: Jenna Mahoney
Once upon a time, in the not so distant past, luxury hotels were defined by their worker-to-guest ratio. They also boasted a highly trained staff member called the concierge, an expert in the art of procurement (the best theater tickets in town, the hottest restaurant table, for example) and extensive personal service (arranging spa appointments, helping transportation needs and business center assistance). In recent years, concierges have become ever more abundant. And with that proliferation has come a subset of super-specialized assistants at resorts around the world. While it's better to have multiple helping hands than just one set, all the titles and differentiations may be a bit confusing. Here's how to get the high-end help you need, want and deserve.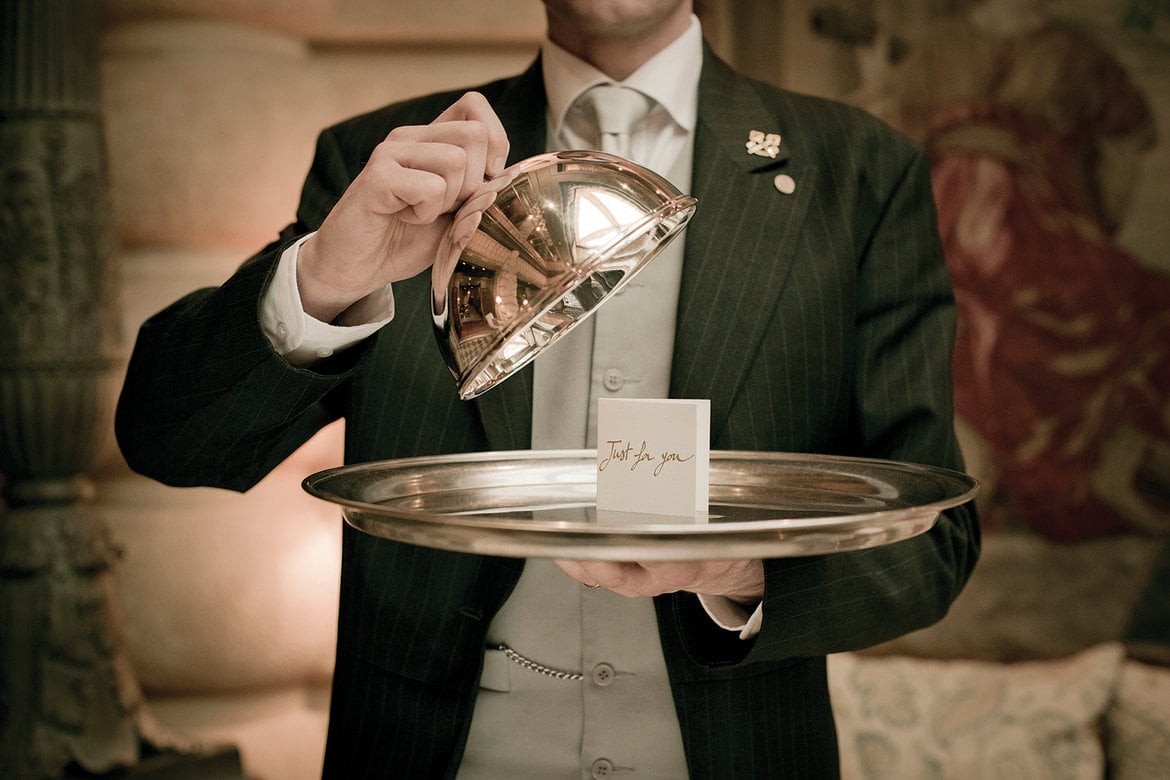 Photo courtesy of Hotel Metropole, Leading Hotels of the World
What's in a Name
Your elementary school English teacher may have scolded you for defining a word by using it, but in the case of specialized concierges the monikers do exactly that. Romance concierges spearhead honeymoon-specific excursions like private dinners on the beach and castaway days set on remote islands. They also oversee special events including proposals and romantic sundowners. Spa concierges welcome and guide you through your treatment experience. Pool concierges assist with towels and lounger and umbrella set-ups. At some of the more elite Mexican resorts, they've been known to help with sunscreen application and sunglass defogging, as well as heading up popsicle distribution. Note: Depending on the hotel, the aforementioned helpers may be called "butler" in lieu of "concierge," but the function is the same. Even resort bars and restaurants are getting in on the highly specific service — offering experts in liquors, such as tequila (tequileros), rum (rumeliers) and sake (sake sommeliers).
The Carson Connection
Some properties go beyond the concierge concept, which traditionally provides service for all guests, with the inclusion of butlers. Depending on the size of the resort, butlers generally are assigned to three to five guest rooms at a time. They are responsible for attending to your every care, whim and need. And they do it all — from streamlining the check-in process to unpacking your suitcase and drawing romantic, candlelit bubble baths to arranging offsite excursions and securing restaurant reservations. Hotels with club levels or other VIP designations often have what are called club concierges. They function as the traditional desk attendant, yet instead of answering for the entire hotel, they assist only the guests staying in those exclusive rooms. Aside: Another bonus to booking into such room categories is the private lounge that is often stocked with complimentary snacks, finger sandwiches, coffee and tea and, sometimes, a cocktail hour; many have fantastic views too.
Prepping the Case
If you've opted for accommodations with personalized butler service you'll likely receive a questionnaire to fill in prior to arrival. The preference sheet gives your helper a better idea of your likes (local beer, yoga and surfing) and your special requests (romantic bubble bath turndowns, specific pillow needs). If your resort of choice doesn't provide such a detailed pre-check-in process, you can still make arrangements prior to your arrival. Contact the romance concierge if you foresee wanting a secluded island excursion, for example, or email the spa coordinator for a treatment menu and schedule of fitness classes. Also contact the hotel if you require transfer assistance, excursion suggestions and other fine print details.
The Tipping Point
Unless you are at a resort that expressly has a no gratuities policy, tips are expected for services rendered. Some hotels have a tipping guide, so be sure to ask before arrival. In general, private butlers are tipped five percent of the room rate, per night. Concierges receive $5 to $10 a day, depending on their level of service, and other specialized service providers get $1 to $2 a day. The only deviance from the formula is for sommeliers (and other such liquor specialists), who generally expect 10-20 percent of the cost of the bottle(s). How you choose to parse out the payments is entirely up to you. Some guests prefer to do it on a day-by-day basis to ensure prompt and efficient service, but I find it easier to leave labeled envelopes at the concierge desk upon checkout.