Newlyweds share their nightmare vacation scenarios — learn how to avoid their fate here!
By: Gabriella Rello
If there's one thing that couples look forward to more than their wedding day, it's their newlywed escape. After months (or years) of frenzied planning and "advice" from well-meaning relatives, a romantic vacation to recharge and refocus is often just what a new couple needs.
In order to make sure that your honeymoon is everything you hoped for, there are some preventative measures that you can take to avoid common travel pitfalls. If you encounter any of the following unfortunate scenarios, we've got advice on how to cope, too!
Travel Scenario #1: Missed Flight
Janet and Jeff Levine had planned a five-day honeymoon, starting with two days at Disney World and capping off in the sunny Bahamas. With a tight schedule due to limited time off from work, the couple opted to leave the morning after their wedding. Arriving at a hotel near the airport just after midnight, Janet requested a 6 a.m. wakeup call in order to catch their 8 a.m. flight.
"I remember waking up and looking out of the window facing the airport. I saw this jet taking off into the clear blue sky. I was still dozing and I said, 'What time is it?' Jeff looked at the alarm clock and we realized that it was 8:15 a.m. and we had never received our wakeup call. Of course we called the reception desk to ask why; they said the night clerk had failed to put it into the system."
The newlyweds eventually caught an afternoon flight to Orlando but ended up losing one of their five days away. 

Photo by: Jana Morgan on Inspired By This via Lover.ly
How to avoid it:
A wakeup call isn't a bad idea, but be sure to set a backup alarm on your phone or the hotel clock. There may be a system glitch or a front desk error that stops the call from coming through. That second ring could be the difference between catching your flight and spending the day in an airport.
A failed wake up call isn't the only way newlyweds can miss a flight. Sometimes it's simply unavoidable: horrible traffic, long security lines, or inclement weather can often keep you from boarding. For nearly all international flights, airlines require you check in at least two hours prior to departure, but American Airlines suggests three hours. Cushion your drive time to allow for traffic and anticipate longer security lines during peak travel times like holidays and weekends.
Checking in the evening before your flight allows you to bypass ticket lines and head straight for security. Download your ticket to your phone and it's one less item to remember in the morning.
Not sure you can handle an early morning wake up? Opt for an afternoon flight or a red-eye. Many couples want to get the most out of their vacation, but choosing two evening departures will afford you just as much time as two early mornings. 
What to do if it happens:
Call your airline provider and head straight to the airport to see if you can arrange for a new flight that same day. If your only option is standby, inquire about rebooking with affiliated airlines before you search for a new flight. According to Fare Compare, airlines charge between $30 to $200 to change a non-refundable ticket, which is often less than the price of an entirely new seat.
If you can arrive at the airport within two hours of your scheduled departure, inquire about the flat-tire policy. In 2012, United Airlines' senior Vice President of customer experience told reporter Christopher Elliot that they have a little-known policy on tardiness created for passengers who get stuck in unavoidable traffic or similar delays. If you have a reasonable excuse for being tardy, United may allow you to fly standby on the next departure at no additional charge. These policies vary from carrier to carrier and are rarely advertised, so be sure to ask what all of your options are.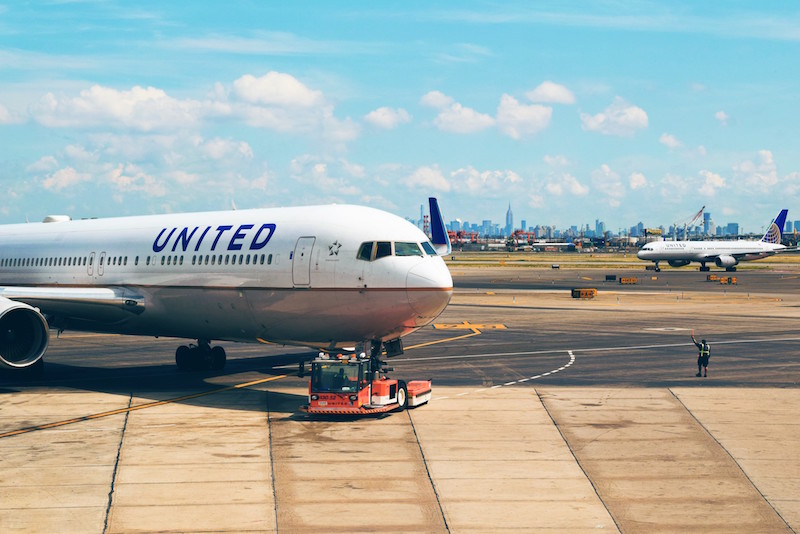 Photo credit: Pexels
Always let your hotel know if you are arriving later than initially planned, whether it's by a few hours or a full day. That way, you ensure that they won't give your room to someone else, and they may be able to waive the cancellation fee if you can't get in until the next morning.
The bride's advice:
"Just relax. At the time, it was upsetting; however, looking back, you realize that sometimes you just have to laugh," says Janet. "Yes, it's a position no one wants to be in, but it always works out and it certainly gives you memories."
Travel Scenario #2: Overbooked Hotel
Brad Phillips and his fiancée scoured destinations around the world with their ideal retreat in mind: a small, quiet resort getaway. Six months before their wedding date, Brad received confirmation for his stay at a Punta Cana hotel and planned special activities to share with his future wife. Little did he know that their dream honeymoon would be canceled at the last minute.
"On Friday morning — the day before our wedding and just three days before our scheduled departure — I received an email from our resort informing us they had overbooked the property and were unable to honor our reservation," Brad says. "They offered us a room at another property — a sprawling complex with 176 rooms. This resort was more than triple the size of the original and was precisely the type of place we didn't want to go."
Photo credit: Pexels
How to avoid it:
According to Cornell University's Hospitality Blog, overbooking is a common industry practice. Like airlines, resorts assume that a certain percentage of reservations will ultimately be modified or canceled and use a specific overbooking-ratio method to determine how many rooms to oversell.
Usually, this ratio is spot-on and all guests who arrive at a hotel can be accommodated, but occasionally (particularly during unusually busy times) you can be left without a room. Always guarantee your room with a credit card to ensure you have the most rights if an overbooking occurs.
What to do if it happens:
Unlike airlines, hotels are not legally required to compensate you for an overbooking and few have a written policy on how to handle these events. However, there is a standard practice called "walking." If the hotel is unable to accommodate you, they will often book your stay at a hotel of equal or greater value and cover the cost of your first night.
If they are unable to secure you a room in their hotel for the duration of your stay, most hotels will pay the difference between the two room rates. Huffington Post reports the best way to avoid being "walked" is to do your best to arrive at your hotel early and join loyalty programs.
If you are unhappy with the presented alternatives, let the hotel representative know that you have other preferences. Negotiate alternatives and upgrades, and always get them in writing.
In the event they are unable to honor your requests, begin the search yourself. Forgo online bookings and call each resort at a local number instead. Last-minute cancellations may not have posted yet and managers would be happy to accommodate you if rooms are available.
Photo credit: Pexels
The groom's advice:
"Remember that it's just a vacation," Brad says. 
Travel Scenario #3: Health and/or Weather Issues
Falling ill on vacation is enough to make any traveler want to pack their bags and head back home. When Stephanie and her new husband checked into their honeymoon resort, the pair was excited to take advantage of the lavish amenities offered. However, he headed to the gym on the first morning of their trip and sustained a painful back injury. After days of discomfort due to a misaligned spine, Stephanie helped her husband find relief through simple yoga techniques that were suggested by his primary physician.
Still, the worst of their honeymoon was still ahead. Shortly after returning from a couples massage at the hotel spa, Stephanie began exhibiting signs of an allergic reaction and anaphylactic shock.
"My husband found me curled up in the shower, my throat closing up on me and my skin breaking out in hives. He ran out of the room and grabbed some Benadryl from the resort's market, and we later discovered that I was having an allergic reaction to the massage oil, which had an almond oil base. I'm anaphylactic to tree nuts!"
Once the pair recovered from their health woes, a hurricane skirted Jamaica and reduced the beach to a mere four feet of sand. Their plans to scuba dive and bask in the ocean were fouled, but the pair was happily stranded indoors with a deck of cards and each other's company.
Photo credit: Pexels
How to avoid it:
Before leaving for your honeymoon, compile a list of your health care information, including your primary care physician's phone number and emergency line, a contact at your insurance agency, and a number for the nearest US Embassy. Enter your destination into the CDC website to check if you need specific immunizations before you travel. Once there, take care not to overexert yourself or go beyond your ordinary limits. Although you may be tempted to jump into every adventure your resort offers, carefully choose options that are within your abilities.
If you have serious health issues, be sure to pack any medications necessary — even if only for an emergency. Certain brand-name medications may not be available in other countries, so purchasing travel-size bottles before your honeymoon can come in handy, even if you don't have a pre-existing medical condition.
Before booking any vacation, check the likelihood of storms on the State Department's website. Hurricane season in both the Atlantic and Pacific Ocean coincides with peak wedding season, so consider alternate destinations if your preferred island has a history of storms.
What to do if it happens:
For Stephanie and her husband, all it took was a call to their regular doctor to sort the problem out. In the case of a serious injury or high fevers, seek immediate help. Most resorts have an on-staff doctor or can refer you to a local physician, and while it may be pricey, it is worth it in the long run.
Over-the-counter medications can help with certain symptoms but it is key to seek professional help if you are still in pain or exhibiting symptoms after a few hours. CNN Health suggests purchasing travel insurance, which will lower the cost of out-of-network care in the event you do need to see a local physician.
There's no solution for bad weather but to brave it and find other activities. You might have been dreaming of lounging on the beach, but the storm clouds offer you a golden opportunity to explore more of the local culture you otherwise would have missed.
Most resorts offer indoor recreations like spas, pools, or nighttime activities that you can take advantage of during inclement weather. There's no way to stop a storm, so try to make the most of the other activities and quality time with your new spouse.
The bride's advice:
"If you do find yourself with a honeymoon mishap, take it in stride, laugh about it later (or even in the moment), and view it as an opportunity to learn how to overcome hard times with your new spouse," Stephanie says. "Nothing tests a marriage like anaphylaxis!"
Travel Scenario #4: Airline Drama
If you think that arriving at the airport and finding out that your flight has been delayed is aggravating, imagine learning that your airline has gone bankrupt! For Brittany Hilgers and her new husband, this was their reality.
Mexicana Airlines filed for bankruptcy the day the Hilgers were supposed to board a plane to Mexico. While they were eventually accommodated on a flight that took them to Mexico City, they spent nine hours waiting in the airport for a connecting flight to their final destination.
Unfortunately, their arrival at their four-story condo, generously lent to them by a well-meaning relative, only brought more trouble. The electricity had been terminated after months of unpaid bills.
"We spent nearly the entire week in Mexico taking cold showers and navigating the condo by candlelight. It was 100 degrees outside with 90 percent humidity and heavy rain everyday. So not having the comfort of an air-conditioned condo made it even worse," Brittany says.
Photo credit: Pexels
How to avoid it:
Research your airline thoroughly before booking your flight, especially if you haven't heard much about them. The West Australian has created a database of customer-generated reviews for all airlines and gives a comprehensive overview of the company. It may be worth spending slightly more for airline tickets to book with a high-quality airline. If you're using someone else's vacation rental, Brittany recommends discussing all of the small details with the owner (like if the electricity will be on!).  
Even if you've visited your destination before, always check the local weather for your intended honeymoon season to avoid any surprises.
What to do if it happens:
While the risk of your airline going under isn't high, your chance of spending more than a few hours waiting for your flight is. If your flight is delayed several hours, considering buying a one-day pass to the airline's sky lounge. Delta Airlines offers a $59 Single Visit Pass for the Delta Sky Club, which includes cocktails, snacks, and amenities like WiFi and comfortable seating. The price tag may seem hefty, but paying for several hours worth of a la carte food and Internet service for you and your spouse will likely cost just as much, if not more.
Always keep checked-baggage tags that are presented to you at ticketing counters. If your flight has been delayed or canceled, there's a chance your luggage won't arrive at your destination with you. Having these tickets, plus a good description of your bags, will help airline providers locate your luggage and return it to you as quickly as possible.
The Department of Transportation suggests you require the airline to provide you with a copy of the report and a direct phone number for a follow-up call. Packing a change of clothes and a swimsuit in your carry-on will make this delay much less painful.
If you experience problems with your vacation rental, contact the homeowner before trying to solve the problem yourself. Work out a plan to get the problem solved, but be sure to clarify who's responsible for the bill later.
Photo credit: Pexels
The bride's advice:
"Make the best of it. Adapt at all costs. You just married the love of your life, so let yourselves get caught up in the newly wedded bliss of it all and brave the storm together," Brittany says. "If your flight is super delayed, spend the time looking at wedding photos and reliving the magic...All that really matters on your honeymoon is that you are there together."
Travel Scenario #5: Hotel Refuses to Honor Prepaid Voucher
Melissa Kolbeck and her fiancé dreamed of honeymooning in Fiji, but the steep price tag was beyond their budget. Instead, the couple searched for an escape to St. Lucia but just as they went to book, the hotel rates skyrocketed. Melissa began browsing Groupon, and found a hotel package on the island of Savusavu, Fiji, that put their dream getaway within their budget.
Anxious to settle into their luxurious ocean view room after their flight via propeller plane from Fiji's main island, Melissa and her new husband arrived at the resort to be told only non-ocean view rooms were available.
"After four days of trying to figure out why we weren't given the ocean view room we had reserved, they said they could upgrade us to a larger, nicer room if we paid, but that was ridiculous so we ended up staying in the non-ocean view room," Melissa says.  "They told us that the U.S.-based woman whom we had booked our trip with couldn't actually see what was available on the ground. I asked why this hadn't been communicated to us sometime during the last six months since we booked the trip and received no answer."
Photo credit: Pexels
How to avoid it:
While travel vouchers from companies like Groupon and LivingSocial can make an out-of-budget dream become a reality, it is important to read the "fine print" and call the resort before purchasing. Ask a hotel representative if your preferred room style is open during your intended stay. If all looks good, make sure you book your reservation as soon as possible so availability doesn't change.
What to do if it happens:
Kindly inform the hotel staff that you paid for and booked a different style room than what was given to you. If it's unavailable, inquire about other possible upgrades (most hotels would be willing to compensate with food vouchers or use of certain hotel amenities).
If the experience still fails to meet your expectations, give the voucher company a call. Per Groupon's policy, Groupon Promise, the company will make their greatest efforts to make the situation right or provide a refund. Living Social will provide a refund within 30 days of purchase for non-date-specific vouchers, so if you find that your room is unavailable at booking, you are able to cancel.
The bride's advice: 
"If you find yourself in a position like ours, try to make the best of it and find activities that you enjoy.  Either way, you are still spending quality time together before you have to go back to the daily grind," Melissa says.
Travel Scenario #6: Food Poisoning
Nicole Avesani and her fiancé dreamed of a European escape for their first trip as newlyweds, but the cost exceeded their budget. Nicole's father graciously offered his daughter and future son-in-law the use of his all-inclusive timeshare. Airfare to the Dominican Republic was affordable and the couple happily reserved a suite for a luxurious weeklong stay.
Shortly after arriving, Nicole began to see red flags, namely an unkempt property and lackluster amenities. But the couple tried to make the most of it and headed to what was meant to be the first of many special meals out.
"I had been warned not to drink the water, so I steered clear and ordered a coke. With ice. It completely slipped my mind that ice and water are the same thing. And I paid for it. I woke up the next morning with horrible food poisoning," Nicole says. "I spent the next five days in bed, eating gift store crackers and sipping on Gatorade."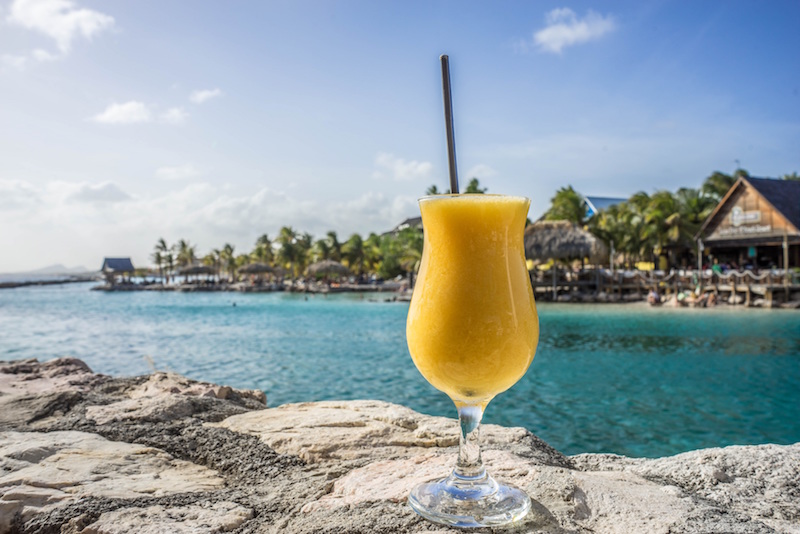 Photo credit: Pexels
How to avoid it:
If you know that water sanitation is a problem in your destination, make sure to avoid it at all costs. That means ice, raw fruits and veggies (that were rinsed in water), and frozen cocktails.
Anything that has been cooked, peeled, or brought to a boil is safe to consume. Drink only bottled water with unbroken seals and be sure to request it while dining out. Also, keep a few bottles in the bathroom for hand washing and teeth brushing.
What to do if it happens:
Unfortunately, there's no real cure for food poisoning. Start by rehydrating with clear liquids and avoid any caffeine or alcohol. When you're feeling better, begin to reintroduce plain foods like bread or cereal. If your symptoms persist or you spike a fever, seek medical help. 
The bride's advice:
"Don't worry. It's just your honeymoon. It's one of many, many vacations you'll take with your husband. And besides, you had a wedding for the marriage, not the honeymoon," Nicole says. "We've been married now for six years and have two beautiful sons."
Honeymoon derailments can happen to anyone and they are more common than you think. Being prepared and keeping an open mind will get you and your new spouse through even the worst travel mishaps.